aka Angel of Vengeance
---
Crew
Director – Abel Ferrara, Screenplay – N.G. St John, Photography – James Momel, Music – Joe Delia, Special Effects – Sue Dalton & Matt Vogel, Art Direction – Ruben Masters. Production Company – Navaron Film/Rochelle Films
Cast
Zoe Tamerlis (Thana), Edita Sherman (Mrs Nasone), Albert Sinkys (Albert), S. Edward Singer (Rich Hall), Jack Thibeau (Man in Bar)
---
Plot
Thana, a mute worker in New York's garment district, is on her way home when a man rapes her in an alleyway. She staggers home, only to be attacked by a burglar in her apartment who then proceeds to rape her at gunpoint. She manages to hit the burglar in the head with a paperweight and kill him. The incident leaves her unhinged. Soon after this, she accompanies a male co-worker home and shoots him with the burglar's .45. Next, she begins shooting men – from those who come onto her to gang members and a pimp beating a whore. She then starts to dress more provocatively in order to lure more men to kill.
---
Ms 45 was the second film from Abel Ferrara – his first was the notorious urban psycho film The Driller Killer (1979). Abel Ferrara's films – the likes of The Driller Killer, Bad Lieutenant (1992) and Dangerous Game (1993) – are frequently films of social horror with people being driven to psychosis by the overwhelming weight of the world around them. Ms 45, like The Driller Killer, was shot in Abel Ferrara's native New York City on a shoestring budget and contains a genuine ferocity and brilliance.
Ms 45 is an interesting film to contrast alongside other raped-women-taking-revenge fantasies such as Death Weekend/The House by the Lake (1976), I Spit on Your Grave/Day of the Woman (1978), Dirty Weekend (1992), Baise-Moi (2000) and to a lesser extent Thelma and Louise (1991). These are films that operate on a raw emotional connection – we see the women being violated and are only too happy to cheer them on when they start taking violent revenge on their perpetrators.
In Ms 45, Abel Ferrara refuses to allow a viewer to make any easy moral connections. While thematically Ms 45 is a very similar film to these others, its principal difference is in stepping back to regard the violated gun-toting heroine as unhinged – we see her going from initially shooting a guy who follows her down an alley to targeting men who abuse other woman, to increasingly less vigilante and more unbalanced acts such as shooting a guy who tries to pick her up, to then dressing up to go out and lure men so that she can shoot them, to finally indiscriminately shooting every male at a party.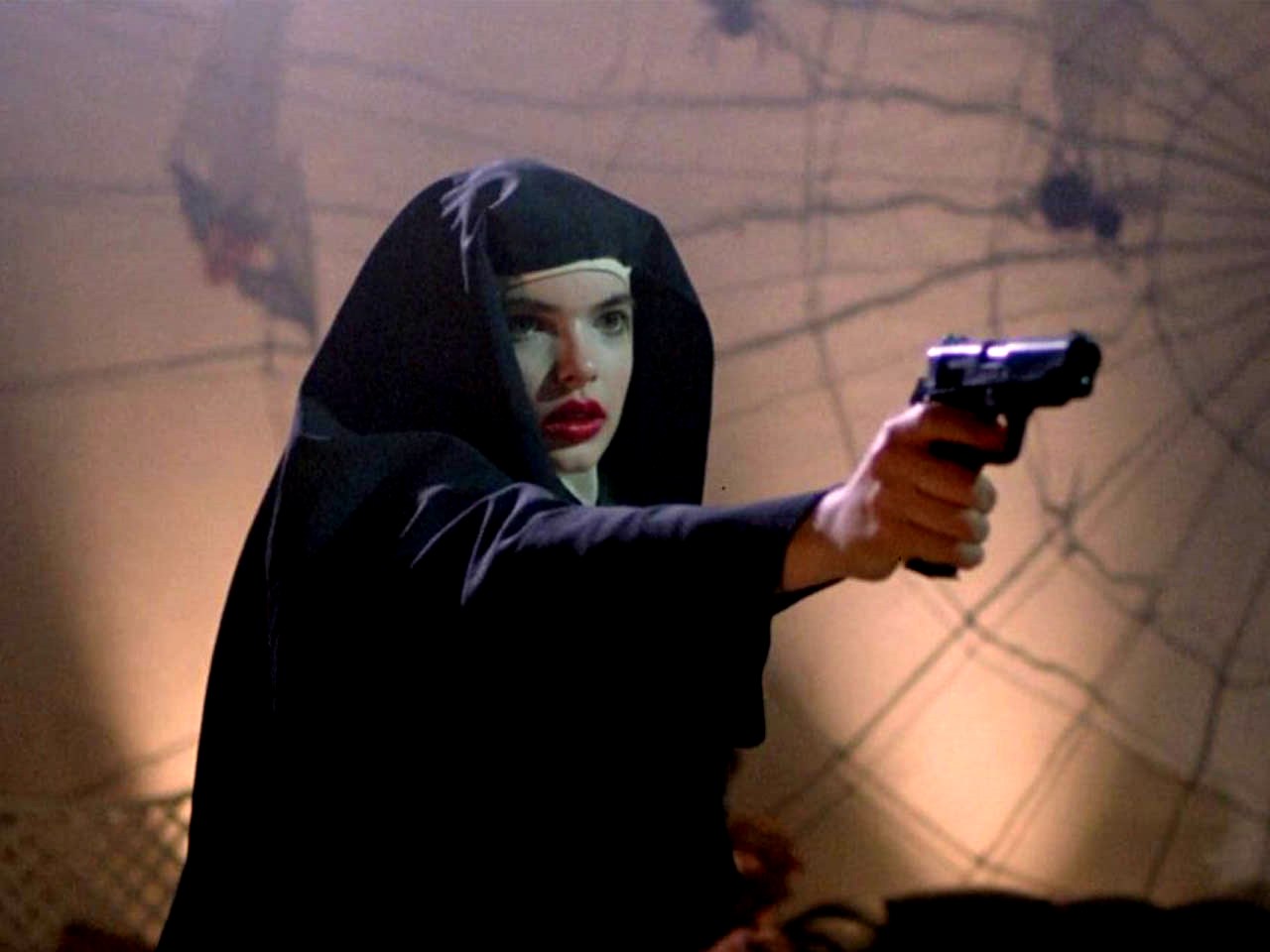 It is also possible to conduct an alternate reading of Ms 45 and see it as holding a radical feminist agenda. It is a film that looks on all men and their attitude to women as being sex objects with a violent loathing. Like many radical feminist agendas, the film sees a strong connection between provocative clothing and its ability to increase men's regard of women as sex objects. As Thana becomes increasingly more deranged throughout, her clothing ironically becomes more and more provocative – when we first see her, she is dressed nondescript but soon takes to dressing in skintight leather and a good deal of makeup before her remarkable transformation into the iconic image of a nun in suspenders with a gun strapped to her thigh at the climax.
Despite the film's low budget, Abel Ferrara creates a number of scenes of raw power. The scenes of Zoe Tamerlis grinding up parts of the body to serve to the dog have their amusements. There is also a bleakly startling scene – one reminiscent of Martin Scorsese's cameo in Taxi Driver (1976) – where Thana picks up a man who talks about finding his wife in adultery then strangling her cat – Zoe Tamerlis goes to shoot him but the gun jams, nonplussed he takes the gun and shoots himself in the head. The initial rape scenes are brief but have an undeniably shocking power. Abel Ferrara's ace in the hole here is Zoe Tamerlis whose blank, unsmiling and never-speaking face registers all the shock we need throughout.
Abel Ferrara's other films of genre note are:– The Driller Killer (1979) about a power drill-wielding psycho; Fear City (1984) about a serial killer stalking strippers; the worthwhile remake of Body Snatchers (1993); the vampire film The Addiction (1995); the William Gibson adaptation New Rose Hotel (1998); the End of the World film 4:44 Last Day on Earth (2011); and Siberia (2020) with Willem Dafoe on a surreal journey in search of the meaning of life.
Zoe Tamerlis/Zoe Lund was an interesting character that spent most of her time as a writer rather than an actress, later penning the screenplay for Abel Ferrara's Bad Lieutenant. She was a lifelong advocate of heroin usage and died of drug-related problems in 1999 aged 37.
---
---