(Zhuo Yao Ji)
---
Crew
Director – Raman Hui, Screenplay – Alan Yuen, Producers – Bill Kong, Doris Tse, Yee Chung Man & Alan Yuen, Photography (3D) – Anthony Pun, Music – Leon Ko, Visual Effects – Base FX, Industrial Light and Magic, Po Post Production Office (Supervisor – Yann Doray), Trooper Visual Effects (Supervisor – Young Lim), TWR Visual Effects (Supervisor – Charles Lee), Visual Effects Supervisor – Jason Snell & Tang Bingbing, Special Effects Supervisors – Fok Kam Tong & To Kwok Keung, Production Design – Yohei Taneda. Production Company – Champion Star Pictures Ltd./Edko Films Ltd/Dream Sky Pictures Co., Ltd./BDI Films Inc./Shenzhen Tencent Video Culture Communication Ltd./Heyi Pictures Co, Ltd/Beijing Pictures Co. Ltd./Zhejiang Star River Artiste Management Company Limited/San-Le Films Limited/Zhejiang Films & TV (Group) Co., Ltd./Edko (Beijing) Films Limited.
Cast
Jing Boran (Song Tianyin), Bai Baihe (Huo Xiaolan), Jiang Wu (Liao Gang), Elaine Jiu (Grandmother), Wallace Hung (Ge Qianhu), Eric Tsang (Gao), Sandra Ng (Ying), Tang Wei (Pawn Shop Owner), Yao Chen (Female Head Chef)
---
Plot
All of the monsters have been banished from the world of humans. Following a civil war within the world of monsters during which the Monster King is killed, the pregnant Monster Queen flees into the human world. Elsewhere, Song Tianyin has grown up in Yongning Village after being abandoned by his father who was a Monster Hunter, and is now the town's mayor. The female Monster Hunter Huo Xiaolan arrives in the village, during which Tianyin discovers that most of the villagers are monsters who hide in human form. Meanwhile, Liao Gang, who heads the Monster Hunt Bureau, is searching for the Queen and orders every Monster Hunter to capture every monster at large. In the forest, Tianyin is grabbed by the Monster Queen who transfers the unborn Monster King child into his belly. Left pregnant, Tianyin becomes an object of ridicule. He and Xiaolan flee pursued by Monster Hunters where she persuades him they could sell the baby for the reward money. After the baby is born, they sell it, However, after learning that it is destined for Liao Gang's dinner table to be served as a delicacy, Tianyin changes his mind and they set out to rescue it.
---
Monster Hunt has the distinction of being the highest-grossing film ever in China (although there are some claims in the Chinese press that these figures have been exaggerated). The film was the brainchild of Raman Hui who has worked as an animator for DreamWorks, including as a supervising animator on all of the Shrek films and graduating to co-director of Shrek the Third (2007). This was Hui's first venture into live-action and his first solo directorial outing.
The film had major production problems – after initial shooting had been completed, the original lead male star Kai Ko was arrested for drug possession. Chinese authorities were unwilling to allow promotion for a film starring a convicted drug user, necessitating that the entire film be reshot with a new lead Jing Boran. In contrast to the huge Chinese box-office the fim enjoyed, Monster Hunt was released in English-speaking territories in 2016 in both subtitled and dubbed versions but earned only a miserable $20,000 in its US opening weekend.
So what then does it take for a film to appeal to so many people in China? Well, apparently not too much more than a rehash of Steven Spielberg's E.T. – The Extra-Terrestrial (1982), albeit served up with a specifically Chinese flavour. It is E.T. set in the nebulous imperial Chinese past that so much of martial arts and Wu Xia cinema favours. It is also an E.T. where the creatures are magical as opposed to alien. This has also been conflated with the usual action stylistics of Wu Xia – Monster Hunt could almost be E.T. crossbred with A Chinese Ghost Story (1987) – where the various monster hunters engage in high-flying wirework, bouncing off walls and trees and conducting impossibly graceful leaps through the air.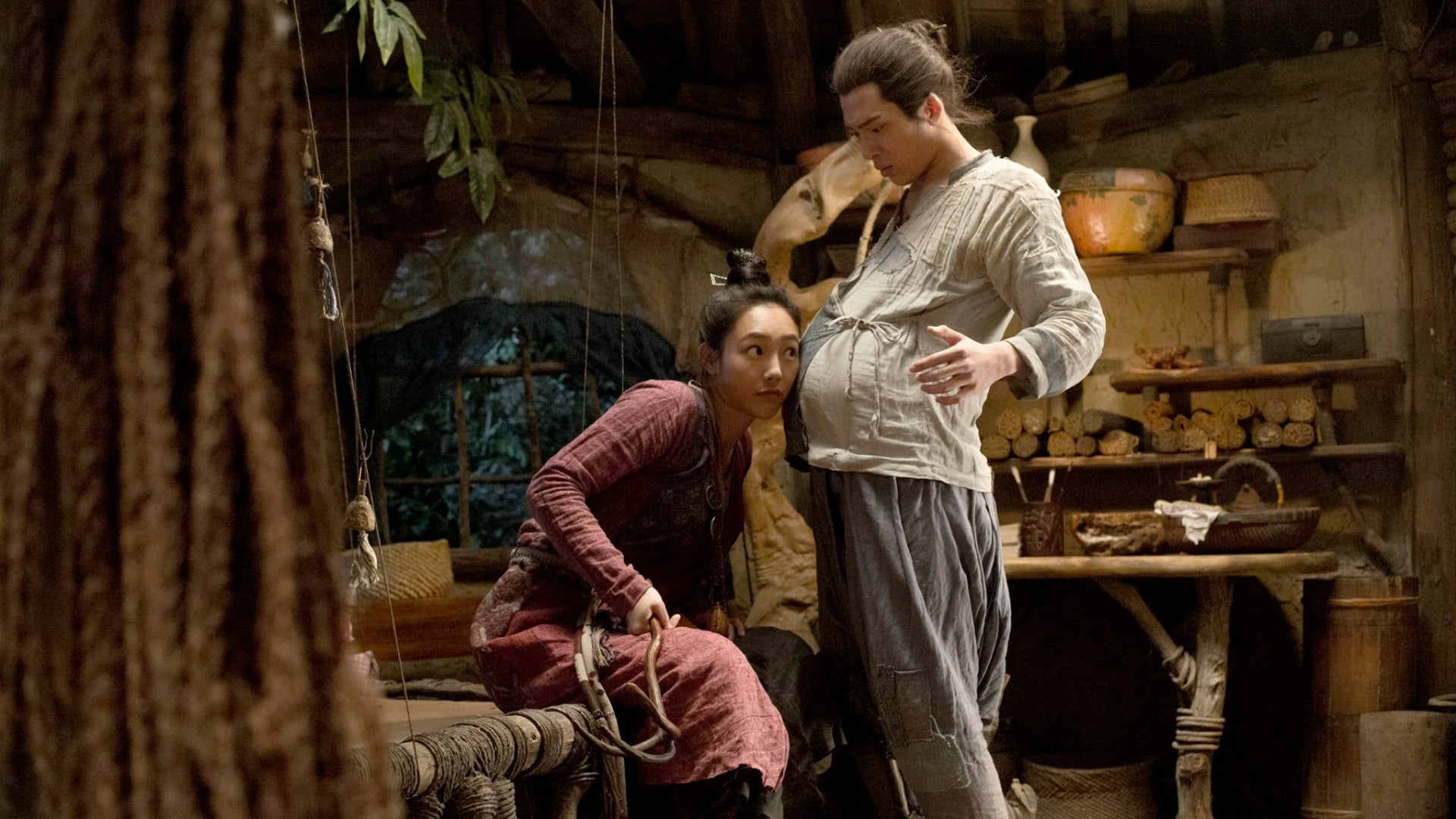 The Wu Xia film has been trying to adapt to CGI with varying degrees of success since the late 1990s. I could have welcomed the idea of flying swordsmen and the like combating magical CGI creatures. Alas the creatures here are represented by what look like CGI animation from back around 2001 when the medium was still in its infancy and characters lacked a high degree of texturing and density. The concept of martial artists against fantasy creatures fails entirely when it looks for all the world that the creatures being encountered resemble something like Mr Blobby.
The other major minus point is the emphasis on slapstick comedy. There is a vein of this that runs through Chinese cinema – all characters in hysteric falsettos running around frenetically. This sometimes hits the heights of Jackie Chan's Drunken Master films or the works of Stephen Chow but is mostly witless and excruciating. It as though Monster Hunt, in its desire to appeal to the widest demographic and create a homegrown hit, pitched the comedy to the most simplistic level – the sort of inanity that you get in children's live-action fantasies.
Thus we get agonising comedic scenes with people up against the monsters, Jing Boran pursuing the baby up around the rafters of a hotel room or faking various voices as he tries to pretend to other guests that he is a grandmother giving birth. The absolute low point of the film is surely the climactic scenes where Jing Boran uses the baby's ability to expel seed pips with machine-gun rapidity to defeat his opponents.
Raman Hui and the leads returned with a sequel Monster Hunt 2 (2018).
---
---