---
USA. 1982.
Crew
Director/Producer – Paul Mazursky, Screenplay – Paul Mazursky & Leon Capetanos, Based on the Play by William Shakespeare, Photography – Don McAlpine, Music – Stomu Yamashita, Visual Effects – Bran Ferren, Special Effects – Dick Parker, Eduardo Perez & Adriano Pischiutta, Production Design – Pato Guzman. Production Company – Columbia.
Cast
John Cassavetes (Philip Dimitrios), Susan Sarandon (Aretha Tomalin), Molly Ringwald (Miranda Dimitrios), Gena Rowlands (Antonia Dimitrios), Raul Julia (Kalibanos), Vittorio Gassman (Alberto Alonzo), Jerry Hardin (Harry), Sam Robards (Freddy Alonzo), Jackie Gayle (Arne Trinc), Anthony Holland (Dr David Sebastian)
---
Plot
After discovering that his wife is having an affair, architect Phillip Dimitrios decides that he needs to get away from New York City. He goes to a remote Greek island, along with his teenage daughter Miranda and an American nightclub singer he meets on the Greek mainland. On the island, the lusty goatherd Kalibanos tries to seduce the bored Miranda. They are then joined by Phillip's wife looking for them to get Miranda back.
---
Paul Mazursky gained a respected name as a director after his first film Bob & Carol & Ted & Alice (1969) and went on to a series of acclaimed other works such as Harry and Tonto (1974), Next Stop, Greenwich Village (1976), An Unmarried Woman (1978), Willie and Phil (1980), Moscow on the Hudson (1984), Down and Out in Beverly Hills (1986) and Enemies: A Love Story (1989), among others, most of which he also wrote. Tempest is his only film that broaches genre territory.
This is an interesting attempt to conduct a modern reworking of William Shakespeare's The Tempest (1611). If one wanted to be strictly correct, the film should properly be called a modernised prequel to The Tempest in that the film is more an examination of the reasons why Prospero decided to go into exile – the film takes at least two often slow-moving hours before getting to the events that take place in the play.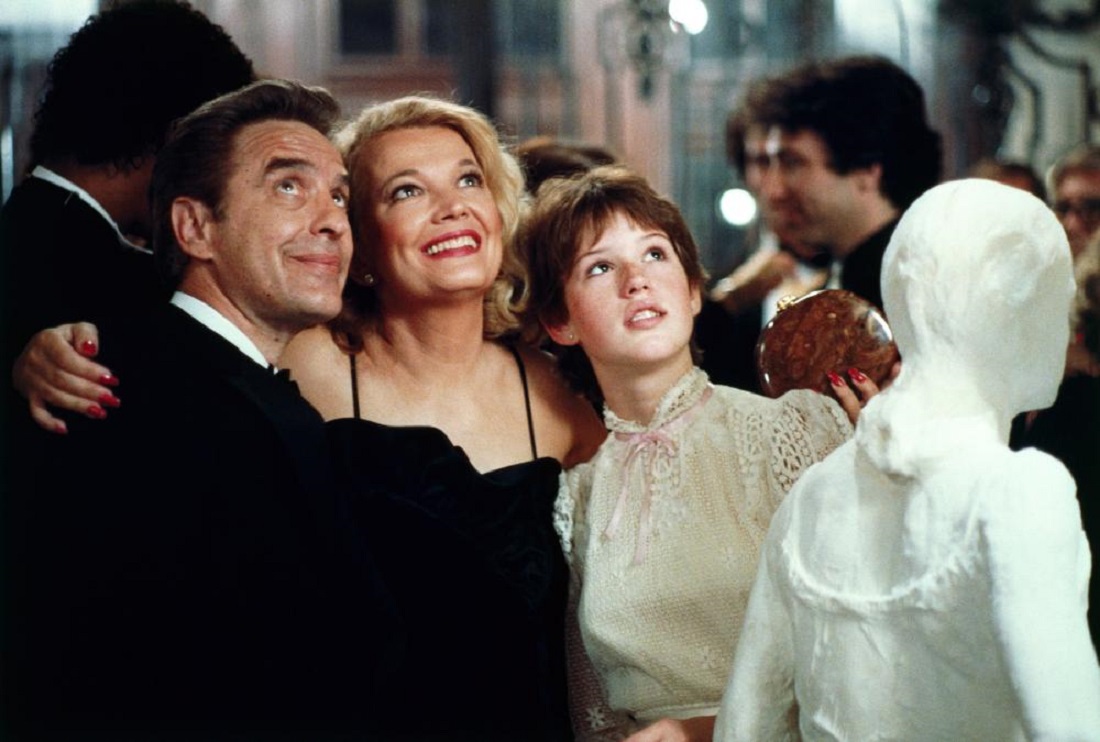 Certainly, with its throwaway references to the Go-Gos and Split Enz; Devo on the soundtrack; and appearances from a Woody Allen lookalike, it is not a Tempest that Shakespeare would easily recognise. Some of the reworked characters take one aback somewhat – Miranda, played by a whiningly nasal Molly Ringwald, is irritably brattish and trendy, coming out with lines like "I think I'll die a virgin" and complaining she is not on the pill when Frederick kisses her.
Nevertheless, the updating is ultimately rewarding – seeing the characters in modern terms gives the story a particularly potent resonance, especially Caliban reinterpreted as a spirited, masculine Greek goatherd and the spirit Ariel rewritten as a kind-hearted girlfriend.
The fantasy content of the original has been almost entirely excised – instead of a magician, Prospero is a high-flying architect, although he does sem to magically create the tempest and a storm in New York, something the film never bothers to comment on, and for some reason sacrifices a goat later in the film.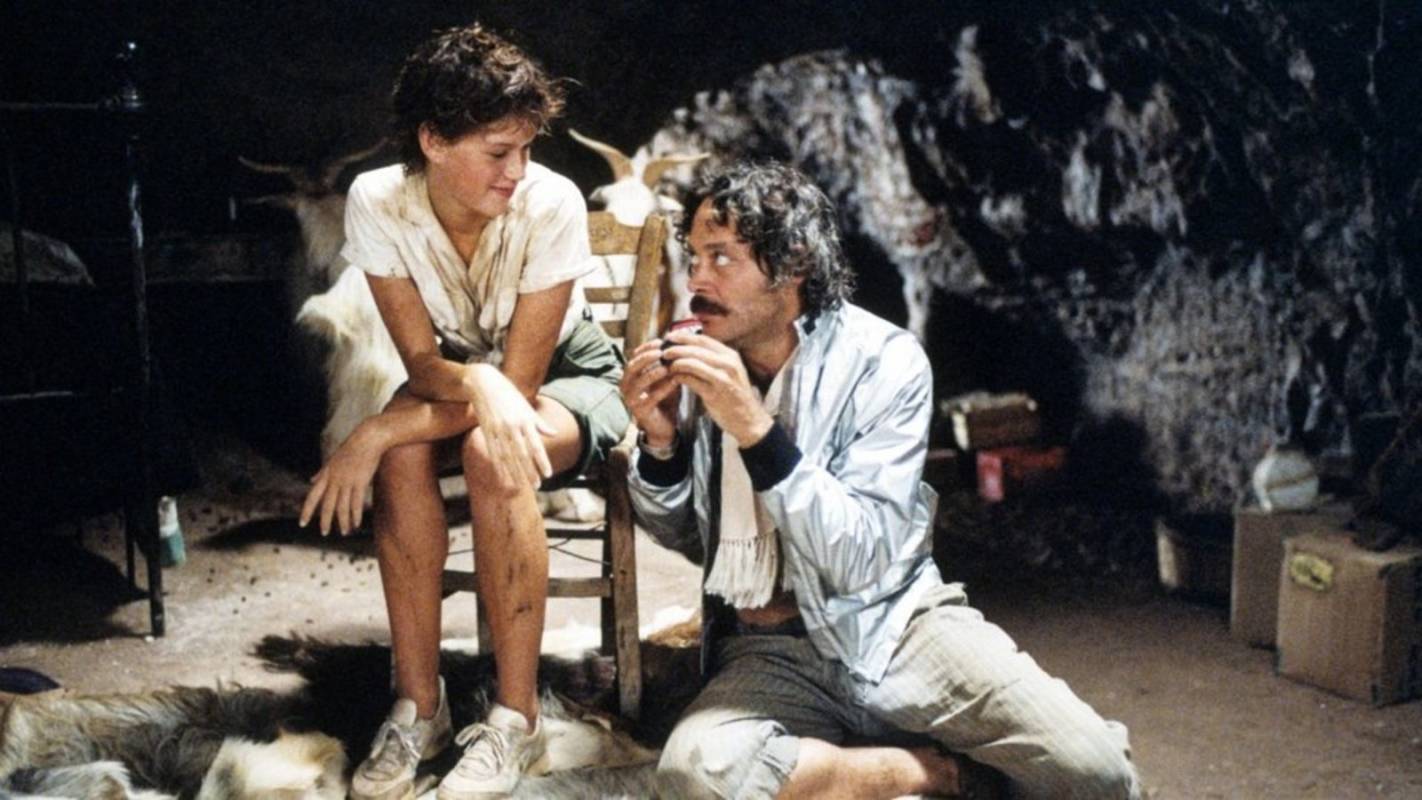 The film in itself is of variable success. The New York scenes share the same problems as do Woody Allen's explorations of New York's upper class set during the 1990s/00s – life there seems dull. As Prospero, John Cassavetes does his lugubrious hangdog thing throughout, although the scenes with him becoming involved with Susan Sarandon have an appealing charm. The film improves when it gets to the Mediterranean – the Greek islands are photographed with a expansive wide-open beauty. There are some genuinely striking moments such as Miranda and Frederick's meeting underwater, and others that are downright surreal such as Raul Julia doing a top-hat-and-tails lip-synching of Liza Minelli's New York, New York on a sunny Greek mountainside amid dancing goats.
Other adaptations of the The Tempest include:– the famous Forbidden Planet (1956), which relocated the story in science-fictional terms; Derek Jarman's fine The Tempest (1979); Peter Greenaway's eccentric Prospero's Books (1991); The Tempest (1998), a tv version that locates the story during the American Civil War; and Julie Taymor's visually fantastical The Tempest (2010) with a female Prospero.
---
---