---
Crew
Director/Screenplay – Julie Taymor, Based on the Play by William Shakespeare, Producers – Robert Chartoff, Lynn Hendee, Jason K. Lau, Julia Taylor-Stanley & Julie Taymor, Photography – Stuart Dryburgh, Music – Elliot Goldenthal, Visual Effects Supervisor – Kyle Cooper, Visual Effects – Prologue Films (Supervisor – Kyle Cooper, Animation Supervisors – Heebok Lee & Adam Swaab), Special Effects Supervisors – Steve Kirshoff & G. Bruno Stemple, Caliban Makeup – Matthew W. Mungle & Richard Redlefsen, Production Design – Mark Friedberg. Production Company – Miranda Films/Talkstory Productions/Artemis Films/Mumbai Mantra Media Limited/Prologue Films/Chartoff-Hendee Productions.
Cast
Helen Mirren (Prospera), Ben Whishaw (Ariel), Djimon Hounsou (Caliban), Russell Brand (Trinculo), Alfred Molina (Stephano), Felicity Jones (Miranda), Reeve Carney (Prince Ferdinand), David Strathairn (King Alonso), Tom Conti (Gonzalo), Alan Cumming (Sebastian), Chris Cooper (Antonio)
---
Plot
The sorceress Prospera has been exiled from Milan and lives on a desolate, rocky island in the Mediterranean. Her only companions are her daughter Miranda who has grown up knowing no others; Ariel, a spirit she has ensorcelled to do her bidding; and Caliban, the island's original inhabitant that she has enslaved and hates her for it. Prospera conjures up a tempest to wreck a passing ship containing Milanese dignitaries. Various of the survivors wash ashore on the island. Among these, the unworldwise Miranda meets the young Ferdinand and the two fall in love. Caliban discovers two of the servants and recruits them into his schemes to take revenge against Prospera. Meanwhile, Prospera sends Ariel to taunt and terrify the others as they make their way across the island.
---
This is a version of the classic William Shakespeare play The Tempest (1610-1). It comes from Julie Taymor who is best known for her work as a theatrical director, gaining acclaim for adapting various classic operas and plays and for interpreting them with a great deal of visual flair. Her greatest success has been the huge hit of the Broadway production of Disney's The Lion King (1997), which won several awards, although more recently she befell the fiasco of Spiderman: Turn Off the Dark (2011).
Taymor has a secondary career as a film director, beginning with the Edgar Allan Poe tv adaptation Fool's Fire (1992) and winning an Emmy for her tv production of Oedipus Rex (1993). Taymor then branched out onto theatrical releases with Titus (1999), an adaptation of Titus Andronicus (1588-93), which was one of the finest of modern Shakespeare adaptations, reinterpreting the text in a visually fascinating alternate world that was a blend of Ancient Roman and modern trappings. Taymor subsequently went onto make other films, including the excellent Frida Kahlo biopic Frida (2002) and Across the Universe (2007), which adapted Beatles music into a surreal fantasia of the 1960s Love Generation. She subsequently returned to Shakespeare with the excellent A Midsummer Night's Dream (2014), the filmed version of a stage production she directed, while also acted as an executive producer on the live-action version of The Lion King (2019).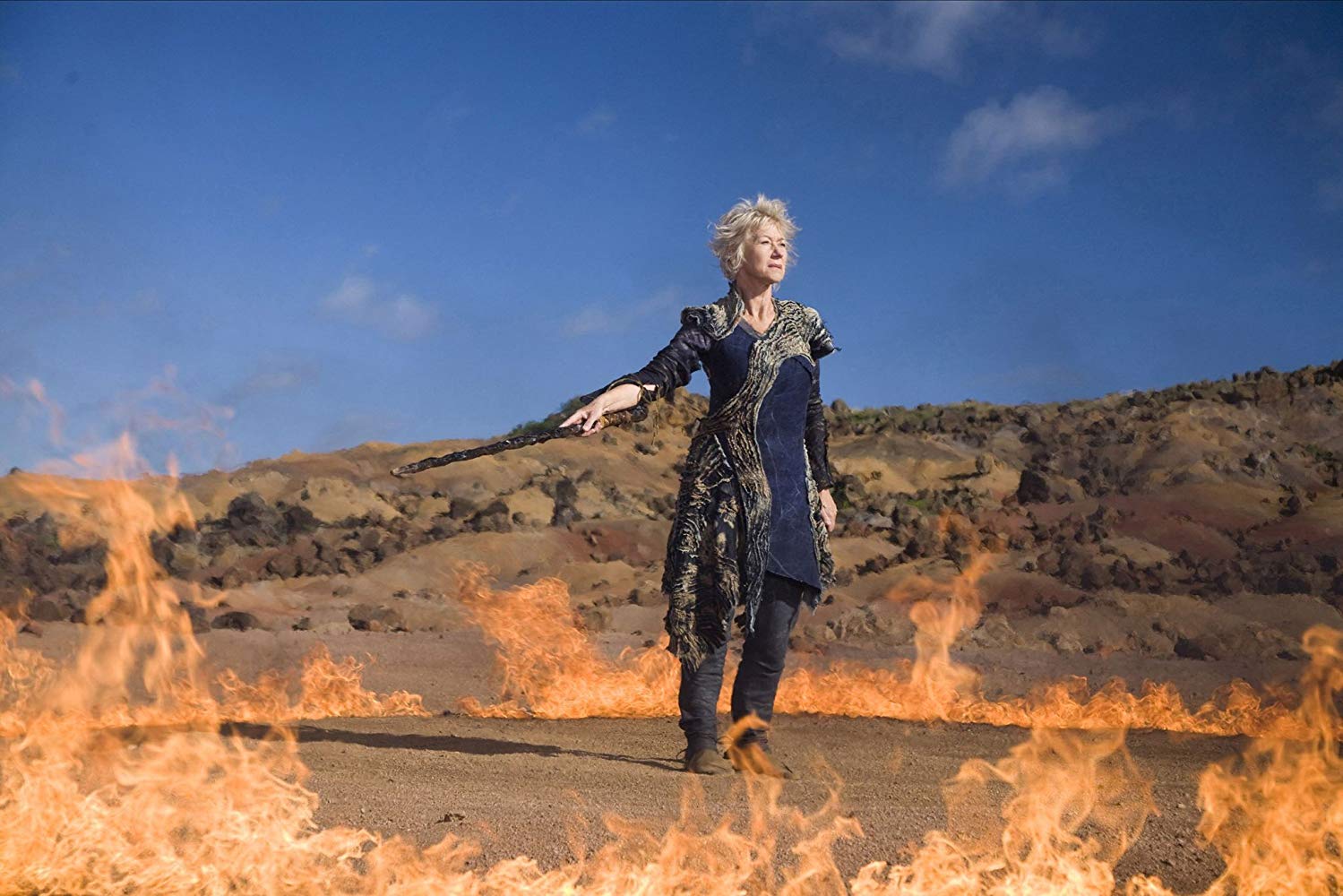 There have been a number of versions of The Tempest on screen before – from Derek Jarman's moodily eccentric The Tempest (1979) to Paul Mazursky's modernised Tempest (1982), Peter Greenaway's madcap work of arthouse surrealism Prospero's Books (1991) and the made for American tv The Tempest (1998), which updated the story into the American Civil War, not to mention Forbidden Planet (1956), which retold the story in science-fictional terms. Julie Taymor's take is to give us a version that features a female Prospero in the form of Helen Mirren. Other than the casting of Helen Mirren – which I am not sure necessarily adds any fascinatingly new interpretations to the original – Julie Taymor otherwise keeps to the basics and gives a traditional telling of the play the way that Shakespeare wrote it with all the dialogue taken in toto.
One thing that Julie Taymor does give the play is to open it up visually. The Tempest is the most fantastic of William Shakespeare's plays – alongside A Midsummer Night's Dream (c1595) – and Taymor gives us the most visually alive screen version yet. She is a director noted for the vibrance of the visuals she conjures – both on stage and on the screen. Where film versions of The Tempest (and other Shakespearean works) tend to allow the camera to simply film a stage play enacted on sets and in costumes, Taymor makes the play come to life dramatically.
She employs an extravagant range of visual effects to give us scenes of Helen Mirren whipping up the storm to destroy the Milanese sailing ship, or of the ghostly Ariel flitting about, materialising out of trees. There is a particularly beautiful sequence where Ben Whishaw's Ariel becomes a water sprite and follows the party along under the rivers and pools, while singing a hauntingly beautiful song. There are amazing visions – the party of nobles being greeted by the vision of a path of magical steps leading to a laden banquet table in glowing lights, before Ariel appears as a hermaphoritic black crow being and wields a storm cloud of birds against them; or his appearance as a horde of flaming dogs to pursue them. Taymor even sweeps Miranda and Ferdinand up into a cosmological vision of star charts and astrological symbols.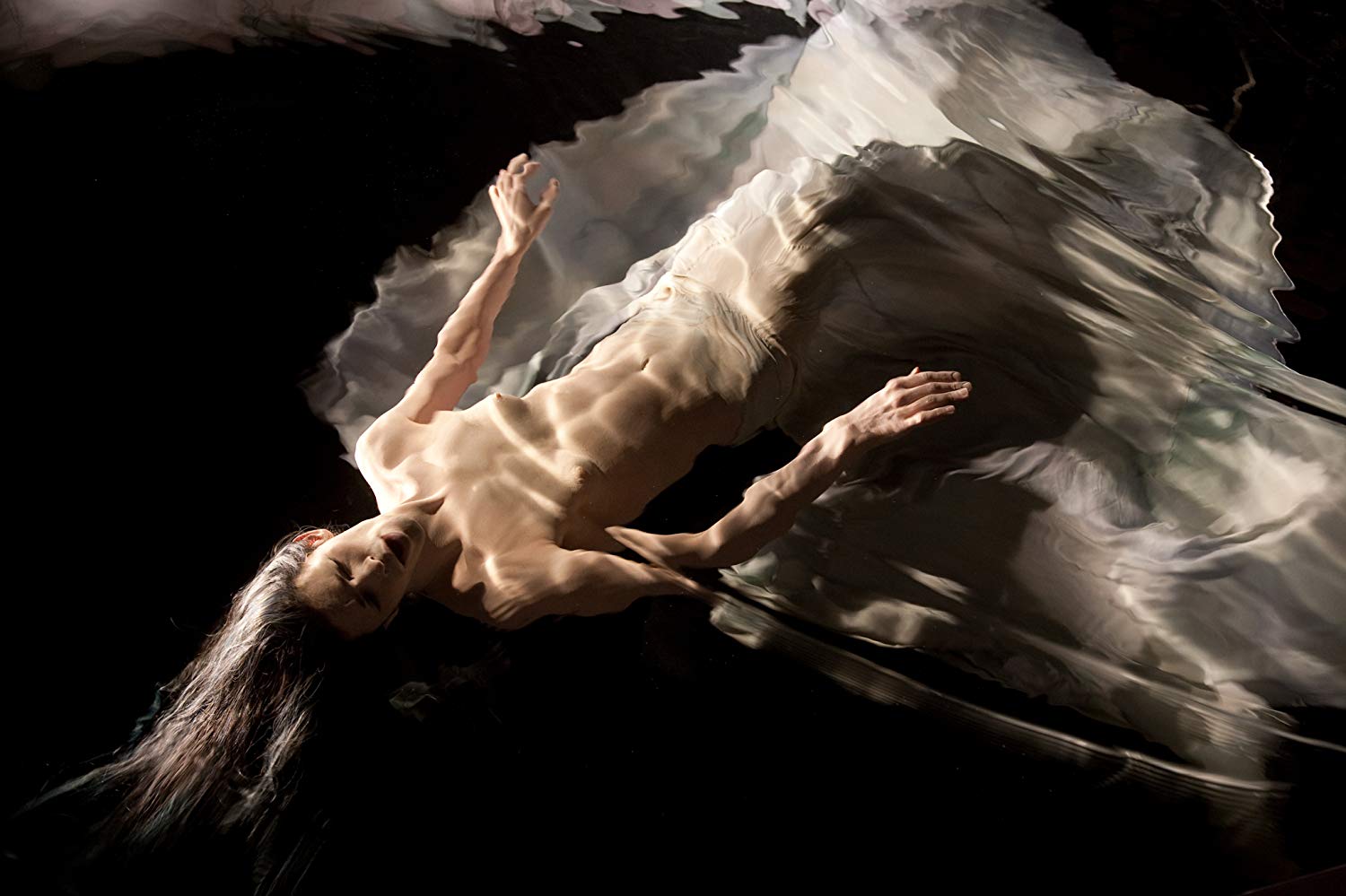 One of the more interesting things is how, having set the film up, Julie Taymor otherwise leaves the island a bare landscape (shot around the volcanic islands of Hawaii). This leads to a film that is visually extravagant but equally seems to take place almost entirely out of doors apart from Prospera's courtyard near the end. Even Prospera's wardrobe of costumes is peculiarly located out of doors. The staging of some scenes is also downright peculiar – like one where Djimon Hounsou's Caliban is fooling around with Russell Brand's Trinculo, which ends with both of them hiding under a blanket in the midst of an otherwise barren plain.
One thing that must be commended hugely in Julie Taymor's favour is that she opens the dialogue up. Watching Shakespeare film adaptations, unless you have memorised or are closely familiar with the text, you often need a set of primer notes to interpret and follow what is being said. Rather than people coming on and delivering dialogue by memorised rote as you usually get, Taymor has her actors deliver it as though it were everyday dialogue, which certainly makes the play easier to follow.
---
---