---
Crew
Director – Benh Zeitlin, Screenplay – Benh Zeitlin & Eliza Zeitlin, Producers – Becky Glupczynski, Dan Janvey Paul Mezey & Josh Penn, Photography – Sturla Brandth Grøvlen, Music – Dan Romer & Benh Zeitlin, Visual Effects Supervisor – Jasper Kidd, Visual Effects – Break / Enter, Special Effects Supervisor – Tim Rossiter, Prosthetics and Mother – Hamer FX (Supervisor – Jason Hamer), Production Design – Eliza Zeitlin. Production Company – Department of Motion Pictures/Journeyman Pictures.
Cast
Devin France (Wendy Darling), Yashua Mack (Peter), Gage Naquin (Douglas Darling), Gavin Naquin (James Darling), Ahmad Cage (Sweet Heavy), Krysztof Meyn (Thomas), Romyri Ross (Cudjoe Head), Lowell Landes (Buzzo), Kevin Pugh (Old James), Shay Walker (Angie Darling), Allison Campbell (Wendy Adult)
---
Plot
Wendy Darling grows up with her twin brothers Douglas and James in rural Louisiana with a mother who runs a diner. Wendy is insistent that she never wants to grow up and lose her dreams the way she sees her mother having done. At night, she glimpses a boy who lives freely, riding on the trains that pass by her window. One night, she wakes the twins and they run out and join the boy Peter on the train. Peter takes them to an island where he and several other boys live. There Peter introduces them to the creature beneath the island that he calls Mother that allows them to never age meaning that they can stay young and play forever.
---
Wendy was the second film for director/writer Benh Zeitlin. Zeitlin made a hugely acclaimed splash with his international festival hit Beast of the Southern Wild (2012), a Magical Realist tale set in Louisiana. It made this site's Best of 2012 list and I gave Zeitlin the award for that year's Best Director, while Zeitlin was also nominated as Best Director and for Best Screenplay at that year's Academy Awards although did not win. Zeitlin took his time making a follow-up.
Here Zeitlin takes on the job of conducting a modernised version of Peter Pan (1904). Peter Pan has become the quintessential children's story, an adventure about flying away to an island where one can be young and play forever. There have been numerous film adaptations of the story beginning with the silent Peter Pan (1924). The most famous was the Disney animated version Peter Pan (1953) and there have been assorted others (see below). There have been some attempts to update and retell the story with Neverland (2003), which gave Peter Pan a modernised interpretation with Peter a kid suffering from bipolar disorder, and the tv mini-series Neverland (2011), which transposed the elements to an alien planet and gave them a science-fictionalised retelling.
Benh Zeitlin jolts you out of your assumptions. One is used to the Peter Pan story starting out with Wendy, a girl in a Victorian household. Thus seeing the story with Wendy and twin brothers growing up in the environment of a diner, supported by a working solo mother comes with striking effect. In these scenes, the voiceover does some clever things talking about Wendy's desire not to grow up and lose her dreams, with Wendy contrasting herself to her mother having given up on her childhood dreams and settled down to support them. Moreover, the story is relocated to the South – it is not clear exactly where it takes place but Zeitlin shot these scenes in Mississippi. The camerawork is handheld, including Zeitlin taking a journey along a train across the Delta landscape, which is quite unlike anything we have seen Peter Pan portrayed as before.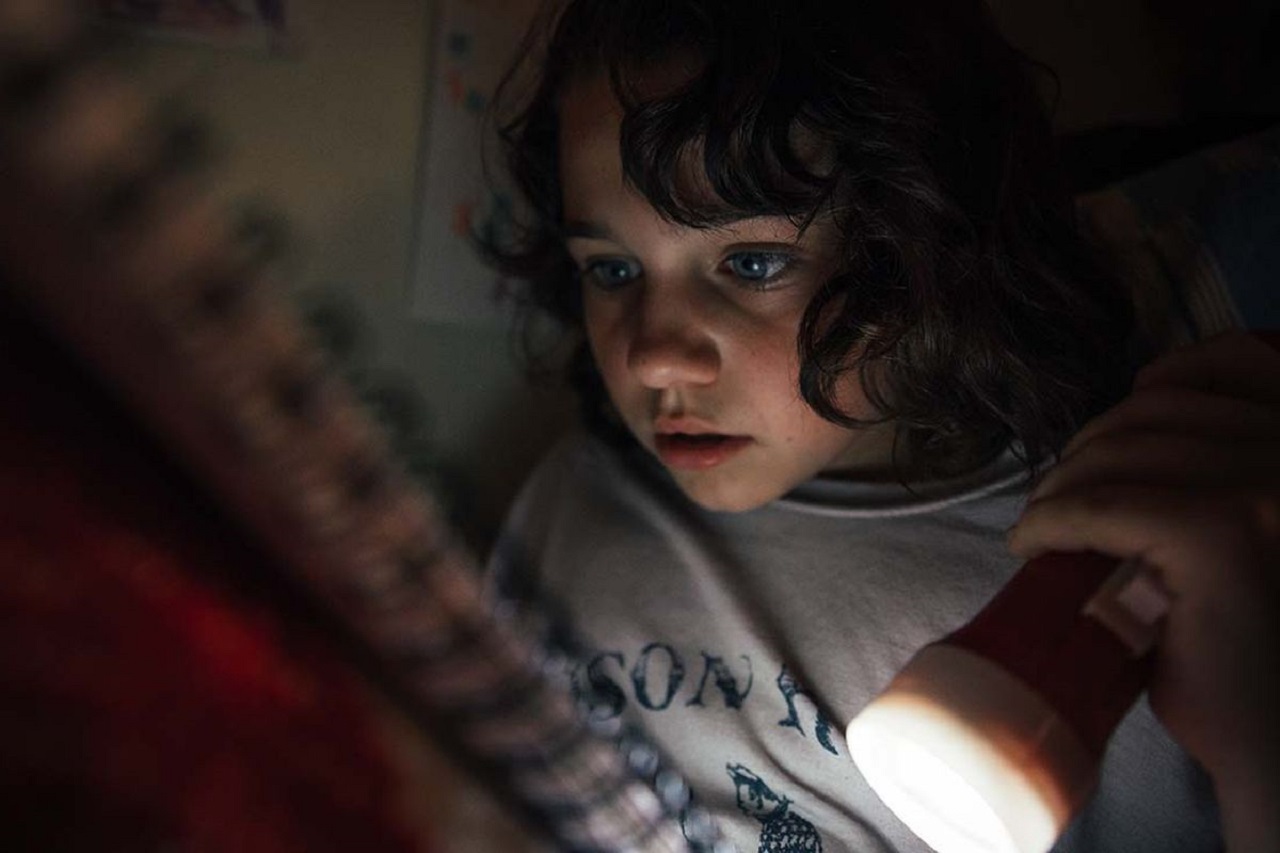 This is Peter Pan in terms of a Rationalised Fantasy so when Peter is said to be flying, it is him riding atop a train or urging them to dive off the side into the water where swimming is equated with flying. The Lost Boys becomes faces on a Missing poster. In the main sections of the film, we are taken to Never-Never Land, an island where they live in a state of perpetual play, The film also gives us a shabby Captain Hook of sorts at the end (although no crocodile). The film also has the novelty of introducing the first black Peter Pan in the form of Mauritian native Yashua Mack.
The sections on the island (location shooting on an actual volcanic island of Montserrat) take the film into the realm of Magical Realism as various fantastic elements are introduced. This includes the creature beneath the island that Peter calls Mother who gives them the ability to stay young. The latter sections of the film take place among a group of castoff Lost Boys who have grown up (played by actors well past retirement age) and live in desolate squalor on the other side of the island – a major plot point in the film centres on one of the brothers growing up and abruptly turning into an old man.
I wanted very much to like Wendy based on the enormous promise that Benh Zeitlin showed with Beasts of the Southern Wild. Zeitlin's approach here can be considered Terrence Malick-ian. Malick – the director of films like Badlands (1973), Days of Heaven (1978), The Thin Red Line (1998), The New World (2005), The Tree of Life (2011) and others – takes a unique approach in that he does not dramatically stage shots but instead dresses the actors in character and allows them to improvise while he films what happens. It results in a much more freeform film than one is used to seeing. Zeitlin has clearly used the Malick-ian approach when it comes to much of Wendy, particularly the scenes on the island with the children playing.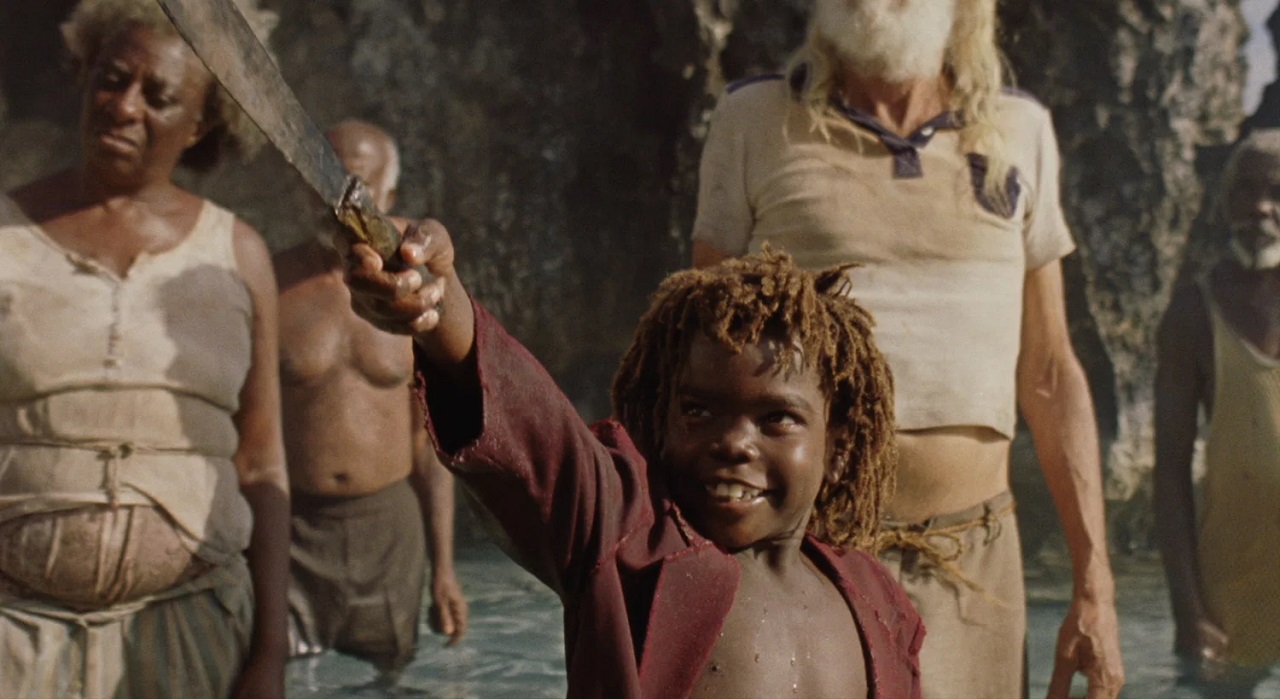 Malick has an ability to evoke an extraordinary poetry out of his improvisations. On the other hand, Wendy reads more as wannabe Terrence Malick. The children's improvisations seem routine and there is little that seems inspired in the scenes of them running around the island, going diving, skidding through mud and so on. Moreover, Yashua Mack's Peter is all brash impulsiveness and it is not hard to see (if I hadn't read elsewhere) that Mack had never acted before. I contrast him to the other screen Peter Pans and it feels a stretch to think of him filling the heroic stature that Peter always has, standing up to fight Captain Hook to rescue Wendy (although there is a brief scene where Mack picks up a sword at the climax).
The freeform Malick-ian approach tends to work against the film and it is only at the end that it picks up any drama with the death of Mother and the scenes where Wendy and the Lost Boys leave the island. There is a beautiful coda where we see a montage of shots as the children grow up before the adult Wendy sees the still youthful Peter riding on the train again and runs after it.
Other adaptations of Peter Pan include:- the silent Peter Pan (1924); the classic Disney animated version Peter Pan (1953); Peter Pan (1955), a live tv play; Peter Pan (1976), a tv movie version with Mia Farrow!!! playing Peter; the animated tv series Peter Pan and the Pirates (1990); Peter Pan (tv movie, 2000); the big-budget live-action Peter Pan (2003) and the Disney live-action remake Peter Pan and Wendy (2023). There was also the fascinating but little-seen Neverland (2003), which gave Peter Pan a modernised interpretation with Peter a kid suffering from bipolar disorder. Other variations of the story include:- Steven Spielberg's live-action sequel Hook (1991), which concerns itself with a grownup Peter's return to Never-Never Land; Disney's animated theatrical sequel Return to Never Land (2002) and the series of Tinkerbell dvd-released films with TinkerBell (2008), Tinker Bell and the Lost Treasure (2009), Tinker Bell and the Great Fairy Rescue (2010), Secret of the Wings (2012), The Pirate Fairy (2014) and Tinker Bell and the Legend of the Neverbeast (2014); and the live-action prequel Pan (2015). Other reinterpretations include the fascinating but little-seen Neverland (2003), which gave Peter Pan a modernised interpretation with Peter a kid suffering from bipolar disorder; and the tv mini-series Neverland (2011), which offered a science-fictional rationalisation set on an alien planet. Finding Neverland (2004) was a biopic about J.M. Barrie and offered a heavily fictionalised account of the writing of Peter Pan.
---
Trailer here
---