---
Crew
Director – Paul Anderson, Screenplay – Kevin Droney, Producer – Larry Kasanoff, Photography – John R. Leonetti, Music – George S. Clinton, Music Supervisor – Sharon Boyle, Visual Effects Supervisor – Alison Savitch, Visual Effects – R/Greenberg Associates West, Additional Visual Effects – Fantasy II Film Effects & Illusion Arts, Computer Effects – RG/LA, Digital Effects – Buena Vista, Mattes – Matthew Lloyd, Additional Animation – Available Light Inc, Special Effects – Class A Effects, Goro Creature Effects – Amalgamated Dyamics (Supervisors – Alec Gillis & Tom Woodruff), Kano/Master Makeup – Makeup Effects of Hollywood, Production Design – Jonathan Carlson. Production Company – New Line Cinema/Threshold Productions.
Cast
Robin Shou (Liu Kang), Linden Ashby (Johnny Cage), Bridgette Wilson (Lieutenant Sonya Blade), Cary-Hiroyuki Tagawa (Shang Tsung), Christopher Lambert (Lord Rayden), Talisa Soto (Princess Kitana), Trevor Goddard (Kano), Kevin Richardson (Voice of Goro)
---
Plot
Martial artist Liu Kang, action movie star Johnny Cage and Special Forces Lieutenant Sonya Blade are each for different reasons drawn to board an ancient sailing ship in Hong Kong. As the ship sets sail, they are attacked by the sorcerer Shang Tsung who has manipulated events to bring them there but are saved by Rayden, the god of lightning. Rayden explains that every decade there is a martial arts competition The Mortal Kombat. Shang Tsung, the emperor of the other-dimensional Outworld, and his forces have won nine of the Kombats so far – if they win a tenth, they will have won the right to conquer Earth. On an island where the Kombat is to take place, Liu, Johnny and Sonya have to take on Shang Tsung's bizarre menagerie of fighters in this the most crucial battle for the fate of the Earth.
---
Mortal Kombat was a huge hit when it debuted for the home console game market in 1992 and has been through about nine different versions since then, including one game in which the characters can fight against DC Comics superheroes. This film adaptation emerged in 1995 and was easily the best film adapted from a videogame up to that point. Although, considering the competition – the likes of Super Mario Bros. (1993), Street Fighter (1994) and Double Dragon (1994) – it did not even have to be particularly good in order to be the best of the bunch. Mortal Kombat manages to be the best of these by dint of one single thing. It is something that seems so glaringly obvious, one wonders how it could have been possible that the other films could have missed it – and that one thing is non-stop, wall-to-wall action.
Mortal Kombat was the genre debut of director Paul Anderson, who has remained a regular contributor since (see below for Paul Anderson's other films). Anderson leaves hardly any breathing space between the battles to slip any plot in – and even then that has largely been borrowed from the premise of Enter the Dragon (1973). The brain rarely engages but this is not a film that makes even the slightest pretence that that is why one is there. One cannot criticise Mortal Kombat for providing exactly what it is that it has set out to do – the bonus is that the film is so much fun.
Paul Anderson was one of the first Western directors to start adopting the wild balletic moves of Hong Kong fantastique cinema, something that became widespread after the amazing success of The Matrix (1999) a few years later. The effects are impressive with the various kombatants wielding lightning bolts and forcefields and dealing with three-meter tall four-armed opponents, invisible creatures and zombies manifesting animated tentacles. The film moves like lightning and is entirely enjoyable.
The three leads are anonymous – Bridgette Wilson looks all of about nineteen and far too young to be a season Special Forces lieutenant. Christopher Lambert, the biggest name present, plays to the extent of his limited range. Cary-Hiroyuki Tagawa has the most fun, getting into the villainy with relish. The most annoying aspect of the film is the downbeat epilogue, which clearly sets everything up for a sequel.
There was a sequel Mortal Kombat: Annihilation (1997). A further cinematic sequel has been announced numerous times and eventually emerged with the reboot Mortal Kombat (2021). The franchise was further revived with the animated films Mortal Kombat Legends: Scorpion's Revenge (2020), Mortal Kombat Legends: Battle of the Realms (2021) and Mortal Kombat Legends: Snow Blind (2022). There was also an animated tv series Mortal Kombat: Defenders of the Realm (1995) and a short-lived live-action tv series Mortal Kombat: Conquest (1998-9), which lasted for 22 episodes.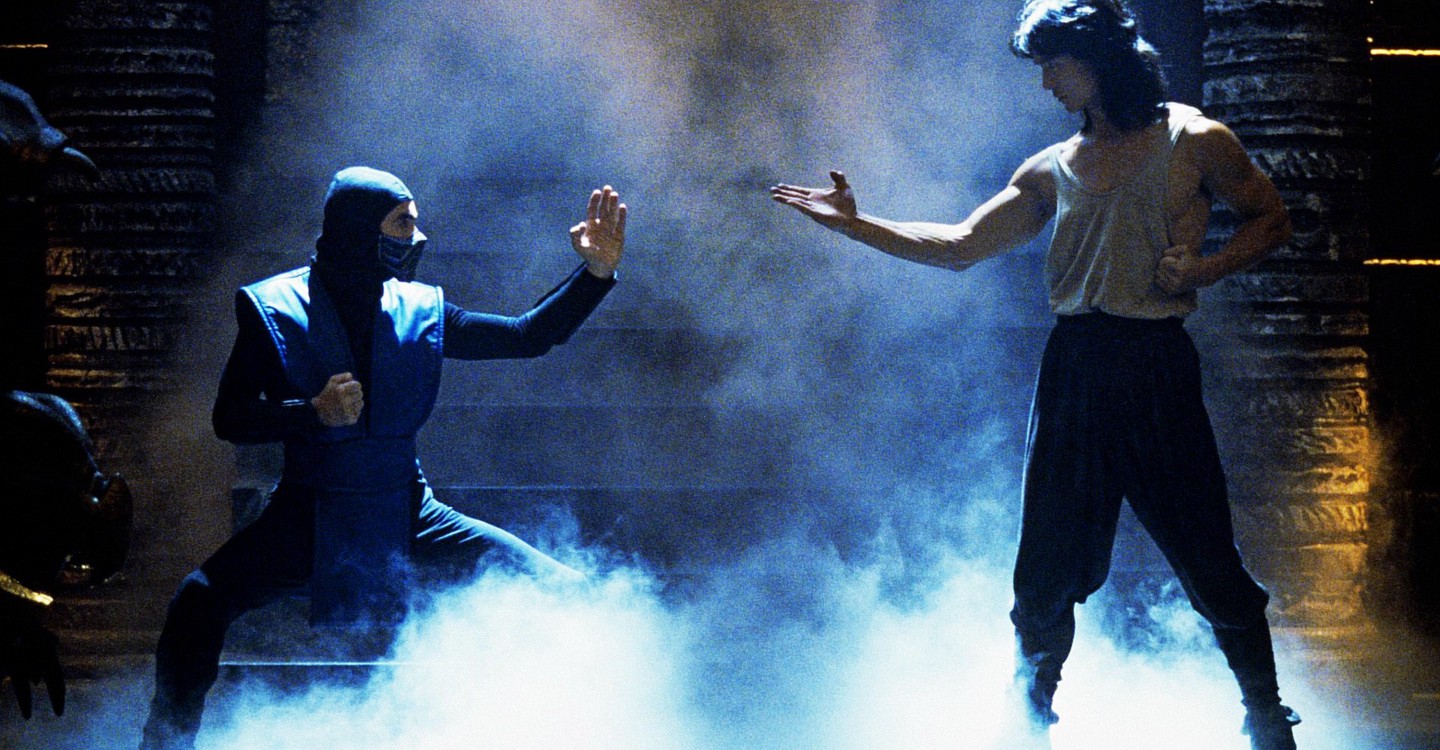 Director Paul Anderson had previously debuted with the British crime thriller Shopping (1994). All of Anderson's subsequent films have remained within the genre, although Mortal Kombat is the most plainly enjoyable of these. His other films include the very silly haunted spaceship effort Event Horizon (1997), which survived solely through dint of Anderson's atmosphere; the programmed-soldier film Soldier (1998), which was an expensive flop; the tv movie The Sight (2000) about a haunted hotel; a further videogame adaptation, Resident Evil (2002); AVP: Alien vs. Predator (2004); Death Race (2008); Resident Evil: Afterlife (2010); a remake of The Three Musketeers (2011); Resident Evil: Retribution (2012); the non-genre disaster movie Pompeii (2014); Resident Evil: The Final Chapter (2016); and Monster Hunter (2020). Anderson has also written and produced Resident Evil: Apocalypse (2004) and Resident Evil: Extinction (2007), and produced the horror film The Dark (2005), another videogame adaptation DOA: Dead or Alive (2006), the sf film Pandorum (2009), Death Race 2 (2010), Death Race 3: Inferno (2012) and Death Race: Beyond Anarchy (2018). Anderson should not be confused with Paul Thomas Anderson, the director of Boogie Nights (1997), Magnolia (1999), There Will Be Blood (2007) and The Master (2012) fame. On his later films, this Paul Anderson has taken to listing himself as Paul W.S. Anderson to avoid confusion.
Subsequent video/computer game screen adaptations include Wing Commander (1999), Final Fantasy: The Spirits Within (2001), Lara Croft, Tomb Raider (2001), Resident Evil (2002), House of the Dead (2003), Alone in the Dark (2005), BloodRayne (2005), Doom (2005), DOA: Dead or Alive (2006), Silent Hill (2006), Hitman (2007), In the Name of the King: A Dungeon Siege Tale (2007), Postal (2007), Far Cry (2008), Max Payne (2008), Prince of Persia: The Sands of Time (2010), Tekken (2010), Dead Rising: Watchtower (2015), Angry Birds (2016), Assassin's Creed (2016), Warcraft (2016), Rampage (2018), Pokemon Detective Pikachu (2019), Monster Hunter (2020), Sonic the Hedgehog (2020), Werewolves Within (2021), the tv series Halo (2022- ), Uncharted (2022), Five Nights at Freddy's (2023), Gran Turismo (2023) and the tv series The Last of Us (2023- ).
(Nominee for Best Special Effects at this site's Best of 1995 Awards).
---
---