---
Crew
Director/Screenplay/Producer – Ralph Bakshi, Music – Andrew Belling. Production Company – Bakshi Productions
Voices
Bob Holt (Avatar), Jesse Wells (Elinore), Richard Romanus (Weehawk), Stephen Gravers (Blackwolf), David Proval (Peace/Magnus 99), Mark Hamill (Sean), Peter Hobbs (The General), Susan Tyrrell (Narrator)
---
Plot
It is two million years after civilisation has been devastated by a nuclear holocaust. The radiation has caused races of elves, dwarves and fairies to mutate. In the elvish kingdom of Morganthar, a queen gives birth to two sons who are psychic opposites of one another – the charming Avatar and the vile Blackwolf. Both become powerful wizards. Avatar becomes the ruler of Morganthar but Blackwolf reviles his name and chooses self-exile in the kingdom of Scortch, a nuclear wasteland. There he rallies the mutants and demons of the underworld under him, although they lack the volition and unison to be an army. However, after researching into history, Blackwolf discovers all about weapons of war and finds that he can unite the troops together around old film footage of Adolf Hitler.
---
Wizards comes from animator Ralph Bakshi. Bakshi emerged out of the Warner Brothers cartoon factory in the 1960s and first found distinction when he made the first X-rated cartoon Fritz the Cat (1972) followed by Heavy Traffic (1973) and Coonskin (1975). Following that, Bakshi became almost the indie equivalent of an animation director, making films that have a more adult and alternative edge than the usual output from studios such as Disney. Bakshi's early films are influenced by underground cartoonists like Robert Crumb.
Following the controversy over Coonskin and beginning with Wizards, Bakshi began to branch away from counter-culture and social realism to develop an interest in epic fantasy and sword-and-sorcery. His next film would be his greatest break at mainstream acceptance, his ambitious adaptation of The Lord of the Rings (1978), but this met with very mixed audience reception and Bakshi never completed the second half of the adaptation. After two attempts to chart American popular culture with American Pop (1981) and Hey Good Lookin' (1982), Bakshi returned to high fantasy again with Fire and Ice (1983). All of these met mediocre box-office reception. Bakshi's one other film to date has been the toon fantasy Cool World (1992) and he has disappeared from cinema screens from the 1990s onwards.
For a time during the 1980s, Wizards seemed in serious danger of becoming a midnight cult favourite, although it has since disappeared and been largely forgotten. It was the beginning of Bakshi's loose trilogy of epic fantasy/sword and sorcery films – The Lord of the Rings, Fire and Ice. Here Bakshi offers up the intriguing idea of a post-holocaust future as a rationalised sword and sorcery setting, with the elves and fairies being explained away as radiation mutations.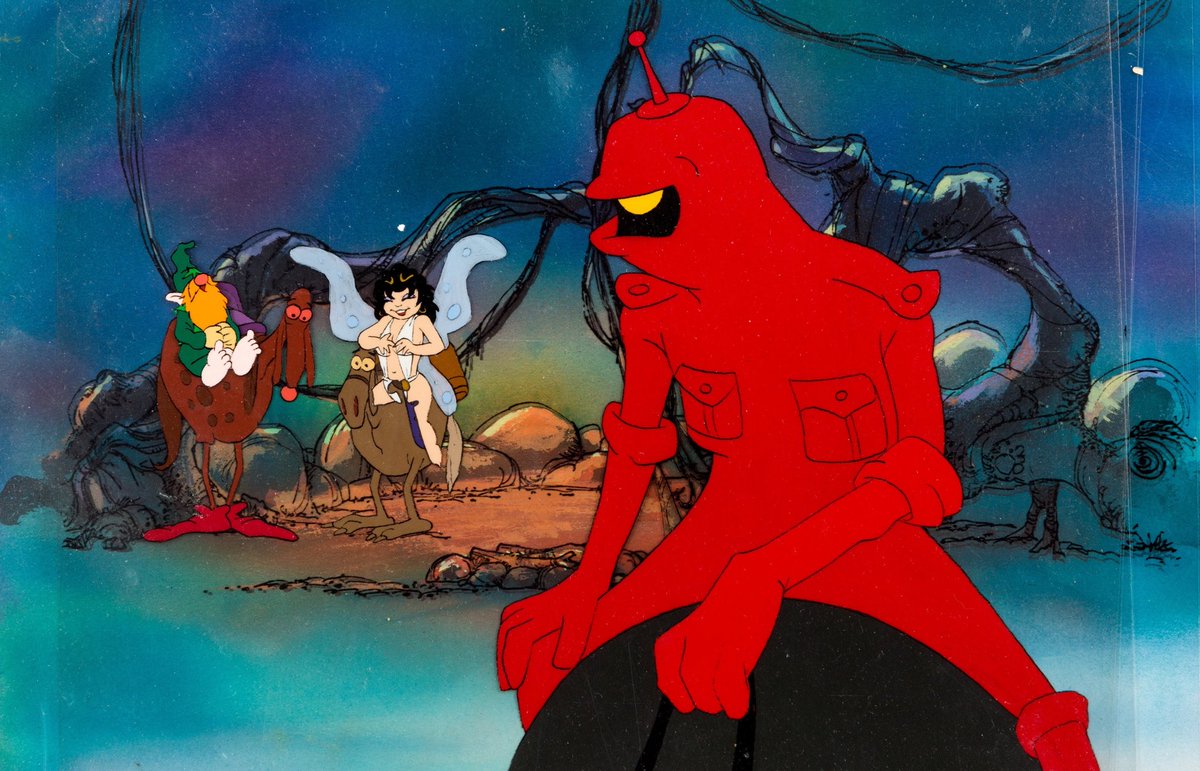 In the film, Bakshi was clearly drawing on the influence of sword and sorcery artists like Frank Frazetta, Boris Vallejo and the fantasy comics scene of the 1970s. Marvel Comics artist Mike Ploog contributes some of the artwork used during the opening scenes, and Bakshi's debt of inspiration is clearly tipped when Avatar conjures a spell using the name Frazetta (whom Bakshi would later collaborate with on Fire and Ice).
The artwork in the film is striking. Stylised armies of winged demons race on horseback against vivid roiling skies or are framed against solarised sepia-toned Nazi rally footage and silhouettes of fighting forms. There is a vivid minimalism to the use of merely pencilled cel backgrounds and even the images of sailing ships cast as two-dimensional Victorian lithographs. There are those images that have a touching simplicity – of fairies in flight, the picture of a valley that passes from morning to night in a matter of seconds, and the almost heartbreaking image of a dancing fairy forced to bare one of her straps before boorish soldiers. There is no scarcity of visual invention to the film, almost an overabundance of it.
Where Wizards falls down is in still retaining the simplistic voices of kiddie animation where in fact this is an adult film. The dialogue seems to constantly be trying to be hip and this tends to work against the film. Even less inspiring is the utterly lethargic voice-over narration from Susan Tyrrell. The script has an amusing central idea and Bakshi's desire to create an epic sword and sorcery film original to the screen is a noble one but the scripting is too sparse for the film to be wholly successful at this.
---