---
Crew
Director – David Gordon Green, Screenplay – Ben Best & Danny McBride, Producer – Scott Stuber, Photography – Tim Orr, Music – Steve Jablonsky, Visual Effects Supervisor – Mike McGee, Visual Effects – Framestore (Supervisor – Rob Duncan), Lola Visual Effects & Spectral Motion Inc, Special Effects – Nefzers Special Effects (Supervisor – Uli Nefzers), Creature & Makeup Supervisor – Mike Elizalde, Production Design – Mark Tildesley. Production Company – Universal/Stuber Productions/Dentsu Inc.
Cast
Danny McBride (Prince Thadeous), James Franco (Prince Fabious), Natalie Portman (Isabel), Zooey Deschanel (Belladonna), Toby Jones (Julie), Justin Theroux (Leezar), Rasmus Hardiker (Courtney), Damian Lewis (Boremont), Charles Dance (King Tallious), Mario Torres Jr (Great Wise Wizard), Anna Barry, Matyelok Gibbs & Angela Pleasence (Mothers), John Fricker (Marteetee)
---
Plot
Prince Thadeous lives in the shadow of his more handsome and successful brother Fabious. Fabious returns from a quest, having rescued Belladonna from a tower and announcing that he is going to marry her. As the wedding gets underway, the wizard Leezar appears and abducts Belladonna. Leezer plans to marry Belladonna himself as part of a ceremony that can only happen when the moon is in conjunction every one hundred years and will cause her to give birth to a dragon. Thadeous is reluctantly pressed into joining Fabious on a quest to rescue her. Through their various adventures and frequent mishaps, Thadeous rises to discover a heroism.
---
Your Highness is a film that has been made to capitalise on the rising comedic name of Danny McBride. Danny McBride rose to prominence with the short-lived but acclaimed HBO sitcom Eastbound & Down (2009-10). He has had comedic supporting parts in a number of films of recent years, including The Heartbreak Kid (2007), Drillbit Taylor (2008), Tropic Thunder (2008), Land of the Lost (2009), Up in the Air (2009), Due Date (2010) and This is The End (2013). His breakthrough role was in Pineapple Express (2008) also opposite James Franco. McBride co-writes Your Highness with Ben Best, his co-writer on Eastbound & Down. Also on board is David Gordon Green, who directed Pineapple Express. Prior to this, David Gordon Green had turned out a number of independent dramas with the likes of George Washington (2000), All the Real Girls (2003), Undertow (2004) and Snow Angels (2007), before finding mainstream success with Pineapple Express and the subsequent likes of Our Brand is Crisis (2015). Green subsequently returned to genre material with the reboot of Halloween (2018) and Halloween Kills (2021).
Even though the trailer for Your Highness looked utterly unpromising, I thought the basic idea – a parody of the epic fantasy quest that has become endlessly copied since the success of The Lord of the Rings – held potential. You certainly cannot deny that the material has become creatively mined enough in the last few years that it is overdue a good parody. That said, Your Highness is not that parody. Maybe the nearest we have for the time being is the great The Princess Bride (1987), to which Your Highness has a number of similarities.
As Your Highness gets underway, you keep being reminded of the excruciating movie parodies of Jason Friedberg and Aaron Seltzer – the likes of Date Movie (2006), Epic Movie (2007), Meet the Spartans (2008), Disaster Movie (2008) and Vampires Suck (2010). In this respect, Your Highness could easily have been named Fantasy Movie. The only real difference is that David Gordon Green and Danny McBride at least have a far better sense of keeping to the theme they are aiming to parody and do take the time to connect everything up to a plot.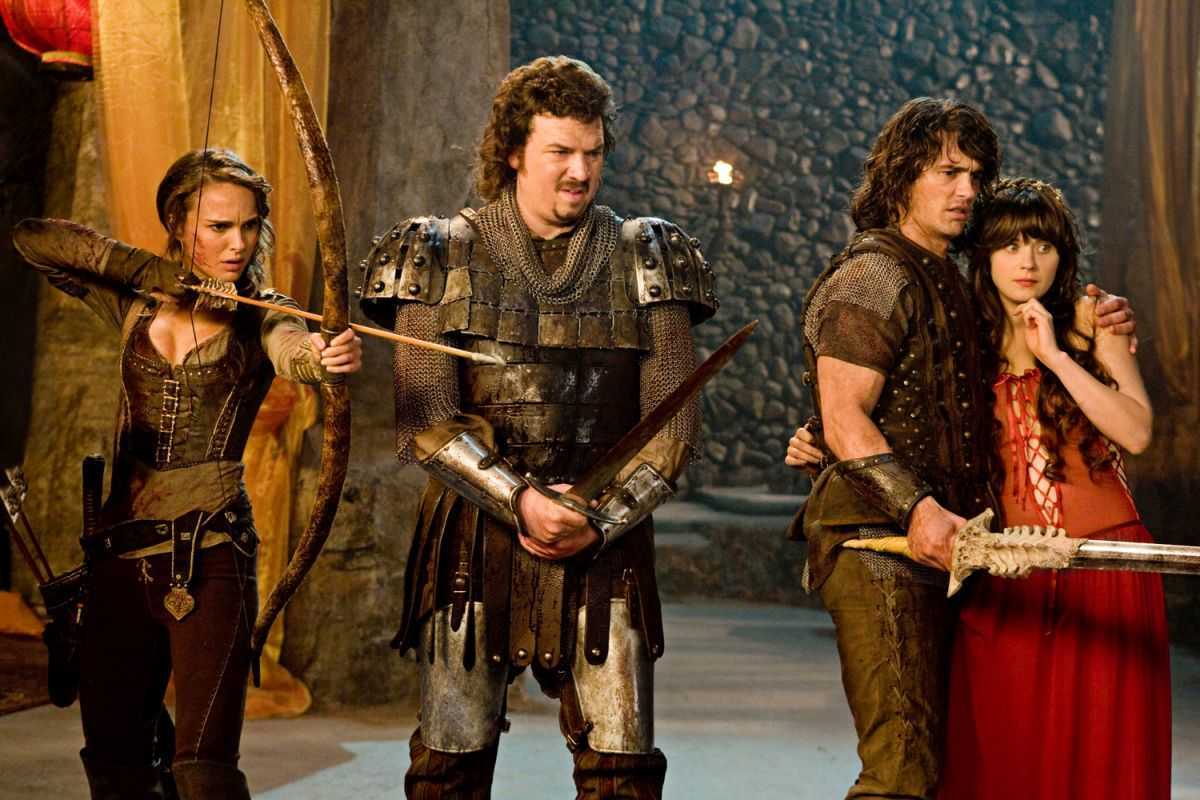 If Your Highness were made by Friedberg and Seltzer then all we would have is a series of witlessly vulgar spoofs of all of the popular films that came out in 2010 thrown together irrespective of whether they have any connection to what the film nominally announces it is about and with the barest of rationale connecting them. In terms of comparison, Your Highness perhaps most reminds of the Wayans Brothers' Scary Movie (2000), which was also written by Friedberg and Seltzer, where the Wayans' copied a popular recent hit and simply laid each plot point over with some witlessly vulgar gag.
To its credit, Your Highness does not directly copy any specific recent hit. At most, there is an annoying mechanical bird and a trio of witches that feel like Danny McBride and Ben Best watched Clash of the Titans (1981) a few too many times. Rather the plot seems made up of a series of generic scenes that could have been taken from any modern fantasy film – where the heroes venture into a labyrinth, encounter dragons and minotaurs, where they race to deal with an evil wizard before he sacrifices someone's beloved and so on. All of these are run over with crude gags – the two brothers go to visit an inscrutable Yoda-like wizard and he demonstrates paedophile tendencies and asks them to jerk him off; Danny McBride kills a minotaur and is unable to cut one of its horns off as trophy so cuts off its large-oversized dick and hangs it around his neck; and so on and on.
Danny McBride's performance seems to solely exist of sitting back with an expression of withering sarcasm and saying "fuck" and "cock" a lot in a fake British accent. The surprise about such an inane film is that it also drags in James Franco and Natalie Portman, this being the film that either made after both featured prominently at the 2010 Oscars for their roles in respectively 127 Hours (2010) and Black Swan (2010), with Portman winning a Best Actress award for the latter. What a comedown from such highs to this. Franco subsequently made jokes about what a flop the film was in This is The End.
---