---
Crew
Director/Screenplay – John Herzfeld, Producers – John Herzfeld, Keith Addis, David Blocker & Nick Wechsler, Photography (some scenes b&w) – Jean-Yves Escoffier, Music – Anthony Marinelli & J. Peter Robinson, Visual Effects – Perpetual Motion Pictures (Supervisor – Richard Malzahn), Special Effects Supervisor – Paul Lombardi, Production Design – Mayne Berke. Production Company – New Line Cinema/New Redemption Tribeca/Industry Entertainment.
Cast
Robert De Niro (Detective Eddie Flemming), Edward Burns (Jordy Warsaw), Karel Roden (Emil Slovak), Oleg Taktarov (Oleg Razgul), Kelsey Grammer (Robert Hawkins), Vera Farmiga (Daphne Handlova), Melina Kanakaredes (Nicolette Karas), Avery Brooks (Detective Leon Jackson), James Handy (Captain Duffy), David Alan Grier (Mugger), Noelle Evans (Honey), Charlize Theron (Rose Hearn), Kim Cattrall (Cassandra)
---
Plot
Two friends, Czech national Emil Slovak and Russian Oleg Razgul, arrive in New York City. They track down a partner who appropriated the proceeds from a crime and kill him and his wife. They film the killing with a stolen camcorder and then set the apartment on fire. During the investigation of the crime, fire marshal Jordy Warsaw and veteran detective Eddie Flemming, a darling of the city media, team up, searching for an illegal immigrant girl who witnessed the crime. Meanwhile, inspired by America's tabloid tv culture, the two killers hatch an ambitious plan to conduct further killings, film them on video, sell the tapes to the tv networks and then claim the insanity plea to get off.
---
On the face of it, 15 Minutes seems like a thriller – the title suggests countdowns and deadlines – and that is the way it was sold. In actuality, the title was co-opted from Andy Warhol's familiar quote about "in the future, everyone will be famous for fifteen minutes." This becomes indicative of what we end up with on screen – something that seems like a thriller but is in fact a polemic about the media masquerading as a thriller. And to stretch an analogy, one that when it comes to saying anything only reaches for things that have already been said before to the point of over-familiarity.
Director/screenwriter John Herzfeld is taking to task no less than modern media culture – the sensationalising of violence by news programs and tabloid tv, the faux catharsis of suffering and blame offered by talkshow tv, as well as the good old chestnuts of the liberal justice system and the insanity plea. Every character in the film seems to have been set up to vocalise a particular point-of-view about the media – Kelsey Grammer's ratings-obsessed, morality-free tv anchor offering platitudes about telling the truth; the lawyer demanding a percentage cut of the profits of his client's story; a killer blaming everything on his psychiatrist's failure to properly medicate him and the other killer on his partner's manipulating him; the police captain making his decisions based on media reactions; even clips from an episode of The Roseanne Show (1998-2000) of a father begging his son's apology for sleeping with his daughter-in-law.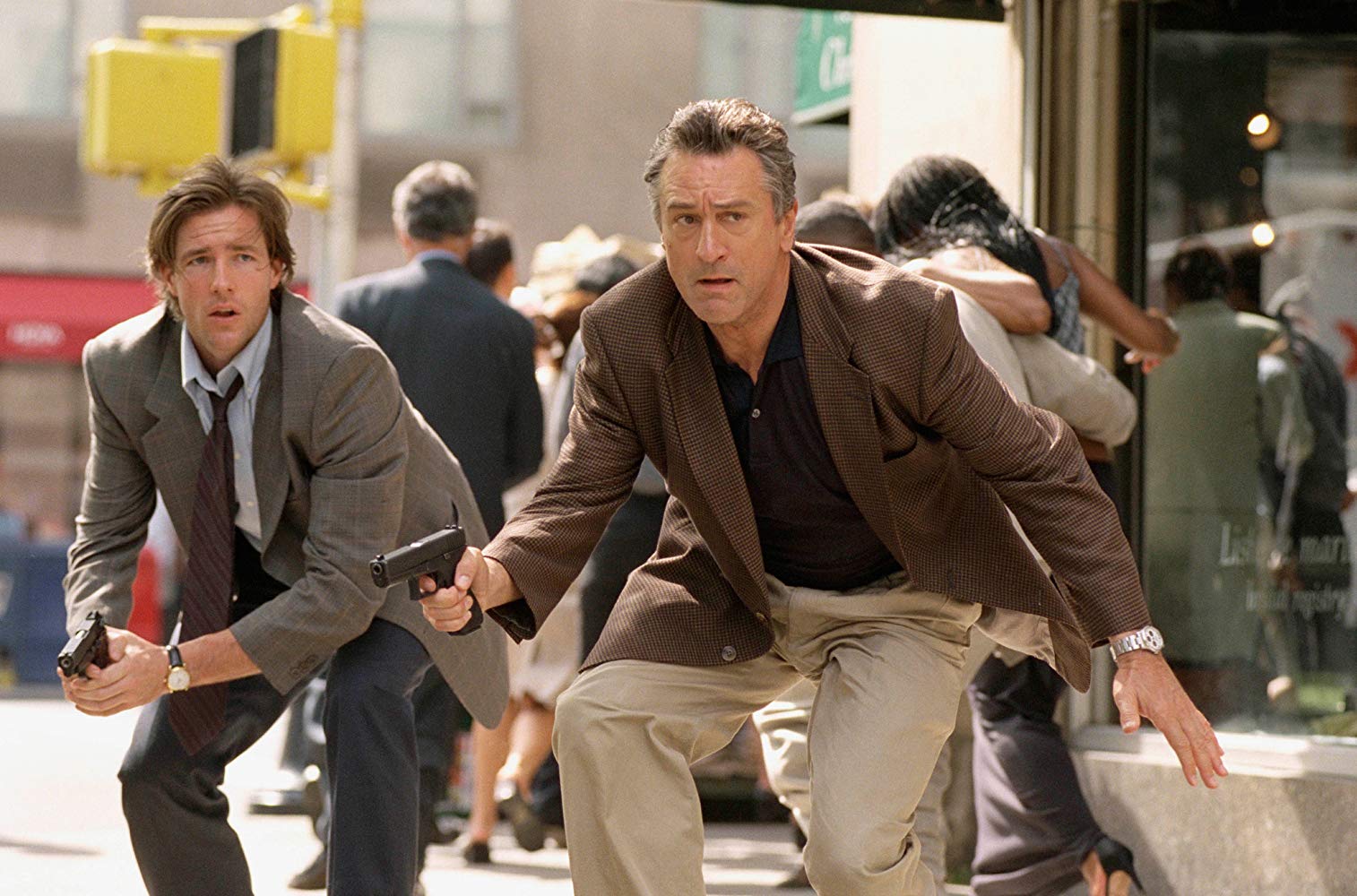 15 Minutes doesn't write characterisation so much as it creates straw figures. This is never more clearly demonstrated than a scene early on, seemingly unrelated to anything else, with Edward Burns turning the tables on a mugger in Central Park and handcuffing him to a tree – in another film, this might have made for a cute throwaway gag but here it is a set-up for another facet of media exploitation for John Herzfeld to vent spleen about later in the film.
Herzfeld is clearly outraged about the media – but he swings too broadly at everything. Ratings hungry tv producers exploiting violence, tabloid talkshows exploiting suffering, greedy lawyers and psychopaths exploiting an overly liberal justice system are all thrown together as one. When Edward Burns punches out Kelsey Grammer's tv host at the end of the film, it is a cumulative expression of disgust on the part of the film against all forms of media and something that we are clearly meant to empathise with. However, there is no sophistication to a point-of-view that fails to distinguish between exploitative or responsible journalism or even consider that maybe some killers are insane.
Ultimately, 15 Minutes is no different from Dirty Harry (1971) and his sneer of disgust at the straw targets of a liberal legal system and weak bureaucrats. When you also consider that director John Herzfeld had been working through the 1980s and 90s on various true story tv movies that exploit the same sort of sensationalism the film condemns, most notably Casualties of Love: The Long Island Lolita Story (1993) about the Amy Fisher-Joey Buttafuoco case, his point-of-view here seems a little hypocritical. Oliver Stone's Natural Born Killers (1994) and Series 7: The Contenders (2001), which was released a week before this film, use the same themes of media outrage with a much sharper satiric edge than 15 Minutes.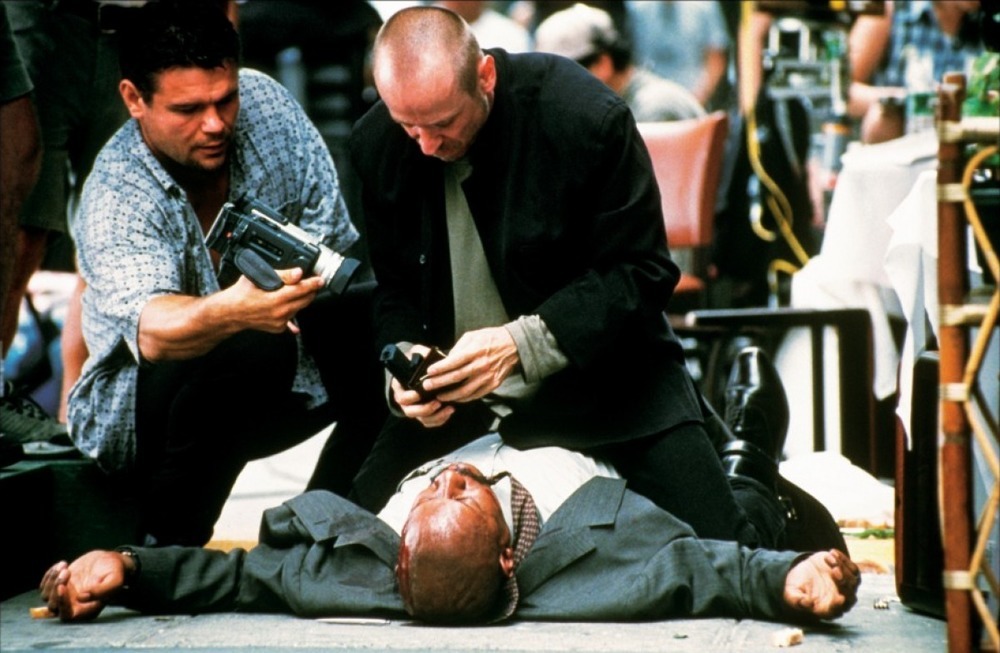 It is not that 15 Minutes is badly made either. The thriller aspect does come together well during the search for the girl and with Herzfeld developing some okay plot twists in the last fifteen minutes. Herzfeld has also done his homework impressively in regard to homicide and arson forensics. If it had stayed in this territory, 15 Minutes might have been an altogether better film.
Herzfeld also gets good performances from his entire cast, especially Robert De Niro as might be expected and Czech-born Karel Roden who is like an evil leprechaun as the principal killer. There are a surprising number of name stars present, including cameos from Kim Cattrall and an unrecognisable Charlize Theron as the madam of an escort service.
John Herzfeld's one other venture into genre material was the John Travolta-Olivia Newton-John angelic intervention fantasy bomb Two of a Kind (1983).
(Nominee for Best Supporting Actor (Karel Roden) at this site's Best of 2001 Awards).
---
---