---
Crew
Director – Jaume Collet-Serra, Screenplay – David Leslie Johnson, Story – Alex Mace, Producers – Leonard DiCaprio, Susan Downey, Jennifer Killoran & Joel Silver, Photography – Jeff Cutter, Music – John Ottman, Visual Effects Supervisor – Richard Yuricich, Visual Effects – Hybride (Supervisors – Thierry Delattre, Daniel Leduc & Pierre Raymond), Image Engine (Supervisor – Robin Hackl), Lola/VFX (Supervisor – Edson Williams) & Pacific Title and Digital (Supervisor – Mark Freund), Special Effects Supervisor – Tom Kenny, Production Design – Tom Meyer. Production Company – Dark Castle Entertainment/Appian Way/Studio Babelsburg Motion Pictures.
Cast
Vera Farmiga (Kate Coleman), Isabelle Fuhrman (Esther), Peter Sarsgaard (John Coleman), Aryana Engineer (Max Coleman), Jimmy Bennett (Daniel Coleman), C.C.H. Pounder (Sister Abigail), Margo Martindale (Dr Alice Browning), Karel Roden (Dr Vavara)
---
Plot
Kate and John Coleman are recovering after the miscarriage of what would have been their third child. Earlier, Kate had fallen into alcoholism where her neglect nearly caused their son to drown. They now decide to adopt another child. Visiting the St Mariana orphanage, they are taken by the lonely Esther and choose her. Esther settles into their home but proves somewhat strange and is not liked by the other children at school. Kate begins to believe that Esther is responsible for a growing number of 'accidents'. Investigating into her background, Kate discovers that Esther may have been responsible for grievous injuries, arson and even murder of other children and foster families. Esther then starts to isolate Kate from John and fabricate things to make it seem that she is injuring her or has lapsed to alcoholism again, at the same time as killing those who seek to expose her secrets.
---
In the last decade, the US production company Dark Castle Entertainment has had modest success producing a number of A- budgeted horror films. These have included House on Haunted Hill (1999), Thir13en Ghosts (2001), Ghost Ship (2002), Gothika (2003), House of Wax (2005), The Reaping (2007), Return to House on Haunted Hill (2007), The Hills Run Red (2009), Splice (2010), The Apparition (2012), The Factory (2012) and Seance (2021), as well as an increasing number of non-horror efforts such as Guy Ritchie's RocknRolla (2008), Ninja Assassin (2009), Whiteout (2009), The Losers (2010), Unknown (2011) and Bullet to the Head (2013).
For all their success, Dark Castle have remained perpetual underachievers. While their films are well produced, well cast, come backed by power names like Robert Zemeckis and Joel Silver (both of whom are noticeably absent from the credits here) and consistently gain theatrical releases as opposed to going directly to dvd like most other modern horror films, they have yet to produce any standout efforts. RocknRolla was enjoyable but their horror films all hit the middle ground, some being moderately enjoyable – House on Haunted Hill, House of Wax – but most quickly forgettable.
Orphan was Dark Castle's eighth theatrical release, the second from Spanish director Jaume Collet-Serra who first made House of Wax. Interestingly, Orphan is co-produced by Appian Way, the production company of no less than Leonardo DiCaprio who is also listed as a co-producer, as also is Robert Downey Jr's wife Susan.
Orphan – not related or to be confused with the recent Spanish ghost story The Orphanage (2007) – is a variant on the well-worn psycho-thriller standard of the evil psycho child. (For more detail see Films About Evil Children). The first film to feature such was the classic The Bad Seed (1956) and the theme has featured in other efforts like Night Hair Child (1975), Who Can Kill a Child? (1976), The Godsend (1980), Bloody Birthday (1981), Mikey (1992), The Good Son (1993), Relative Fear (1994), Daddy's Girl (1996), Joshua (2007), Case 39 (2009), which came out only two weeks before Orphan where I live, We Need to Talk About Kevin (2011), The Boy (2015) and Better Watch Out (2016). Indeed, Isabelle Fuhrman who plays the evil child here was apparently up for the leading roles in both Orphan and Case 39 at one point. (For that matter, Vera Farmiga played the mentally unbalanced mother of a psychopathic child both here and in Joshua). To be fair to Orphan, its effective if preposterously contrived twist ending reveals that what we have is not exactly a psycho child film after all – but in all other ways up to that point, it is played as though such were the case.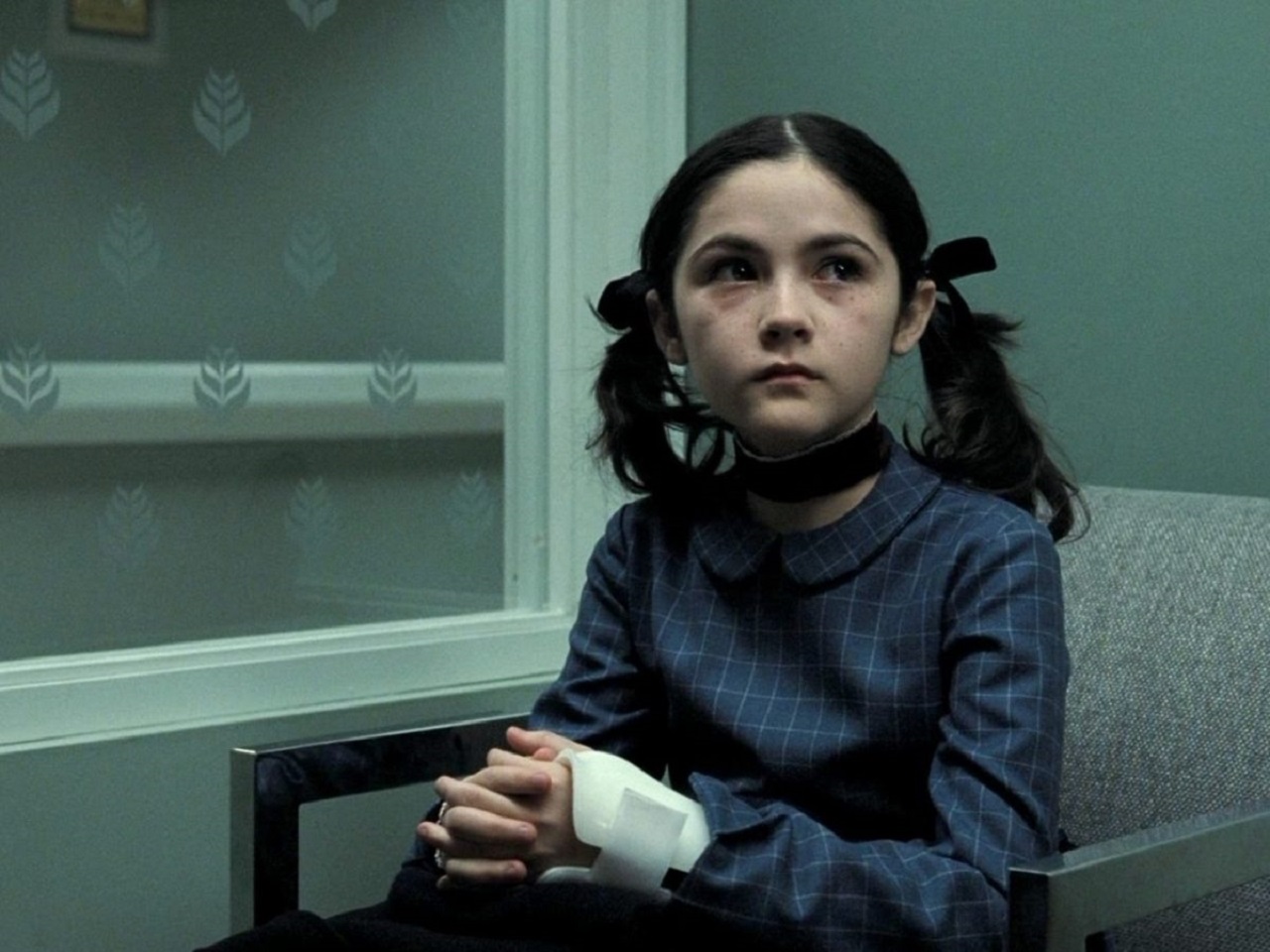 Maybe things were ruined by coming from having just seen Case 39, maybe I was expecting more of what Jaume Collet-Sera turned out with the not-too-bad House of Wax and went onto two of Dark Castle's non-genre thrillers, but I felt heavily disappointed with Orphan. A sinking feeling came from the opening moments, where Collet-Sera gives us a scene with Vera Farmiga undergoing a bloody miscarriage-cum-abortion, before pulling back to reveal it is just a dream sequence. When a film needs to throw in these false red herring jumps, it signals it does not have much else in its arsenal.
Everywhere else, Jaume Collet-Sera and his sound effects department are constantly trying to make us jump in our seats with unexpected appearances of things like Peter Sarsgaard's face in the bathroom mirror, kids abruptly running across the foreground of a shot at the orphanage, a basketball loudly slamming against the wall and so forth. All of this only signals a mediocre film attempting to pump its atmosphere up and jangle an audience's wits where it clearly feels that it cannot do so any other way.
Unfortunately, there is little about Orphan that works. The script seems written entirely by the numbers. All it is is the routine playing out of tired plot devices where you can virtually see the strings and pulleys wheeling everything into place. Jaume Collet-Sera produces various cookie-cutter jumps and faux scares but fails to create any genuine tension. Moreover, almost every one of the jumps is telegraphed well before it happens. About the one moment that Orphan does venture into something fairly out there is where Isabelle Fuhrman puts on a party dress and makeup and tries to seduce her foster father Peter Sarsgaard, where you sit there thinking "whoo, this is heading for some fairly taboo territory". As with too many horror films of recent, everything feels like the predictable turnings of a film that has been made by autopilot. See the much superior Case 39 for an object lesson in how to conduct a near-identical plot with a considerable degree of subtlety in the scares.
The adult cast are acceptable. Vera Farmiga is professional and convincing, if lumbered with a role that never digs beneath one-sentence descriptions. On the other hand, Peter Sarsgaard seems an odd choice as the husband – though not necessarily any fault of Sarsgaard's, he has constantly lidded eyes that lead to a naturally untrustworthy look. You keep expecting it is going to be revealed that he is having an affair or up to something behind Vera Farmiga's back and it is a disappointment when his role proves to be no more than a standard one.
Isabelle Fuhrman gets all the nastily scheming glares down fairly well. Several reviewers jumped in and instantly called her one of the great child performers. It may be something that Isabelle Fuhrman's subsequent roles bear out, but in truth, the role of Esther is a one-dimensional one. All there is to it is Fuhrman simmering and looking mean before predictably doing something nasty. That is the sum definition of the role. Hypopituitarism is pulled out of the hat as an explanation later on but that is simply a condition of abnormal hormonal growth, not any explanation of psychopathic behaviour. I keep coming back to Case 39 but Jodelle Ferland's performance there is infinitely superior. She had an alarming way of suddenly shifting between calculating evil and child-like sweetness. No such dichotomy exists here.
Orphan: First Kill (2022) was a prequel featuring a return performance from Isabelle Fuhrman.
Director Jaume Collet-Serra next went onto make the thriller Unknown (2011), also for Dark Castle, followed by the action films Non-Stop (2014), Run All Night (2015) and The Commuter (2018), the killer shark film The Shallows (2016), the Disney theme park adaptation Jungle Cruise (2021) and the superhero film Black Adam (2022). Collet-Serra has also produced Hooked Up (2013), Mindscape (2013), Eden (2014), Curve (2015) and Extinction (2015).
---
---