---
Crew
Director – Robert Angelo, Screenplay – Elroy Canton & Anthony Laurence Greene, Story – Elroy Canton, Producer – Marc Laurence, Photography – Kazuo Minami, Music – Nicholas Rivera, Special Effects Supervisor – Albert Lannutti, Production Design – Kevin Engeland. Production Company – Magic Hour Pictures.
Cast
Shannon Tweed (Detective Kate McBain), John Enos (Rutherford 'Blue' Dresden), Sam J. Jones (Detective Keith Rackles), Eric Keith (Detective Billy Trainer), Mary Shannon (Lilliana), Maria Mayenzet (Patricia Pollard), Kenneth White (Captain Snyder)
---
Plot
Police detective Kate McBain is forced to relocate to a precinct in Southern California after a scandal in which she slept with the suspect in an investigation. There she is partnered with the macho Keith Rackles. The two of them investigate a series of murders where women have been found strangled in identical ways. Investigation reveals that all the victims were call girls from the same agency. Kate and Rackles look at the agency's list of regular clients and investigate those that have seen all the dead girls. Kate meets one of these clients – wealthy Rutherford 'Blue' Dresden who has a reputation for the overwhelming way he treats the girls. Kate is introduced as a call girl and ends up being swayed by Blue's charms and sleeping with him. However, as she becomes involved with Blue, investigation shows that his mother was killed in an identical way to the murdered call girls. At the same time, Kate discovers that Rackles was engaged to one of the call girls and swore vengeance against Blue for hiring her. She comes to believe that Rackles could be trying to frame Blue or even that he might be the killer himself.
---
Dead Sexy is a made-for-cable erotic thriller. It stars and is executive produced by Shannon Tweed who has become a queen of sorts in this softcore erotica niche market. The production company Magic Hour Pictures specialised in these cable-made erotic films during the early 00s, as does director Robert Angelo who has made a number of other works in the same erotic thriller vein with the likes of Mutual Needs (1997), Forbidden Sins (1998) and Sexual Predator/Last Cry (2001).
Dead Sexy, when it comes down to it, is a blatant copy of Basic Instinct (1992). The only major difference is that the sex of the investigating detective protagonist has been changed from a man (Michael Douglas) to a woman (Shannon Tweed). Otherwise there is the same basic set-up – the detective being sexually drawn towards an enigmatic stranger who may or may not be responsible for a series of murders, while suspicion is also wound onto a secondary suspect who is close to the detective.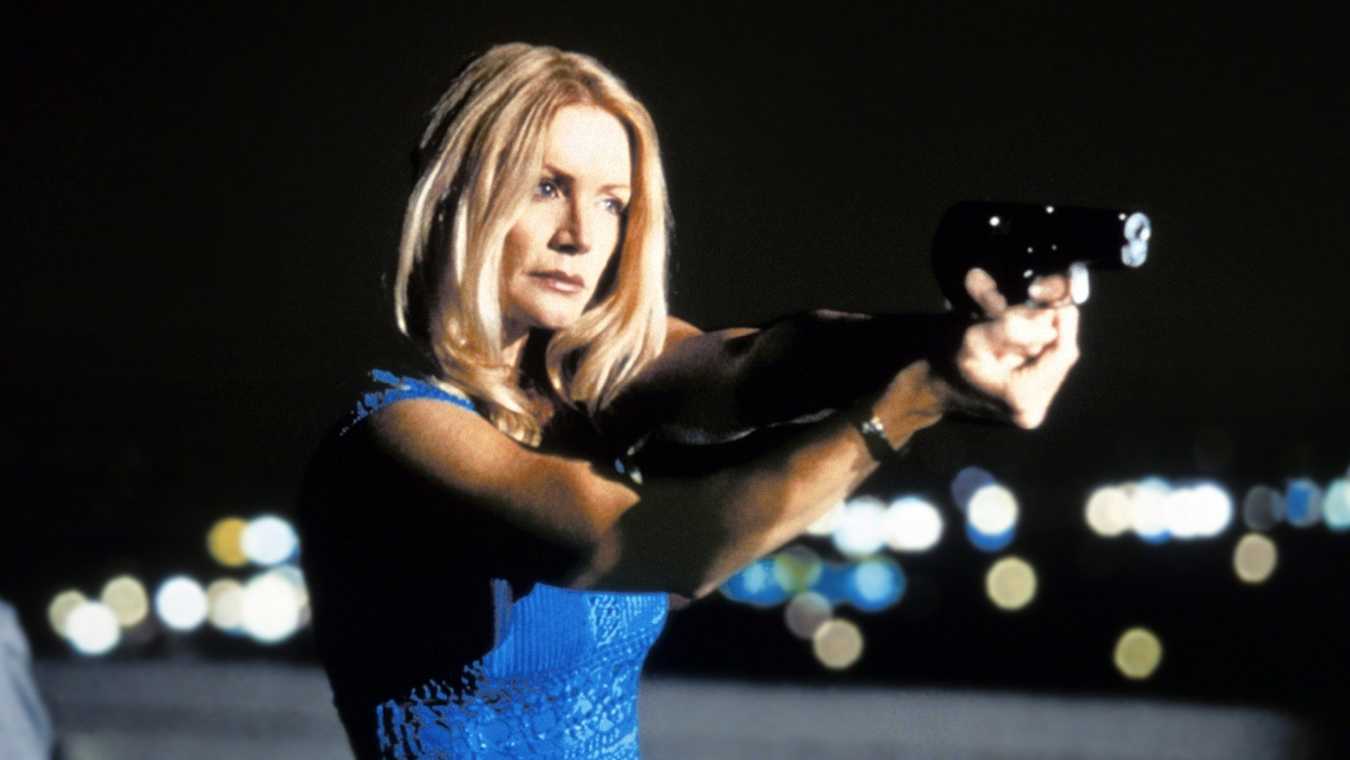 The appropriation of a thriller plot certainly serves to give more substance to the erotic film, a genre that usually tends to regard story as merely the quickest line to connect the unclothed romps. That said, the story that Dead Sexy does have only comes out routinely when seen as a thriller. The tightly plotted form of the thriller genre does not naturally lend itself to the unclothed interludes that the erotic film draws on – some of the ones here are contrived, like a scene where madam Maria Mayenzet is describing how one of her girls had a session with a diplomat, which then has to cut away to an extended scene of both these unrelated characters having sex. There are also times that these erotic interludes become somewhat dubious – like sex scenes between a stranger and a woman, which are clearly designed to titillate us, before the scene culminates in her murder. The film does at least arrive at an effective twist ending.
Shannon Tweed is adequate. Despite having made her name in this upmarket erotic film and taking on an executive producer role here, Tweed is clearly using a body double in her nude scenes. The film also co-stars Sam J. Jones who came to fame in Flash Gordon (1980) and then developed a minor career as an action star. Jones, now at age 47, has certainly improved his abilities as an actor in the two decades since Flash Gordon but has also become much more beefy. As the enigmatic male stranger, John Enos is miscast. Enos has a stolid, solidly built figure, almost as wide at the shoulders as he is tall, but while he tries hard, he lacks much of the mystery and overwhelming charm that his character is described as having.
---
---