aka Joshua: The Devil's Child
---
USA. 2007.
Crew
Director – George Ratliff, Screenplay – David Gilbert & George Ratliff, Producer – Jonathan Dorfman, Photography – Benoit Debie, Music – Nico Muhly, Production Design – Roshelle Berliner. Production Company – ATO Pictures.
Cast
Sam Rockwell (Brad Cairn), Vera Farmiga (Abby Cairn), Jacob Kogan (Joshua Cairn), Celia Weston (Hazel Cairn), Dallas Roberts (Ned Davidoff), Michael McKean (Chester Jenkins), Nancy Giles (Betsy Polscheck)
---
Plot
Brad and Abby Cairn give birth to a new daughter Lily. This is deeply resented by their nine-year-old son Joshua who begins to exhibit troubling behaviour. Abby falls into increasingly unbalanced post-natal depression. She starts to believe that Joshua has sinister intent towards her and the baby. As Brad's life starts to increasingly fall apart because of this, he too comes to believe that Joshua is trying to manipulate the situation and is prepared to kill those in his way.
---
The psycho child theme has been done on film a number of times before with efforts like Night Hair Child (1972), Who Can Kill a Child? (1976), The Godsend (1980), Bloody Birthday (1981), Mikey (1992), The Good Son (1993), Relative Fear (1994) and Daddy's Girl (1996) and the subsequent likes of Case 39 (2009), Orphan (2009), We Need to Talk About Kevin (2011), The Boy (2015) and Better Watch Out (2016). Although the undisputed classic among these is the first of them all – The Bad Seed (1956), which featured an unforgettable performance from Patty McCormack as a vision of Shirley Temple gone to hell.
Joshua is another variant on the psycho child film. Although the major difference between Joshua and these others is that while they are genre thrillers, Joshua appears to come from an indie movie background. George Ratliff was a former documentary director who has made works like Plutonium Circus (1995) about a Texas nuclear dismantling facility and Hell House (2001) about a church that stages an annual show that depicts the horrors awaiting sinners in Hell, as well as one dramatic film with the little-seen Purgatory Country (1996) and subsequently went onto make Salvation Boulevard (2011), a comedy about Christian fundamentalism. He subsequently returned to psycho-thriller material with Welcome Home (2018).
You can see the difference between Joshua and these other psycho child films in the approaches taken by the various directors – George Ratliff has almost no interest in repeating thriller movie set-ups and there are no canned pieces of thriller mise-en-scene, rather one gains the impression that Ratliff started Joshua as an actor's film and built it up as an ensemble drama with his cast.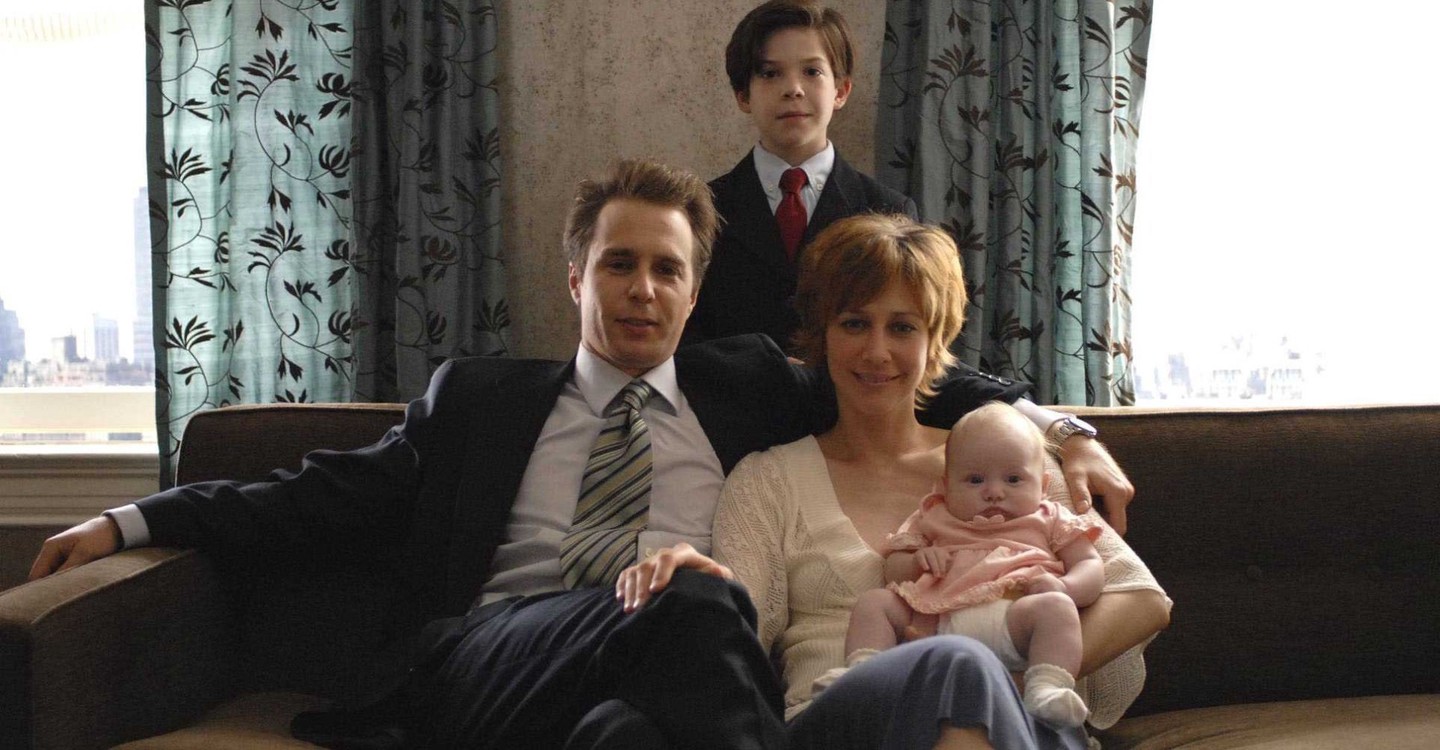 Ratliff is certainly serviced by an able cast. A perfectly well pressed and polite Jacob Kogan conveys an undeniable sinister threat as Joshua – he is like a more detached and less overtly evil young preppie version of Damien from The Omen (1976). One has usually seen Sam Rockwell in comedic roles before – here his character's bland cheer in all situations works effectively. Although the best performance comes from the new and rising Vera Farmiga (who subsequently played the same role of mother to a devil child in Orphan). Farmiga manages to deliver a portrait of a woman suffering from Post Natal Depression spiralling down into mental unbalance rather well.
The main problem with Joshua is that George Ratliff's handling is too mannered. He spends a good deal of time charting the family life, school life, work life and fraying mental tensions of the situation. The film takes place with a studied quietude that never seems to rise above the tone of a library reading room. You keep waiting for the film to pull back and sink its teeth into something shocking or disturbed. But when the big climactic scene comes to be Sam Rockwell being arrested for … slapping his kid twice in a public park, you tend to feel that maybe George Ratliff's dramatics have simply been too low key the whole way through. The ending where we learn Jacob Kogan reasons for doing all of this comes as a decided anti-climax and letdown.
---
Trailer here
---