---
Crew
Director/Screenplay/Production Design – Lou Simon, Producers – Alan Hanna & Lou Simon, Photography – Bill Schweikert, Music – Michael Damon, Special Effects Supervisor – Jeff Burdett, Makeup Effects – Jeff Burdett, Lauren Scarborough & Barrett Wolfe. Production Company – White Lotus Productions/Ash Films/Surewood Productions.
Cast
Jamie Bernadette (Nancy), Katie Carpenter (Daniella), Gema Calero (Gem), Karishma Lakhani (Stephanie), Sharron Calvin (Annie)
---
Plot
Daniella has gathered three girls, Gem, Stephanie and Nancy, who have all been friends since high school, for an all girls' weekend away. Nancy is late turning up and brings with her unannounced Annie, a girl from work who is dealing with a bad divorce, which causes some initial disharmony. The group set out. Daniella stops on the side of the road and decides to take a tramp through the woods. However, they soon become lost and Annie then falls and impales a branch through her leg. Lacking supplies or equipment, they find a cabin and spend the night. Things start to go wrong as Gem becomes badly infected after using poison ivy as toilet paper and this develops into gangrene in her fingers. As they become further lost, they realise that they are in woods that are considered cursed. Previous inhabitants despoiled the area and the land can only fully recover with the sacrifice of human blood.
---
All Girls Weekend was the fourth film from director Lou Simon. A Cuban emigre to the US, Simon debuted with the horror film The Awakened (2012) and has remained in the genre ever since with Hazmat (2013), Agoraphobia (2015) and the subsequently made 3 (2018).
Lou Simon takes the title All Girls Weekend literally – the cast in the film is literally all girls and we see no men on screen anywhere throughout. Simon says her inspiration for the film was Neil Marshall's The Descent (2015) from which you can see she has modelled the idea of a group of five woman on an expedition into the wilds – spelunking in The Descent, tramping in the woods here.
The journey into the woods of course leads to the other unspoken influence over All Girls Weekend – The Blair Witch Project (1999) and its tale of a trio who become lost in a haunted woods as something supernatural stalks them. The other film that could be said to be somewhat of an influence is Cabin Fever (2002) with its group of friends at a backwoods cabin where they become infected by a mysterious flesh-eating virus.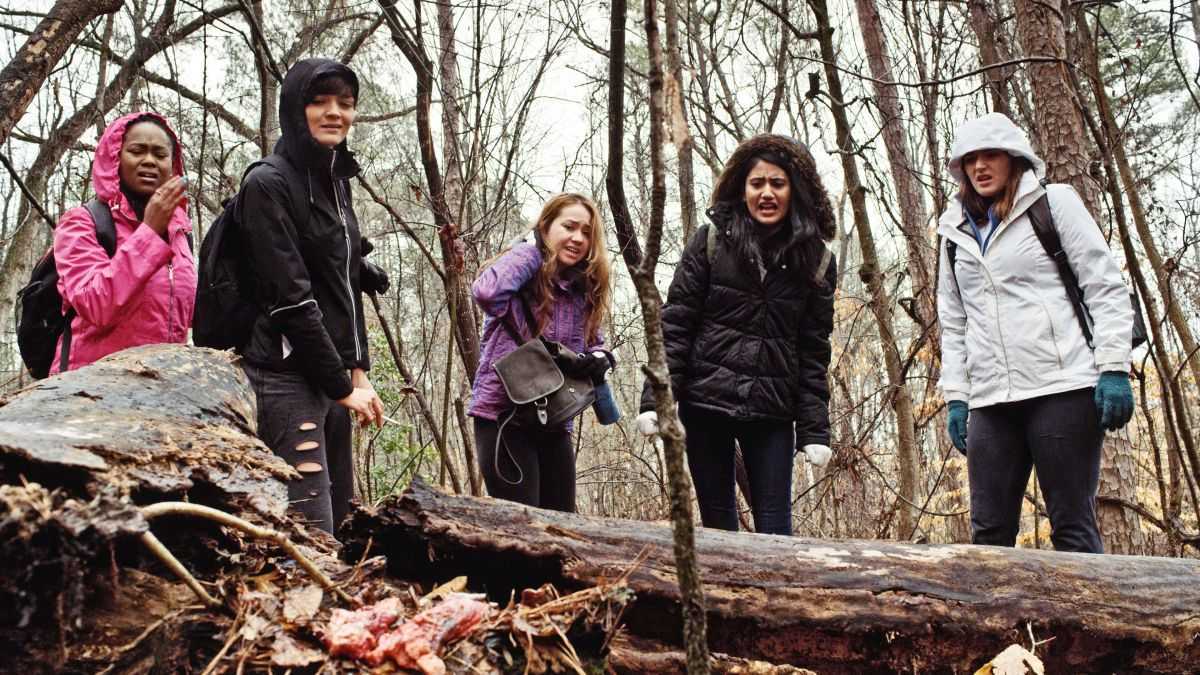 Lou Simon and her all-girl quintet etch some reasonably snappy characterisations. On the other hand, Lou Simon never quite manages to attain the eerie atmosphere of Blair Witch. Indeed, with the focus on Gema Calero's growing infection, the film is far more visceral than it ever is supernatural. The film also suffers from not having a clearly identifiable menace for much of the show – you never quite know if you are watching a mundane wilderness survival drama or a horror film.
Lou Simon demonstrates reasonable restraint when it comes to gore and makeup effects – you suspect that some other director would easily have gone to town in this department – although she does deliver a nasty scene where the girls have to sever Gema Calero's gangrenous fingers. (The only nitpicky quibble I would have is the scene where Sharron Calvin gets a piece of wood through her leg and the film seems to assume that merely placing a tourniquet around the upper thigh but not actually bandaging the wound will stop it bleeding). The film does arrive at an interesting twist ending that certainly throws something different into the mix.
---
---