---
Crew
Director – Mark H. Young, Screenplay – Adam Frazier & Mark H. Young, Producers – John Landolfi & Mark H. Young, Photography – Christos C. Bitsakos, Music – Elia Cmiral, Special Effects Supervisor – Jerry Constantine, Makeup Effects Design – Conor McCullagh, Production Design – Jason Cronburg. Production Company – Rough Cut Productions.
Cast
Scout Taylor-Compton (Alice), Olivia Luccardi (Jules), Lew Temple (Bill Talbot), Renee Olstead (Brienne), Brock Kelly (Jesse), Landry Allbright (Gina), George Finn (Matt)
---
Plot
Six friends go on a hiking trip into the woods. That night as they make camp, Matt is abruptly attacked and killed by a creature and Gina left wounded. In the morning, they are found and granted shelter by Bill Talbot who lives in a cabin nearby. Two of the others hike to get help but are attacked by the creatures. As they tend the wounded Gina, Alice becomes suspicious of Talbot. He warns that Gina is infected and about to turn into something no longer human, urging that they should kill her before that happens. As night falls and the creatures come and Gina worsens, they try to decide whether what Talbot says can be trusted or not.
---
Feral was the sixth film for Mark [H.] Young who had previously made the horror film Southern Gothic (2007) and the post-holocaust film Tooth and Nail (2007), the hostage drama/serial killer film The Killing Jar (2010) and subsequently the afterlife film Limbo (2019), as well as the script for the occult horror The Long Night (2022).
Feral is a straightforward monster movie. Mark Young and co-writer Adam Frazier don't complicate things too much – they have a twentysomething cast isolated in the woods and attacked by monsters. They keep the show stripped to minimalist essentials – a cast of seven, a good half of which are eliminated before even halfway through, the bulk of the show taking place in a cabin in the woods. The monsters are generic and don't even come with the benefit of any explanation of what they are.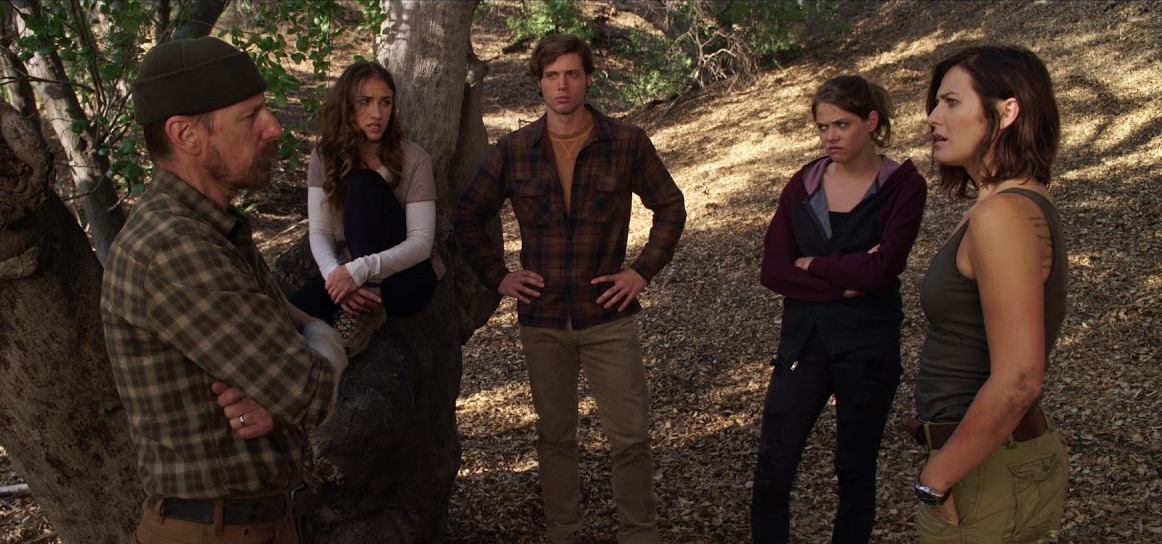 You could list easily a half-dozen other films that cycle through the same generic elements – I kept being reminded of the very similar but far less effective Animal (2014). Once Mark H. Young gets the characters contained in the cabin, he maintains proceedings with an accomplished level of tension and interplay between them – of not knowing whether Lew Temple can be trusted, of what the infection is or what has happened to the others. The film rides a more than reasonable rollercoaster of suspense during these scenes.
The only recognisable name present is Scout Taylor-Compton who was being promoted as a Scream Queen around the time of her appearance as Laurie Strode in Rob Zombie's Halloween (2007) and Halloween II (2009). However, apart from one or two other roles in April Fool's Day (2008), 247oF (2011), 7500 (2014), Ghost House (2017) and The Lurker (2019), she has failed to emerge with any notability. She is cast here with the interesting quirk of being a lesbian Final Girl (which must surely be a first for a horror film). Oddly though, this is a facet that does not form an essential element that plays out later in the film, it simply is.
---
---