---
UK. 1973.
Crew
Director – Freddie Francis, Screenplay – Jay Fairbank [Jennifer Jayne], Based on Short Stories by Jennifer Jayne, Producer – Norman Priggen, Photography – Norman Warwick, Music – Bernard Ebbinghouse, Makeup – Eric Allwright, Art Direction – Roy Walker. Production Company – World Film Services.
Cast
Linking Story:- Jack Hawkins (Nicholas), Donald Pleasence (Dr Tremayne). Mr Tiger:- Russell Lewis (Paul), Georgia Brown (Mother), David Wood (Tutor). Penny Farthing:- Peter McEnery (Timothy), Suzy Kendall (Ann/Beatrice). Mel:- Michael Jayston (Brian), Joan Collins (Bella). Luau:- Kim Novak (Auriol), Michael Petrovitch (Kimo), Mary Tamm (Virginia), Leon Lissek (Keoki)
---
Plot
A psychiatrist shows a friend around his asylum and tells him the stories of various patients. Mr Tiger:- Two parents become concerned when their son Paul develops an invisible playmate Mr Tiger. Next Paul starts collecting bones to feed Mr Tiger and they find claw marks on the door. Penny Farthing:- An antique dealer buys a painting and a penny farthing bicycle. The painting sends out emissions that lift him onto the bicycle and repeatedly transports him back to the same moment in the 19th Century where he is walking along a riverbank with a woman while secretly being observed by a disfigured man. Mel:- Brian brings home a strangely shaped piece of wood that he finds while jogging. Much to the annoyance of his wife Bella, he begins to neglect her and instead spend his time carving the piece of wood into the figure of a woman. Luau:- A Polynesian writer Kimo is invited to a party by wealthy show business agent Auriol. He seduces her daughter Virginia. However, Kimo has a sinister ulterior motive – that of killing Virginia and then serving up her cooked flesh at her mother's dinner party in order to escape a curse placed on him.
---
Tales That Witness Madness was very much an attempt to copy the style of the portmanteau horror films patented by England's Amicus Films. Indeed, Tales That Witness Madness has many similarities to Asylum (1972) released by Amicus the same year – both films feature the same framing device of a psychiatrist in an asylum telling the stories of his patients. (For more detail see Anthology Films).
Tales That Witness Madness was also directed by Freddie Francis, who was the most prolific director of Amicus's anthologies, having made the likes of Dr Terror's House of Horrors (1965), Torture Garden (1967) and Tales from the Crypt (1972). (See below for Freddie Francis's other genre films).
The first episode Mr Tiger is a rewrite of The Veldt segment of the Ray Bradbury anthology The Illustrated Man (1969), albeit with Bradbury's science-fiction justification removed. Freddie Francis delivers it with a droll sense of humour. There is a particularly charming final shot to the segment, focused on the boy playing his toy piano as the killings take place off-screen, he unconcerned as welts of blood splatter all over the wall behind him. The second episode Penny Farthing is the best of the stories, an intriguing, cleverly constructed time travel puzzle that continues to circle around the same moment in time, before ending on a fascinating causal paradox.
The third segment Mel has the camp value of Joan Collins showing down in one of the grand battles of bitchery she would later base her Hollywood career on up against an animate tree. The image of a backlit tree, half-carved into a female shape is given a certain primal eroticism, but no matter how much imagery that Freddie Francis pumps into it, the block of wood supposedly come to life it is not a particularly expressive or threatening menace.
Luau, while holding a strong, taboo-crossing premise, is the weakest of the segments, suffering from some awful campy acting on the part of Kim Novak and some bad dialogue from screenwriter Jennifer Jayne.
Freddie Francis called Tales That Witness Madness one of his best films. It features his customary sharp and stylish contrasts between fore– and background. Despite fine premises, the stories often suffer from the flat-minded literalness that beset many of the lesser Amicus entries. This is particularly so with the last two segments, which fail to hold up to their initial conceptual inventiveness and taboo-daring.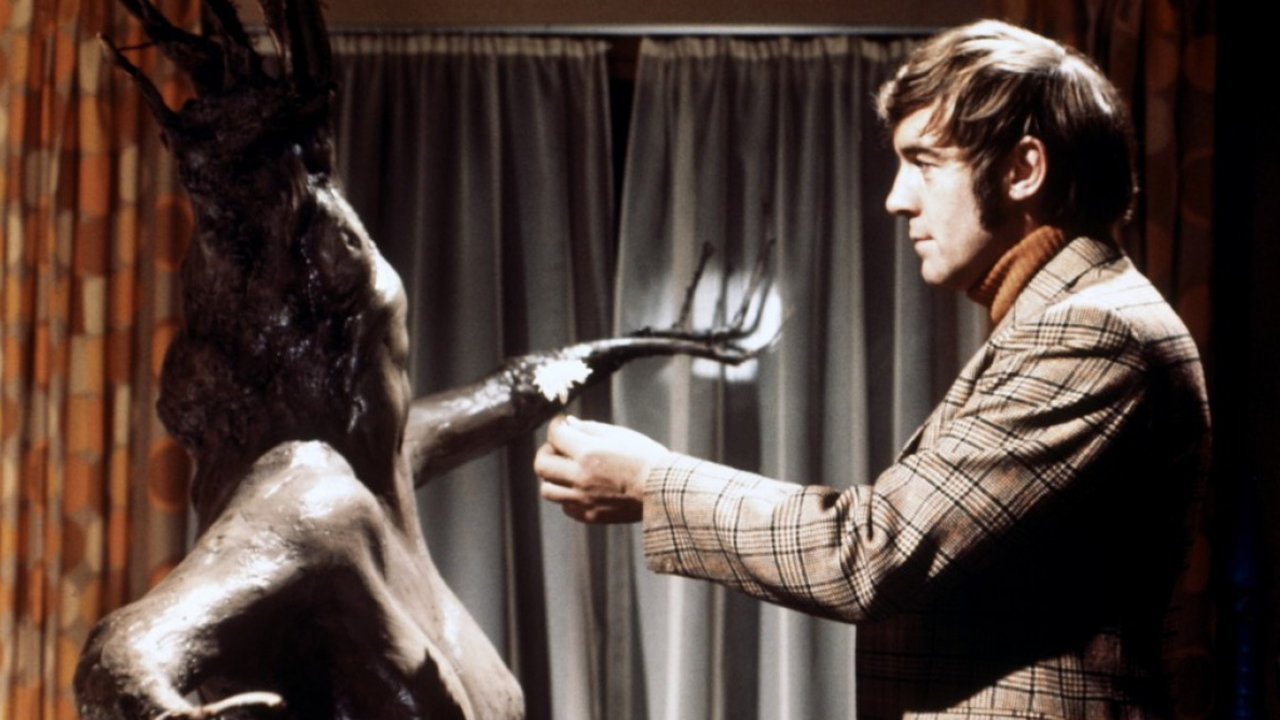 The screenplay was written by actress Jennifer Jayne under the name Jay Fairbank where she adapted several of her own short stories. Jennifer Jayne was a minor British actress whose most notable role was as the sister of the psychic Janet Munro in The Trollenberg Terror/The Crawling Eye (1958). She has appeared in a number of Freddie Francis's films including Dr Terror's House of Horrors (as Donald Sutherland's vampire wife), Hysteria (1965), They Came from Beyond Space (1967) and The Doctor and the Devils (1985). As Jay Fairbank, she also wrote the screenplay for Freddie Francis's flop horror musical Son of Dracula (1974).
Freddie Francis's other genre films are:- Vengeance/The Brain (1962), Paranoiac (1963), The Evil of Frankenstein (1964), Nightmare (1964), Dr Terror's House of Horrors (1965), Hysteria (1965), The Skull (1965), The Psychopath (1966), The Deadly Bees (1967), They Came from Beyond Space (1967), Torture Garden (1967), Dracula Has Risen from the Grave (1968), Mumsy, Nanny, Sonny & Girly (1969), Trog (1970), The Vampire Happening (1971), Tales from the Crypt (1972), Craze (1973), The Creeping Flesh (1973), Legend of the Werewolf (1974), Son of Dracula (1974), The Ghoul (1975), The Doctor and the Devils (1985) and Dark Tower (1987).
---
---