---
Crew
Director/Screenplay – Shawn Burkett, Producers – Brittany Blanton, Shawn Burkett, Chris Gierowski, Scott Gillespie, Ayse Howard, Roman Jossart, Jason Limberg & Brandy Mason, Photography – Shawn Burkett, Digital Effects – Joe Kidd, Special Effects/Makeup Effects – Shawn Burkett, Ryan Stacy, Amanda Waddell & Deryk Wehrley, Creature Suit – Shawn Burkett & Scott Gillespie. Production Company – Concept Media Films/Vultra Video/Jonestown Films/Dopest Shit Ever/The Blood-Shed/Head on a Stick Productions.
Cast
Roman Jossart (Mac), Brittany Blanton (Jane), Ayse Howard (Alex), Hannah Herdt (Parker), Nadia White (Lacey), Brandy Mason (Meg), Scott Gillespie (Luke), Kayla Morgan (Ash), Derek Wehrley (Jason), Brian Cornell (Conor), Joe Vollman (Park Volenteer [sic]), Savannah Howard (Video Store Thief)
---
Plot
A group of friends head off into the woods for a weekend of camping and partying. Amid the plentiful sex going on between them, a creature begins slaughtering various members of the group.
---
Don't Fuck in the Woods comes from Shawn Burkett, a Dayton, Ohio-based filmmaker. Burkett had previously made the feature-length micro-budgeted horror films The Sleeping Soul (2012) and Bludgeon (2013), as well as produced and contributed episodes to multi-director anthologies such as Watch This (2013), Season's Greetings (2015) and 60 Seconds to Die (2016). Subsequent to this, Burket went on to make the horror film Betsy (2018).
In an era where some newspapers refuse to carry ads for R-rated movies and you can install parental censors for internet browsers that will block sites that feature any rude words, you have to admire a film ballsy enough to call itself Don't Fuck in the Woods. It both proclaims it is a slasher film upfront that and that it is determined to get in your face about it.
Slasher films made post-2000 have become considerably more chaste than their 1980s counterparts that used to regularly feature teen victims shedding their clothes for shower scenes or romps in the woods. So equally you have to applaud Shawn Burkett for making a 2010s slasher film that does not let down on the 'fuck' part of the title and providing plentiful on-screen nudity.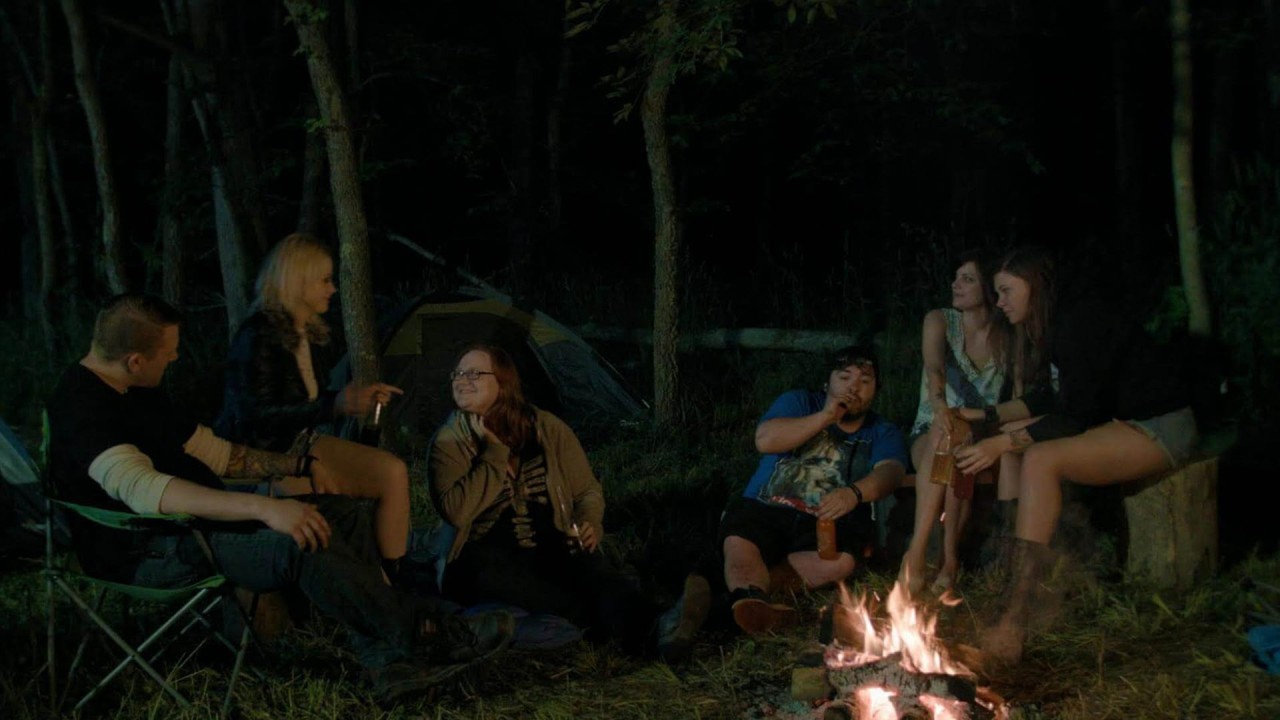 The film comes with a level of wilful vulgarity that would have taken aback any of its 1980s counterparts – discussions about one of the group taking a bottle up the ass, the requisite horndog of the group (Roman Jossart) making constant crude suggestions about threesomes to the two lesbians. All of the girls are undressed at some point throughout. On the other hand, it is not the crudely sexist show it might seem on the outside – all of the girls are capable of holding their own both in the face of the crudities bandied about by the guys and against the monster. Indeed, the Final Girl of the show gets to be one of the lesbians – and doesn't even scream once throughout. And most of the girls do not too bad jobs in the acting department either.
The film is also a sharp and self-aware homage to the genre. Early on, we even get a videostore discussion about what constitutes a Scream Queen – whether it actually requires delivering a scream on screen or not – and the script happily namedrops what it considers the classic Scream Queens – Barbara Crampton, Barbara Steele and Dee Wallace.
The downside of the film is that the monster effects are on the cheesy side. There is also no explanation ever offered for what the monster is and what it is doing in the woods. The other negative point is that despite a listed 73 minute running time, the film actually only runs to 60 minutes and the other thirteen are filled with credits and some ten minutes of bloopers and outtakes.
---
---