---
Crew
Director – Peter Collinson, Screenplay – Peter Welbeck [Harry Alan Towers], Based on the Novel and Play Ten Little Niggers/Indians by Agatha Christie, Producer – Harry Alan Towers, Photography – Fernando Arribas, Music – Bruno Nicolai. Production Company – Filibuster Films.
Cast
Oliver Reed (Hugh Lombard), Elke Sommer (Vera Clyde), Richard Attenborough (Judge Cannon), Gert Froebe (Wilhelm Blore), Stephane Audran (Ilona Morgan), Herbert Lom (Dr Edward Armstrong), Charles Aznavour (Michel Raven), Alberto de Mendoza (Martino), Adolfo Celi (General Andre Salve), Maria Rohm (Elsa Martino), Orson Welles (Voice of U.N. Owen)
---
Plot
A group of ten people are brought to a remote, unoccupied hotel in the middle of the Iranian desert by the mysterious Mr U.N. Owen whom none of them have ever met. Once they are there, a tape-recording left by Owen is played informing them that each of them is guilty of a murder but has managed to get away with it. In every room is a copy of the song 'Ten Little Indians' and as the evening begins, members of the group are killed off one by one, just as in the song. They make the gradual realisation that Mr Owen must be one of their number.
---
And Then There Were None is adapted from popular British murder mystery writer Agatha Christie's novel Ten Little Niggers (1939). Ten Little Niggers was made into a play in 1943 and was given the more acceptable retitling Ten Little Indians. These days it is shorn of any racial inferences and just known as this And Then There Were None.
This film adaptation of Ten Little Niggers/Indians came just before Murder on the Orient Express (1974), a lavish star-studded period adaptation of Agatha Christie's novel, which brought about a vogue for such whodunits in the late 1970s. Whether And Then There Were None was trying to copy the other film a a good question, nevertheless it taps into the formula of Murder on the Orient Express and offers a similar line-up of star names. Unlike Murder on the Orient Express, And Then There Were None is not set period, but take away the helicopter at the start and the costumes, setting and characters would have no problem slotting into the Edwardian period setting favoured by most other Agatha Christie adaptations.
And Then There Were None is included here because the play is a proto-slasher story – indeed, it may well have been the first thriller to use an isolated setting – a remote island lodge in the book/play, a seemingly abandoned Iranian hotel here – with an unseen killer in the group's midst bumping members of the party off. The Italian giallo thriller definitely borrowed the model of this story – see in particular Mario Bava's Five Dolls for an August Moon (1970) and Twitch of the Death Nerve/Bloodbath (1971).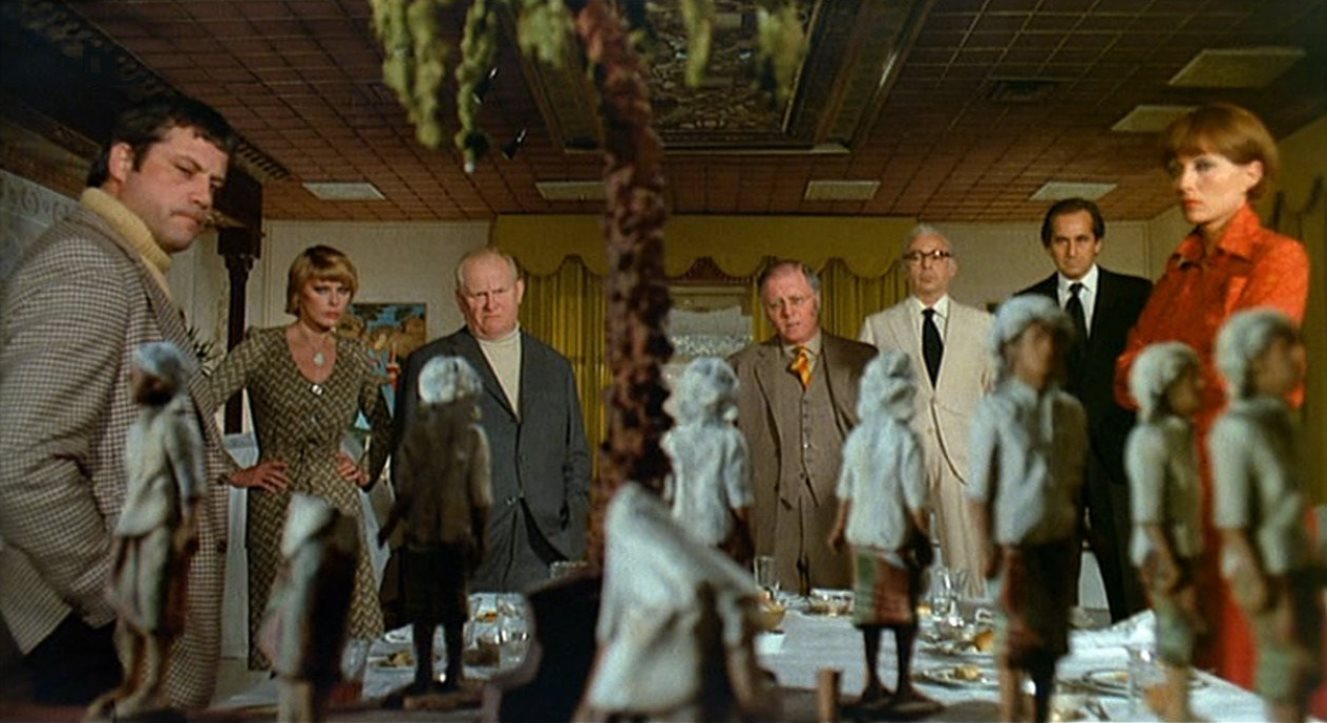 Harry Alan Towers is a low-budget exploitation producer best known for his Fu Manchu adaptations – see The Face of Fu Manchu (1965) – his Jesus Franco collaborations and numerous horror/sexploitation films. And Then There Were None is only one of Harry Alan Towers' B-movies with an A cast list. The film's one novelty was in being able to go on location in pre-Revolution Iran and shoot in the huge Shah Abbas Hotel in Isfahan. Being the only Western film ever shot in Iran gives the film a certain novelty value but in all other respects And Then There Were None is drearily dull. There is much skulking around the hotel but this is sloppily directed by Peter Collinson. Crucially, the film never engages in any of the adroit, sharp-witted suspense for which Agatha Christie is renowned and the film's only interest is in waiting to find out the identity of the killer.
Other film adaptations of the story include:- And Then There Were None (1945); Ten Little Indians (1965); a Russian version Ten Little Indians (1987); Ten Little Indians (1989), a later Harry Alan Towers remake that was also entitled Death on Safari and definitely moves over into horror territory; the BBC tv mini-series remake And Then There Were None (2015); and the French mini-series They Were Ten (2020), as well as a Bollywood version Gumnaam (1965). Hideo Nakata's Incite Mill (2010) was also made as a homage.
Director Peter Collinson made several other psycho-thrillers with the fine Fright (1971), Hammer's Straight on Till Morning (1972) and the remake of The Spiral Staircase (1975). Collinson is probably best known for the original The Italian Job (1969).
---
---