(Vudu Sangriento)
---
Spain. 1974.
Crew
Director – M. Caño, Screenplay – Santiago Moncada, Producer – Jose Antonio Perez Giner, Photography – Robert Ochoa, Music – Fernand Morcillo, Special Effects – Antony Molina. Production Company – Mingyar P.C..
Cast
Aldo Sambrell (Guede Nibo), Eva Leon (Silvia), Alfred May (Dr Kessling), Ferdinand Sancho (Captain Dominguez)
---
Plot
The anthropologist Dr Kessling transports a sarcophagus aboard a cruise ship bound for Port-au-Prince. The sarcophagus contains the mummy of Guede Nibo, a voodoo practitioner who was killed in a ceremony a thousand years ago. On board the ship, Guede now returns to life. He regains human form but frequently reverts to being mummified again. He becomes obsessed with Dr Kessling's assistant Silvia, seeing her as the reincarnation of his love, and poses as an academic in order to get close to her.
---
Voodoo Black Exorcist is an oddity to emerge from 1970s Euro horror. Originally titled Vudu Sangriento, which translates from the Spanish as Bloody Voodoo, by the time it emerged on US shores and dubbed into English, it gained the name Voodoo Black Exorcist. The reasons for this can be seen in that the distributors were seeking to exploit two of the popular trends around in the day – the Possession Film following the hit of The Exorcist (1973) the year before and the Blaxploitation fad featuring African-American heroes that resulted in a slew of titles with the word 'black'. As a result, it feels like the publicity department for the distributor has simply thrown key buzzwords from either fad together into a meaningless word salad. It should be noted that despite the use of the word exorcist in the title, no possession or exorcism elements feature anywhere in the film.
In fact, when it comes down to it, Voodoo Black Exorcist is no more than a mummy film with a few nods to voodoo rituals. Aldo Sambrell is essentially a variant on Lon Chaney Jr from the Universal Mummy sequels of the 1940s – he is resurrected, takes on human form and poses as an expert after which he stalks about developing an obsessive fixation on the heroine whom he believes to be the reincarnation of his lost love.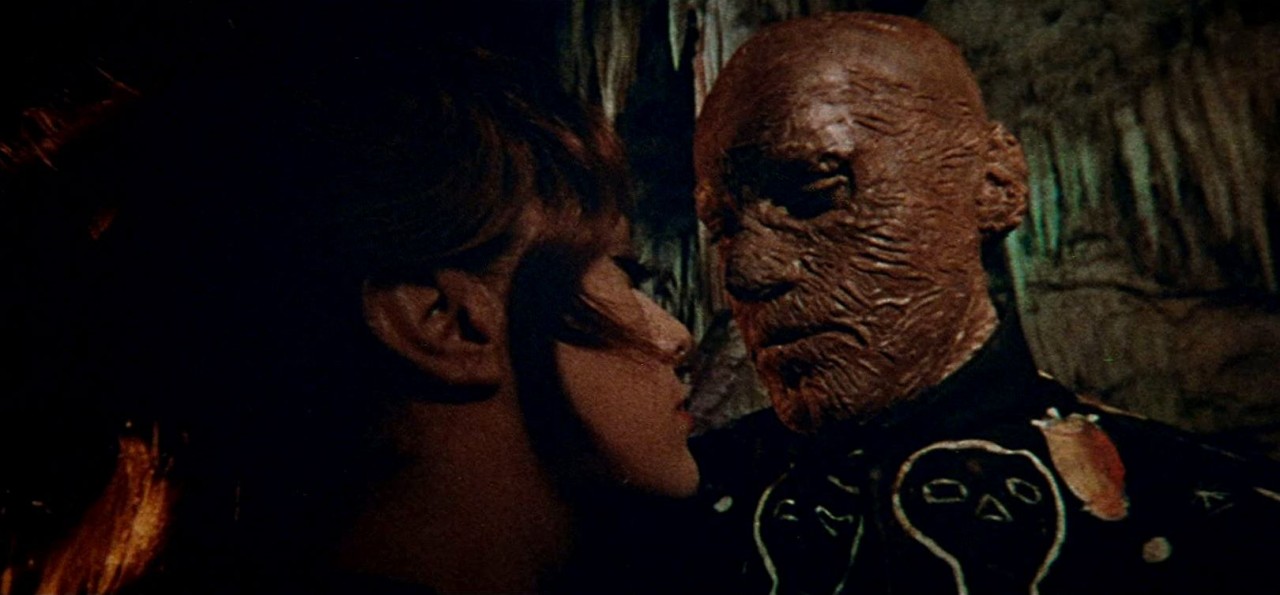 Voodoo Back Exorcist is a tedious film. You cannot deny that it kicks in with an entertainingly cheesy opening featuring a voodoo ritual with topless dancers and with Aldo Sambrell's love's head severed and the priest dancing about kissing it. Alas, nothing else in the film ever matches this. Thereafter, the bulk of the location is located about a luxury cruise liner where the mummy resurrects from the cargo hold and stalks about, occasionally killing somebody but mostly venturing into Eva Leon's cabin and hovering over her bed with creepy intent while she sleeps.
These scenes drag to a standstill, being padded out with excruciating comic relief scenes with a middle-aged couple. Not to mention, you are left wondering why on Earth someone would use a cruise ship to transport cargo. Far too late in the show, the mummy finally abducts Eva Leon, resulting in a chase by the doctor and police through the streets of Port-au-Prince to apprehend him as he heads to a cave, before going up in flames.
Director M. (or Miguel) Caño made a handful of films, most of them obscure. Of interest are a couple of Spanish Tarzan films, Tarzan and the Golden Grotto (1969) and Tarzan and the Brown Prince (1972), as well as the horror film The Swamp of the Ravens (1974).
---
Trailer here
---