---
Crew
Director – Alan Birkinshaw, Screenplay – Michael J. Murray, Based on the Short Story by Edgar Allan Poe, Producer – Harry Alan Towers, Photography – Jossi Wein, Additional Music – Gary Chang & George S. Clinton, Special Effects Supervisor – Gregg Pitts, Prosthetic Effects – Scott Wheeler, Production Design – Leonardo Coen Cagli. Production Company – 21st Century Film Corporation/Breton Film Productions Ltd.
Cast
Romy Windsor (Molly McNulty), Oliver Reed (Roderick Usher), Donald Pleasence (Walter Usher), Norman Coombes (Clive Derrick), Anne Stradi (Mrs Derrick), Rufus Swart (Ryan Usher), Caroline Farquhar (Gwendolyn Derrick), Philip Godewa (Dr Bailey)
---
Plot
Molly McNulty accompanies her boyfriend Ryan Usher to England to visit his family estate. As they drive there, two ghostly children appear on the road, causing them to crash. With Ryan wounded, Molly goes on alone to the Usher house. She is welcomed in and meets Ryan's uncle Roderick who suffers from a crippling hyper-acuteness of the senses. As she settles in, Molly then discovers that Roderick has lied about Ryan being safe in hospital and that he is in fact dead. She soon realises that Roderick has made her prisoner in the house with the intent of impregnating her in order to carry on the Usher line.
---
This was about the fifth film version of Edgar Allan Poe's short story The Fall of the House of Usher (1839) – see bottom of page for other versions. The classic period of Poe adaptations came during the 1960s with Roger Corman's The House of Usher (1960) and six-and-a-half other Poe follow-ups that Corman subsequently made, usually all starring Vincent Price. This version of The House of Usher came out amid a spate of Poe remakes that were made around 1989-91 and included the likes of the Roger Corman produced Masque of Red Death (1989) and The Haunting of Morella (1990), Luigi Cozzi's The Black Cat (1990), George Romero and Dario Argento's anthology Two Evil Eyes (1990), Fred Olen Ray's The Haunting Fear (1991) and Stuart Gordon's The Pit and the Pendulum (1991), as well as another version of The Masque of the Red Death (1989) from this film's director Alan Birkinshaw and producer Harry Alan Towers that told a modernised version of the tale. Towers also made another Poe adaptation during this period with Buried Alive (1989).
This version makes some interesting additions to the familiar story. It is now a girl rather than a male friend that comes to visit Roderick Usher where he then makes her a prisoner there so that he can breed with her and carry on the Usher line. Where in all other versions of The Fall of the House of Usher it is Roderick's sister that goes into a cataleptic fit and is buried alive, here it the heroine's fiancee, who is Roderick's nephew.
For a time, this version of The House of Usher makes an interestingly concerted effort to get away from the 19th Century period setting of most other Poe films. The film gives us Romy Windsor as a modern girl who enters an Usher house that seems to still exist in the 19th Century. We get scenes where she is told not to wear perfume lest this upset Roderick's ultra-sensitive nose; where she says she is studying to be a hairdresser and he puzzles over why she wants to be a barber or at saying that her mother sells Avon. We get an interesting glimpse in these few scenes of a Poe that is struggling to come to terms with the modern world.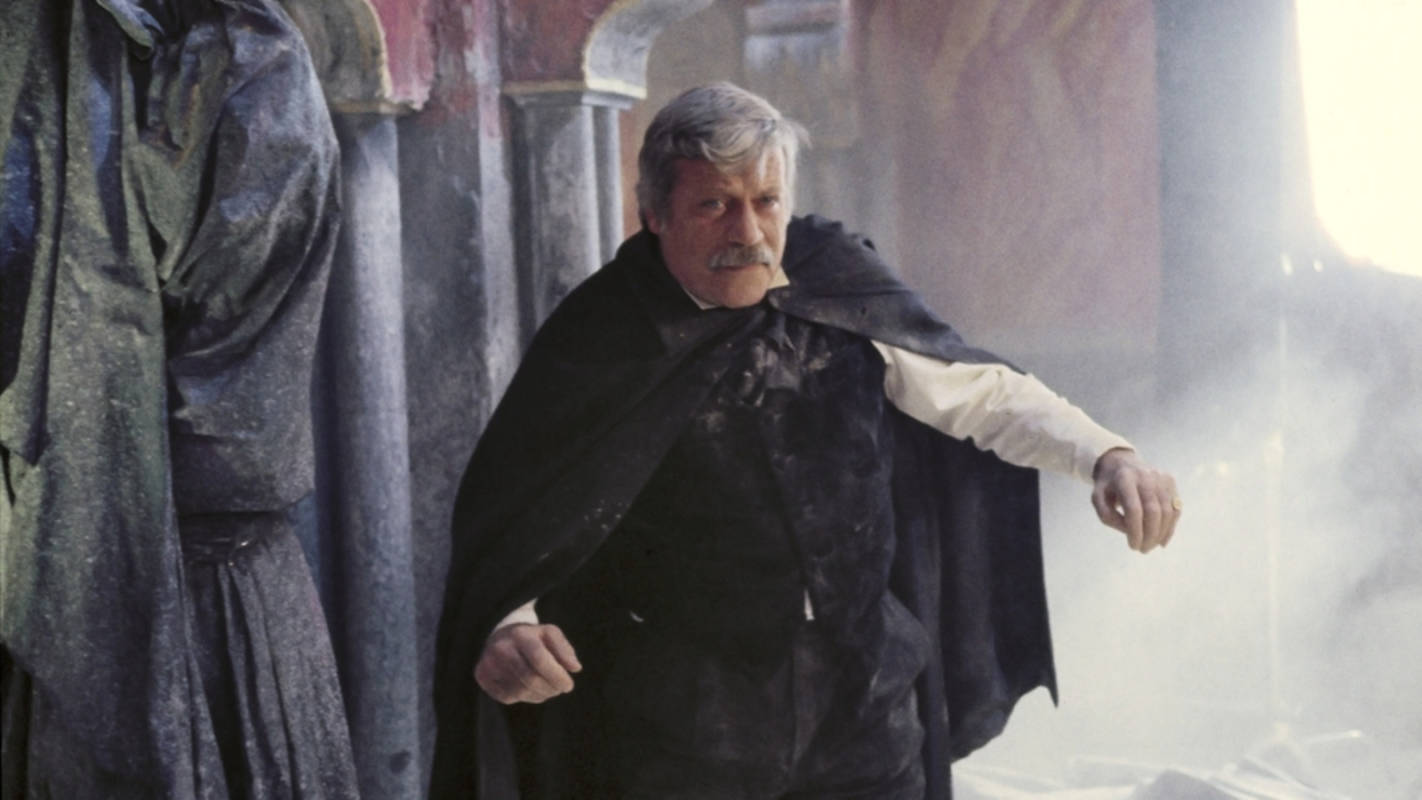 Alas, beyond a few superficialities, what we end up with bears little resemblance to Poe's The Fall of the House of Usher. Moreover, the film turns into something quite different to what it started out as. At first, it seems like an Imprisonment Thriller along the lines of something like The Fanatic/Die, Die, My Darling (1965), but then in the last half-hour it turns into a variant on the creaky old mad-relative-in-the-attic tale with a dishevelled Donald Pleasence introduced and, for some reason, killing everybody with a power drill that he has attached to his wrist. None of this has any equivalent in the original Poe short story.
The House of Usher comes from producer Harry Alan Towers who had bankrolled numerous films by exploitation director Jess Franco, as well as versions of classic horrors such as Dorian Grey (1970) and Edge of Sanity (1989) where the emphasis was placed on a crude sexploitation element. It is the same with The House of Usher. There are numerous scenes of gratuitous gore littered throughout – Oliver Reed shoving the maid's hand down onto the mincemeat grinder and we seeing ground meat coming out the other end, before Birkinshaw's camera pulls back to show that it is just meat and not what we think. Elsewhere, we see a rat being applied to the treacherous doctor (Philip Godewa)'s crotch; the maid's head served up on a silver platter; Romy Windsor's hairdryer gushing spouts of blood at the mirror and then she finding a severed head sitting there. Birkinshaw's direction consists of cheap theatrics – Psycho (1960)-styled strings that start screeching as Norman Coombes turns around in the front seat of the taxi; or where, as the house starts collapsing at the climax, coffins pop up and skeletons burst out trying to grab a fleeing Romy Windsor. Elsewhere, for no particular reason, the walls develop arms and start trying to grab people. It is a film where Edgar Allan Poe has been reduced to the level of cheap shocks.
Director Alan Birkinshaw, who is brother of celebrated British writer Fay Weldon, has made a number of other genre films including Killer's Moon (1978), Invaders of the Lost Gold/Horror Safari (1982) and a horror Agatha Christie adaptation Ten Little Indians (1989), also for producer Harry Alan Towers, as well as one other modernised Edgar Allan Poe adaptation Masque of the Red Death.
Other adaptations of The Fall of the House of Usher include:- – Jean Epstein's French silent version The Fall of the House of Usher (1928); The Fall of the House of Usher (1928), a short silent British version; a dreary and not very faithful British version The Fall of the House of Usher (1949); Roger Corman's The House of Usher (1960) starring Vincent Price; the inept tv variation The Fall of the House of Usher (1979) with Martin Landau; Jesus Franco's cheap The Fall of the House of Usher (1983) with Howard Vernon; Ken Russell's demented variation The Fall of the Louse of Usher (2002); the low-budget modernised The House of Usher (2006); David DeCoteau's softcore gay House of Usher (2008); as an episode of the animated anthology Extraordinary Tales (2015); the gender-flipped Lady Usher (2020) starring Theresa Santiago; The Fall of Usher (2021); and the tv mini-series The Fall of the House of Usher (2023), which incorporates a medley of Poe stories.
---
---