---
Crew
Director/Producer – Rene Clair, Screenplay – Dudley Nichols, Based on the Novel Ten Little Niggers/Ten Little Indians by Agatha Christie, Photography (b&w) – Lucien Andriot, Music – M. Castelnuovo-Tedesco, Art Direction – Ernst Fegte. Production Company – Popular Pictures, Inc..
Cast
Louis Hayward (Philip Lombard), Barry Fitzgerald (Judge Francis Quincannon), Roland Young (William Henry Blore), June Duprez (Vera Claythorne), Walter Huston (Dr Edward Armstrong), Mischa Auer (Prince Nikita Starloff), Judith Anderson (Emily Brent), Sir C. Aubrey Smith (General John Mandrake), Richard Haydn (Thomas Rogers), Queenie Leonard (Ethel Rogers)
---
Plot
Ten people from different walks of life receive invitations from the mysterious U.N. Owen to a large house on Indian Island. They arrive to find Owen is absent, having only left a phonograph record for them. When this is played, it accuses all of them of being guilty murderers. As the group settle in and dine, members of the group start to be killed in different ways. The group realise that one among them must be U.N. Owen. Paranoia grows as their numbers continue to be eliminated and they cannot be certain who can be trusted.
---
Agatha Christie (1890-1976) was to all accounts the most popular author of all time. She began publishing with the novel The Mysterious Affair at Styles (1920), which introduced her most famous character, the detective Hercule Poirot. Nicknamed The Queen of Crime, Christie's books and plays specialised in murder mysteries – she patented a formula where a murder usually took place at a locale and offered up a variety of suspects each with good reason to be the murderer, before the killer's identity and modus operandi would be revealed in the last chapter. During her lifetime, she produced 66 novels, including Murder on the Orient Express (1934), Death on the Nile (1937), Appointment with Death (1938), Evil Under the Sun (1941), Sparkling Cyanide (1945) and The Mirror Crack'd (1962), among many others.Christie's works have been adapted to the screen on numerous occasions, most famously with the hit Murder on the Orient Express (1974), which led to a spate of big-budget adaptations over the next few years, and then the success enjoyed by the tv series' Miss Marple (1984-92) and Poirot (1989-2013). More recently, she underwent a revival with Kenneth Branagh's remake of Murder on the Orient Express (2017), which was followed by a host of British tv mini-series adaptations.
And Then There Were None was originally published under the title Ten Little Niggers (1939), a title taken from a children's rhyme. Not too surprisingly, this title has been dropped these days – subsequent reprintings have substituted Ten Little Indians, while in the US printing it was changed to And Then There Were None and that seems to have stuck as the least offensive title. This purportedly has been the best-selling of all of Christie's books. Christie also wrote a stage adaptation Ten Little Niggers (1943).
The story has been adapted to the screen a number of times beginning here. There have also been the likes of Ten Little Indians (1965), the all-star And Then There Were None (1974), a Russian version Ten Little Indians (1987), Ten Little Indians (1989), the BBC mini-series And Then There Were None (2015) and the French mini-series They Were Ten (2020). There was even a Bollywood version Gumnaam (1965). Hideo Nakata's Incite Mill (2010) was made as a homage, while Mario Bava drew on the basic plot for his giallo film Twitch of the Death Nerve (1971), which was a prototypical influence on the slasher film.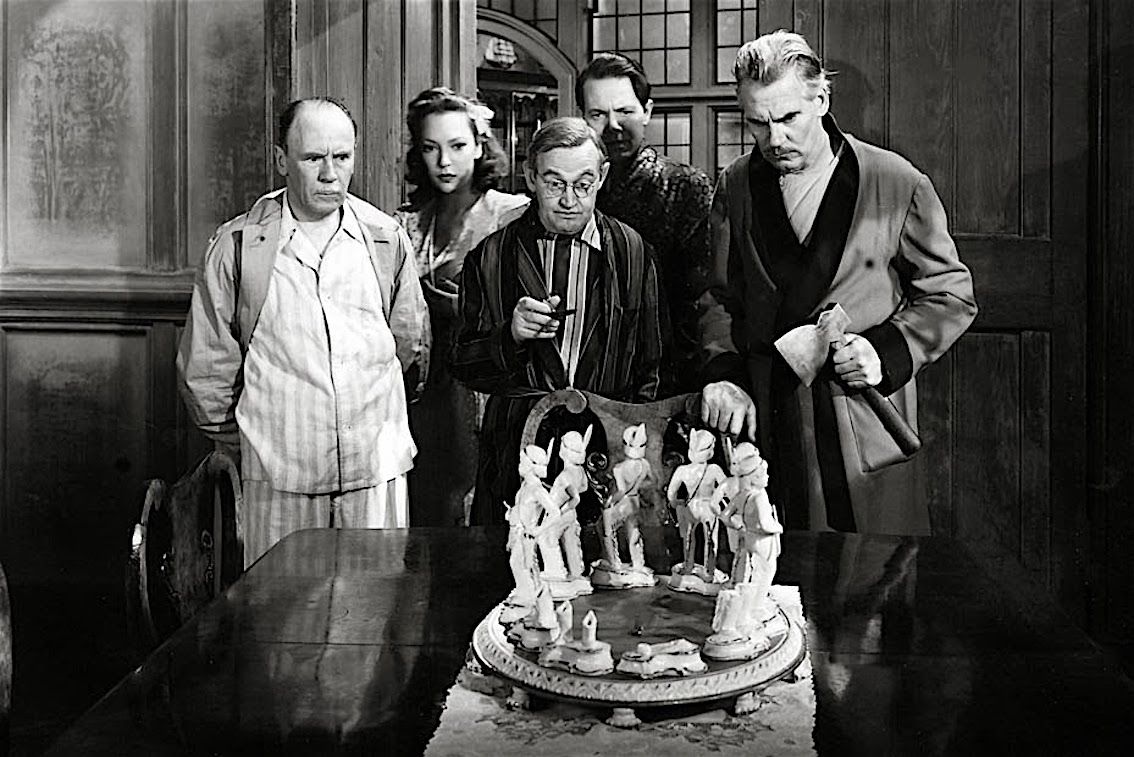 Rene Clair (1898-1981) was a French filmmaker who started making films during the silent era, with a number of experimental and surrealist works. He made his English-language debut with the light fantasy comedy The Ghost Goes West (1936) and enjoyed a Hollywood career for several years before returning to France subsequent to making And Then There Were None. (His other genre films are listed below).
When it comes to And Then There Were None, it feels as though the film has adapted the stage play more so than the Agatha Christie book. Most of the film is contained around the dining and drawing room of a mansion. It does expand out beyond there to some of the bedrooms, the patio and down onto the beach but much of the film has the feel of a contained stage drama. This serves to give the film a very stagebound feel – most of it consists of conversations among the various parties. It is not a film that is particularly driven by suspense and tension, although every so often Rene Clair will pull into closeup or dim the lights or use reflected lightning to create a mood of something sinister happening.
The other filmed versions of the story I have seen have dug into the background of the suspects and exposed their tangled web of guilt and complicity. By contrast, this version seems disinterested in any of that. At most the characters' backgrounds are dealt with in a couple of lines of dialogue but the script seems to have no interest in them beyond that. This makes for a murder mystery where people have little distinguishing depth beyond what the individual actors bring to the roles. In its stead, much of the film consists of the various characters debating strategies and who among them might be the killer – sort of more like an episode of Big Brother (2000- ).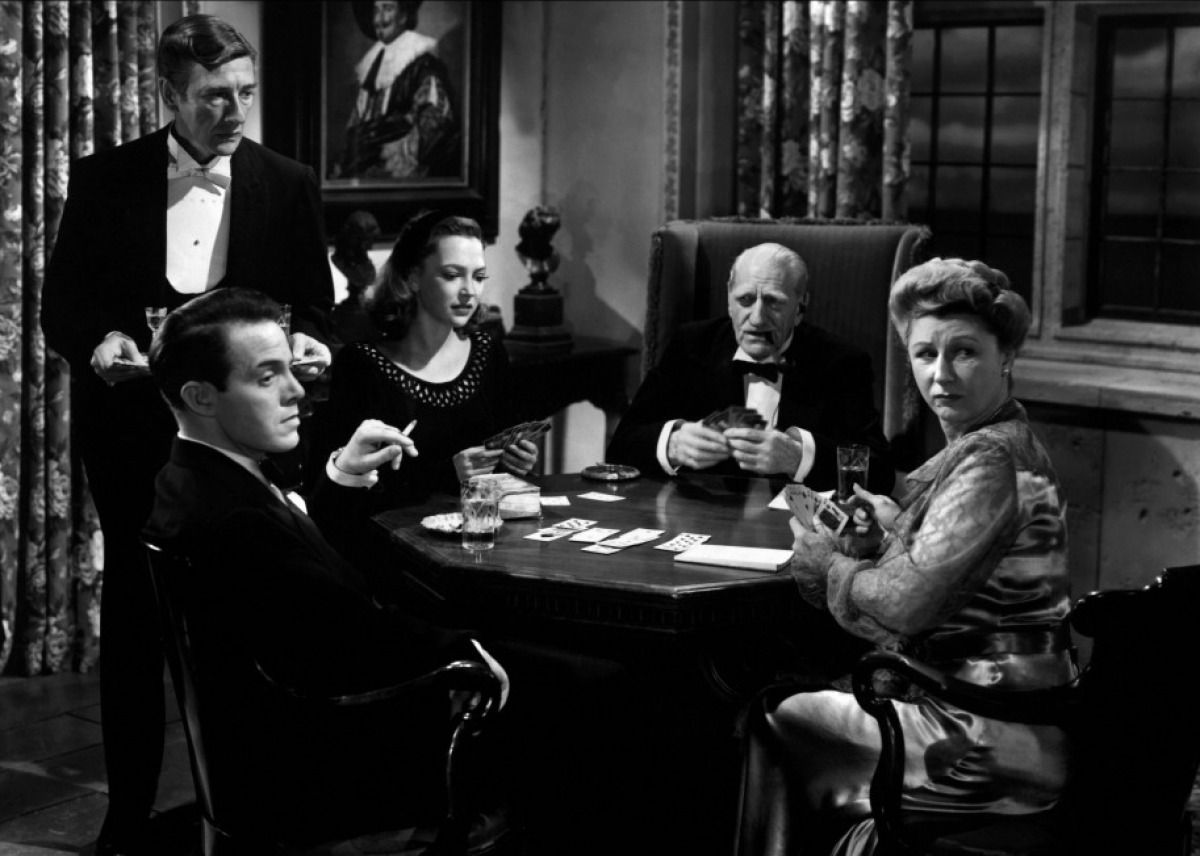 The film suffers somewhat from its Transatlantic journey. It is still ostensibly set in England. The characters are meant to be British but most of the actors make no effort to deliver an accent. The sole exception might be Roland Young as Detective Blore whose attempt to go Cockney, mangling his 'haytches', is terrible.
The other noticeable thing is how the film changes Agatha Christie's ending for a more upbeat one. [PLOT SPOILERS]. Whereas Christie ended the story with everybody dead and U.N. Owen committing suicide, this has been changed to allow the two romantic leads (Louis Hayward and June Duprez) to get together by faking their deaths and returning to hear U.N. Owen's confession before departing the island in one another's arms.
Rene Clair's other genre films were:- the surrealist silent films Entr'acte (1924) and The Imaginary Voyage (1925); the silent sf film Paris Qui Dort (The Crazy Ray) (1925) about Paris frozen in time; the ghost comedy The Ghost Goes West (1936); I Married a Witch (1942) in which Frederic March falls for witch Veronica Lake; It Happened Tomorrow (1944) about a man who can read tomorrow's headlines; Beauty and the Devil (1950), a retelling of the Faust story; and Beauties of the Night (1952) a charming fantasy about a daydreamer.
---
Trailer here
Full film available here
---