---
Crew
Director – Peter Collinson, Screenplay – Tudor Gates, Producers – Harry Fine & Michael Style, Photography – Ian Wilson, Music – Harry Robinson, Makeup – George Blackler, Production Design – Disley Jones. Production Company – Fantale Films Ltd/British Lion.
Cast
Susan George (Amanda), Ian Bannen (Brian Halston), Honor Blackman (Helen Lloyd), Dennis Waterman (Chris), George Cole (Jim Lloyd), John Gregson (Dr Gareth Cordell), Maurice Kaufman (Inspector), Tara Collinson (Tara)
---
Plot
Amanda is hired as babysitter for Tara, the young son of Jim and Helen Lloyd, while they go out for the evening. Unknown to Amanda, Helen and Jim are not a married couple heading out to celebrate their anniversary but are going to meet a psychologist to discuss Helen's husband Brian who has been placed in an asylum. As she sits up alone in the house, Amanda is harassed by would-be boyfriend Chris and spooked by various noises around the house. She finds Chris battered unconscious. In her panic, she lets in the friendly next-door-neighbour. She then discovers that this is Brian, who has escaped from custody and come back to find Helen. The deranged Brian now takes her and Tara hostage.
---
Fright is an interesting psycho-thriller that was produced in the last decade of the Anglo-Horror cycle. Hammer had forged the way a decade earlier with efforts such as A Taste of Fear/Scream of Fear (1961), Paranoiac (1963), Maniac (1963), Nightmare (1964), Hysteria (1964), The Fanatic/Die, Die, My Darling (1965), The Nanny (1965) and Crescendo (1970), all of which drew from the models popularised in the US by Psycho (1960) and imitators. Other British companies like Amicus made a number of entries into this psycho-thriller sub-genre as well.
Fright comes from producers Harry Fine and Michael Style who had made Hammer's Karnstein trilogy – The Vampire Lovers (1970), Lust for a Vampire (1971) and Twins of Evil (1971) – around the same time. Peter Collinson was a minor British director of the 1960s and 70s, probably best known for the original The Italian Job (1969). Collinson delved into the psycho-thriller a handful of times during the 1970s with Hammer's Straight on Till Morning (1972), the Agatha Christie murder mystery And Then There Were None (1974) and the remake of The Spiral Staircase (1975).
The script was from Tudor Gates who wrote Fine and Style's Karnstein films, as well as co-wrote the classic Barbarella (1968). Gates and Collinson pass through a good many plot elements that would become cliches of the slasher genre a decade later – the babysitter alone in the house; the jerk boyfriend playing pranks and/or pestering the heroine for sex; the friendly neighbour/visitor who may not be what they seem; the phone cords found cut. Today these are standard cliches of the genre but back then had not set into an established routine.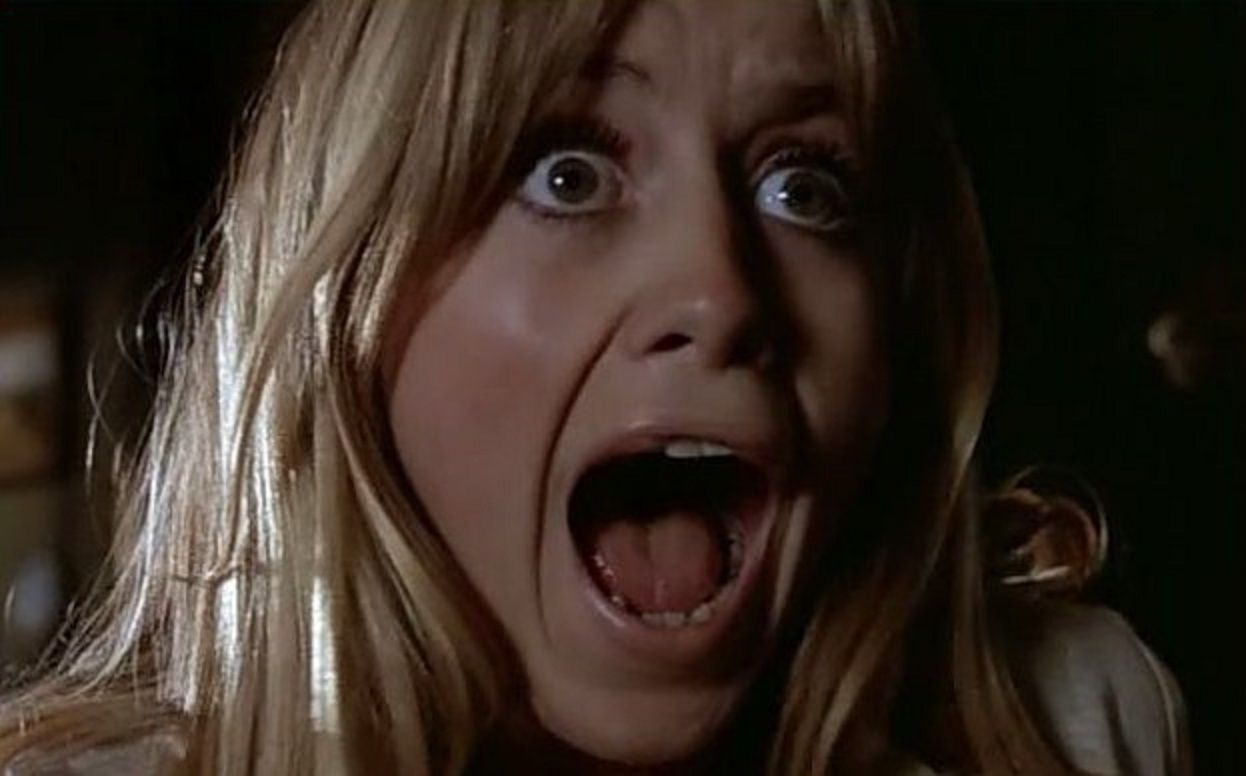 Peter Collinson does a fine job in drawing the material out tautly and generates a considerable degree of atmosphere throughout. Collinson does some fine initial scene setting with Susan George alone in the house with figures glimpsed creeping around outside and ordinary noises taking on scary overtones. The siege climax is particularly well sustained with Collinson and Gates propelling it through a constant series of twists and turns. The central role of the babysitter is perfectly cast with the lovely and sympathetic Susan George.
There is one particularly good scene that Peter Collinson creates, albeit undeniably inspired by similar scenes in Repulsion (1965), where the deranged Ian Bannen advances on and dances and then has sex with Susan George. Collinson shows the scene from alternating viewpoints – one from Ian Bannen's point-of-view where he thinks he is dancing with wife Honor Blackman and then back to the frightened Susan George's perspective where he is dancing with her. As they have sex, we see alternately from his point-of-view that he is with Honor Blackman who is laughing and inviting him on, and then back to Susan George's point-of-view where she is screaming. As in Repulsion, the only sound through most of the scene is Susan George's breathing.
---
---