---
Crew
Director – Lindsay Shonteff, Screenplay – Kevin Kavanagh, Story – Peter Welbeck [Harry Alan Towers], Based on the Characters Created by Sax Rohmer, Producer – Harry Alan Towers, Music – Johnny Scott, Art Director – Scott MacGregor. Production Company – Sumuru Films Limited.
Cast
George Nader (Nick West), Shirley Eaton (Sumuru), Frankie Avalon (Tommy Carter), Wilfrid Hyde-White (Colonel Anthony Baisbrook), Maria Rohm (Helga Martin), Klaus Kinski (President Boong), Patti Chandler (Louise), Salli Sachse (Mikki), Ursula Rank (Erna), Krista Nell (Zoe), Jon Fong (Colonel Medika), Paul Chang (Inspector Koo), Essie Huang (Kitty)
---
Plot
Sumuru leads an all-female army and has a plan to conquer the world by sending her women out to seduce the world's most powerful men. However, one of her girls has committed the ultimate betrayal – fallen in love – and so Sumuru sends a team to kill her in Rome. British Intelligence persuades CIA agent Nick West to go to Rome to investigate because the murdered girl was an aide to the Sindonesian military chief Colonel Medika. There Nick and his playboy friend Tommy Carter are plunged into action when Medika is abducted and killed by Sumuru's girls. West and Tommy are then sent to Hong Kong where West is asked to masquerade as the Sindonesian President Boong's new security chief. Instead, West is snatched and taken to Sumuru's nearby island base where she persuades him to help Helga, one of her girls, get close to Boong in order to assassinate him. A spanner is thrown in the works when Helga decides she cannot go through with her mission and wants to flee Sumuru's organisation.
---
Sumuru was a creation of Sax Rohmer, the writing pseudonym of British author Arthur Henry Ward (1883-1959). Rohmer's most famous creation was the Chinese super-villain Fu Manchu who first appeared in The Mysterious Dr Fu Manchu (1913) and a further twelve novels. Fu Manchu gained fame on movie screens beginning with the silent The Mysterious Dr. Fu Manchu (1929) and quite a number of films subsequent to that. Sumuru was designed as a female equivalent of Fu Manchu. Sax Rohmer originally created her in a radio serial Shadow of Sumuru (1945-6) that he was commissioned to write for the BBC. Thereafter he spun the character out in a series of five novels – Nude in Minki/The Sins of Sumuru (1950), Sumuru/The Slaves of Sumuru (1951), The Fire Goddess/Virgin in Flames (1952), Return of Sumuru (1954) and Sinister Madonna (1956).
Producer Harry Alan Towers, who became notorious for his exploitation work in the decade ahead, including his collaborations with Jesus Franco, produced five films based on Sax Rohmer's Fu Manchu stories with The Face of Fu Manchu (1965), The Brides of Fu Manchu (1966), The Vengeance of Fu Manchu (1967), The Blood of Fu Manchu (1968) and The Castle of Fu Manchu (1969), all starring Christopher Lee. The first two of these had been released at the time Towers made The Million Eyes of Sumuru.
Towers' first few Fu Manchu films well worked because they were anchored by a clearcut villain character that had been established back in silent cinema, not to mention Christopher Lee at his chill icy best in the title role. Sumuru was a new character as far as the screen was concerned. With no cinematically established lineage to draw on, Towers and co simply turn to their contemporaries – namely the James Bond films that were at the peak of their popularity in this period. The influence is particularly noticeable in the casting of Shirley Eaton as Sumuru, an actress who gained her greatest moment of fame playing the girl spray-painted in gold in the Bond film Goldfinger (1964).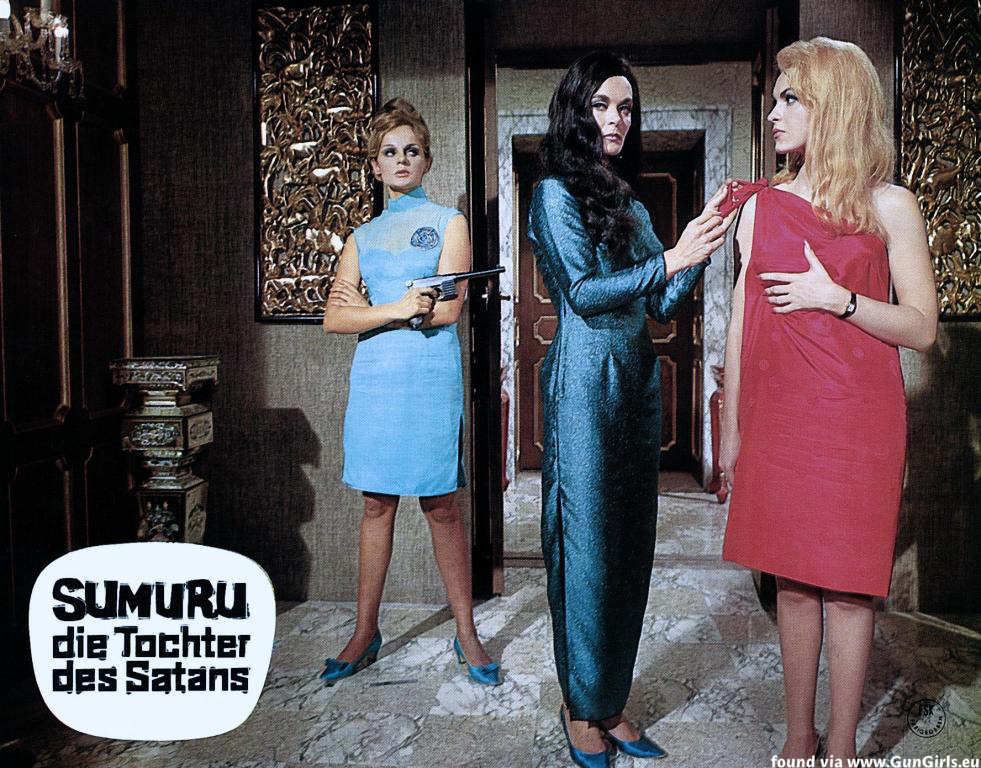 The all-girl world takeover (or fembot) plot is one that played out in a number of Bond imitators of the period with the likes of Dr Goldfoot and the Bikini Machine (1965), In Like Flint (1967) and the Bond film On Her Majesty's Secret Service (1969). The Million Eyes of Sumuru plays up the lethal women aspect – the opening scene features one of Sumuru's women strangling a man between her thighs, and we get a number of other scenes with women killing people with blow dart guns, drowning traitors in the surf on a beach and keeping men imprisoned in cages shirtless and whipping them. As with the underlying politics of these women takeover films, there is the assumption that all that is needed is a strong man to put these women in their place. Sumuru even comes onto George Nader at one point and tells him: "I need a man to force himself on me."
Alas, Harry Alan Towers has afforded the production a far smaller budget than the Bond films. We get something of the Bond films' globe-spanning locales – location shooting in Rome and Hong Kong – but the sets are far less extravagant. Crucially, as a director, Lindsay Shonteff lacks the panache of someone like the Bond series' Guy Hamilton or Terence Young. The action is mostly sedate – the most exciting the film ever gets is a foot chase with Maria Rohm pursued by Sumuru's girls through the streets of Hong Kong, although it does mount to a passable shootout climax as the Hong Kong authorities raid Sumuru's island base.
The plot seems indifferently slung together with George Nader sent off to Rome to investigate the murder of a secretary and then to Hong Kong where he is abruptly coerced into Sumuru's scheme to assassinate Klaus Kinski's president. None of it feels tightly plotted or with developments that keep you on the edge, mostly it meanders – Nader seems awfully nonchalant about a scheme in which he is required to act as a triple agent.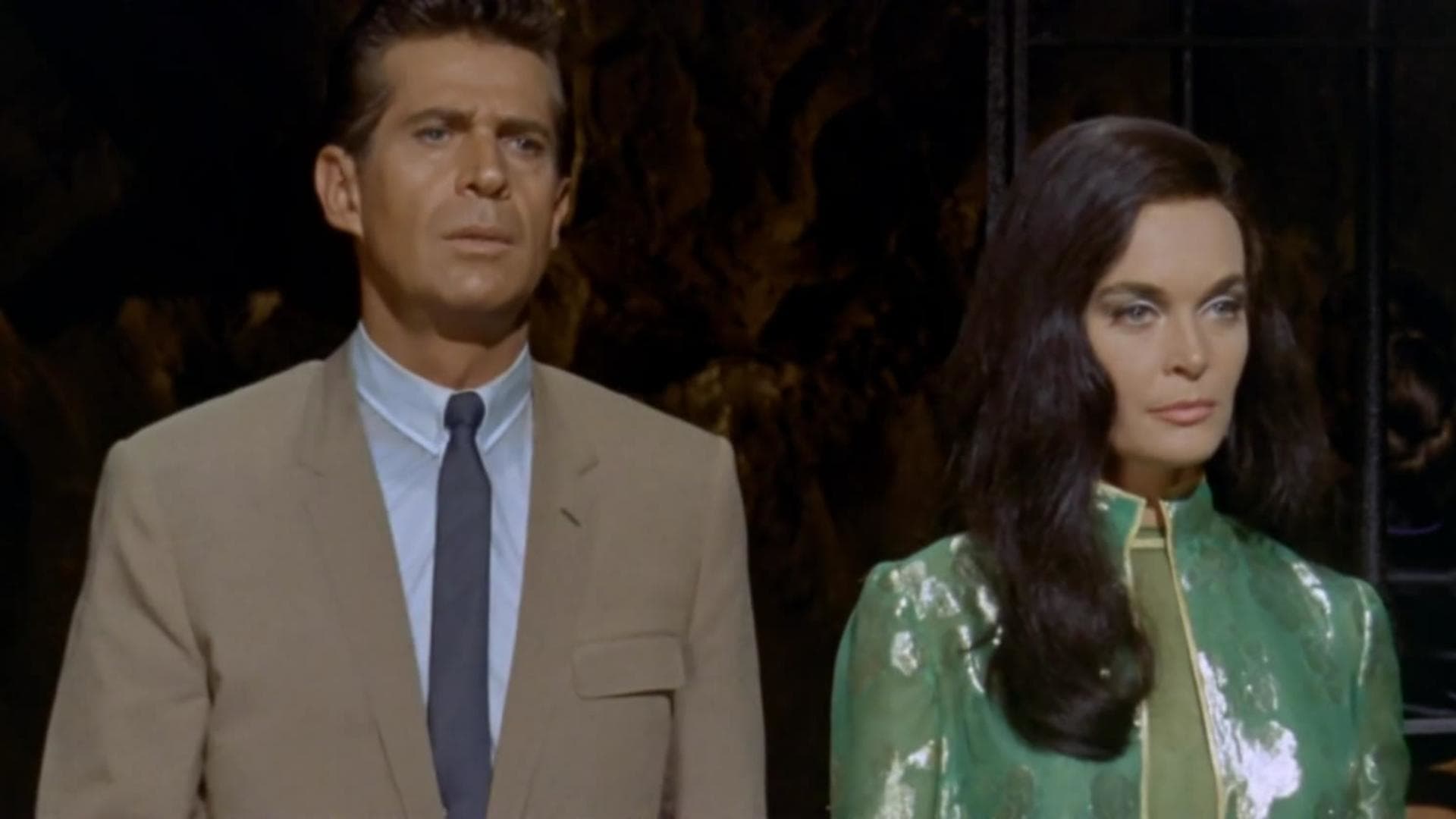 The casting also seems off. George Nader is cast in the James Bond playboy mould (which seems rather of an odd fit when in actuality that Nader was a gay man and close associate of Rock Hudson) but seems too old and stiff for the part. Frankie Avalon is cast opposite him, chiefly it would seems for transatlantic appeal, but flits about without ever seeming like he has any place in the film. Shirley Eaton fails to project much of the mysteriousness and deadly allure that Sumuru is meant to embody. Klaus Kinski also turns up in a handful of scenes as a very fey international leader, where his distinctive accent has been dubbed, but it is a case of the film failing to do anything interesting with an actor of Kinski's intense and weird presence.
Harry Alan Towers produced a sequel with The Girl from Rio (1969), featuring a return performance from Shirley Eaton, and the further Sumuru (2003), a cheap South African-shot film with Alexandra Kamp as Sumuru but this was set in the future.
Lindsay Shonteff made several other spy films and thrillers such as Licensed to Kill/The Second Best Secret Agent in the World (1966), Night After Night After Night (1969), Fast Kills (1972), Spy Story (1976), as well as softcore British cheapies with Permissive (1970), The Yes Girls (1971), Harry and the Hookers (1975), and sometimes combinations of the two like The Sex Life of a Female Private Eye (1973) and The Man from S.E.X. (1979). Shonteff ventured into genre material on a couple of occasions with the drearily routine Curse of Simba/Curse of the Voodoo (1964) and the quite reasonable ventriloquist's dummy film Devil Doll (1964).
---
Trailer here
Full film available online here:-
---