aka Andy Warhol's Blood for Dracula; Blood for Dracula
(Dracula Vuole Vivere: Cerca Sangue di Vergine)
---
Crew
Director/Screenplay – Paul Morrissey, Producer – Andrew Braunsberg, Photography – Luigi Kevellier, Music – Claudio Gizzi, Special Effects – Carlo Rambaldi, Makeup – Mario Di Salvio, Production Design – Enrico Job, Art Direction – Gianni Giovagnoni. Production Company – Compagnia Cinematografica Champion/Jean Yanne-Jean Pierre Rassam.
Cast
Udo Kier (Count Dracula), Jose Dallesandro (Mario), Dominique Dariel (Sofia), Stefania Cassini (Rybena), Arno Juerging (Anton), Maxime McKendry (Marquise Di Fiori), Milena Vucotic (Esmeralda), Vittorio De Sica (Marquis Di Fiori)
---
Plot
Count Dracula has depleted all the virgin blood in Transylvania and is dying from lack of a fresh supply. And so he and his manservant Anton pack up coffin and move to Italy, hoping to find a virgin there. There they find the De Fiori family, titled but poor and hoping to find a rich man to marry one of their four daughters. Being seen as a desirable suitor, Dracula settles in to drink his fill. However, thanks to the belligerent Marxist hired hand Mario, the daughters are not the virgins he hoped to find.
---
This is a companion piece to Andy Warhol's Frankenstein (1973), the gore-heavy take on the oft-told tale that somehow managed to get Andy Warhol's blessing (even though Warhol was not involved in the production in any capacity). When Frankenstein proved a success, Andy Warhol's Dracula was quickly rushed into production with virtually the same cast and crew and released a few months later – although this is not shot in 3-D, unlike Frankenstein, and is somewhat tamer in terms of gore.
Nevertheless, Andy Warhol's Dracula is a better film than Frankenstein. Many dismiss these two films as disgusting and irredeemable but Dracula proves somewhat hard to dislike despite the bad acting, stilted accents and unappealingly presented sex scenes. It hovers between the provocative and the gross, sometimes managing to create an oddly poetic synthesis of the two – in one particularly striking shot, Udo Kier's Dracula gets down on his face to lick up a puddle of blood on the floor at the base of a classical mural. Or where the albinoid Udo Kier sits over the opening credits painting his face with makeup into normal fleshtone likeness and then paints his white hair black. There is a surprising degree of sympathy presented for Dracula. Also there is a better musical score than could be expected.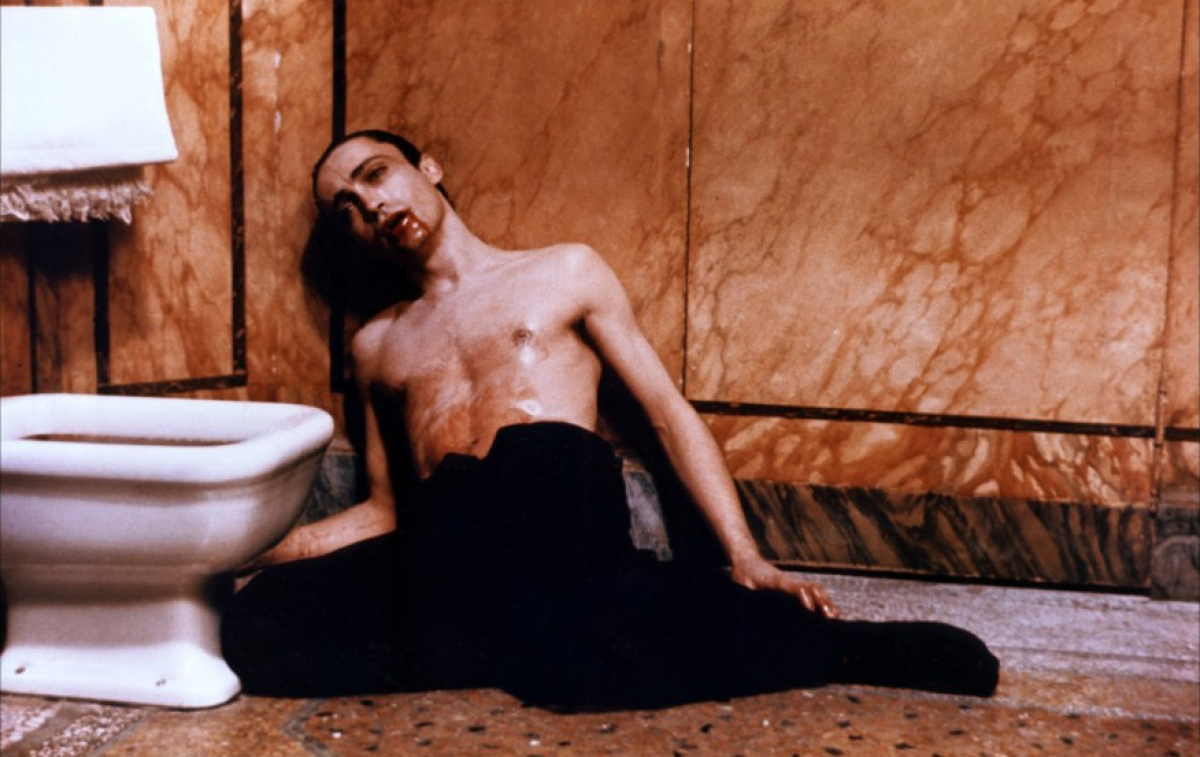 A good deal of the film has its tongue sewn in cheek – at one point, manservant Joe Dallesandro's solution to protecting a virgin from Dracula is to throw her up against the wall and force his way with her. There is the hysterically over-the-top climax, prefiguring Monty Python and the Holy Grail (1975), where Joe Dallesandro chases Udo Kier around the castle chopping his arms and legs off one by one. Of all people, Roman Polanski has an amusing cameo as a peasant in a bar.
Director Paul Morrissey had worked as the director and co-director on a number of Andy Warhol's other films, including Chelsea Girls (1966), I, a Man (1967), Flesh (1968), The Loves of Ondine (1968), Trash (1970) and Women in Revolt (1971). Morrissey's output outside of The Factory has been minimal. His other films of genre interest are The Hound of the Baskervilles (1978), a dire comic reworking of the Conan Doyle novel, and The Armchair Hacker (1985), about a teenage computer hacker.
---
---