---
Crew
Directors/Producers – Adam Brooks & Matthew Kennedy, Screenplay – Adam Brooks, Matthew Kennedy & Conor Sweeney, Additional Screenplay Material – Jeremy Gillespie, Photography – Adam Brooks, Matthew Kennedy & Jon'Nathon Stebbe, Music – Jeremy Gillespie, Claudio Simonetti & Brian Wiacek, Makeup Effects – Aftermath FX, Steve Kostanski & Emersen Ziffle, Production Design – Maryam Decter. Production Company – Astron-6/Kennedy-Brooks.
Cast
Adam Brooks (Rey Ciso), Matthew Kennedy (Peter Porfiry), Conor Sweeney (Cal Konitz), Paz de la Huerta (Josephine Jardine), Samantha Hill (Bella), Jerry Wasserman (Police Chief O'Connor), Sheila Campbell (Margarit Porfiry), Laurence R. Harvey (Father Clarke), Udo Kier (Dr Casini), Brett Donahue (Claudio Calvetti), Brent Neale (Giancarlo), Jasmine Mae (Jasmine Rain), Tristan Risk (Veronica)
---
Plot
Rey Ciso was considered one of the best film editors in the business until he lost his fingers in an accident and had to have them replaced by wooden prostheses. He is in a loveless marriage to former actress Josephine Jardine who holds him in contempt. He is currently working as the editor on a giallo film. However, the lead actor is slaughtered by a mysterious hooded figure. As detective Peter Porfiry investigates, evidence seems to point in the direction of Rey. Other bodies on the set begin to accumulate as Porfiry digs at possibly occult connections.
---
Astron-6 is a Canadian film collective (spread across several different provinces) and made up of Adam Brooks, Jeremy Gillespie, Matthew Kennedy, Steven Kostanski and Conor Sweeney. The group started by collaborating on a series of spoof trailers for films in bygone styles. They were then given a small budget ($10,000) by Troma Films to expand one of these shorts as a film – the result being Father's Day (2011), collectively directed by (and often starring) Astron-6. Steven Kostanski then branched out to make the hilarious no-budget Manborg (2011), spoofing the 1980s science-fiction film, with the rest of Astron-6 both behind and in front of the camera, followed by success with other films like The Void (2016), Leprechaun Returns (2018) and P.G. Psycho Goreman (2020). The group return with The Editor with Adam Brooks and Matthew Kennedy both directing and playing the two principal characters and various of the other working behind the scenes or turning up in acting roles.
The last few years have seen a number of homages to the giallo genre – Berberian Sound Studio (2012) and the directing duo of Helene Cattet and Bruno Forzani who have seemed to have made an entire career out of evoking the style of giallo with the films Amer (2009) and The Strange Colour of Your Body's Tears (2013). The Editor is the first of these that acts as a parody of the style. Brooks and Kennedy get the stylistic set-pieces – the garish lighting schemes, the masked killers, the pathological mix of murder and eroticism.
There are clear homages to iconic giallo scenes – the axe through the door scene is reminiscent of Catriona MacColl's harrowing ordeal having an axe battered through the coffin lid in City of the Living Dead (1980); the knife in the eyeball reminds of scenes in films like Eyeball (1978), Zombie – Flesh Eaters (1979) and Opera (1987); there is the proliferation of tarantulas from a number of other films. Not to mention the specific quoting of the book of the Three Mothers from Argento's occult trilogy of the same name – Suspiria (1977), Inferno (1980) and Mother of Tears: The Third Mother (2007), while Claudio Simonetti of Goblin contributes to the score – even the image of organically pulsating videotapes from David Cronenberg's non-giallo Videodrome (1983).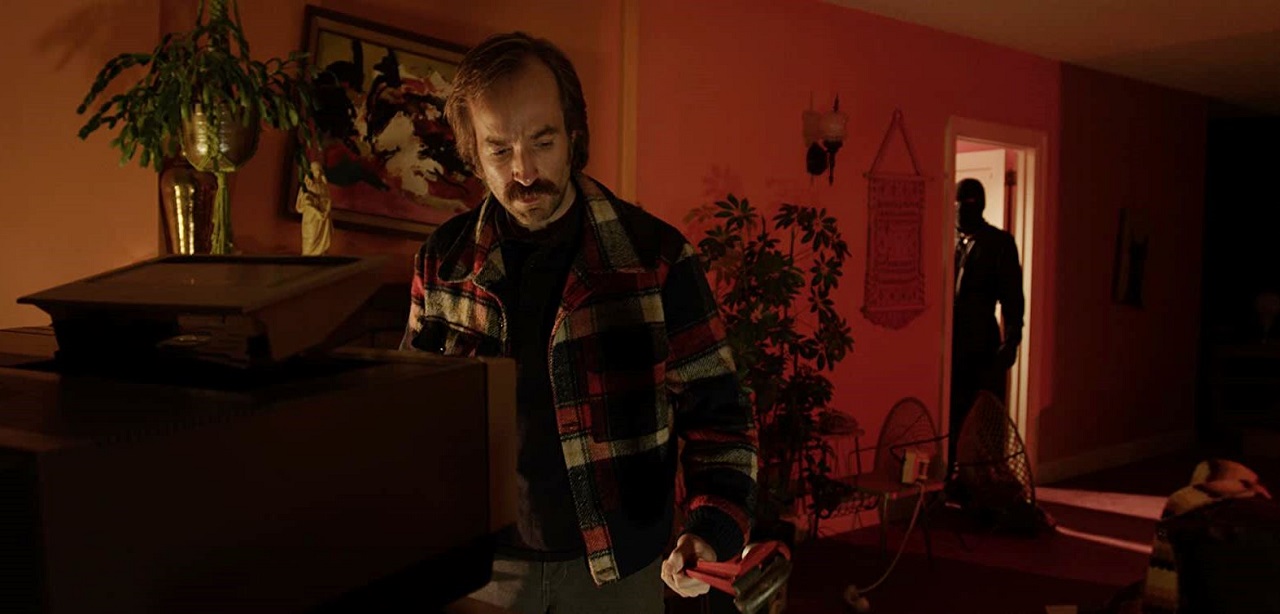 The Astron-6 filmmakers are rapidly proving themselves masters of a certain type of humour – one that has one foot in just as much cinematic geekery and genre quoting as Quentin Tarantino and the other with the knowing ability to mercilessly skewer the cliches and absurdities of each genre they take on. Some of the characters here – especially Matthew Kennedy's deadpan parody of a macho 1970s detective hero, which he manages to maintain in character right throughout the film – are spot on. Kennedy and Brooks' ability to deliver everything in deadpan or spin ordinary dialogue in such a way that it comes slightly off-kilter is hilarious. This is a film that consistently hits the ball in wit in almost every scene, far more so and regularly than almost any other film that aspires to the horror comedy vein.
The failing of The Editor might be the same one that you could accuse the other Astron-6 films of – especially Father's Day. This is that the film often seems never more than a series of individually conceived scenes. Certainly here, there is far more plot than we ever get in their films but there is also the sense of many pieces constantly being added-on because the filmmakers found the idea amusing or else wanted to extrude the plot and the result being random ideas composited together in ways that don't always make sense.
In this regard, towards the end there is a sense of meta-fiction where Adam Brooks' title editor is able to actually enter the film reels he is editing and brief speculation, sort of like Wes Craven's New Nightmare (1994), that he is a conjuror who is able to invoke occult forces, but this never amounts to anything. Nor either does the very confusing ending that suggests much of what happened was all going on in the detective's head.
The film has also allowed Brooks and Kennedy a better budget (some $100,000) than Astron-6's previous films. This has promptly been spent on bringing in a moderately well-known cast – including pouty non-acting Paz de la Huerta who is mostly known on screen for readily undressing her spectacularly hot body; genre legend Udo Kier as a strange psychiatrist; Brent Neale from numerous Guy Maddin films as the detective's partner; Laurence R. Harvey, the very creepy lead from The Human Centipede II: Full Sequence (2011), as a genial British priest; and director John Paizs of the appealing genre spoof Top of the Food Chain (1999) as himself.
---
---