aka Black Vampire; Blood Couple
---
Crew
Director/Screenplay – Bill Gunn, Producer – Chiz Schultz, Photography – James E. Hinton, Music – Sam Waymon, Musical Director – Ed Bland, Production Design – Tom H. John. Production Company – Kelly-Jordan Enterprises, Inc.
Cast
Duane Jones (Dr Hess Green), Marlene Clark (Ganja Meda), Bill Gunn (George Meda), Sam Waymon (Reverend Luther Williams), Leonard Jackson (Archie)
---
Plot
Anthropologist Dr Hess Green has been stabbed three times by an ancient Myrthian dagger, which has left him with a need to drink blood. Hess hires George Meda to work for him but George then shoots himself whereupon Hess drinks his blood. George's wife Ganja returns from Amsterdam looking for her husband and asks to stay after Hess explains that George is missing. The two become lovers and then marry. Hess then decides to make Ganja into one of his kind. However, she is shocked to discover that this means drinking human blood.
---
Ganja & Hess is a fascinatingly obscure entry amid the spate of Blaxploitation horror films to come out in the 1970s. The Blaxploitation film began with Sweet Sweetback's Baadasssss Song (1970) but was popularised by the massive success of Shaft (1971). The fad for Blaxploitation horror films was created by Blacula (1972), which offered up a variant of Dracula (1897) recast with African-American faces. This was followed by the likes of Blackenstein (1973), Abby (1974), Sugar Hill (1974), The House on Skull Mountain (1974), Dr Black and Mr Hyde (1976) and J.D.'s Revenge (1976), all offering up Blaxploitation versions of popular horror stories/themes. (For more genre examples see Blaxploitation Cinema).
Ganja & Hess is a film that has built up a cult reputation, largely due to its obscurity. It was given various video/dvd releases under different titles, while some versions cut out some 30 minutes of material. It is a considerable surprise to finally watch the film. What you expect going in is a variant on Blacula – perhaps one that uses the combination of vampire and Blaxploitation tropes in more sophisticated ways. What you least expect however is to sit down to watch what is almost an experimental film.
As a vampire film, Ganja & Hess is often like a greased pig – it is vague and elliptical in style. It only ever lets its central vampire element play around in the background and never directly states anything. There is a complete absence of traditional vampire movie iconography, for instance – at most blood drinking and the power of the crucifix. Indeed, there is not even any real plot to the film.
This makes Ganja & Hess frustrating to anyone coming to it raised on the vampire genre expecting vampire hunters, garlic and coffins, seduction of maidens etc etc. At times, you feel like you are in the midst of a work of improv theatre. There is an undeniable tendency towards pretension. Actors appear to deliver randomly improvised monologues that drift off and get philosophical, even poetry readings. There is a soundtrack made up of weird electronics and percussion, or distant voices laughing and screaming.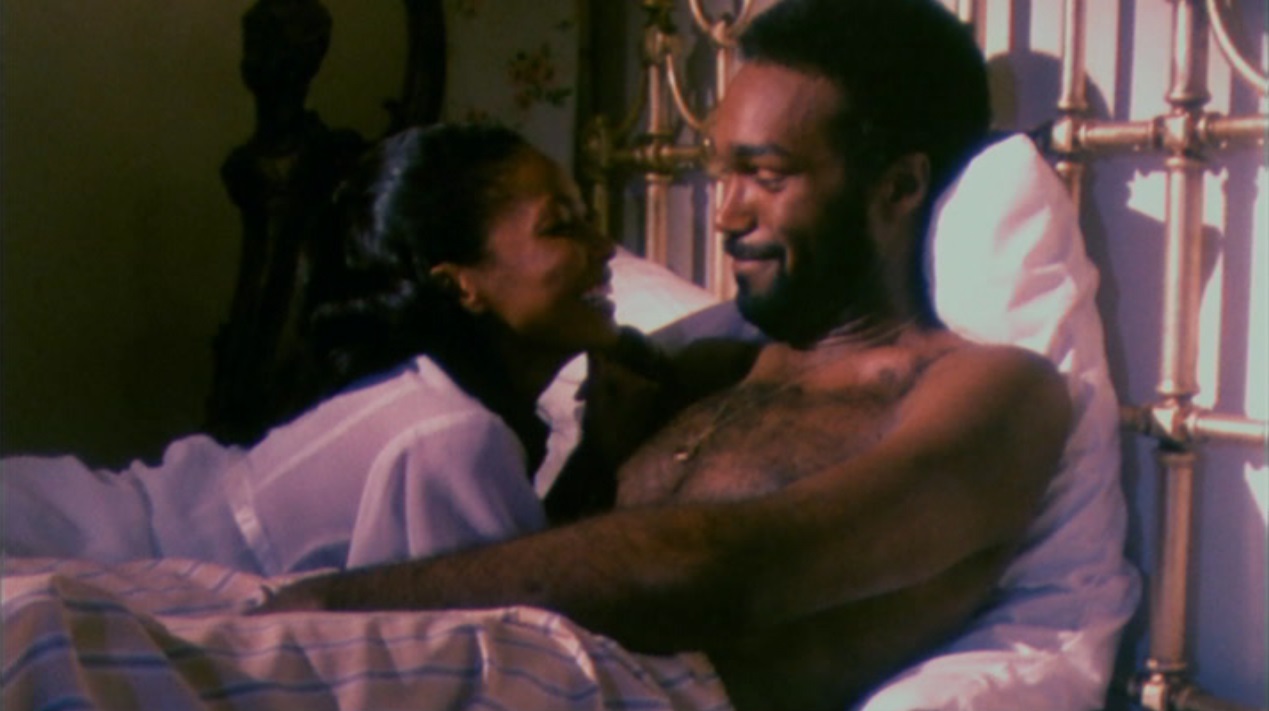 This in itself would merely make Ganja & Hess an obscure experimental film. However, there are undeniable occasions when director Bill Gunn creates some highly effective scenes. There is a striking scene where Marlene Clark seduces a man and a love scene subtly turns around until we are startled to see her drinking his blood. There is a particularly touching ending where Duane Jones enters a Gospel church and is prayed on, whereupon he returns home to die, at last delivered of his vampirism. If nothing else, you have to applaud a film that explains its own mythology via a credits song that is conducted a capella.
Bill Gunn was a Black actor, director and writer at a time when such was almost unheard of. Besides writing and directing Ganja & Hess, he also plays the role of Ganja's husband who kills himself. Gunn made two other films as director with Stop (1970) and Personal Problems (1989), both non-genre and neither receiving any widespread release. His only other genre outing was as screenwriter of The Angel Levine (1970). Ganja & Hess was also one of the few other acting roles of Duane Jones, the lead actor in Night of the Living Dead (1968).
Forty-one years later, Ganja & Hess was remade by Spike Lee as the interesting Da Sweet Blood of Jesus (2014) where Bill Gunn, despite having passed away in 1989, is credited as co-writer.
---
---