aka Andy Warhol's Flesh for Frankenstein; Flesh for Frankenstein
(Carne per Frankenstein)
---
Crew
Director/Screenplay – Paul Morrissey, Producer – Andrew Braunsberg, Photography (3-D) – Luigi Kevellier, Music – Claudio Gizzi, Special Effects – Carlo Rambaldi, Makeup – Mario Di Salvo, Production Design – Enrico Job. Production Company – Compagnia Cinematografica Champion/Jean Yanne-Jean Pierre Rassam
Cast
Udo Kier (Baron Frankenstein), Monique Van Vooren (Katrin Frankenstein), Jose Dallesandro (Nicholas), Arno Juerging (Otto), Srdjan Zelenovic (Male Monster), Dalila Di Lazzaro (Female Monster)
---
Plot
Baron Frankenstein has built two creatures, a male and a female – all that he needs to do is find the head of a highly sexed man for the male body so that the two might breed to produce a race of supermen. He goes hunting with a pair of garden shears but by accident gets the wrong head, one of a man who wants to enter the priesthood and has no interest in sex. Meanwhile, Frankenstein's undersexed wife has taken Nicholas, the man whose head Frankenstein intended to procure, on as his manservant and bed partner. Nicholas is less than pleased to recognize his friend's head when Frankenstein unveils his creation.
---
Andy Warhol's Frankenstein/Flesh for Frankenstein was the first of the two Franco-Italian productions that gave Dracula and Frankenstein sado-pornographic updatings under Andy Warhol's name banner – a few months later the companion piece Andy Warhol's Dracula (1973) was released. (Although he made a number of underground films of his own during the era, it appears that lending his name is the only connection that Andy Warhol ever had to the proceedings).
It is interesting to see a version of the Frankenstein story that eschews villagers with flaming torches and wooden-armed inspectors and gives us an intelligent creature and even Marxist parallels to the backdrop. While none of this helps the film, it at least makes for an interesting interpretation. For some reason, the film was also released shot in 3-D.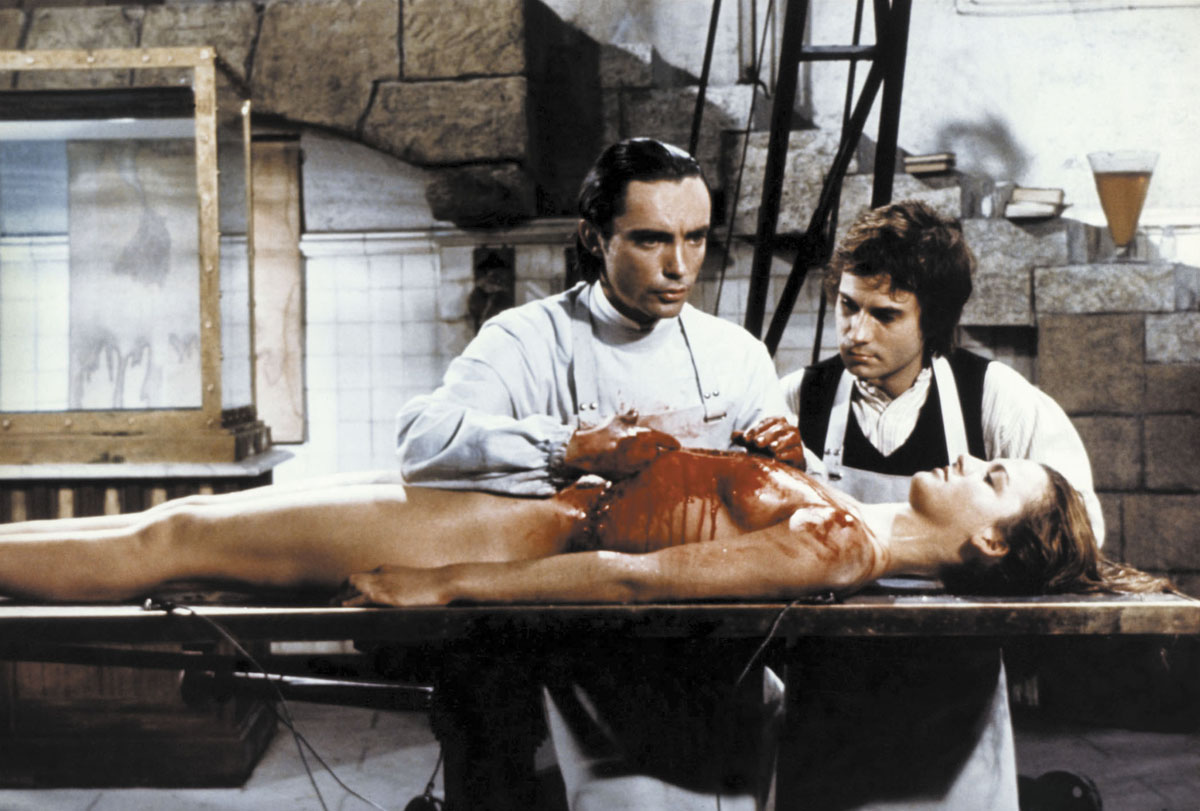 It is hard to know which way to take Andy Warhol's Frankenstein/Flesh for Frankenstein – it frequently ventures into the completely tasteless. There is an unbelievably high and mostly pointless gore quotient – lengthy closeups of flesh being stitched together; a character getting his head severed with a pair of shears and the body staggering about pumping blood from the stump of the neck; the monster tearing its innards out in detailed closeup; Frankenstein having his hand chopped off in a gate by the monster who then impales him on a spear where one small piece of flesh ludicrously hangs out of the 3-D screen like a piece of bacon; and, most sickeningly of all, where lab assistant Arno Juerging tears out the intestines of a maid with his teeth and she falls over a grille to let them hang out in glorious 3-D.
There are times when everybody's tongue is clearly sewn into their cheek – like the classic scene where Udo Kier cuts open the female's rib-cage and climbs on top to hump away and afterwards waves the gall-bladder in Arno Juerging's face: "To know life, you have to fuck death in the gall-bladder." Kier's performance defies credulity – he emerges somewhere between the comic caricature of a German officer and silent movie madman – all eye-rolling and guttural spat-out lines (although it was this performance that made Kier into a cult actor in later years). Make what you will of this film.
Andy Warhol's Dracula is probably the better and less offensive of the two films but they both have their considerable amusements. It is impossible to take this film too seriously, although there are many (particularly at the time of the film's release) who dismissed it as irredeemably disgusting.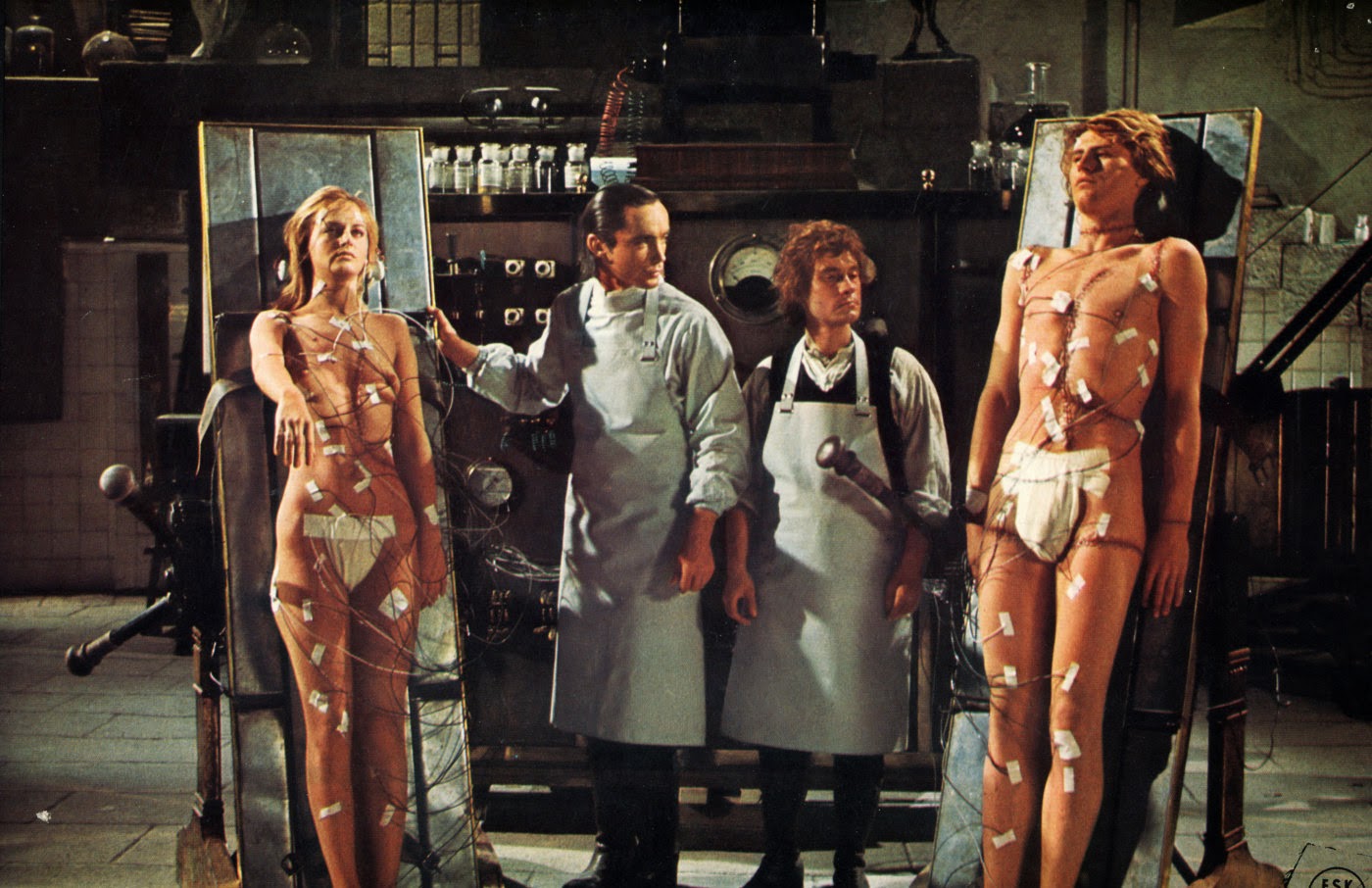 There has been some debate in recent years as to who the director of both films was. Some continental prints substitute the name of genre director Antonio Margheriti for that of Paul Morrissey and some genre critics – notably the Aurum/Overlook Film Encyclopedia: Horror (1985) – have decided that Margheriti was the real director. It has however been made clear by both Morrissey and Margheriti that such was not the case, that Paul Morrissey was the director of both films.
Director Paul Morrissey had worked as the director and co-director on a number of Andy Warhol's other films, including Chelsea Girls (1966), I, A Man (1967), Flesh (1968), The Loves of Ondine (1968), Trash (1970) and Women in Revolt (1971). Morrissey's output outside of The Factory has been minimal. His other films of genre interest are The Hound of the Baskervilles (1978), a dire comic reworking of the Conan Doyle novel, and The Armchair Hacker (1985), about a teenage computer hacker.
---
---