(La Terza Madre)
---
Crew
Director/Story – Dario Argento, Screenplay – Jace Anderson, Dario Argento & Adam Gierasch, Producers – Claudio Argento & Dario Argento, Photography – Frederic Fasano, Music – Claudio Simonetti, Visual Effects Supervisor – Lee Wilson, Visual Effects – Anthem Visual Effects Inc, Special Mechanical Effects – Renato Agostini, Makeup Effects – Sergio Stivaletti's Apocalypse (Designer – Sergio Stivaletti), Production Design – Francesca Bocca & Valentina Ferroni. Production Company – Medusa Film S.P.A./Myriad Pictures/Opera Film.
Cast
Asia Argento (Sarah Mandy), Adam James (Michael Pierce), Cristian Solimeo (Detective Enzo Marki), Valeria Cavalli (Marta Colussi), Philippe Leroy (Giugliermo De Witt), Udo Kier (Father Johannes), Daria Nicolodi (Elisa Mandy), Coralina Cataldi Tassoni (Giselle Marea), Roberto Madison (Detective Lissoni), Tommaso Banfi (Father Milesi), Franco Leo (Monsignor Brusca), Moran Atias (Mater Lacrimarum)
---
Plot
Giselle Marea opens a box of artifacts that has been sent to antiquities expert Michael Pierce at the Museum of Ancient Art in Rome. Giselle's co-worker Sarah Mandy returns moments later to witness as Giselle is murdered by three figures accompanied by a monkey. Michael's young son is abducted and a cryptic occult message left. Michael goes on a quest to find out about the box, which was taken from the tomb of the architect Oscar de la Ville uncovered in Turin. Sarah follows Michael but is drawn into a mystery concerning The Three Mothers – three witches of enormous power who ruled the world centuries ago. The uncovering of de la Ville's tomb has brought back to life the only remaining Mother – Mater Lacrimarum, The Mother of Tears. The return of Mater Lacrimarum has resulted in an apocalypse of murder and suicide all across Rome. As Sarah is hunted by the disciples of the Mother of Tears, she discovers that her own mother was a powerful witch and that her ghost is guiding Sarah towards find a means of discovering her own powers and defeating Mater Lacrimarum.
---
Italy's Dario Argento is a cult director. Argento gained a name throughout the 1970s and 80s for films like The Bird with the Crystal Plumage (1970), The Cat O'Nine Tails (1971), Four Flies on Grey Velvet (1971), Deep Red (1976), Tenebrae/Unsane (1982), Phenomena/Creepers (1985) and Opera/Terror at the Opera (1987). Though nominally psycho-thrillers, the focus in these was on set-pieces of sadistic despatch, all arranged with great imagination and artistry. In Argento films, the plot holding things together is often contrived and only a thin means to connect together scenes of serial sadism. Into the 1990s and beyond, Argento's lustre seems to have faded. He is still regular in output but his films of this period, which include Two Evil Eyes (1990), Trauma (1993), The Stendhal Syndrome (1996), The Phantom of the Opera (1998), Sleepless (2001), The Card Player (2004), Giallo (2009), Dracula (2012) and Black Glasses (2022), have received mostly indifferent response from his fanbase.
Two of the cultiest of Argento's films were the duo of Suspiria (1977) and Inferno (1980). In these, Argento momentarily stepped away from psycho-thrillers and into the occult/witchcraft. The films were still the same minimally plotted affairs but they contain some of Argento's best work where the fantastic allowed his artistry to leap free into the arena of the exquisitely surrealistic.
Argento had always intended Suspiria and Inferno to form what he called his Three Mothers trilogy. However, after 1980 and poor box-office for Inferno, Argento seemed to be doing a George Lucas and gave the impression he had lost interest in ever returning to finish the series. There were numerous rumours over the years about the third Three Mothers film but nothing ever emerged. The two-and-a-half decade silence was enough for one hack Italian director Luigi Cozzi to make his own film The Black Cat (1990), which he claimed was the finale to the Three Mothers trilogy, while the Mother of Tears also turns up as one of the principal characters in Kim Newman's book Judgment of Tears/Dracula Cha-Cha-Cha (1998). The original was subsequently remade as Suspiria (2018).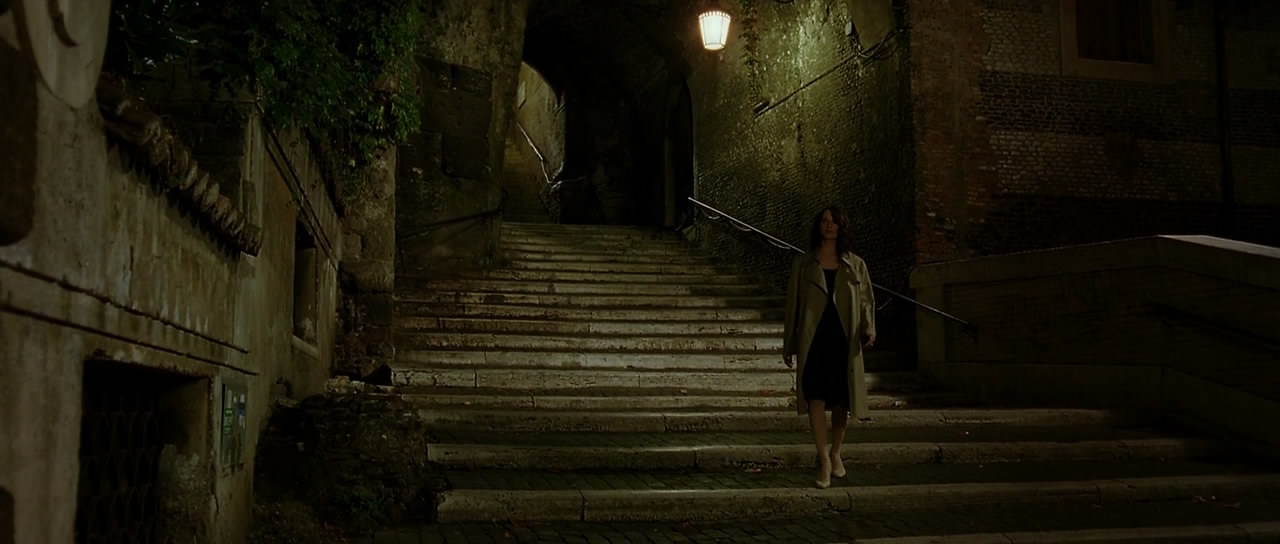 After twenty-seven years, Argento finally returned to the Three Mothers trilogy with Mother of Tears: The Third Mother. However, after such a long wait, the results are heavily disappointing. Both Suspiria and Inferno had moments of incredibly way-out horror – the scene in the square where the blind piano player is killed by the shadow of something supernatural; the girl trapped in the room of barbed-wire; the haunted scene in the lecture theatre in Inferno; Irene Miracle's journey down into a submerged room – but Mother of Tears in mostly lacking in any such memorable moments.
Indeed, the great crime that Mother of Tears suffers from, certainly in comparison to Suspiria, Inferno and most of Argento's output, is that nothing much happens for at least the first half of the film. The various set-pieces are unremarkable and for a director like Dario Argento where the novelty means of despatch are the whole of his films, this results in a dull film. Things are not helped by the first attack scene on Coralina Cataldi Tassoni in the museum, which appears to take place with much in the way of Argento's trademark violence, but is (at least on the dvd screen I was watching) shot too darkly to clearly see what is going on. There are a few subsequent gore set-pieces but nothing with the talking point appeal that the sadistic despatches in Argento's 1970s/80s films gained among his fanbase.
More importantly, no effort is made to replicate the florid, ornate mood of either Suspiria or Inferno – Inferno was a film that made you think that the shadowy corners of any old building could brood with occult forces. Though composer Claudio Simonetti was one of the core members of the rock group Goblin who composed the soundtrack for Suspiria, he fails to deliver anything here that made the soundtracks of the other Three Mothers films collector's items. The scenes where Argento resorts to showing a flashback to incidents from the past with comic-strip panels is an effect that comes out looking cheap.
Argento is co-writing with Jace Anderson and Adam Gierasch, two of the writers behind of a host of Tobe Hooper films – Crocodile (2000), Toolbox Murders (2003), Mortuary (2005) with Gierasch later going on to his own directorial career with the likes of Autopsy (2008), Night of the Demons (2009), Fertile Ground (2011), Fractured (2013) and House By the Lake (2017). However, there seems even less of a coherent plot than in most of Argento's other films. It may seem symptomatic of the film that Asia Argento's character is spoken of throughout as having inherited witch powers from her mother but in the end never ends up using or even discovering what these are.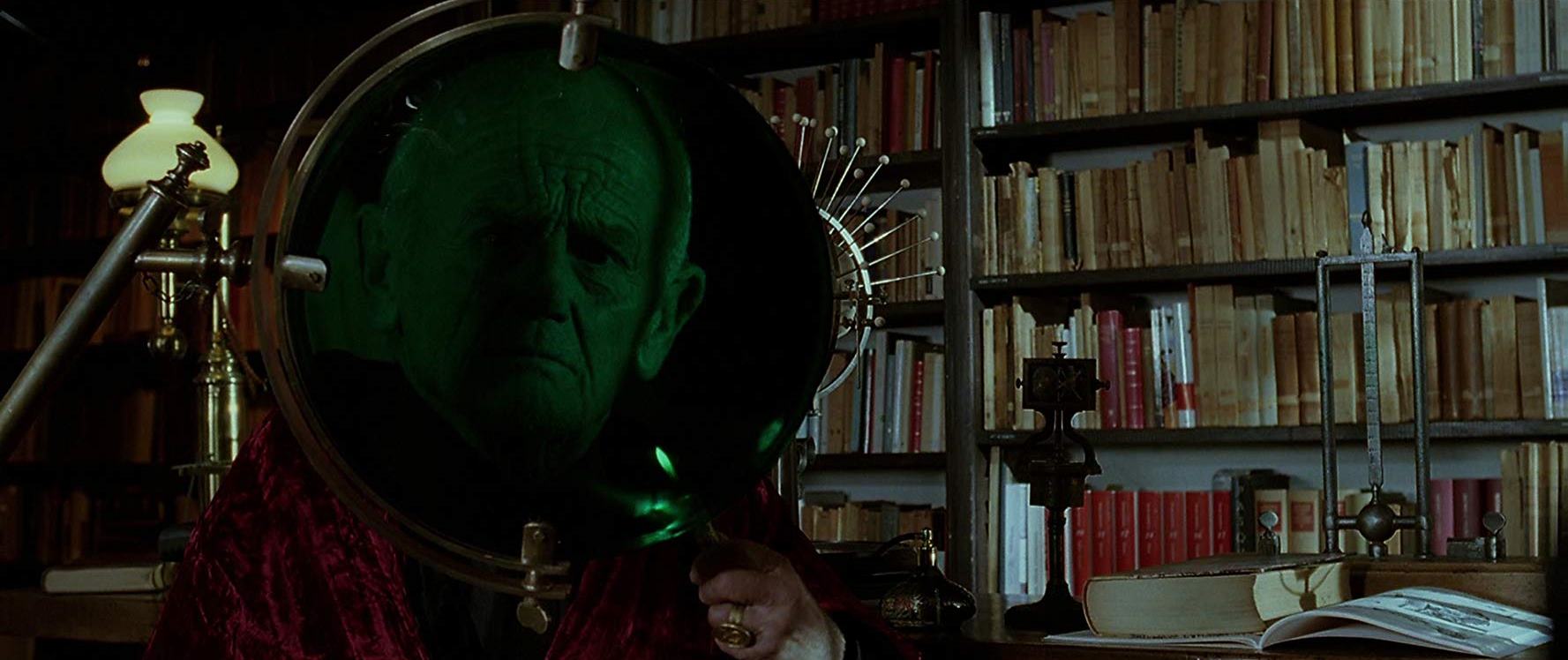 That said, there are undeniable moments where some of the eeriness of the other Three Mothers films does come through. There is the very weird moment where Asia Argento is in a bookshop and a voice whispers "concentrate" to her and she becomes invisible, even when detective Cristian Solimeo comes up right next to her with his face looming inches away from hers. Most of the film seems to consist of Asia Argento passing from location to location where people in darkened rooms give her dire warnings. However, these scenes contain some of the film's best moments.
The finest of these is the character of The Alchemist (Philippe Leroy) who paralyses Asia with a powder blown in her face and then examines her under an occult magnifying glass and the subsequent scenes with her learning her about her mother's reputation as a witch and of her ghost (played by Asia's real-life mother Daria Nicolodi) aiding her. Mostly though, one ends up disappointed. There is so much more that Mother of Tears could have been than these isolated moments. With each film he keeps putting out, Dario Argento, as he nears his late 60s, appears to have increasingly lost his mojo.
Up to this point, Argento's daughter Asia has appeared as the heroine in four films for her father – Trauma, The Stendhal Syndrome, The Phantom of the Opera and here – but in all cases gives an annoyingly bratty performance. It is as though real-life father-daughter tensions have played themselves out on the set – she frequently gives the appearance of being irritated and resentful. It is not that Asia is incapable of giving a good performance either – see her in works like Queen Margot (1994), B. Monkey (1998), New Rose Hotel (1998) and Boarding Gate (2007) – it is just that she seems to reserve her worst work for her father. Here the character she plays comes across as too moody and highly-strung, not the vulnerable heroine that the role requires.
---
---