---
Crew
Director – Matthias Schweighöfer, Screenplay – Shay Hatten, Story – Shay Hatten & Zack Snyder, Producers – Wesley Collier, Dan Maag, Matthias Schweighöfer, Deborah Snyder & Zack Snyder, Photography – Bernhard Jasper, Music – Steve Mazzaro & Hans Zimmer, Visual Effects – Mammal Studios (Supervisor – Gregory D. Liegey) & United Production Partners (Supervisor – Martin Dolezal), Special Effects Supervisor – Martin Oberländer, Production Design – Christian Eisele. Production Company – The Stone Quarry/Pantaleon Films.
Cast
Matthias Schweighöfer (Ludwig Dieter), Natalie Emmanuel (Gwendoline Starr), Ruby O. Fee (Korina Dominguez), Stuart Martin (Brad Cage), Guz Khan (Rolph), Jonathan Cohen (Delecroix), Noemie Nakai (Beatrix), Christian Steyer (Hans Wagner), Dan Bradford (Big Tough Guy)
---
Plot
Ludwig Dieter is a bank clerk in Potsdam who is obsessed with safecracking. He is fascinated by the legendary Hans Wagner who built a series of safes based on Wagner's Ring Cycle that are regarded as unbreakable. Dieter posts YouTube videos about Wagner's safes that nobody views. He then receives a like from one viewer who invites him a meeting. He arrives at the meeting to find a competition is being held among other safecrackers. He enters the competition and proceeds to win. He is then introduced to a group of four people, led by Gwendoline Starr, who are planning to conduct an audacious heist on the three known Wagner safes located in Paris, Prague and St. Moritz all in the space of a day before they are decommissioned. Dieter agrees to join a high-risk operation to break into banks and a casino to crack the safes, which nobody has ever done before. However, their quest faces attention from Interpol and treachery from within, not to mention that the zombie apocalypse has started to occur.
---
Army of the Dead (2021) was a modest hit for Zack Snyder, released directly to Netflix. In the film, Snyder and his writers attempted an ambitious high-concept reimagining of the Zombie Film by way of the heist film. As always with Snyder's films, it accrued a mixed response but a generally positive outlook.
The success of Army of the Dead appears to have launched a franchise. Army of the Dead appeared in May of 2021. Six months later in October of the same year, there was the release of Army of Thieves. This is a prequel based around the character of the German safecracker Dieter, who was hired to break into the vault in Las Vegas in Snyder's film, and backtracks to tells his story. Matthias Schweighöfer who played Dieter reappears in the role here, plus also directs the film. The script is written by Shay Hatten, one of the co-writers of Army of Thieves, while Hatten and Zack Snyder come up with the story and Snyder and his wife Deborah produce the film. Dave Bautista, the star of Army of the Dead, makes a brief uncredited cameo at the very end. Zack Snyder has said he intends other films.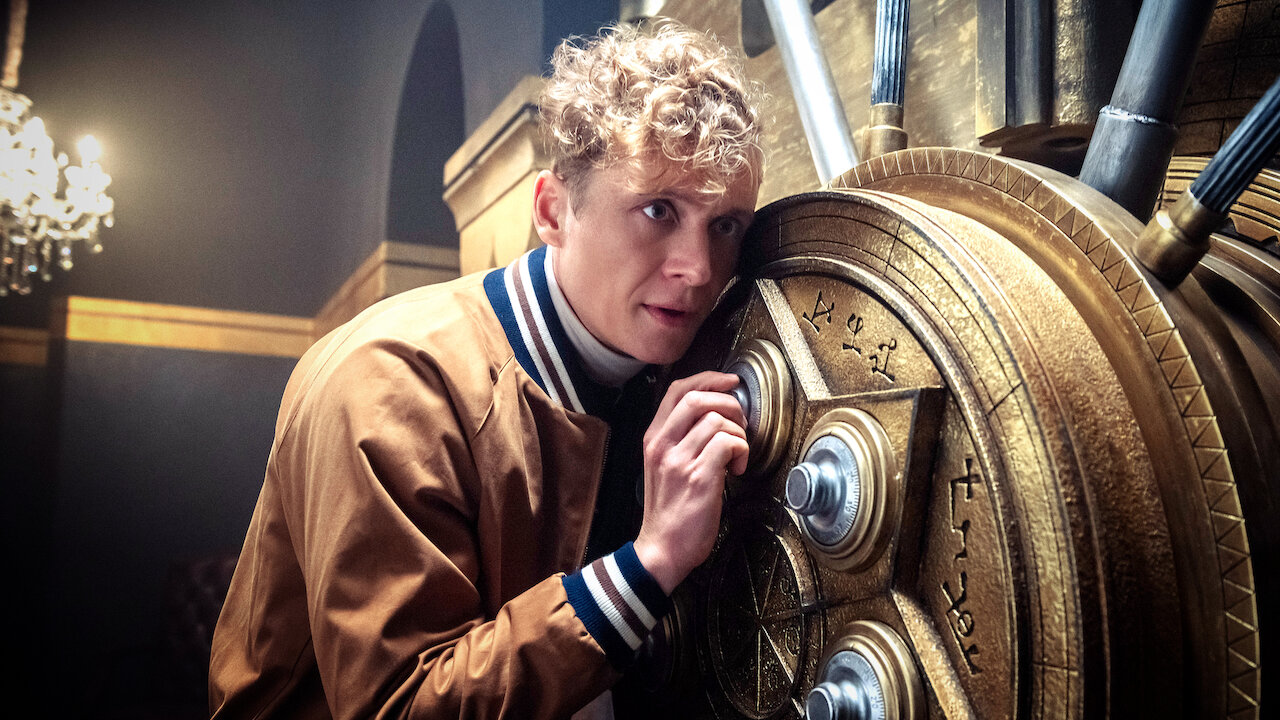 The soundbite comment I was preparing to make with Army of Thieves was "Imagine Ocean's Eleven (2001) with zombies" – or perhaps even more the first sequel Ocean's Twelve (2004) that had the Ocean's team forced to conduct impossible heists of three different European locations. The essential plot of Ocean's Twelve is repeated here with the addition of zombies. There are all the tropes of the heist film – we get the standard recruitment of a ragtag team each with their own expertise and see them deploying their skills in the course of the operation. There's the law enforcement hot on their trail and so on. This even gets to be a heist film that punctures the clichés of the genre – with very meta lines where Matthias Schweighöfer asks about whether they are going to see a flash-forward of how things are meant to work.
The great disappointment of Army of Thieves is that it is a heist film but not a zombie film. There are one or two news clips about the zombie apocalypse, one scene where Matthias Schweighöfer imagines being attacked by a zombie girl but that is it. You could easily remove all mention of zombies from the film and it make no difference to anything that happens. So what we are stuck with in the end is an amiable heist film – one with an absurdly improbable set-up and likeable if predictable comic beats – but never anything more than that.
---
Trailer here
---