---
USA. 2014.
Crew
Director – Noam Murro, Screenplay – Kurt Johnstad & Zack Snyder, Based on the Graphic Novel Xerxes by Frank Miller, Producers – Mark Canton, Bernie Goldmann, Gianni Nunnari, Deborah Snyder, Zack Snyder & Thomas Tull, Photography (3-D) – Simon Duggan, Music – Junkie XL, Visual Effects Supervisors – John 'DJ' Desjardins & Richard Hollander, Visual Effects – Cinesite VFX Ltd, MPC (Supervisor – Charley Henley), Scanline VFX (Supervisors – Bryan Hirota, Danielle Plantec & Stephan Trojansky), Special Effects Supervisor – Allen Hall, Makeup Effects – Fractured FX, Inc., Production Design – Patrick Tatopoulos. Production Company – Cruel and Unusual Films/Canton-Nunnari.
Cast
Sullivan Stapleton (Themistocles), Eva Green (Artemisia), Lena Headey (Queen Gorgo), Hans Matheson (Aesyklos), Rodrigo Santoro (King Xerxes), Calvin Mulvey (Scyllias), Jack O'Connell (Calisto), David Wenham (Dilios), Igal Naor (King Darius), Andrew Tiernan (Ephialtes), Christopher Sciueref (General Kashani), Ben Turner (General Artaphernes), Ashraf Barhom (General Bandari), Andrew Pleavin (Daxos)
---
Plot
Whilst King Leonidas takes his three hundred Spartans to Thermopylae to stop the Persian advance, the Greek general Themistocles, the same man who fired the arrow that killed Xerxes' father King Darius, takes the state's navy to head off the Persian advance by sea. The Persian navy is led by the ruthless Artemisia, a Greek woman with a vengeful hatred for her own people who was instrumental in Xerxes' ascendance to become the god king. Despite being vastly outnumbered by Persian ships, Themistocles' ingenious use of strategy begins to create some unexpected victories.
---
Zack Snyder's 300 (2007), an adaptation of Frank Miller's graphic novel 300 (1998), was a sizeable hit when it came out. This was as much for Snyder's abandonment of standard treatment of the historical drama in favour of a series of extraordinarily fired-up visuals that were modelled directly from the graphics on Miller's printed page. 300 became a talking point, revived interest in both Frank Miller's work and Greek history, while its macho theatrics were much parodied – 300 even had an entire film devoted to spoofing it with Meet the Spartans (2008).
For some years after, Zack Snyder announced he would be directing a prequel Xerxes. This was to be based on Frank Miller's own prequel to 300 – although, though Rise of an Empire acknowledges Miller's work as its source, the Xerxes graphic novel has yet to be published by the time of the film's release and would emerge until several years later with Xerxes: The Fall of the House of Darius and the Rise of Alexander (2018). Zack Snyder bowed out of directing the finished film but retains co-writing and producing credit. The person to take over is Israeli director Noam Murro who had emerged from the world of commercials and previously only made the non-genre indie drama Smart People (2008), a film that seems at 180 degrees remove from 300: Rise of an Empire.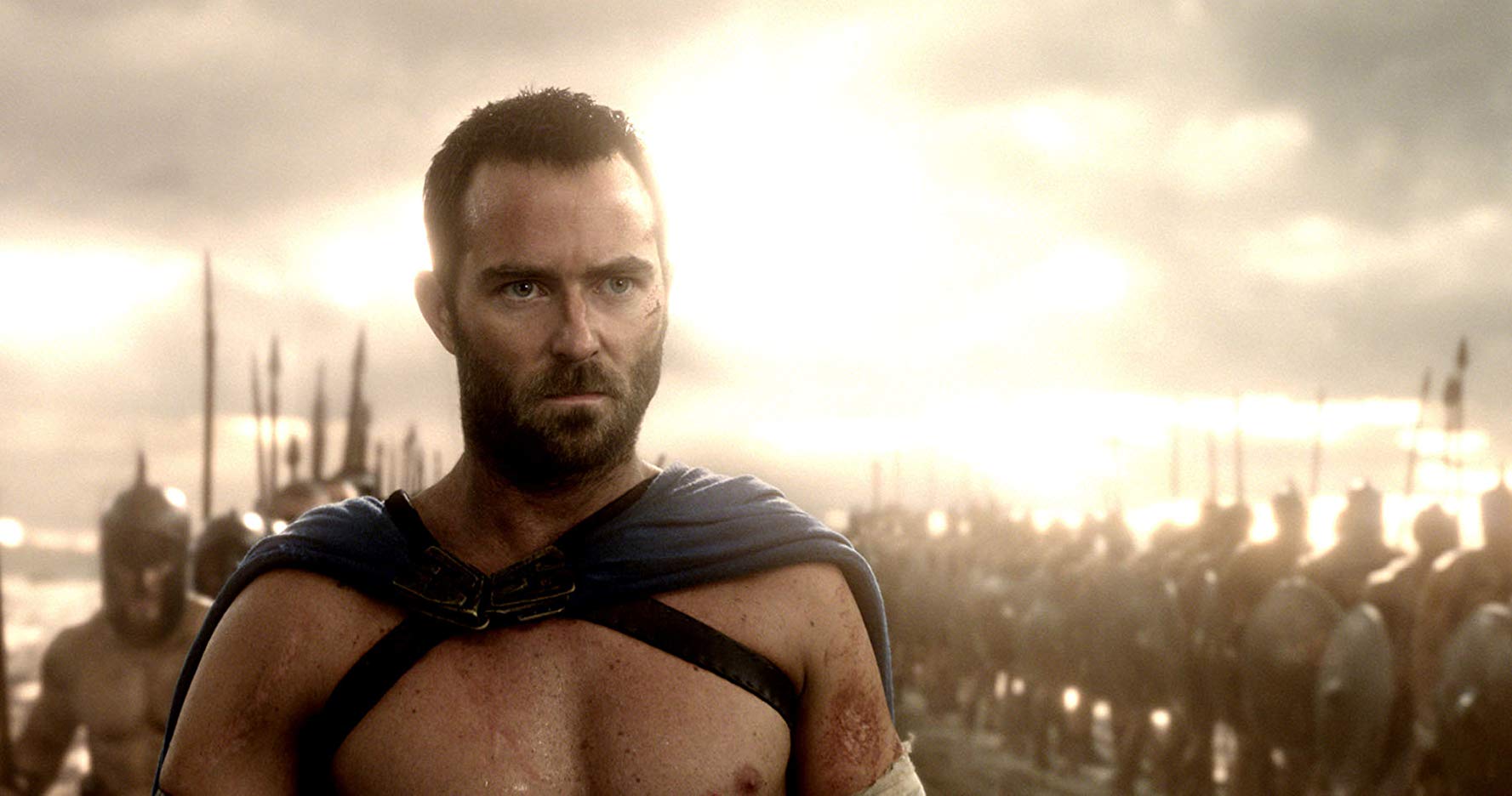 With Miller's work uncompleted, Zack Snyder and co-writer Kurt Johnstad have raided history to tell the story of Themistocles, the Greek general who led the attack against the Persians in the naval Battle of Salamis that was happening at the same time as the Spartans were being massacred at Thermopylae. For some time, 300: Rise of an Empire was being bandied as a prequel to 300 and the telling of the story of Xerxes' rise – something bolstered by the film's subtitle Rise of an Empire. This turns out not to be the case however. Xerxes' story is dealt with during some of the early scenes but thereafter he largely disappears as a character.
The bulk of the story that takes place is more a sequel by way of an alternate story that takes place in the margins of the first film (and features cameos from some returning characters and actors). The film follows the historical account to a reasonable degree – at least, as much as 300 did – although is notedly fictional in some areas, particularly when it comes to the story of Xerxes' rise to king or having Artemisia die in battle when in fact she lived for many years afterwards. It should be noted that Rise of an Empire focuses only on the Battle of Salamis, leaving out the Battles of Plataea and Mycale wherein the Greeks won decisive victory over the Persians – no doubt keeping these in the wind for further potential sequels.
300: Rise of an Empire settles in with a familiarity. It offers much the same as the first film. Noam Murro has replicated Zack Snyder's style in exacting detail – the same battlefield brutality with bodies in slow-motion combat, blood splashing across the screen with Pollock-ian gusto, the same stylised heroic poses, the artificial digital backlot locations, the actors with buffed six-packs and wearing not much else.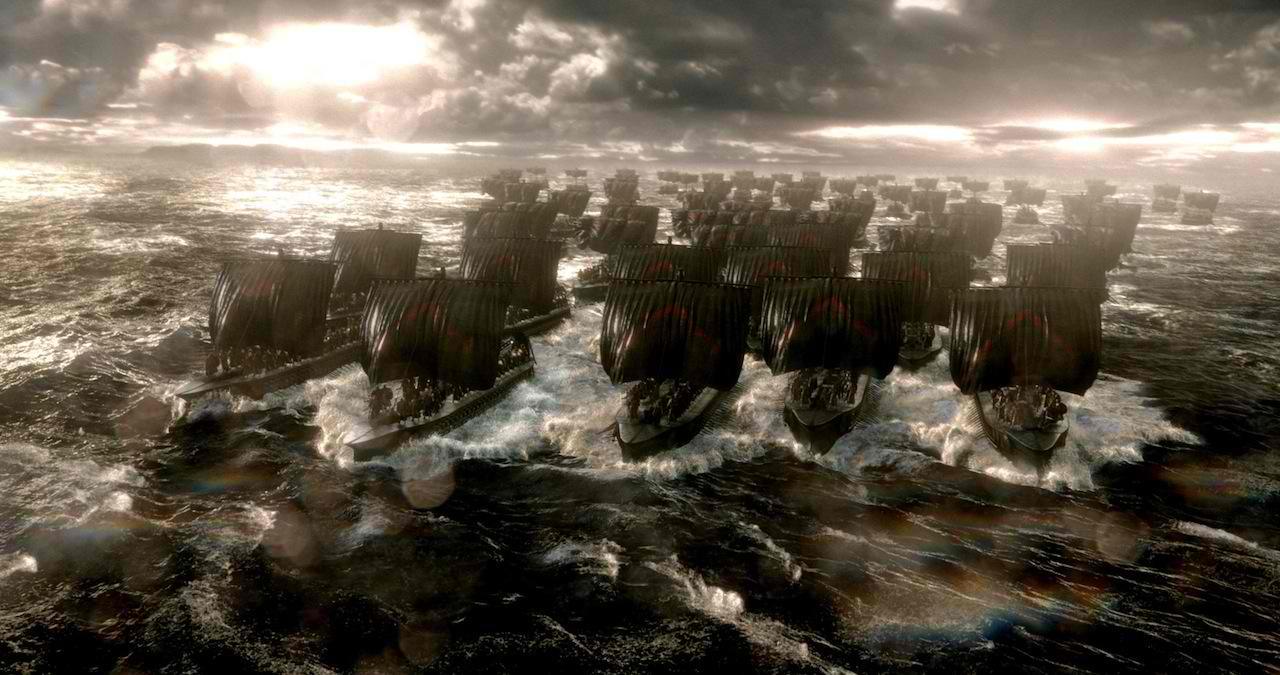 The first time out all of this seemed like a bolt of lightning amid the staidness of mainstream multiplex entertainment. Seeing it again, it no longer looks as unique. Noam Murro is stuck with the same problem that any sequel has of staying faithful to the aspects of the original that wowed everyone but varying it to a degree that he is still offering something unique. This time all of Zack Snyder's stylised slow motion action and gouts of blood filling the screen is replicated in 3D (something that one had to admit suits the film rather well). The other change is that instead of land combat, we now get naval battles, which allows the sequel to conduct action on a much larger and more impressive scale as we see hundreds of ships crashing together.
On the other hand, repeating all the film's hyper-masculinity, the inchoate roars for vengeance and defending one's nationhood is starting to seem a bit silly a second time around. It worked the first time because of the uniqueness of the film but some of the dialogue starts to fall flat when you hear it uttered in Sullivan Stapleton's coarse Australian accent. The point that the inherent risibility of the exercise topples over altogether is the love scene between Sullivan Stapleton and Eva Green, which Noam Murro tries to direct with the same brutality and posed artificiality of the battle scenes, only to cause it to collapse into absurdity.
Sullivan Stapleton, an actor who gives the impression he is better suited to playing supporting roles as good-hearted beat cops or baby-faced nice guys, just doesn't seem to fill the lead role with larger-than-life heroism the way that Gerard Butler did. On the other hand, you have to admit that the great Eva Green does evil with a fierceness and savagery that owns a good deal of the film whenever she is around.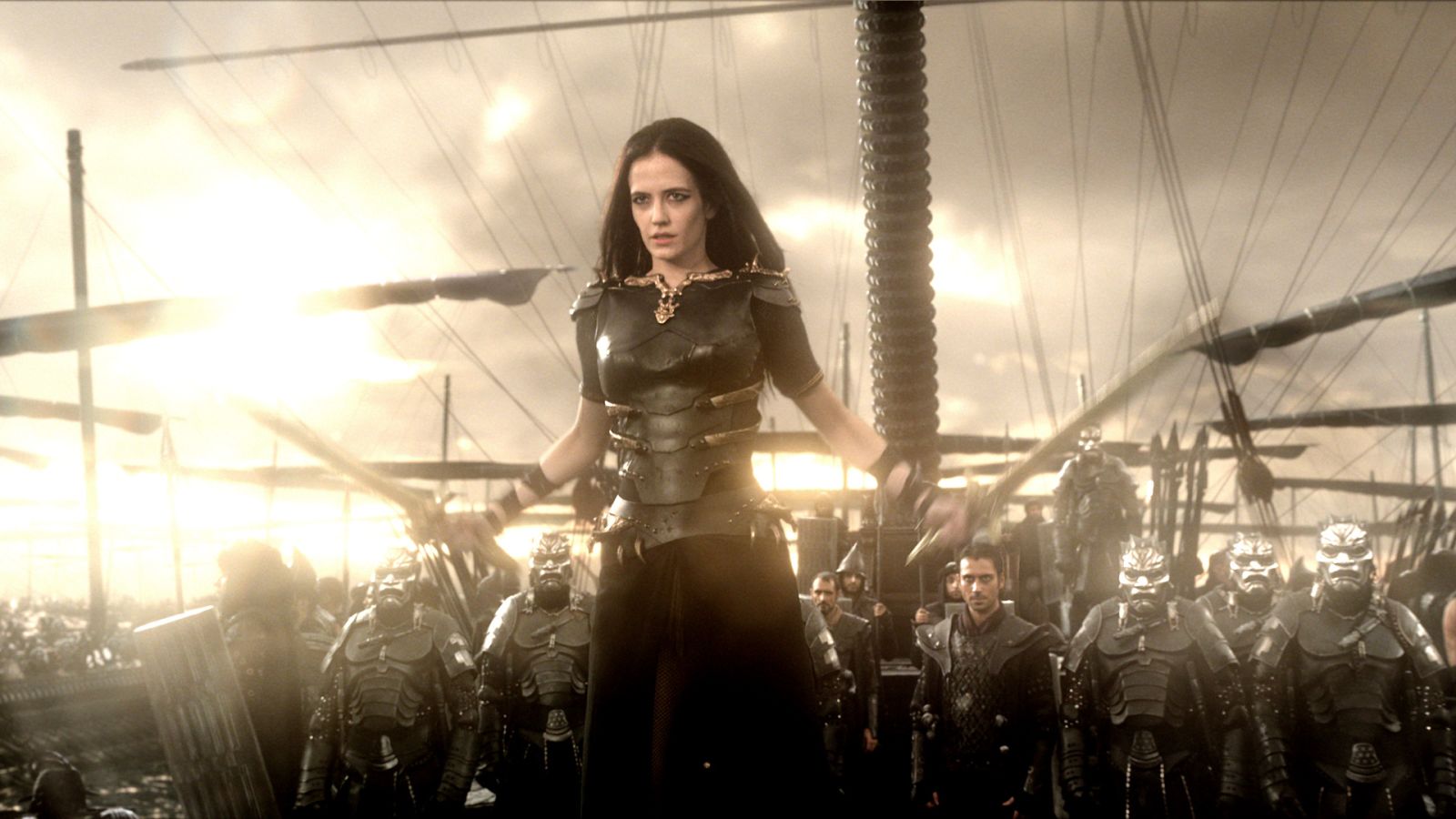 I had no problem reviewing 300 as a fantasy film with its fanciful addition to the historical record of giant-sized elephants, oracles, a two-metre tall Xerxes, physically deformed hunchbacks, claw-armed torturers and the like. 300: Rise of an Empire is a more ambiguous case as a fantasy film. Noam Murro has replicated many of these elements from the first film – the giant Xerxes, the elephants, the hunchback – but added few new ones. We do get a scene where Sullivan Stapleton journeys to meet Eva Green by night and the Moon seems to fill most of the sky, which by definition surely means that Rise of an Empire is taking place on a fantastical version of Earth. The one addition we do get is the scene where Xerxes becomes the god-king where the young man travels into the desert, encounters a stylised cave of nomads and bathes in a pool there to emerge a giant where "no trace of humanity remained" and with his eyes turned golden.
Noam Murro subsequently went on to direct the tv mini-series remake of Watership Down (2018).
(Nominee for Best Cinematography and Production Design at this site's Best of 2014 Awards).
---
---