---
Crew
Director – Kiah Roache-Turner, Screenplay – Kiah Roache-Turner & Tristan Roache-Turner, Producer/Production Design – Tristan Roache-Turner, Photography – Tim Nagle, Music – Michael Lira, Visual Effects Supervisor – Arseny Rudchenko, Visual Effects – Double Barrel & Sugarbank, Special Effects Supervisor/Additional Makeup – Gavin Kyle, Head of Makeup Effects – Lisa Cotterill. Production Company – Roache-Turner Brothers.
Cast
Jay Gallagher (Barry), Bianca Bradey (Brooke), Leon Burchill (Benny), Keith Agius (Frank), Berynn Schwerdt (The Doctor), Yure Corvich (Chalker), Luke McKenzie (The Captain), Cain Thompson (McLaughlin/Soldier Kelly), Damian Dyke (Soldier Thompson), Catherine Terracini (Annie), Meganne West (Meganne)
---
Plot
In the aftermath of a shower of comets, people everywhere are turning into ravenous zombies. Barry is haunted the fact that he had to kill his wife and child with a nailgun after they became infected. He joins forces with the Aborigine man Benny and they set out to Bulla Bulla to rescue Barry's sister Brooke. She has been captured and made a prisoner in a mobile laboratory where a scientist is experimenting on zombies and thinks that she is one. During the midst of this, Brooke finds that she is able to mentally control the zombies. Joining forces with another man Frank, Barry and Benny realise that the comet's gases have rendered all gasoline inert. They then discover that zombie blood is flammable and can be used as a substitute. Armouring a truck, they set out across country to make it to Bulla Bulla.
---
Wyrmwood: Road of the Dead was the directorial debut of Australian newcomer Kiah Roache-Turner. Roache-Turner shot the film over a four-year period, along with friends and family. The film premiered at SXSW where it was clearly hoping to become a midnight favourite and received generally positive reviews from the genre press.
From the very opening shot, Wyrmwood kicks in with a crazed energy that keeps going without let up until the end credits roll. It is the kind of insane determination and fierceness that you only find in low-budget films by people wanting to break into the industry. Comparable others might include the likes of The Evil Dead (1981), Re-Animator (1985) and early Peter Jackson films like Bad Taste (1988) and Braindead (1992). (And yet for all that, Wyrmwood is surprisingly professional looking – Kiah Roache-Turner and co did manage to raise a $160,000 budget).
Everything has been filmed in sharp, hyperkinetic images – you feel like that the medium of film is doing it a disservice and that Wyrmwood should come in comic-book panels with accompanying onomatopoeic dialogue balloons. The camerawork is fidgety and frenetic. And it all comes with an appealingly sarcastic sense of humour and buckets of gore. The sheer visual energy of the film alone should have you cheering in the aisle.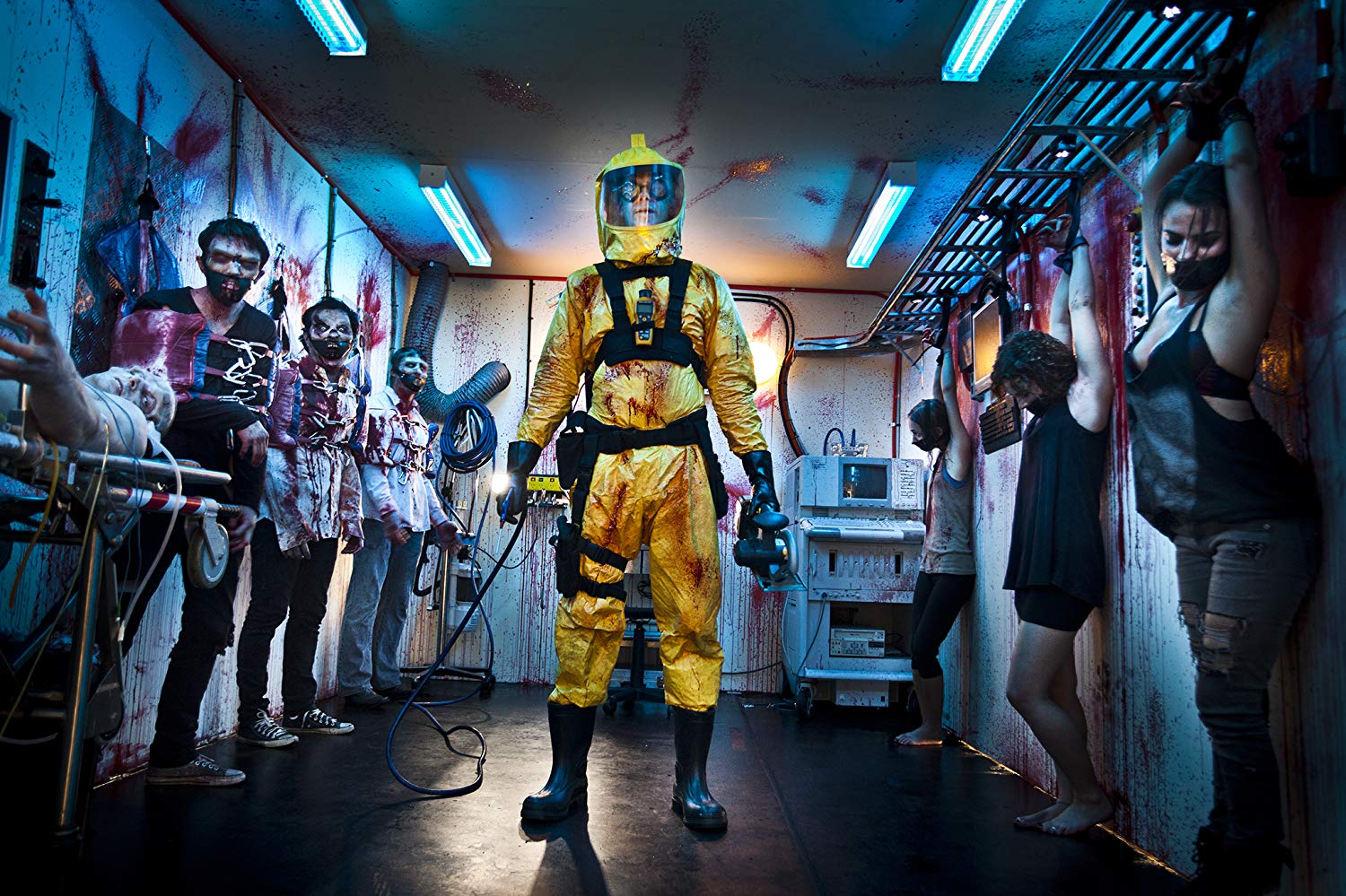 The zombie genre is one that has become creatively strip-mined to the point of exhaustion in recent years. (For an overview of the genre see Zombie Films). Amid this, I am not sure that Wyrmwood adds anything to the mix, other than simply being a capably well made zombie film. All of its ideas are by the book – slow stumbling zombies, the need to kill them with headshots, almost instant infection from a bite – and have been well and truly milked out by the zombie film in the last few years.
There are few new ideas thrown into the mix that are odd to say the least – the idea that gasoline is now useless (a wave of the hand explanation that has something to do with the comet) and that zombie blood can be used as a fuel substitute. Keith Agius also gets a speech where he explains what is happening as being part of the Biblical Tribulation, which strains to almost seem convincing, and sets up the title and the intriguingly unexplored idea of crosshatching the zombie film with the Christian End Times film.
The main action with Jay Gallagher and Leon Burchill setting out on their cross-country trip is intercut with an ongoing B-plot about Bianca Bradey tied up and being experimented on by a mad scientist (Berynn Schwerdt) who seems modelled on Richard Liberty in Day of the Dead (1985). In the midst of this, she discovers the mental ability to control the zombies (although how and why is never made clear). These scenes hit a bizarre horror comic tone, although also seem to go on far too long before making it clear what is happening.
Kiah Roache-Turner later returned with a sequel Wyrmwood: Apocalypse (2021) featuring a return performances from Bianca Bradey, Jay Gallagher and Luke McKenzie. Subsequently to this, he made the demon hunter film Nekrotonic (2018).
---
---