---
Crew
Director – Leigh Janiak, Screenplay – Phil Graziadei & Leigh Janiak, Story – Phil Graziadei, Leigh Janiak & Kyle Killen, Based on the Fear Street Books by R.L. Stine, Producers – Peter Chernin, David Ready & Jenno Topping, Photography – Caleb Heymann, Music – Marco Beltrami & Marcus Trumpp, Visual Effects Supervisor – Paul Graff, Visual Effects – Bot VFX (Supervisor – Sean Pollack), Cantina Creative, Crafty Apes (Supervisor – Steve DiNozzi), Digital Matter, Fear Street Visual Effects (Supervisor – John Weckworth), Mels VFX (Supervisor – Jonathan Piche-Delorme), NetFX (Supervisor – Jiwoong Kim), Red Engine Productions, Rodeo FX (Supervisors – Francois Dumoulin & Thomas Hullin), Special Effects Supervisor – J.D. Schwalm, Makeup Effects Designer – Christopher Nelson, Production Design – Scott Kuzio. Production Company – Chernin Entertainment.
Cast
Emily Rudd (Cindy Berman), Sadie Sink (Ziggy Berman), Ted Sutherland (Young Nick Goode), Ryan Simpkins (Alice), McCabe Slye (Tommy Slater), Brandon Spink (Young Will Goode), Chiara Aurelia (Sheila), Gillian Jacobs (C. Berman/Adult Ziggy), Kiana Madeira (Deena Johnson), Benjamin Flores Jr. (Josh Johnson), Sam Brooks (Arnie), Jordana Spiro (Nurse Mary Lane), Drew Scheid (Gary), Marcelle LeBlanc (Becky), Eden Campbell (Annie), Michael Provost (Kurt), Paul Teal (Young Officer Kapinski)
---
Plot
Deena and her brother Josh go to the house of C. Berman who has been calling them and beg for help with Deena's possessed girlfriend Samantha. She tells them the story of what happened at Camp Nightwing in July 1978. Cindy Berman was a camp counsellor but had a reputation as being no fun. Her younger more wayward sister Ziggy was tormented by bullies and accused of being a witch. After nurse Mary Lane attacked Cindy's boyfriend Tommy Slater and was taken away, the others found a journal about Sarah Fier among her things. They followed Mary's map into the woods to a cave that contained ritual books and markings. There however Tommy became possessed and began killing people with an axe.
---
Fear Street is a series of book from horror author R.L. Stine. Wikipedia has a list of them that includes 163 books spread over fourteen different series – even the spinoff series produce more books than most other series ever do. The setting of the books is the neighbouring towns of Shadyside and Sunnyvale and the stories concern multiple characters dealing with hauntings and assorted supernatural phenomena, as well as mundane mysteries.
This was the second in a trilogy of Fear Street films made for Netflix and was preceded by Fear Street 1994 (2021) and followed by Fear Street 1666 (2021), each released on Netflix a week apart throughout July 2021. Various cast members play multiple roles in different eras. The three films are directed and co-written by Leigh Janiak who had previously came from nowhere with the subtly effective Honeymoon (2014) in which a newlywed husband realises his wife is being affected by an alien presence.
The start of this film follows straight on from the end of Fear Street 1994 featuring the same characters from the previous film. However, this serves only as a framing device and the bulk of the film is a flashback to 1978 as Gillian Jacobs tells the story of one of the other massacres conducted by someone who was possessed by Sarah Fier. Thereupon the film acts as a homage to the Slasher Film – in particular to the popular summer camp setting established by Friday the 13th (1980).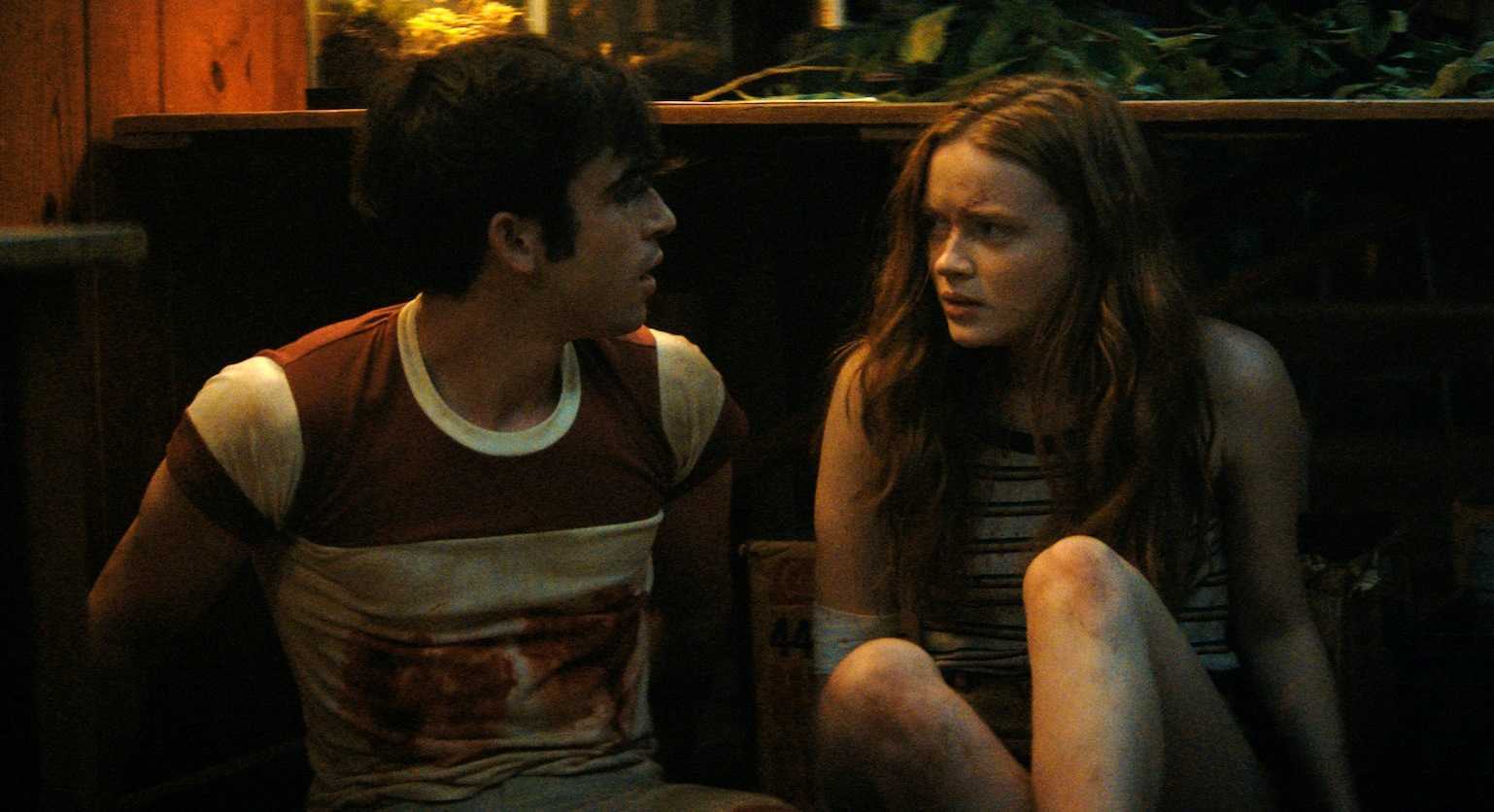 Leigh Janiak gives us a very vigorous workout of the tropes and characterisations of the slasher genre – the masked axe-wielding maniac, the bullies, the stoners, the characters caught making out and so on. They only major difference is that this is given a supernatural explanation, which the original and modern slasher films as a rule never hugely bothered themselves with. We do get a Final Girl set up as being humourless Emily Rudd, although the end of the show plays around with our expectation of this. I do also have to commend the film for having two characters who are fans of Stephen King and referring to titles where the screenwriters have bothered to actually go and work out which of his books would have been released in 1978.
The Fear Street series are Woke Era horror films. They wade knee-deep in traditional blood and gore but there is an inclusive and feminist agenda that runs throughout all three films – an African-American lesbian heroine at the forefront of Fear Street 1994 and Fear Street 1666. Fear Street 1978 is more traditional but when the action gets started, it becomes a film with all-female protagonists. Not to mention that the eventual explanation of events is with a male who has created a system to oppress and exploit others and the woman portrayed as a witch is revealed as an innocent.
Leigh Janiak offers up a spirited run-through of the tropes of the genre and I probably enjoyed this the most of the Fear Street films. What I do like about her work on these films is that she and her cast take the effort to make the characters rounded. One of the great bonuses of this film is Sadie Sink, previously a regular on tv's Stranger Things (2016- ), who steals much of the show playing with a great deal of fire, spunk and single-minded determination.
R.L. Stine has published over 400 books since 1986 and is listed by the Guinness Book of World Records as the world's top-selling children's author. Stine's works have also been adapted to the screen as the tv anthology series The Nightmare Room (2001-2); the films Superstitious (1999), When Good Ghouls Go Bad (2001) and Mostly Ghostly: Have You Met My Ghoulfriend? (2014); the tv series Eye Candy (2015); and the film Goosebumps (2015) and its sequel Goosebumps 2 (2018).
---
Trailer here
---