---
Crew
Director/Story/Photography – Zack Snyder, Screenplay – Joby Harold, Shay Hatten & Zack Snyder, Producers – Wesley Collier, Deborah Snyder & Zack Snyder, Music – Tom Holkenborg, Visual Effects Supervisor – Marcus Taormina, Visual Effects – Crafty Apes Visual Effects (Supervisor – Mark Ledoux), Framestore (Supervisors – Joao Sita & Robert Winter), Instinctual & Mammal Studios (Supervisor – Gregory D. Liegy), Special Effects Supervisor – Michael Gaspar, Makeup Effects – Fractured FX (Designer – Justin Raleigh, Supervisor – Mike Ezell), Production Design – Julie Berghoff. Production Company – The Stone Quarry.
Cast
Dave Bautista (Scott Ward), Ella Purnell (Kate Ward), Ana de la Reguera (Maria Cruz), Omari Hardwick (Vanderohe), Matthias Schweighöfer (Ludwig Dieter), Nora Arnezeder (Lilly the Coyote), Garret Dillahunt (Martin), Theo Rossi (Burt Cummings), Hiroyuki Tanaka (Bly Tanaka), Tig Notaro (Marianne Peters), Raul Castillo (Mikey Guzman), Samantha Win (Chambers), Richard Cetrone (Zeus), Huma Quershe (Geeta), Michael Cassidy (Sergeant Kelly), Steve Corona (Groom – Mr Hillman), Chelsea Edmundson (Bride – Misty Hillman)
---
Plot
A military transport vehicle crashes in the Nevada Desert, unleashing the zombie it is carrying. In rapid course, it infects the soldiers. As Las Vegas is overrun, the US government is forced to erect a wall to quarantine the area. Some months later, Scott Ward, who led the evacuation of Las Vegas, is working flipping burgers when he is approached by billionaire Bly Tanaka and asked to undertake a mission. The US government is about to drop a nuclear weapon on Las Vegas in four days' time to wipe out the zombie threat. There is $200 million in a vault beneath one of the casinos on The Strip. If Scott and his team can go into the quarantine zone and retrieve it, Tanaka will give them $50 million of it. Scott agrees and assembles a crew, including a helicopter pilot and a safecracker, as well as a coyote to take them into the zone. Scott's daughter Kate, who works as a volunteer in the refugee camp outside the wall, insists on coming to find a missing woman. As they enter into the ruins, they soon discover that things are not as they seem – there is a zombie hierarchy with intelligent dead at the top. They also find that Tanaka has not been honest about the nature of the mission.
---
Zack Snyder is a love him or hate him director. Snyder first appeared on screens with his remake of Dawn of the Dead (2004), He went on to the likes of 300 (2007), Watchmen (2009), Legend of the Guardians: The Owls of Ga'Hoole (2010) and Sucker Punch (2011), all of which polarise audiences between extremes. The greatest controversy however came with Snyder's trilogy of DC Comics adaptations – Man of Steel (2013), Batman V Superman: Dawn of Justice (2016) and Justice League (2017).
Surprisingly enough, 2021 brings the seeming redemption of Zack Snyder. Only three years ago, there was an active online hate movement against Snyder, even hashtags to get rid of him removed from the DC Universe. All of that changed with Zack Snyder's Justice League (2021), which silenced all critics and showed Snyder's original vision of what the film should have been in its impressive glory (not to mention inspired assorted #restorethesnyderverse hashtags). This was followed by Army of the Dead, only two months later, which also gained more than reasonable critical plaudits.
It is worth noting that Zack Snyder was the director of the Dawn of the Dead remake, one of the key works that inspired the Zombie Film revival of the 2000s. Snyder's Dawn of the Dead did nothing for me, especially in comparison to the infinitely superior George Romero original Dawn of the Dead (1978). Snyder's Dawn of the Dead also had the dubious distinction of popularising (although not creating) the fast-moving zombie. In the seventeen years since then, the zombie film has been overrun by a horde of low-budget imitators that have run through most of the available original ideas. These however are far outnumbered by the comedy treatments and works that offer gonzo title or conceptual mash-ups that make it hard to take the zombie film seriously anymore.
Army of the Dead – no relation to the earlier low-budget Army of the Dead (2008) about Conquistador zombies – is being labelled a groundbreaking new zombie film and a gamechanger for the genre. I am not entirely sure I agree with that – I mean, I don't see much here that is likely to change the course of the zombie film. That said, the script does introduce some wild and interesting ideas – that the zombies having a social hierarchy including intelligent alphas; zombies going into hibernation in the dark, others being reduced to desiccated husks in the desert sunlight that can be revived with rainfall (something that we never see even though it would have made for a great scene); a zombie tiger; even zombie babies. Not all of these ideas work but they introduce something undeniably different into the mix.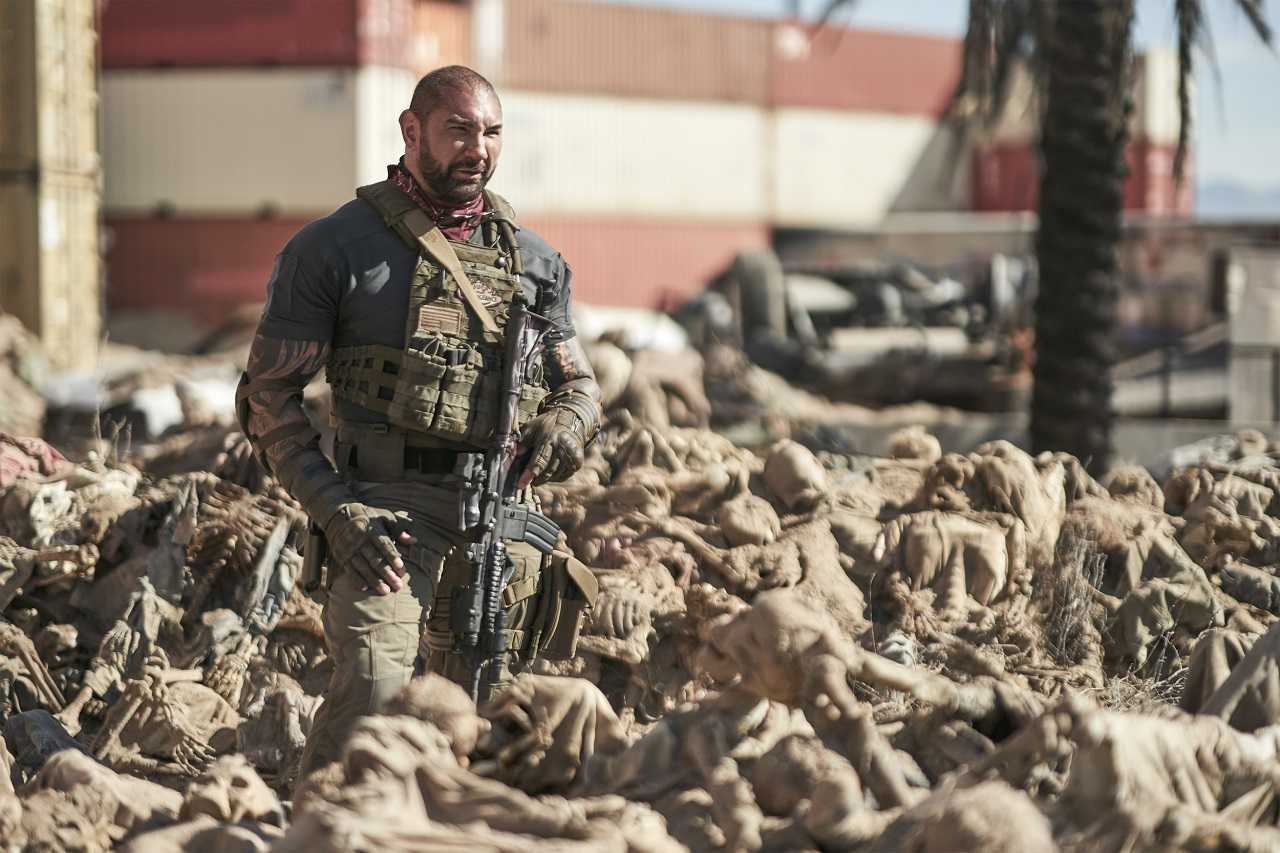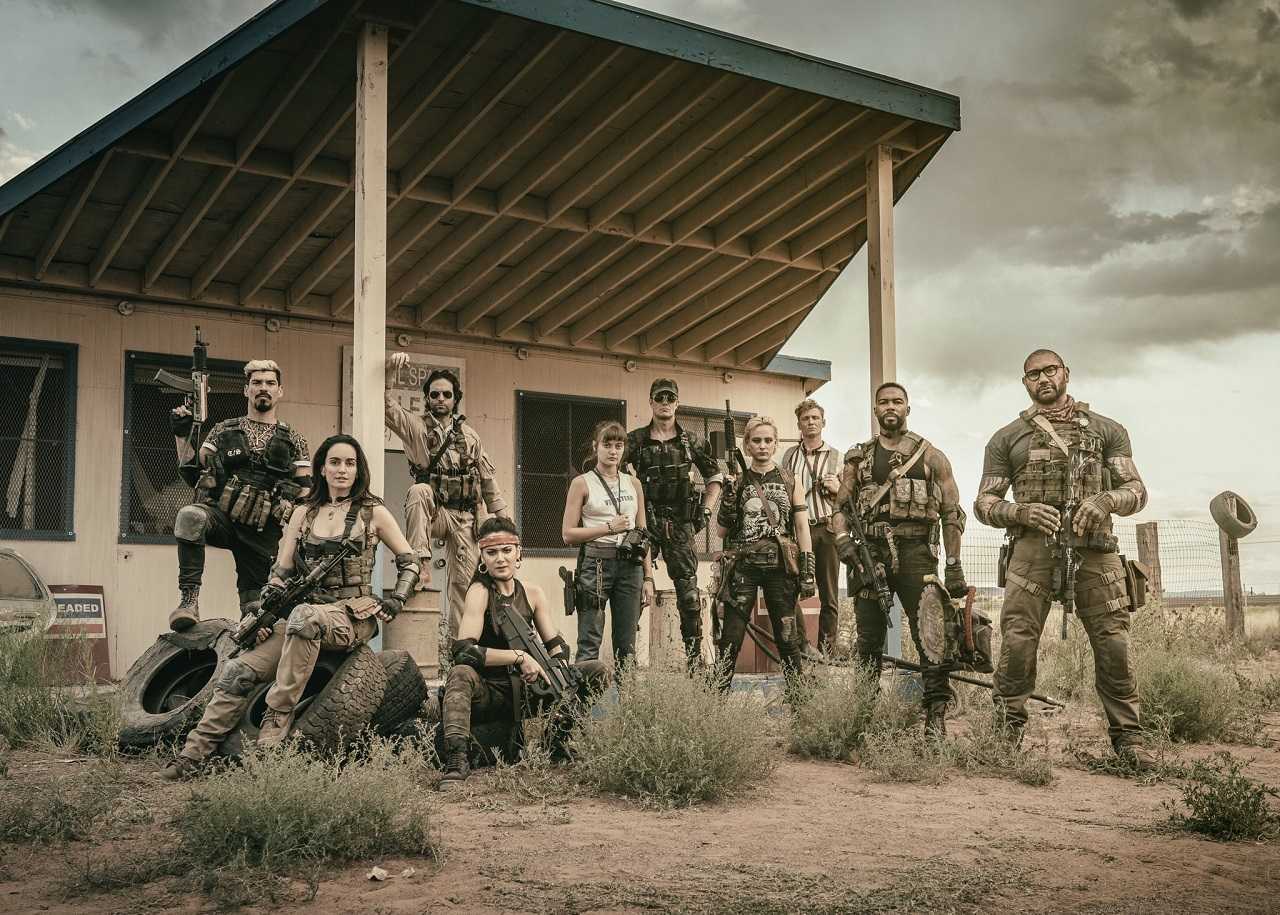 It is also worth note that the basic premise where a team head into a zombie quarantine zone to recover something of value was done ten months earlier in the South Korean Peninsula (2020), which had a very similar plot about a team assembled to enter a walled-off zombie infection zone to retrieve an armoured vehicle containing $20 million, while the idea was first conducted in works like Zomblies (2010) and the Dolph Lundgren starring Battle of the Damned (2013) and others like Quarantine LA (2013), Pandemic (2016), Redcon-1 (2018) and Transit 17 (2019). All of these in turn draw from the basic premise of Escape from New York (1981) where a tough individualistic Kurt Russell was recruited to go into a walled-off Manhattan Island to rescue The President from among the anarchic crazies. Army of the Dead has also borrowed a bunch of basics from The Dirty Dozen (1967) in the recruitment of a ragtag assemblage of people with differing skills. What is notable here is that Snyder has made a concerted effort to make almost every single member of the team come from a different ethnic group or nationality.
Debating the ins and outs of whether Army of the Dead is original or not doesn't really do any justice to the fact that it is an enormous degree of fun. That Snyder is abandoning the grimness of the DC Universe for a far lighter tone is evident from the often blackly funny opening credits sequence that depicts the zombie assault on Las Vegas and the team's evacuation, all set to Elvis Presley's Viva Las Vegas (1964) replete with a zombie Elvis impersonator.
Even more entertaining is the kick-ass energy when we get to see Samantha Win in action making her way through a maze of hibernated zombies and then fighting her way through the horde in hand-to-hand combat. The film kicks into high gear in a major way when Dave Bautista finally wades into action in the midst of a casino, running across the tables, blasting zombies away en masse and tossing them against walls. All the characters come with a wry wit and the upshot seems something that easily eclipses memories of Snyder ingenue entry into the zombie film.
This was followed by a prequel Army of Thieves (2021).
Co-writer Shay Hatten later went on to write the vampire hunter film Day Shift (2022).
---
Trailer here
---