---
Crew
Director – Rodney Gibbons, Screenplay – David Wiechorek, Producers – Kimberley Berlin & William R. Mariani, Photography – Bruno Philip, Music – David Findlay, Special Effects – Cineffects, Production Design – Donna Noonan. Production Company – Blackwatch.
Cast
Jack Warner (Dr Peter Rexler), Daphne Zuniga (Karen Wettering), Stewart Bick (Roger Bellamy), Harry Standjofski (Detective-Sergeant Joe Collins), Maxim Roy (Rachel Hart), Claudia Ferri (Audrey Wettering), Ana Nahabedian (Sarah), Frank Fontaine (Charles Wettering), Donovan Retter (Detective Ruiz), Lisa Bronwyn Moore (Loretta Diamond), Kathleen Fee (Judge Barrett)
---
Plot
Psychiatrist Palmer Harrison is found shot dead in his office. It is discovered that he had just had sex before being killed. The police go to question Harrison's last patient Karen Wettering, the daughter of a wealthy businessman. Karen reluctantly admits that she was having sex with Harrison but denies being at the murder scene. Karen's lawyer Roger Bellamy sends her to psychiatrist Peter Rexler to determine if she is telling the truth. Rexler is certain that Karen is being truthful but increasing police evidence mounts to suggest that she is not. In her vulnerability, Karen starts kissing Rexler and the two embark upon an affair. When it becomes increasingly certain that the police are likely to prosecute Karen, Rexler comes with the idea of her faking mental illness in order to avoid going to court. However, with the pressure Wexler places her under to perfect her performance, people are no longer sure whether Karen is faking her insanity or not.
---
Artificial Lies is a Canadian psycho-thriller made for cable tv. It starts out like a standard copy of Basic Instinct (1992). Other than a certain ambiguity about the heroine, this is played entirely by the numbers and sedately plotted. In fact, there is nothing particularly standout about the film in any way. What Artificial Lies feels like it crucially needed was more of the torridness of the various Basic Instinct copies – indeed, when it comes to the requisite love scene, Daphne Zuniga doesn't even get to take her bra off.
The film does conduct a far-fetched plot twist in the middle where it suddenly turns from a Basic Instinct copy with a woman who may or may not be a murderess into a variant on the person imprisoned in an asylum type thriller along the lines of Suddenly, Last Summer (1959), Shock Corridor (1964) or Committed (1991). For a time here, there is a certain fascination where you are not at all sure what is going on. There is a reasonably effective surprise regarding the identity of the killer but these revelations do include some far-fetched stretches. Ultimately, it is not enough to allow Artificial Lies to rise above either the routine or the contrived.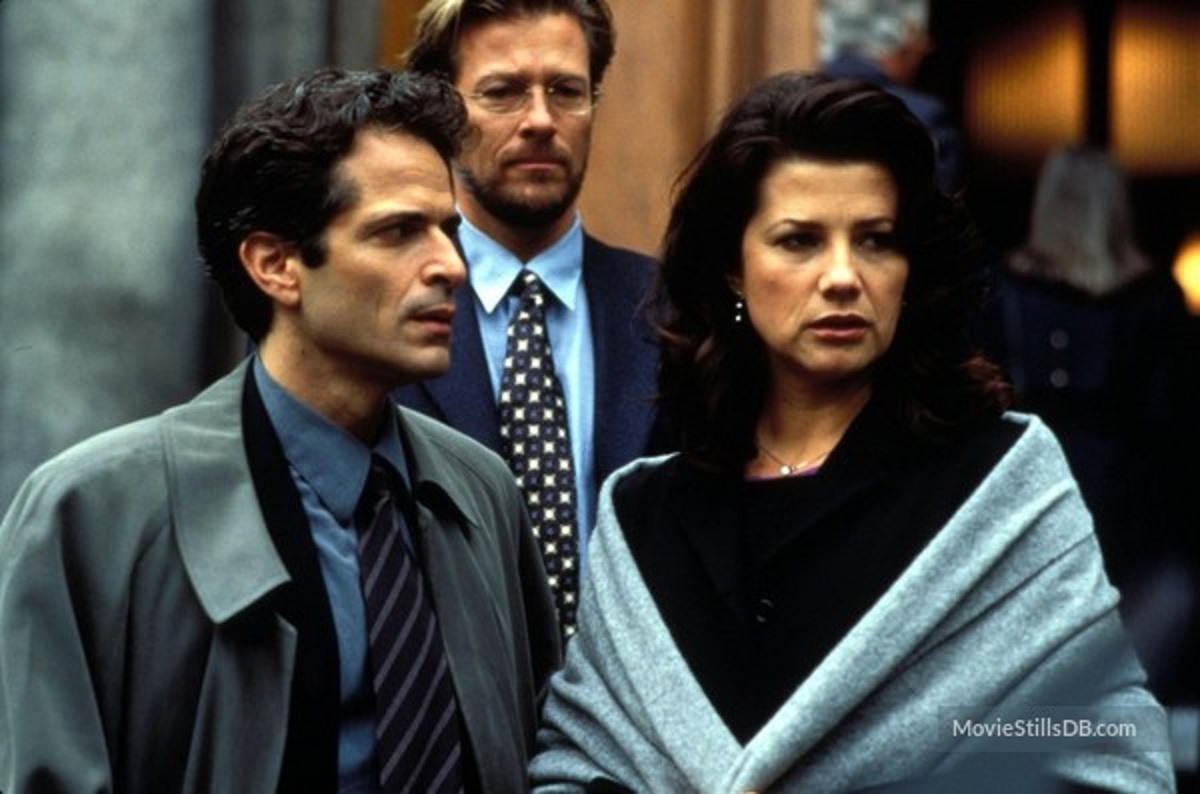 Artificial Lies stars Daphne Zuniga. For a time during the 1980s, Zuniga seemed on the verge of major stardom with roles in the excellent teen film The Sure Thing (1985) and the genre likes of Spaceballs (1987) and The Fly II (1989) before she became a regular for several seasons of tv's Melrose Place (1992-9). Alas Zuniga never quite attained the fame she seemed capable of doing. With her cold, slightly standoffish looks, she could have been another Bridget Fonda or a Sigourney Weaver – unfortunately, most of her film work in the 1990s has been a sporadic handful of tv movies and/or direct-to-video work like Artificial Lies. Here the stretch of the role Zuniga is required to play – from coolly sophisticated society women and femme fatale to mentally ill patient – covers an impressive range.
---