Crew
Director/Screenplay – Richard Shepard, Producers – Richard Shepard, Mike Curb, Carole Curb Nemoy & Jonathan Stern, Photography – Sarah Cawley, Music – Rolfe Kent, Production Design – Rowena Rowling. Production Company – Paddy Wagon Productions/Curb Entertainment International/Abandon Pictures.
Cast
Maura Tierney (Detective Madeline Foster), Adrien Brody (Harry), Terry Kinney (Captain Tim Foster), James Naughton (Clark Hannon), Laila Robins (Frances Hannon), Paul Calderon (Jesse), Dylan Baker (Jackson Lantham)
---
Plot
Poughkeepsie police detective Madeline Foster is assigned to a case where kidnappers have abducted the wife of wealthy Clark Hannon and buried her in a coffin in the woods. They are demanding a million dollar ransom before the twenty-four hours of oxygen she has left runs out. The police succeed in apprehending Harry, the leader of the operation. However, Harry proves to be a criminal genius who manipulates the police and FBI in a series of games. He becomes fascinated with Madeline, being drawn to her sexual masochism, and insists that he will tell only her where the body is buried.
---
Oxygen is a film that only ended up being released directly to cable and video. It is an effective copy of The Silence of the Lambs (1991). Although it does not feature a serial killer, it does have a very similar plot of an imprisoned criminal genius drawing a female detective into his web and weaving an elaborate game around her.
The plot does demand a number of highly contrived improbabilities of us as it unfolds – like the villain's scheme implausibly dependent on his being placed in a particular room at a police station – nevertheless, the twists and turns prove absorbing.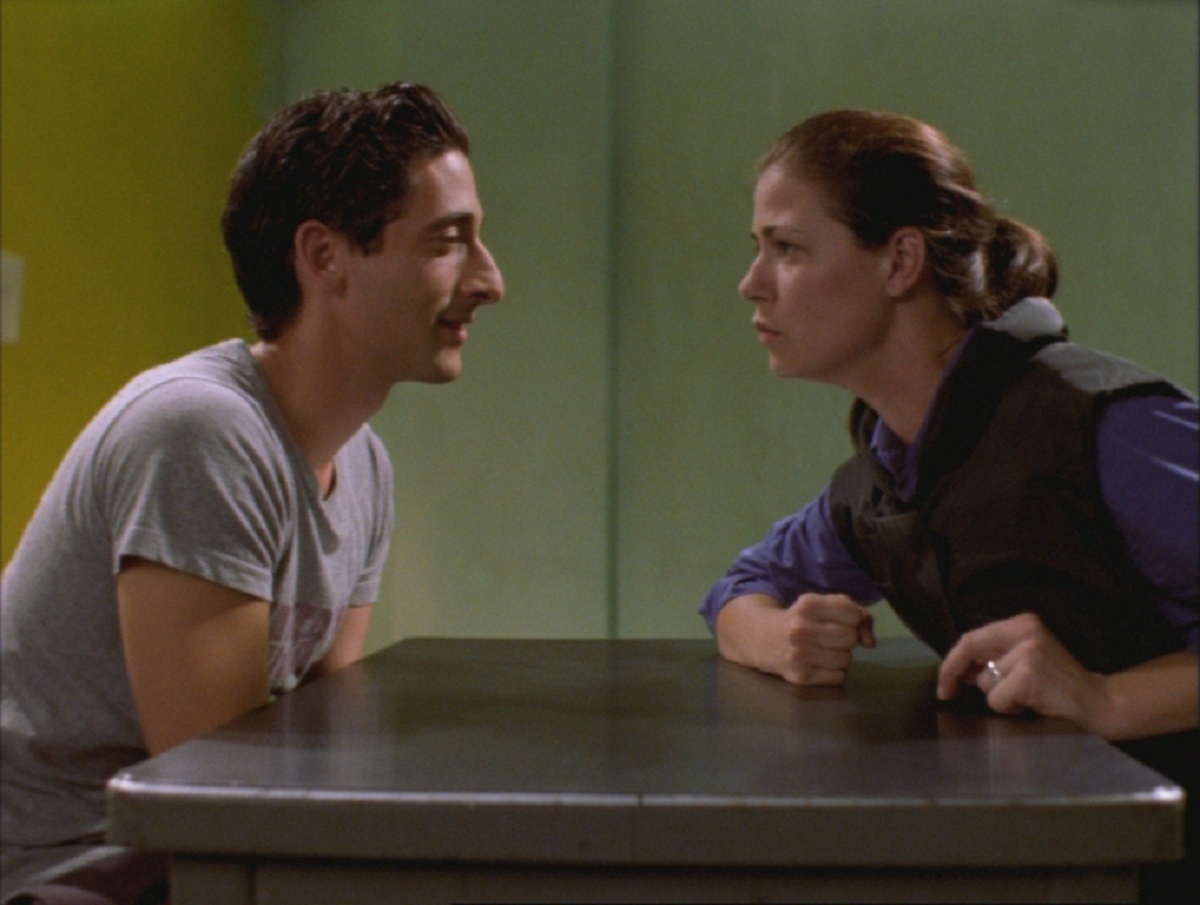 The film is made largely through the two central performances. There is the highly underrated Maura Tierney, an actress who any day now is deservous of the big breakthrough part, and here gives a performance of believable intelligence. Adrien Brody, still a few years away from his Oscar-winning performance in Roman Polanski's The Pianist (2002), seems far too young in the part, but his smoothness and handsomeness quickly absorbs and the performance he gives is intensely captivating, never more so than the charged opening where he smoothly charms Laila Robins after a seemingly chance encounter in the streets and then suddenly pulls a gun on her. The film becomes especially interesting in the scenes with Brody drawing out and exposing Maura Tierney's dark side.
Director Richard Shepard had made various thrillers such as Cool Blue (1990) and Mercy (1995) throughout the 1990s. Into the 00s, he received reasonable acclaim as director of efforts such as Matador (2005), The Hunting Party (2007) and Dom Hemingway (2013). Shepard later returned to genre material with the psycho-thriller The Perfection (2018) about the rivalry between two music students.
---
---