---
Crew
Director/Screenplay – Damian Harris, Based on the Novel by David L. Lindsey, Producers – Elle Samaha, Andrew Stevens & Amedeo Ursini, Photography – Manuel Teran, Music – BC Smith, Production Design – Paul Austerberry. Production Company – Franchise Pictures/Jazz Pictures.
Cast
Ellen Barkin (Detective Catherine Palmer), Peta Wilson (Vickie Kittrie), Julian Sands (Dr Dominic Broussard), Wendy Crewson (Bernardine Mallo), Karen Young (Mary), Marshall Bell (Gil Reynolds), Beau Starr (Lieutenant Fritsch), Bill MacDonald (John Birley), Stewart Bick (Cushing), Ellen-Ray Hennessy (Muriel Farr)
---
Plot
Police detective Catherine Palmer investigates the murders of two women. She discovers that both women had lesbian relations with the call girl Vickie Kittrie. Catherine meets Vickie who introduces her to a group of women from high-class social backgrounds who arrange clandestine meetings for mutual lesbian encounters. As increasing evidence starts to point at Vickie being the killer, Vickie attempts to seduce Catherine, who finds herself being tempted.
---
Mercy clearly sets out to imitate Basic Instinct (1992). Both films concern a detective investigating a series of sex killings; both feature as the chief suspect a sexually assertive bisexual blonde who spends most of the plot trying to seduce the detective; and there is the same .torrid delve into a promiscuously heated sexual subculture.
However, Mercy also attempts to be quite a bit more than that. In fact, it emerges as one of the best of the numerous post-Basic Instinct psycho-sexual thrillers – and arguably as a better film than Basic Instinct itself. It never goes so far as to entirely free itself from the puritanical undertow that associates liberated sexuality with psychopathology or the Hollywood view from Blue Velvet (1986) onward that BDSM and psychopathology operate on identical behavioural patterns. In its favour, it does at least try to redress the balance in showing that BDSM is an acceptable alternate sexual preference with a scene that shows a woman tied up and being lovingly touched by two men.
The film's most daring move however is having the female detective of the piece being taunted and seduced by the Sharon Stone-type, who has been cast as a woman too to make the central seduction a lesbian one. While Basic Intinct played on a liberated sexuality, it was in essence a male fantasy of sexuality and lesbianism and the idea of having Michael Douglas seduced by another man is something it would have considered taboo.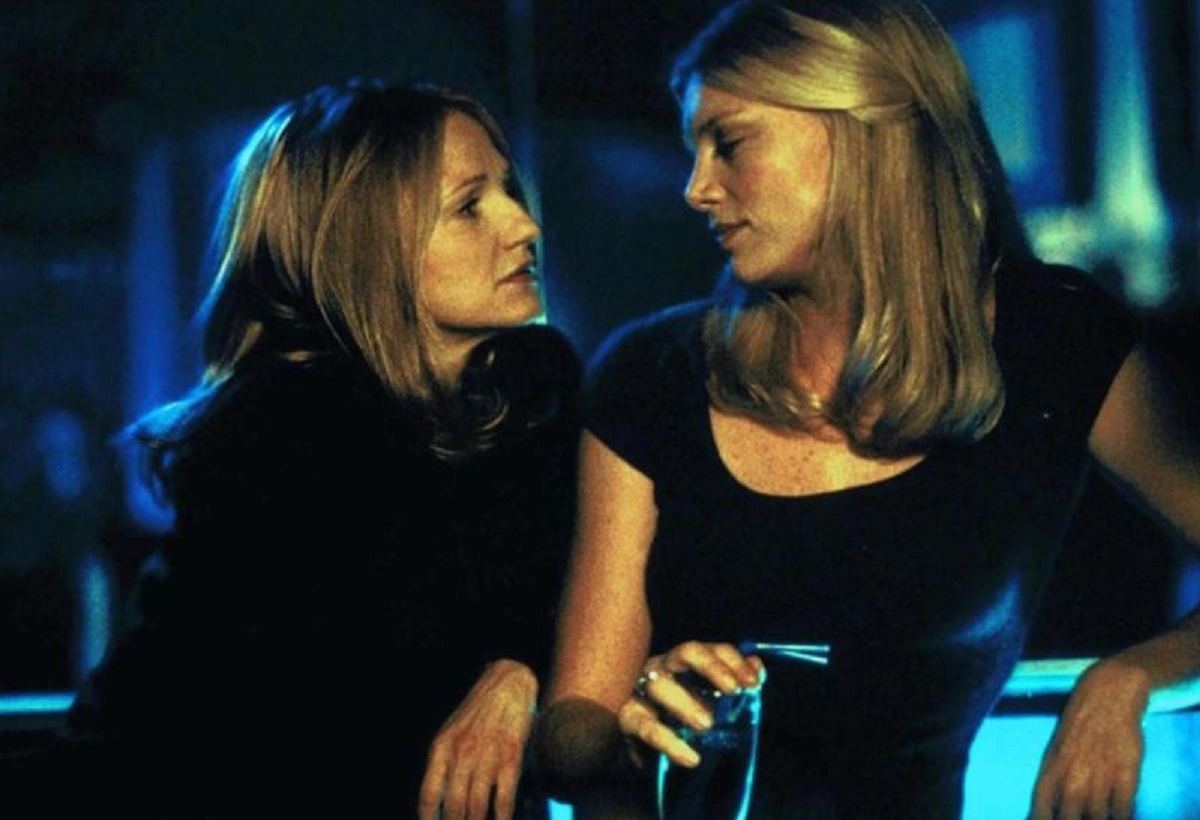 What is surprisingly is how tastefully done it all is. While we never fully understand why the killer of the piece is doing what they are doing, the film sets up a surprisingly plausible psychological scenario for a female serial killer. It is also, in a touching coda, surprisingly sensitive to the issue of child abuse. Moreover, director Damian Harris presents sexuality not as Paul Verhoeven did in Basic Instinct, all sweaty, upfront and in an audience's face, but with subtlety and understatement.
There is a scene with Peta Wilson seducing Ellen Barkin that goes no further than Barkin's pants being taken down, which nevertheless generates just as much intensity as anything in Basic Instinct. It is all the more effective for the sizzlingly hot – "You'd be amazed at the uses you can get out of kitchen utensils" – yet also surprisingly vulnerable playing of Peta Wilson. There is an equally good scene with Peta Wilson seducing Wendy Crewson in the changing room of a department store – again we see nothing more than her kissing Crewson on the neck from behind and a pair of panties being dropped to the floor from the other side of the curtain, but the scene generates a whole lot of heat.
Canadian films always take place with a certain cool distance and Damian Harris subtly alienates by placing his sexuality up against chic apartments with white-on-white dressings, modernist art works, big bay windows framing late-autumn treescapes and stainless steel frame furniture. The contrast of sophisticated sexual games amid such coolly detached surroundings makes for a striking film.
Damian Harris is a British director who has made only a handful of other films. These include the British teen romance The Rachel Papers (1989) and the Goldie Hawn thriller Deceived (1991), the underworld film Bad Company (1995) also with Ellen Barkin, Gardens of the Night (2008) about escaped abducted children, and the comedy The Wilde Wedding (2017).
(Winner Best Supporting Actress (Peta Wilson) at this site's Best of 2000 Awards).
---
---