---
Crew
Director/Screenplay – Atom Egoyan, Based on the Novel by William Trevor, Producer – Bruce Davey, Photography – Paul Sarossy, Music – Mychael Danna, Special Effects – Effects Associates, Production Design – Jim Clay. Production Company – Alliance Atlantis/Icon Entertainment.
Cast
Bob Hoskins (Joseph Hildritch), Elaine Cassidy (Felicia), Claire Benedict (Miss Calligary), Arsinee Khanjian (Gala), Peter McDonald (Johnny Lysaght), Gerard McSorley (Felicia's Father), Danny Turner (Young Joseph), Brid Brennan (Mrs Lysaght)
---
Plot
Joseph Hildritch, an industrial baker in his mid-fifties living in Birmingham, befriends Felicia, a teenage runaway from Northern Ireland. She is pregnant and has come searching for Johnny, her boyfriend who left to take up a job with a lawnmower parts factory here but left her no forwarding address. When Felicia's money is stolen, she accepts Hildritch's offer to come and stay at his place. Unknown to her, she is one of several runaways who have met a sinister fate at Hildritch's hands.
---
I must confess that Atom Egoyan gives me a total soft-on. All of Egoyan's films that I have seen so far – Speaking Parts (1989), The Adjustor (1991) and Exotica (1995) – have been tedium inducing. Egoyan makes films about people who are emotionally imprisoned, whose lives seem to tremble with the inability to express what is inside. Unfortunately, Egoyan's directorial style tends to suffer from the same sort of imprisonment of the passions that his characters do. The films are perpetually dogged by a dull reserve and a glacially disinterested cool. With the body of Egoyan films in mind, I never had enough interest to see Egoyan's critical breakthrough hit, The Sweet Hereafter (1997), even when it started racking up critical kudos and awards nominations. [Having done so since writing this, it hasn't changed my opinion in any way]. To my surprise though, I found Felicia's Journey proves surprisingly good.
Here Egoyan has perfected what he always seemed to be aiming for. Felicia's Journey is still a film about repressions but here his cool measured distance has been replaced by a subtlety of nuance. While action directors compose wide-angle shots to impress with scenery, Egoyan impresses with the bareness and banality of his wide-angles and extraordinarily detailed shots – like one of Elaine Cassidy departing across a field outside the window of the room where her grandmother lies dying.
This is a serial killer film – yet it has little in common with any genre serial killer films such as The Silence of the Lambs (1991) and Se7en (1995). In fact, it most resembles the friendly, caring serial killer of The Minus Man (1999). (You can guarantee that this is the one psycho-thriller of the year that is being seen more by the 50+ arthouse crowd who usually go to David Lean and Richard Attenborough films than it ever is by the usual audience for psycho-thrillers). It is a film that all takes place in small gestures and nuance rather than in surprises or hidden reversals. (Although there are certainly its share of twists such as one fine moment when Bob Hoskins takes Elaine Cassidy to a bar and her missing boyfriend suddenly walks in).
Very little about the lives of either character is directly stated – we are left visual clues to draw out own conclusions – Hoskins's childhood at the hands of his celebrity cooking show host mother (flashback contrasts between her screen persona and his being ignored, his obsessive replaying of her shows and roomful of dated blenders); about Cassidy's boyfriend's abandonment of her (he spending his last remaining moments with a friend and then not having time to tell her his address, his mother sitting in plain view and refusing to answer the door). Nor is it ever entirely clear what Hoskins' character did to the other girls.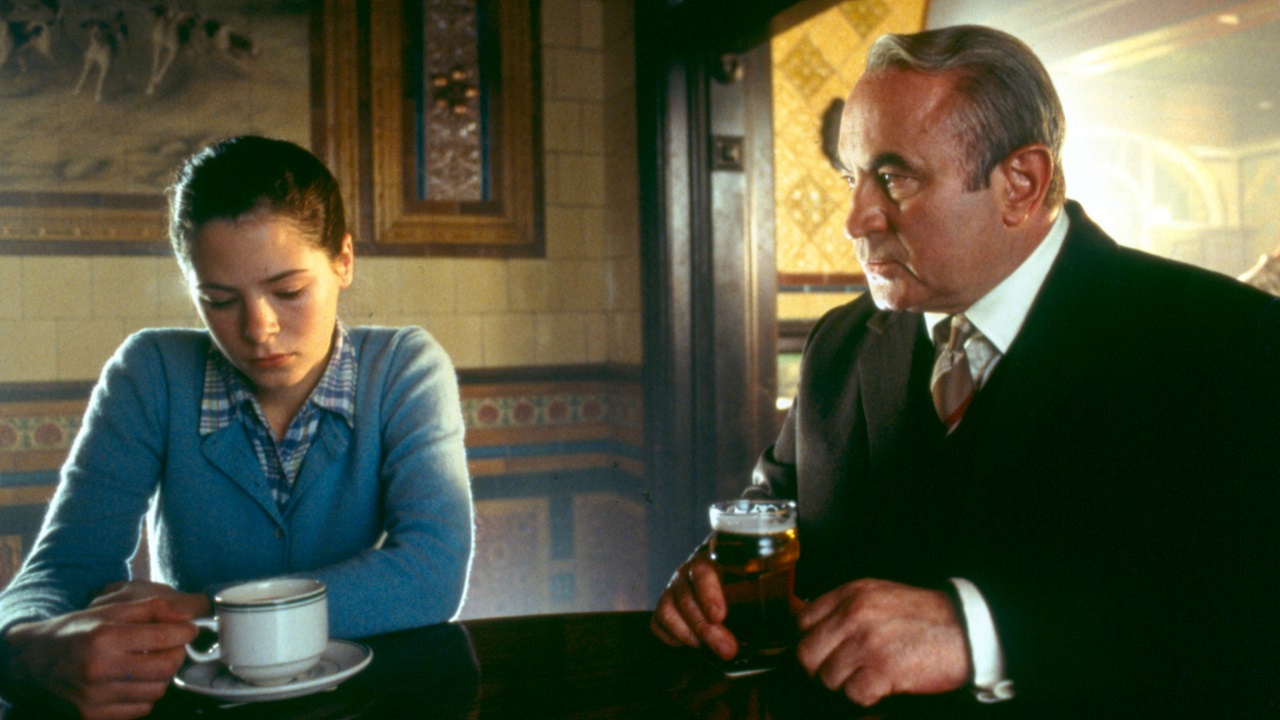 The only real complaint one could make of Felicia's Journey is that it is more a study of character rather than it ever is a thriller. There is no real contrivation of the plot (most of which – about Bob Hoskins being a killer, about Elaine Cassidy being pregnant has been announced in pre-publicity) other than the two characters taking about two-thirds of the film to move into his house. Thereafter it never really becomes a confinement or imprisonment type thriller. However, the subdued quietude and smallness of the film becomes so beautifully measured that when Egoyan opens up with big character scenes – like where Hoskins persuades Cassidy to have an abortion, the scene where he starts talking about the other girls to her – the film is absolutely hypnotic.
In terms of surprises, the best one Egoyan has in store – as much as for its wholly unexpected comic reversal of any dogleg turns that one expects a thriller to take as anything else – is an hysterical climactic sequence where two Jehovah's Witnesses turn up just as Bob Hoskins is preparing to do away with Elaine Cassidy and both ending up surprising and exposing the other.
Atom Egoyan has not made any further ventures into genre material. The nearest he has come has been Devil's Knot (2013), a true-crime film based on the West Memphis Three, the story of three teenagers in who were convicted of Satanic ritual murders on next-to-no-evidence.
(Nominee for Best Supporting Actress (Claire Benedict) at this site's Best of 1999 Awards).
---
Trailer here
---