UK/France. 1991.
Crew
Director – Mark Peploe, Screenplay – Mark Peploe & Frederick Seidel, Producer – Simon Bosanquet, Photography – Bruno De Keyzer, Music – Richard Hartley, Special Effects Opticals – The Magic Camera Company, Production Design – Caroline Amies. Production Company – Sovereign Pictures/Telescope Films/Les Films Ariane/Cine Cinq.
Cast
Ben Keyworth (Lucas Hardy), James Fox (Frank Hardy), Claire Holman (Rose Hardy), Fanny Ardant (Miriam Hardy), Paul McGann (Tony), Robert Stephens (Dan Burns), David Thewlis (Tom Miller), Struan Rodger (Window Cleaner)
---
Plot
Young Lucas Hardy becomes concerned for his blind mother when a stalker starts attacking and slicing the faces of blind women in the neighbourhood. Lucas is then witness to one of the attacks. However, it is in fact Lucas whose eyesight is deteriorating toward permanent blindness and the people around him who can see. When his mother returns home with a new baby brother, Lucas wants to blind it with a knitting needle.
---
Afraid of the Dark is one of the most unique psycho-thrillers to emerge in the 1990s – and, as a result of small things like originality and intelligence, one of the least recognized. Perhaps in years to come its audacity may come to be acknowledged as akin to a film like Peeping Tom (1960), which it resembles in many ways.
Half of the film appears as a standard psycho-thriller in which a young boy (Ben Keyworth) is drawn, via standard thriller devices, into a series of events where he witnesses an attack on one of the many blind people in his neighbourhood by an apparent stalker. Spying on local photographer Paul McGann, he sees McGann convince blind girl Claire Holman to pose for nudie shots and then McGann menacing her with a razor, whereupon he intervenes to save her by jabbing a knitting needle into McGann's eye.
In a startling reversal, Afraid of the Dark then jumps tracks to invert things so that we see that it is Ben Keyworth who is slowly degeneratively going blind, not most of the people around him. Claire Holman is now his sister and Paul McGann her fiancee. This reality though appears as no less threatening a one than the previous version we saw – with a stalker rampant and, as we watch, Ben Keyworth reacting to his degenerative condition by first blinding a dog and then picking up a knitting needle and hovering with sinister intent around the new baby in the household.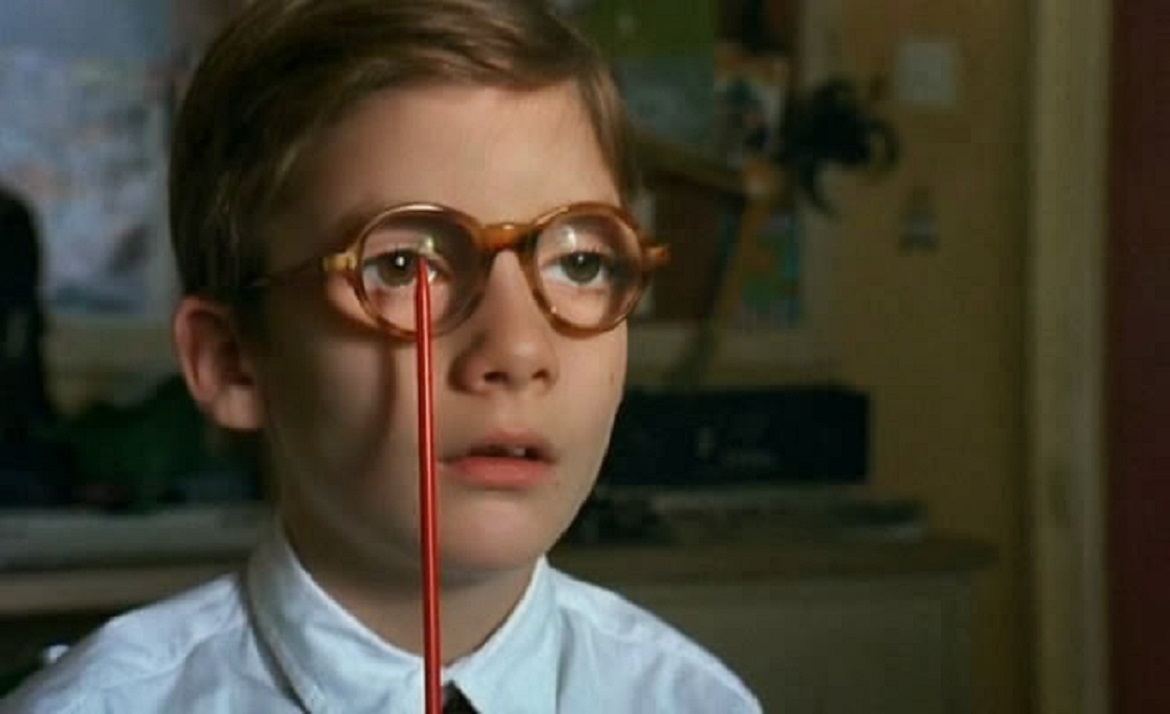 Director Mark Peploe conducts a striking and sophisticated series of symbolic plays between the two different realities – between Ben Keyworth's glasses and his telescope; between the telescope and the knitting needle; between people being blinded and an impending eye operation. Peploe offers no explanation of his trompe l'oeil effect – he never concerns himself with the need to see it in terms of psychology or explanatory devices as many a lesser thriller might have – and Afraid of the Dark is all the more intelligent for it. This is for once a film that requires an audience to think and in doing so generates intense debate about its double-meanings and juxtapositions.
Director Mark Peploe is best known as a screenwriter for Bernardo Bertolucci, with films such as The Last Emperor (1987), The Sheltering Sky (1990) and Little Buddha (1993). Peploe's only other outing as director so far has been the subtle and effective South Seas drama Victory (1995) from a Joseph Conrad novel, but this has also been little seen.
---
---