---
USA. 1998.
Crew
Director – Ole Borndeal, Screenplay – Ole Bornedal & Steven Soderbergh, Based on the Film Nattevagten Written by Ole Bornedal, Producer – Michael Obel, Photography – Dan Lausten, Music – Joachim Holbek, Special Effects Supervisor – Dale Newkirk, Makeup Effects – Steve Johnson's XFX Inc, Production Design – Michael Hoover. Production Company – Dimension Films.
Cast
Ewan McGregor (Martin Bells), Nick Nolte (Inspector Clay), Josh Brolin (James Galman), Patricia Arquette (Katharine), Brad Dourif (The Duty Doctor), Alix Koromzay (Joyce), [uncredited] John C. Reilly (Assistant Inspector Bill Davis), Lonny Chapman (Johnson), Lauren Graham (Marie)
---
Plot
University student Martin Bells accepts a job as the nightwatchman at a hospital morgue. Martin soon finds the job of tending dead bodies late at night unnerving. His best friend James is acting in increasingly reckless ways and takes Martin out where he plays a series of games with a prostitute. The prostitute then starts taunting Martin's girlfriend. At the same time, a serial killer is claiming victims in the city. When the body of the killer's latest victim is brought to the morgue, Martin finds somebody has moved it, although its position is unchanged when he calls in help. Later the body is found sexually assaulted and Martin is blamed. He becomes caught in a web of games, unsure whether it is James playing practical jokes or the serial killer trying to frame him.
---
Nightwatch is the English language remake of the Danish Nattevagten (1994), which was released in English language as Nightwatch and proved a hit on the film festival circuit. As with a number of other films – Three Men and a Baby (1987), The Vanishing (1993), Point of No Return (1993), True Lies (1994), Diabolique (1996), Just Visiting (2001), Vanilla Sky (2001), Insomnia (2002), Funny Games U.S. (2007), The Girl with the Dragon Tattoo (2011), Silent House (2011), Contraband (2012), Pusher (2012) and Brick Mansions (2014) – this remake was made on the pretext that American audiences are too illiterate and/or too anti-elitist to read subtitles and see a film in another language. The original director-writer Ole Bornedal was employed to write and direct the remake. Despite names such as Ewan McGregor, Patricia Arquette, Nick Nolte and Steven Soderbergh attached to the project, Nightwatch languished on distributors shelves for over a year before being given a cursory release and then dumped to video. Usually this is indicative of a disaster in the making.
It is a criminal failing that the film went nowhere as Nightwatch proves spectacularly good. Ole Bornedal directs superbly – the film twists and turns around and keeps one on edge with remarkably well sustained tension. Nightwatch is one of the few films of recent that one can say they have sat through not knowing where the film is going from one moment to the next. The revelation of the killer's identity is a startlingly good surprise.
Ole Bornedal demonstrates a mastery in the Hitchcockian sense of being able to make an audience feel unsettled. Ewan McGregor's first night on the job where everything starts going wrong – his sense of isolation as the lights are turned out, having to cross the lab of cadavers to reach the switch, the lift not going is a masterful evocation of eerie discomfort. The scene prior to that with Lonny Chapman giving a wonderfully off-whack performance as the retiring nightwatchman and his unsettling insistence to all of Ewan McGregor's "What if?" questions "Don't worry about that – it'll never happen" is an equal treasure of queasy unease. Everything ties together with scintillating logical precision. Tiny pieces – the seemingly random game Josh Brolin plays with hooker Alix Koromzay about her weirdest client, the name change games – are tossed out as seemingly incidental irrelevant details that then rebound to haunt us at the most unexpected opportunities.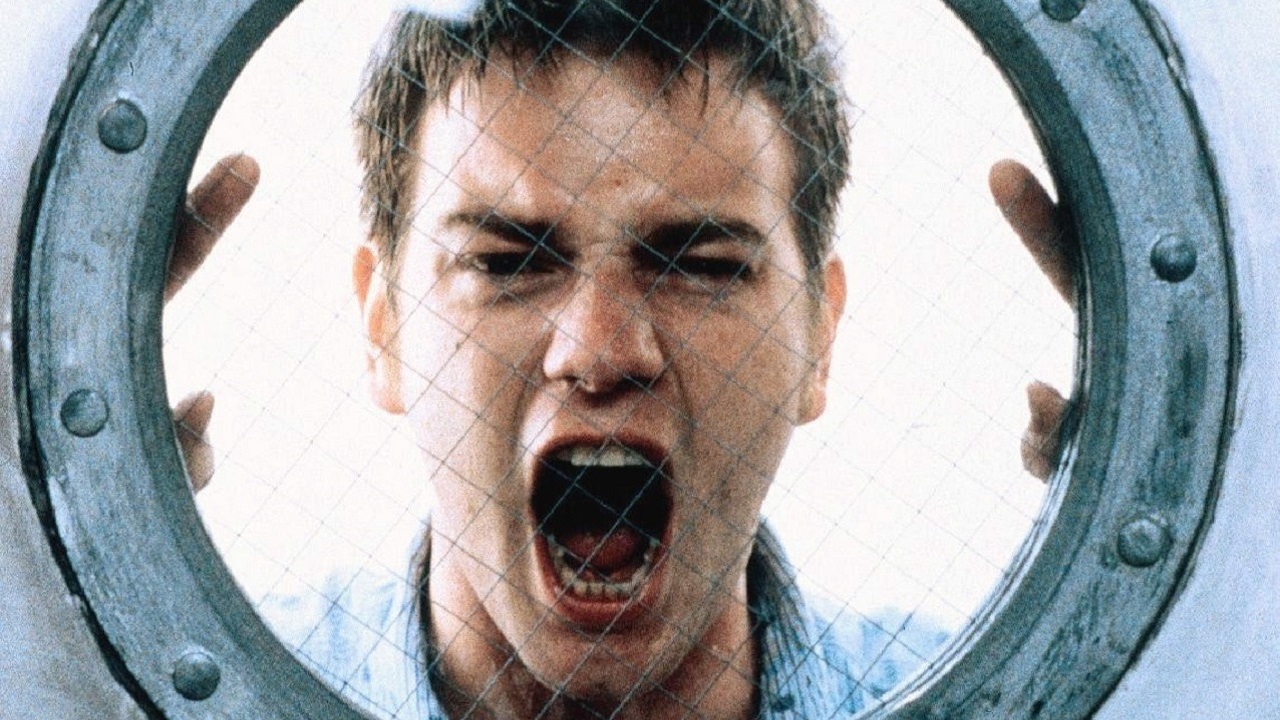 The American remake has cleaned up the Danish original somewhat – out has gone the blowjob in the restaurant, the sex in the morgue scene and the scene where the equivalent of the Josh Brolin character throws up in the font in a church during communion. The original certainly has a nastier, more scabrous edge. Elsewhere, Ole Bornedal is surprisingly faithful to the original with many scenes having been replicated sometimes shot-for-shot. Ole Bornedal has Steven Soderbergh – director of films like Sex, Lies and Videotape (1989), Out of Sight (1998), Erin Brockovich (2000), Ocean's Eleven (2001), the remake of Solaris (2002) and Contagion (2011) – co-writing with him and the film resonates with sombre dialogue with the killer's motivation having been strengthened into a haunting soliloquy.
There are good performances. Nick Nolte has one of the most memorable parts he has had in some time. Josh Brolin also gives a charismatic performance full of danger and a haunted sense of a hedonist who has grown bored with life and can no longer feel.
Elsewhere Ole Bornedal has directed the tv-made horror film Deep Water (1999); the critically divided period drama I Am Dina (2002); The Substitute (2007) about an alien schoolteacher; the identity mix-up thriller Just Another Love Story (2007); the black comedy Small Time Killers (2017); and a dull venture to the US mainstream with The Possession (2012), although he did return to form with the savage Backwoods Brutality film Deliver Us From Evil (2009).
(Winner in this site's Top 10 Films of 1998 list. Nominee for Best Director (Ole Bornedal), Best Adapted Screenplay and Best Supporting Actor (Nick Nolte) at this site's Best of 1998 Awards).
---
---