---
Crew
Director/Screenplay – Jeremy Gardner, Producers – Adam Cronheim, Jeremy Gardner, Douglas A. Plomitallo & Christian Stella, Photography – Christian Stella, Music – Ryan Winford, Makeup Effects – Hillary Hunt, Kelly McQuade & Krystal Phillips, Art Direction – Kelly McQuade. Production Company – O. Hannah Films.
Cast
Jeremy Gardner (Ben McBride), Adam Cronheim (Mickey), Niels Bolle (Jerry), Alana O'Brien (Annie)
---
Plot
Two former baseball players, Ben and Mickey, wander aimlessly through the world after it has been destroyed by a zombie apocalypse. They keep going – Ben refuses to let them settle down due to the fact that they were trapped in a house for months surrounded by zombies and he not wanting to go back to that. They are bored, with Mickey spending all his time tuned out and listening to his headphones. After scavenging a set of walkie-talkies, they pick up the communications from a group of survivors, only to be told to go away and not communicate further.
---
The zombie film made a massive resurgence in the 2000s after hits like Resident Evil (2002), 28 Days Later (2002), the remake of Dawn of the Dead (2004), Shaun of the Dead (2004) and tv's The Walking Dead (2010-22). This led to a great many usually gore-drenched low-budget imitators and then a spate of gonzo and comic zombie films that often seemed be trying to collude zombies with the wackiest things imaginable. I have been feeling serious zombie ennui after the deluge of efforts over the last couple of years but tuned into The Battery because it had received some good word of mouth. It was the first film as director for Jeremy Gardner, who is also the bearded one of the two leads.
The Battery feels like it takes the zombie road movie – one in particular thinks of something like Zombieland (2009) – and has given it a Gen Y slacker feeling. It is a laidback film that concentrates less on splatter effects and the drama of survival than it does on showing often wry slices of the way the two characters greet their situation. The opening scenes are taken up by vignettes of the two slackers aimlessly drifting through an empty world – Adam Cronheim plugged into his headphones and having to deal with failing batteries; Jeremy Gardner getting a thousand dollar scratch lotto ticket and then throwing it away because it no longer means anything; the two practicing their curveball pitch even when it no longer matters. It is in these scenes – and indeed, a good half-hour into the film – that Jeremy Gardner depicts the sheer boredom of the apocalypse with a fine, lyrical sense. Clearly here and in other scenes, we see Gardner emerging as a potentially extremely good new director.
When The Battery expands its premise out beyond that, it begins to do remarkable things. There are the scenes where the two make unexpected contact with others via the walkie-talkies. In any other post-holocaust film, this is usually a cause for celebration but here the others want nothing to do with them. Even more striking are the scenes where we see Adam Cronheim continually trying to re-establish radio contact with Annie, pleading with her to answer, before Gardner's character brutally punctures this in a sharply written scene where he tears apart Cronheim's dream of what he expects Annie to be and the probable reality.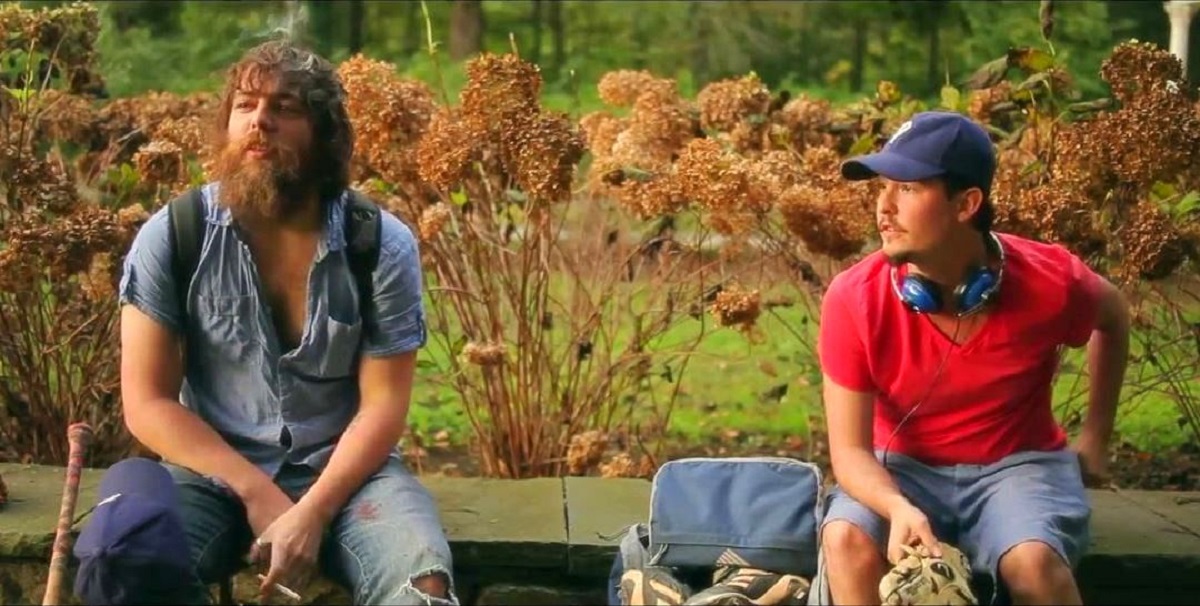 The film is filled with remarkable scenes of the two confronting the situation. There is an hilarious scene where Adam Cronheim wakes up in the back of the car and is shocked to see a zombie girl outside the window trying to get in, yet rather than try to fight her off whips his pants off and begins masturbating because it is the only girl he has seen in a long time.
There is some bitingly sharp writing – like the scenes where Gardner confiscates Cronheim's headphones as price for wanting to stay in a house for a night and taunts him about living in a bubble away from the reality of survival, before playing a prank where he captures a zombie and releases it in the sleeping Cronheim's room, resulting in a jolting scene where a shattered, blood-drenched Cronheim eventually emerges.
Even small touches like where Gardner has a 2-3 minute scene of him drunkenly dancing while wearing the headphones show a remarkable confidence on his part in including something that would have easily ended on the cutting room floor in another director's hands.
The Battery gains its feet at the climax in particular. There is a fine scene where the two of them encounter a hostage taker (Niels Bolle) and Gardner's rather excellent means whereby he outwits the man. Best of all though is the long concluding scene with the two of them trapped in the back of the car surrounded by zombies as the camera joins them, letting us experience the boredom, madness, desperation and cabin fever as they remain there unable to escape.
Jeremy Gardner next went on to direct the non-genre wilderness survival comedy Tex Montana Will Survive (2015) with Adam Cronheim also starring, and a further very witty monster movie with After Midnight (2019).
---
---