---
Crew
Director/Screenplay – Abe Forsythe, Producers – Keith Calder, Jess Wu Calder, Steve Hutensky, Jodi Matterson & Bruna Papandrea, Photography – Lachlan Milne, Music – Piers Burbrook De Vere, Visual Effects – Alt VFX (Supervisor – Jason Hawkins) & Cutting Edge (Supervisor – Simon Maddison), Special Effects – Lou Stefanel, Makeup Effects Design – Adam Johansen & Damian Martin, Makeup Effects – Odd Studio, Production Design – Sam Hobbs. Production Company – Snoot Films/Made Up Stories/Screen Australia/Creative NSW/Protagonist Pictures.
Cast
Alexander England (Dave Anderson), Lupita Nyong'o (Audrey Caroline), Josh Gad (Teddy McGiggle), Diesel La Torraca (Felix), Kat Stewart (Tess), Nadia Townsend (Sara), Marshall Napier (Army General), Ava Carofyllis (Beth), Glenn Hazeldine (Rory), Charlie Whitley (Max), Mason Mansour (Mickey), Kim Doan (Kim)
---
Plot
Dave Anderson breaks up with his longtime girlfriend Sara who is tired of him trying to eke out a livelihood as a one-man street musician and living on the glory days of his band that broke up six years ago. Dave moves in with his sister Tess and her five-year-old son Felix. However, Tess threatens to kick Dave out after a stunt when he takes Felix with him to go and propose to Sara only to walk in on her having sex with another guy. Dave promises to shape up. He walks Felix to school and immediately becomes enamoured with the teacher Miss Caroline. After a substitute drops out of a field trip to the petting zoo at Paradise Valley where children's tv host Teddy McGiggle is appearing, Dave volunteers to accompany them so that he can spend time with Miss Caroline. Meanwhile, zombies that were imprisoned at a nearby US military base break free and rapidly overrun the area. Forced to take shelter from the zombie horde in the park's main building, Dave is required to develop new coping skills in order to convince the children what is happening is only a game.
---
Little Monsters is a zombie film from Abe Fosythe who has been making mostly comedy shorts since the 1990s, also acting in them and other works. He had reasonable success with his previous non-genre film Down Under (2016).
The zombie film underwent a major revival in the latter half of the 2000s and is something that shows no signs of slowing down. During this period, the zombie comedy wasn't created by but has become legion ever since Shaun of the Dead (2004). Due perhaps to the sameness of plots offered by straight takes on the genre, filmmakers in the last few years have taken to conducting an amazing array of gonzo title mash-ups and deliberately ridiculous pairings of zombies and the most incongruous things.
Little Monsters is an Australian take on the zombie comedy. With the crass experience that was the last Australian venture into the zombie comedy. Me and My Mates vs. the Zombie Apocalypse (2015).still in memory and not finding much enthusiasm for the film's premise – "a washed-up musician teams up with a teacher and a kids show personality to protect young children from an outbreak of zombies" – I settled in to watch Little Monsters and I must say that I was pleasantly delighted.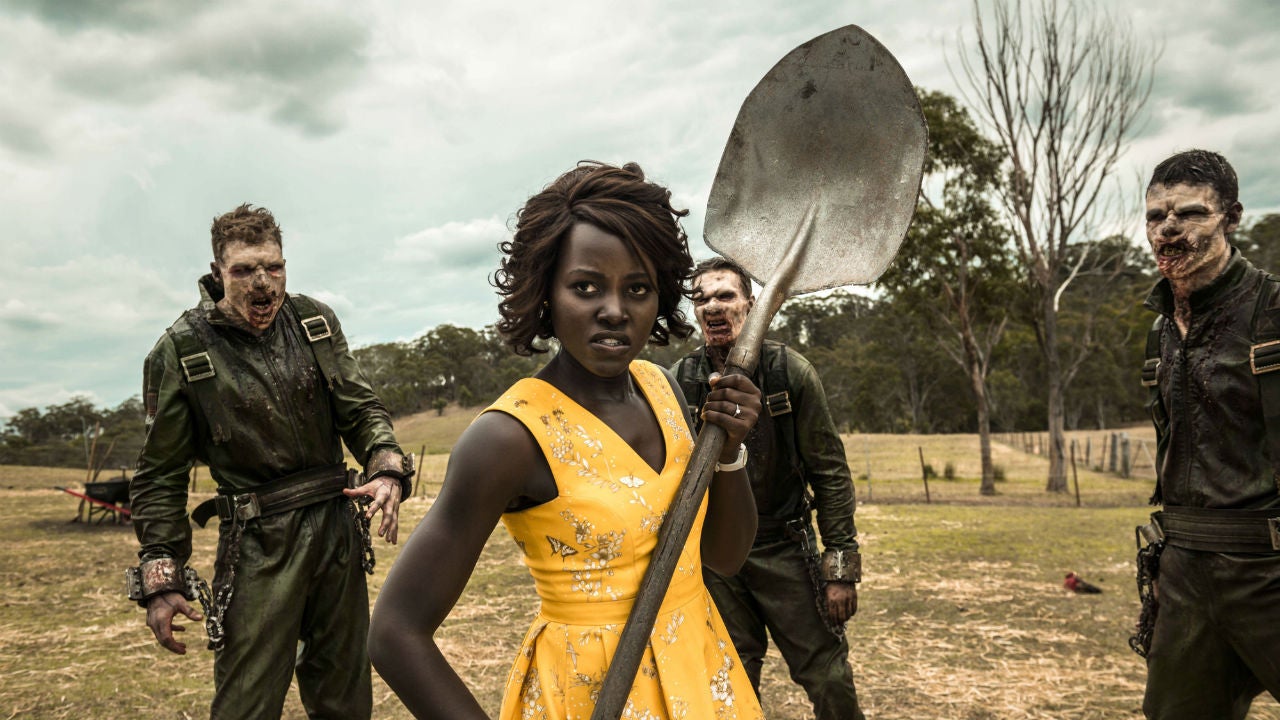 Within minutes. Abe Forsythe has us laughing at the snappiness of the interplay between Alexander England's hapless slacker and Diesel La Torraca's youngster and his obsession with tractors and Bad Words. By about the point a few minutes later that involves a wedding proposal with Alexander accompanied by Diesel in Darth Vader costume walking in on Alexander's ex in the middle of sex, you become entirely won over. It says something about a film when a kid in the single digit age group ends up stealing most of these scenes with his deadpan delivery.
The zombies are by the book and never get up to much more than lurking beyond the window of gift shop, while the film is based around the fairly predictable story arc of Alexander England's journey from irresponsible lad to a protector of the kids. All of the delights in the film are sweetly charming ones – although scenes that might well have sunk into the cutsie in another film are contrasted with the often adult and sarcastic comedy that play out alongside.
It is hard not to fall in love with the film by the time of its ending with Diesel La Torraca running out to take on zombies in Darth Vader mask while waving about a red plastic lightsabre. Or of Lupita Nyong'o leading a singalong of Old MacDonald Had a Farm and If You're Happy and You Know It on the back of the tractor while the kids whack the zombies that get too close with the lightsabre, all before the zombies join in the singalong.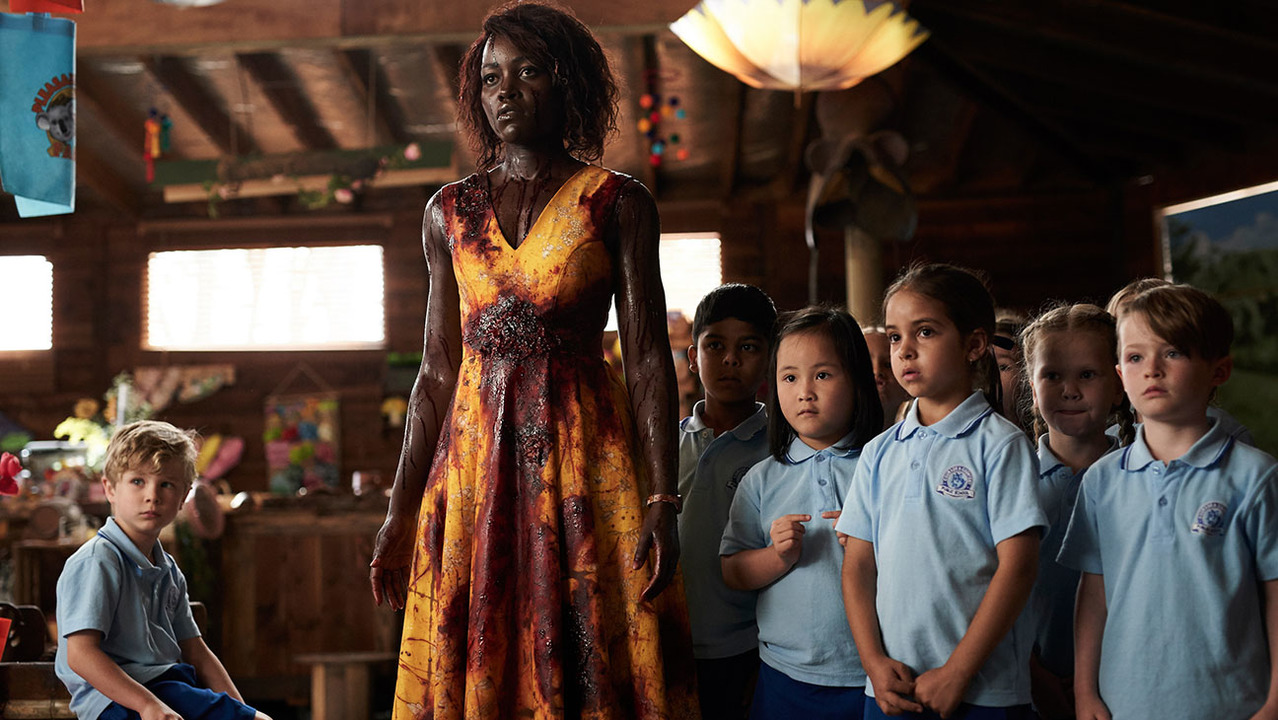 The surprise of the film is Lupita Nyong'o, known for award-winning work like 12 Years a Slave (2012) and appearances in Black Panther (2018). She gets a great kick-ass scene demolishing an entire field of zombies to get to the tractor and retrieve the backpack. It is a delight to watch in the way she can switch from delivering threats to Josh Gad and then turning back to the kids with a smile and upbeat cheer perfectly in place. She even does a fantastic rendition of the Sesame Street (1969- ) song I Don't Want to Live on the Moon.
Alexander England is a gawky presence with sometimes obvious comedy timing who makes up for everything else in playing with great enthusiasm. Josh Gad has a great deal of fun playing loud and obnoxious and likewise gets to do some of the best stuff one has seen him in – his speech about being in the job for the mothers was side-splitting.
Little Monsters should not to be confused with the appealingly quirky 80s monster movie Little Monsters (1989). When Little Monsters was released to theatres, the similarity of titles had some assuming that this was a remake or a revival of the 1989 film.
(Nominee for Best Actress (Lupita Nyong'o) at this site's Best of 2019 Awards).
---
---