---
Crew
Director – Eddie Romero, Screenplay – Eddie Romero & Jerome Small, Producers – John Ashley & Eddie Romero, Photography – Fredy Conde, Music – Tito Arevalo & Ariston Avelino, Optical Effects – Richard Abelardo, Makeup – Antonio Artieda, Production Design – Roberto A. Formoso. Production Company – Four Associates, Ltd./Dimension Pictures, Inc..
Cast
John Ashley (Matt Farrell), Pat Woodell (Neva Gordon), Jan Merlin (Steinman), Charles Macaulay (Dr Gordon), Pam Grier (Ayesa the Panther Woman), Kim Metcalfe (Kuzma the Antelope Man), Kim Ramos (Primo the Ape Man), Tony Gosalvez (Darmo the Bat Man), Mona Morena (Lupa the Wolf Woman), Eddie Garcia (Pereira)
---
Plot
While scuba diving, the soldier of fortune Matt Farrell is abducted by a group of men. He is taken to the remote island of Dr Gordon who explains that he is engaged in a series of experiments creating human and animal hybrids to survive the coming collapse of civilisation. Gordon regards Matt as a prime physical subject and wants to use him as one of his experimental subjects but Matt refuses. Matt forms an attraction to Gordon's daughter Neva. After Matt is dragged away and caged by Gordon's men, she frees him along with all the other beast people. They set out across the island, trying to get safety while hunted by Gordon's mercenaries.
---
During a period in the 1970s, the Filipino exploitation film industry became something legendary and produced a series of amazing local and shot-on-location Hollywood productions. (See Filipino Cinema). There's a documentary about the phenomenon with Machete Maidens Unleashed! (2010). The Filipino horror film formed a large part of this. This began with Terror is a Man (1959), an uncredited adaptation of H.G. Wells's The Island of Dr Moreau (1896) about a mad scientist transforming animals into human hybrids on a remote island.
One of the producers on Terror is a Man was Eddie Romero. A decade after that, Romero co-directed Brides of Blood (1968) and Mad Doctor of Blood Island (1969), two films that riffed on the same basics as Terror is a Man – mad scientists creating human hybrids and assorted mutations on a remote tropical island. The addition of gooey meltdowns and cheesy creature effects plus plentiful toplessness made them extremely sellable in US markets. Independent International released Mad Doctor of Blood Island with a sensationalistic promotional campaign that turned it into a hit. Eddie Romero went on on his own to direct a third film in the series with Beast of Blood (1971).
Romero and Independent International then parted ways, it would seem because the US distributor was keeping the bulk of the funds and not much of this was getting back to Romero. After this, Independent International made their own pseudo-Blood Island film with Brain of Blood (1971). Romero went his own way with John Ashley, the American star of most of these films who also took producing roles. Romero formed a new partnership with US-based Dimension Pictures and there he made several other exploitation films, beginning with The Twilight People followed by Beyond Atlantis (1973) and The Woman Hunt (1973), before turning to making action films for other companies.
Had Romero not parted ways with Independent International, The Twilight People could easily have been a fourth Blood Island film. Romero had rehashed The Island of Dr Moreau in Terror is a Man, while the basic elements of Dr Moreau had informed all the other Filipino exploitation films. With The Twilight People, Romero again returns to the Wells book and the homage is more overt than in all of his other films. There's the scientist on the island who has created a variety of Moreau-like human-animal hybrids and talks about doing so to survive the collapse of civilisation and nuclear war. It should be noted at this point there had only been one official adaptation of the Wells novel with The Island of Lost Souls (1932). The Twilight People predates the big-budget US remake that was made a couple of years later with The Island of Dr Moreau (1977), which undeniably borrowed some of its ideas from here – shooting on an actual tropical island, the plot about the hero chosen by Moreau as a test subject.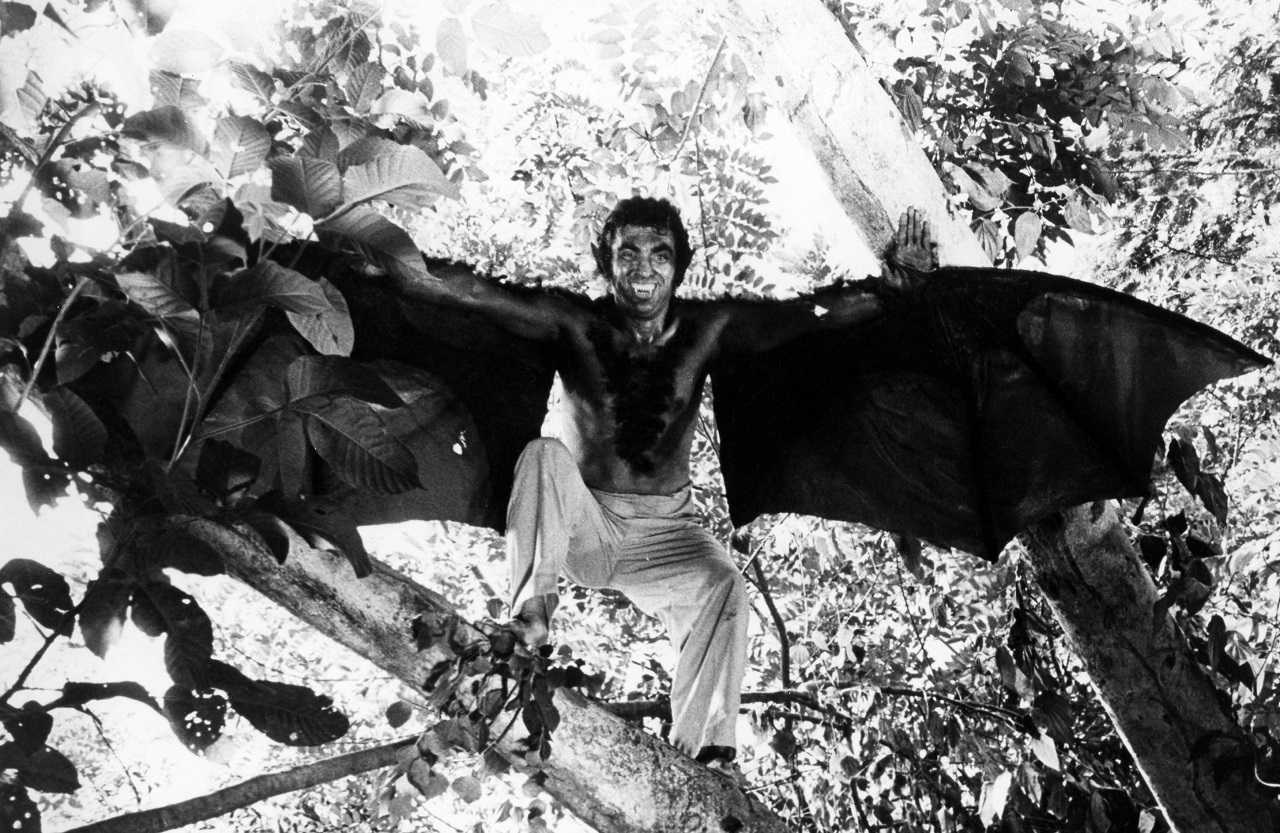 The Twilight People shows Eddie Romero with a slightly better budget than usual. There is even some quite good underwater photography during the scuba diving sequence that open the film. Romero has recruited Jan Merlin, a supporting actor and a writer of Westerns, as the lead mercenary, as well as Pat Woodell, best known as one of the sisters on tv's Petticoat Junction (1963-70), who plays the scientist's daughter who instantly falls for John Ashley and joins the rebellion. The most famous name present is Pam Grier, who around the same time as this became a queen of Blaxploitation cinema with roles in The Big Doll House (1971), Coffy (1973) and Foxy Brown (1974), among others. Disappointingly, here all she does here is remain hidden by panther woman makeup and snarl and get into fights. Scientist Charles Macaulay was mostly a tv actor, although did appear as Dracula in Blacula (1972) around the same time.
On the other hand, it is not long before The Twilight People reveals its true nature as a B movie. This is particularly evident when it comes to the cheap-looking beast people makeups. In many cases, these are only facial appliances that end at the neck – however, the actors are also wearing open-necked and short-sleeved shirts or skirts revealing the fact that the appliances fail to cover the rest of the body. The most entertaining of the creations is the Bat Man who comes with a set of wings and is seen flying into the attack several times.
What is also missing here is the gratuitous exploitation element of the Blood Island films – a lack of cheesily ridiculous gore effects and topless women running around. This makes The Twilight People seem like a cleaned-up, tamer version of one of the Blood Island films. Romero doesn't seem that interested in the mad scientist element and Charles Macaulay's scientist gets surprisingly little screen time. Indeed, John Ashley, despite co-producing the film, largely vanishes off screen during the second half and the escape through the jungle where the focus is placed on Pat Woodell herding the beast people. This gives the Dr Moreau story a different focus than usual – where the heroes become protectors and guides to the animal people, while Romero also adds a modern element in a team of mercenaries and having both they and beast people armed with guns. You suspect this could have been made into something much more interesting with a better budget.
Eddie Romero (1924-2013) co-produced the first Filipino horor fil Terror is a Man (1959) and then went on to co-direct with Gerardo de Leon the first two Blood Island films Brides of Blood (1968) and Mad Doctor of Blood Island (1969) and solo directed the third Beast of Blood (1971). On his own, Romero made other horror efforts such as The Beast of the Yellow Night (1971), Beyond Atlantis (1973) and The Woman Hunt (1973).
---
Trailer here
---