---
Crew
Director – Kaare Andrews, Screenplay – Jake Wade Wall, Producers – Evan Astrowsky & Jasbinder Singh Mann, Photography – Norm Li, Music – Kevin Riepl, Special Effects Supervisor – Sandy Arias, Makeup Effects – Vincent Guastini, Production Design – Linda Burton & Ricardo Burton. Production Company – Voltage Pictures/Indomina/Hypotenuse Pictures.
Cast
Mitch Ryan (Marcus), Sean Astin (Porter), Ryan Donowho (Dobbs), Brando Eaton (Josh), Jillian Murray (Penny), Currie Graham (Dr Edwards), Solly Duran (Camila), Lydia Hearst (Bridgett), Claudette Lali (Katia)
---
Plot
A virological research team snatch Porter, the only patient discovered so far that has an immunity to the flesh-eating bacteria, and make him prisoner at a secret laboratory. Meanwhile, Marcus has arrived in the Dominican Republic for his wedding to Katia. Marcus's more carefree brother Josh whisks him away in a rented yacht for a bachelor party on a secluded island offshore. While diving, Josh's girlfriend Penny returns infected with the bacteria and her flesh starts to rot. As the infection spreads, the others discover the biological containment facility on the island and enter it to find that the bacteria has gotten loose and infected the scientists.
---
This was the third film in the series that began with the modest word-of-mouth hit of Eli Roth's Cabin Fever (2002). This was followed by Ti West's Cabin Fever 2: Spring Fever (2009), which had a great many problems behind the scenes and which West disowned after it was released. Cabin Fever (2016) was a subsequent remake of the original. Patient Zero has been placed in the directorial hands of Kaare Andrews, a former comic-book artist who made the fine horror film Altitude (2010), as well as one of the episodes of The ABCs of Death (2012).
Cabin Fever has a premise that it is difficult to think can be screwed up – involving a bunch of young leads undergoing extremely gory meltdowns all peppered with a series of amusingly sarcastic genre in-jokes. So it is hard to figure out why both of the sequels and the remake fall short of this by a wide margin.
What strikes you about Cabin Fever: Patient Zero is how little it does to spin the premise out in any way – all that we have is an overtly familiar slasher movie standard of a group of young people partying, drinking and having sex on a desert island before they start melting down. There is not a huge amount more that the film has to it than that and certainly little is made out of the 'patient zero' idea.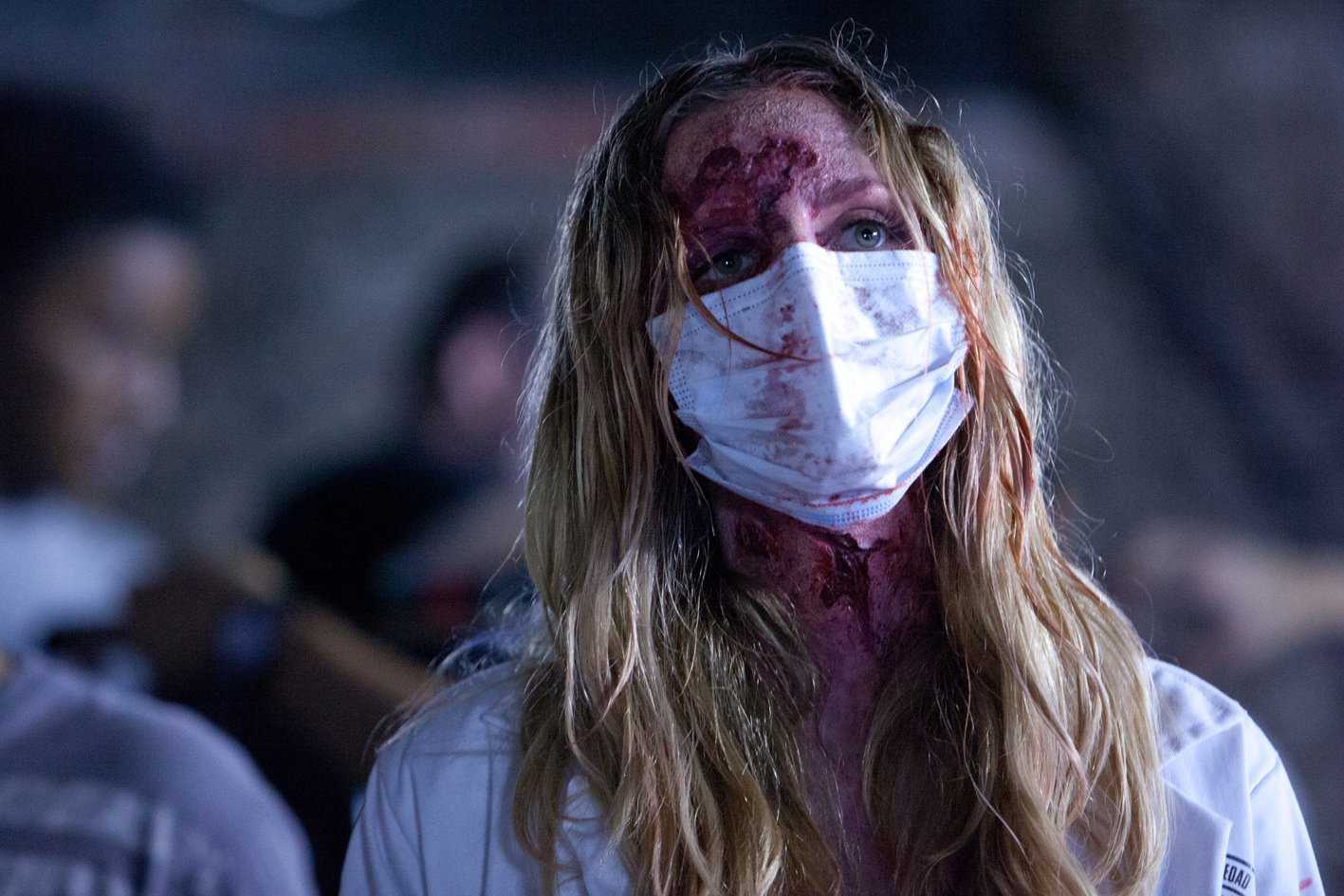 Kaare Andrews showed some promise as a director in Altitude but seems to have ignored most of that in favour of turning out a generic gore film. Certainly, what must be said about Patient Zero is that it has a better array of gore effects than Spring Fever did. There is a worthwhile scene where Jillian Murray lies back in a tent, complaining of the burns she picked up while swimming and boyfriend Brandon Eaton goes down on her only to come back up with his face covered in blood.
It is during the latter third, particularly the last fifteen minutes, that the film picks up noticeably, chiefly because Kaare Andrews goes for broke in the gore department – people with faces eaten away and jaws hanging off; blood being vomited; heads being battered in and so on. The highlight is a scene where Jillian Murray and Lydia Hearst engage in a catfight that involves them tearing one another apart.
(Nominee for Best Makeup Effects at this site's Best of 2014 Awards).
---