---
Crew
Director – Ethan Wiley, Screenplay – Ellary Eddy, Producers – Mark Burman & Eric Ricart, Photography – Rebel Film, Music – Joseph Bauer, Makeup Effects – Obscure Artifacts (Supervisor – Jeff Farley), Production Design – Samantha Summers. Production Company – Barnholtz Entertainment/Wiseacre Films/Psycho Studios.
Cast
Cameron Daddo (Father Jacob), Kristin Erickson (Isabelle Barber), Randy Colton (Eli Barber), Madison Taylor (Claire Barber), Leslie Fleming-Mitchell (Blanche Barber), Del Zamora (Miguel), Don O. Knowlton (Joe McCall), Paul Kapellas (Luke), Jeffrey Combs (The Sheriff), James Russo (Bishop Mueller), Iris Stobbelaar (Demon Girl)
---
Plot
Farmhands find 18 year-old Isabelle Barber wandering in a nightdress on the family farm, just having devoured a rabbit. Placed in her room, she proves to be foul-mouthed, chants in Latin, displays incredible strength and taunts others with knowledge of their secrets. The farmhand Miguel, a former priest, recognizes this and is able to say several prayers that calm her. Isabelle's parents bring in Jacob, a Catholic priest and former boyfriend of Isabelle's older sister Claire. Jacob determines that Isabelle is possessed and contacts his superiors for sanction to perform an exorcism. However, the farmhand Luke, who loves Isabelle, pulls a shotgun and demands that Jacob performs the exorcism right now rather than wait for clearance from The Vatican. With the help of Miguel, Jacob sets out to perform the ritual. As he does so, the demon inside Isabelle is determined to prey on their weaknesses and guilt in order to turn everybody in the house against each other.
---
Ethan Wiley is a minor genre name that first emerged onto cinema screens as the screenwriter of House (1986) and then as the director of its sequel House II: The Second Story (1987). Wiley has sporadically directed other films – Children of the Corn V: Fields of Terror (1998) and subsequent to this Brutal (2007), Elf Man (2012) and Journey to the Forbidden Valley (2016). He has been more prolific as writer and/or producer of genre films with the likes of A Dead Calling (2006), Drifter (2007), Deadwater (2008), Bear (2010), The Butterfly Room (2012) and Dead Again in Tombstone (2017). Like Blackwater Valley Exorcism, most of these films circle around dvd-release and have not gained wide profiles.
Blackwater Valley Exorcism came out soon after and was undoubtedly conceived in an attempt to copy the success enjoyed by The Exorcism of Emily Rose (2005). Emily Rose claimed to tell the true-story of an exorcism and similarly Blackwater Valley Exorcism kicks in with a credit that soberly notes that all the exorcism scenes are conducted under the supervision of Bishop Jason Spadafore of St Raphael of the Angel Catholic Chapel and even that "All rites are from the Paul V 1614 Latin version of the Rituale Romanum." Despite this, the end credits note that the "characters are fictional. Any coincidence to persons living or dead is purely coincidental," which makes such a claim dubious.
Certainly, one has difficulty believing that the story as told in the film could have happened – even aside from one's lack of belief in the actuality of demonic possession as a phenomenon, such happenings and a trail of bodies would have attracted widespread media attention. Jason Spadafore appears to be a real priest but one finds his ethics in lending his name to a work of fiction posing as being the truth to be slightly dubious.
Moreover, for all their claims to be depicting true-life exorcisms, both The Exorcism of Emily Rose and Blackwater Valley Exorcism are deeply reliant on the cliches laid down by The Exorcist (1973). Here the possessed girl develops a deep voice, shouts obscenities, develops super-strength and starts hurting people, makes sexual come-ons, taunts people about dirty secrets and so on.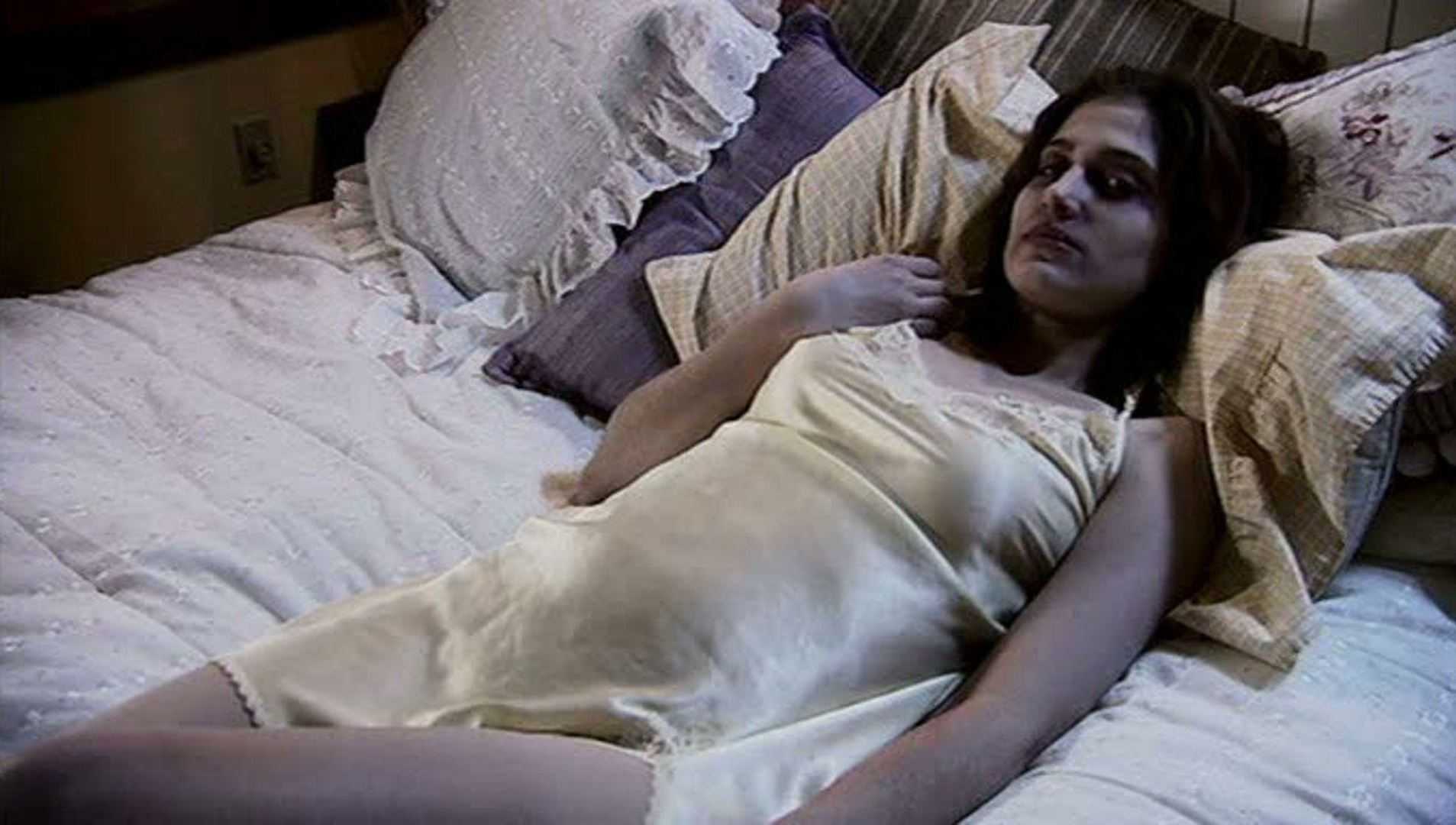 When it is not serving up cliches, Blackwater Valley Exorcism seems highly improbably. With ridiculous contrivance, the Latino farmhand (Del Zamora) just happens to be a renegade priest familiar with the rituals of exorcism, for instance. Elsewhere, Ethan Wiley's direction has a basic competence but he displays little aptitude for handling actors. Some scenes like where father Randy Colton casually suggests to Don O. Knowlton that they use horse tranquillisers to sedate his daughter are laughably lacking in conviction. A supposedly bared confrontation where Randy Colton accuses Paul Kapellas of having interest in his wife comes out as stilted when it should have burned with aggression and tension.
The only well-known names in the cast are Australian actor Cameron Daddo whose handsome looks seem out of place playing a priest, as well as a minor role from genre regular Jeffrey Combs as the sheriff and a blank-and-you-miss-him appearance from James Russo as Daddo's church superior.
The script adds some interesting aspects that make for a potentially worthwhile variation on a standard exorcism story. The latter half has the possessed girl start exposing people's secrets, turning everybody in the house against each other and creating lies so that nobody knows what is true. The best scenes involve some of these manipulations – where the demon tricks Randy Colton into believing that Don O. Knowlton slept with his wife whereupon Colton takes him out at gunpoint with Knowlton vehemently protesting his innocence.
As the priest (Cameron Daddo) goes to determine whether the girl is possessed, she comes onto him, playing on his memories of being turned on after once accidentally walking in on her in the shower. Or the scene where Madison Taylor comes onto Cameron Daddo in a PG-rated seduction. My quibble with this scene is that it never plays out the full implications in terms of Catholicism. Daddo is as no more than a man who says "No, I have a wife," whereas this would be a mortal sin for a priest who maintains a vow of celibacy and surely ruin the purity of the faith he needs to complete the exorcism..
There is an effective if far-fetched revelation (again, one that considerably dents the film's claim to being non-fictional) that the demon has been conjured by someone else out of contorted jealousies. The film certainly did not need the coda where Jeffrey Combs' sheriff is attacked by the girl (Iris Stobbelaar) that he forced to have sex with him who now reappears to him possessed
---
---