---
Canada. 1995.<p.
Crew
Director – Holly Dale, Screenplay – Andrew Rai Berzins, Producer – Steven Hoban, Photography – Paul Sarossy, Music – Nash the Slash, Digital Effects – Spin Productions Inc, Special Effects Consultant – Michael Lennick, Makeup Effects – Randy Daudlin, Production Design – David Moe. Production Company – Daban Films/The Feature Film Project.
Cast
Gordon Currie (Boya), Justin Louis (Earl), Helen Clarkson (Molly), Fiona Reid (Rita Poe), Frank Moore (Pierce), Hadley Kay (Axel), David Cronenberg (Crime Boss), J. Winston Carroll (Bernie)
---
Plot
A stray golf ball smashes through a window and wakes the vampire Boya who has been hibernating inside a bag since 1969. Checking into a fleabag motel in Toronto, Boya becomes embroiled in the life of Earl, a loser taxi driver who is being harassed by organised crime arm men. Boya also falls for Molly, the waitress at a donut shop, but this arouses the envy of Rita, a woman who has been waiting 25 years for Boya to return to her.
---
Blood & Donuts is a Canadian-made vampire entry. It was made as an indie film. It is an oddly unsatisfying film, where the elements of the vampire film and the non-commercial approach of an indie film never adequately congeal together.
The film lacks much in the way of a plot – it only consists of the loose interactions of various characters – waitress, trouble-prone taxi driver, Mafioso hoods, vampire and his aged girlfriend – centered around a Toronto donut shop and adjacent fleabag hotel. While this may well work for a Jim Jarmusch film, it makes for a minimalist vampire movie where not much ever happens. Even the film's attempts at humour never produce more than a quizzical smile.
Rather than any figure of dark charisma, the vampire, as played by Gordon Currie, seems like an aging rocker who has been reduced to living on the street, with Currie walking hunched-over, eyes flickering about as though too frightened to meet anyone else's. Justin Louis's performance as the cabbie Earl is delivered in a mock Italian accent and an entirely unvarying monotone, which has one wanting to scream by the film's halfway point.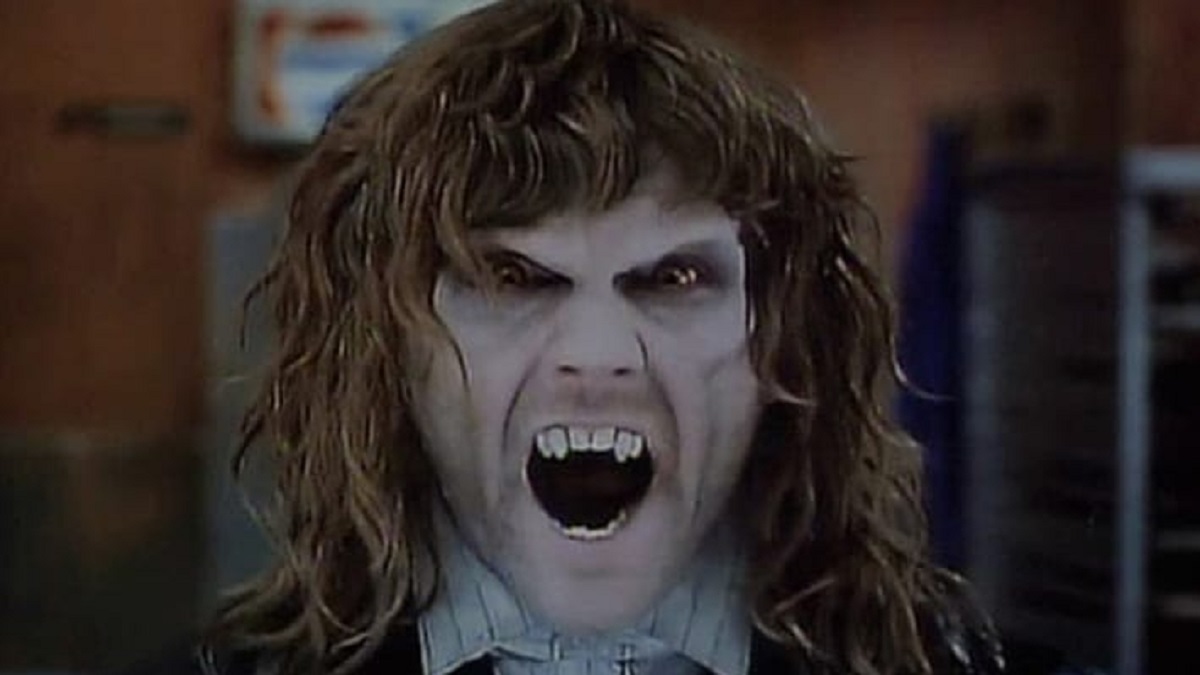 Blood & Donuts was shot in Toronto and, as is becoming fairly much de rigeur for offbeat genre films shot there, it employs local work of art David Cronenberg, the director of films like Videodrome (1983), The Fly (1986) and Dead Ringers (1988). Cronenberg is amusingly cast as a Mafia head, expounding wisdom to his lackeys. In one of the more amusing asides, he deflates one hood's cod-wiseguy pretensions to tough-guy talk – "You grew up in Toronto, Axel. Who here talks like that?" The film also features the intriguing end credit: "Filmed on location in Toronto, Ontario and the Sea of Tranquility, The Moon."
Subsequently, director Holly Dale has worked in Canadian television. So too has screenwriter Andrew Rai Berzins who also wrote the screenplay for the fine Beowulf & Grendel (2005) and the future-set tv movie Borealis (2013).
---
Trailer here
Film available online in several parts beginning here:-
---