---
Crew
Directors/Screenplay/Producers – Wilhelm Liebenberg & Federico Sanchez, Photography – Jamie Thompson, Music – Mysterious Art, Special Effects Supervisor – Guillaume Murray, Art Direction – Massimo Antonello Geleng & Marina Pinzutti. Production Company – Wildkoast Entertainment/TVA Films.
Cast
Conrad Pla (Detective Raymond Pope), Caroline Néron (Elizabeth Kane), Victoria Sanchez (Irina), Liane Balaban (Lisa), Arthur Holden (Renaud), Nick Bailie (Dean Cusack), Sarah Manninen (Jessica Pope/Wildcat), Ilona Elkin (Nancy Cusack), Kathleen Munroe (Connie), John Dunn-Hill (Inspector/Father Thurzo), Romano Orzari (Detective Angie Manning), Yves Corbeil (Captain Gerard), Ted Rusoff (Italian Bookshop Owner), Joey Pla (Nathan Pope), Jennifer Morehouse (Helene)
---
Plot
In Montreal, Jessica Pope is invited to the mansion of the enigmatic Elizabeth Kane for a lesbian affair after they meet in an internet chatroom. However, once she has Jessica in her arms, Elizabeth stabs and kills her. Jessica's husband is police detective Raymond Pope and he obsessively sets about finding what happened to her. Pope begins investigating Elizabeth, certain that she had something to do with Jessica's disappearance. Elizabeth responds by playing a cruel game on him, seducing and killing the other women he has been having affairs with and leaving evidence to incriminate him for their murders. Pope follows Elizabeth to Venice and comes to realise that she may be the infamous Countess Erzebet Bathory who was reputed to remain eternally youthful by bathing in the blood of other women.
---
I was attracted by the exotic looking dvd cover of this Canadian-made film, which came with an R-rating and the suggestion that it was an erotic horror film.
Eternal certainly starts in with a sophisticated allure. There is a stylish scene where Caroline Néron's Elizabeth seduces Sarah Manninen and the seduction suddenly turns into something else as Néron produces a silver-tipped dagger and slashes Manninen's throat. Next we are introduced to Conrad Pla in a totally wild scene where is tied up by Ilona Elkin who is riding him as she holds a gun to his head. Later Pla goes to dinner at his partner's place and then the partner's wife (who turns out to be Elkin) comes into the bathroom and fucks Pla while holding a razor to his throat.
There is also a later scene where Caroline Néron abducts Conrad Pla's girlfriend, manacles her up and starts ravaging her before killing her. One of the interesting things about the film is that hero Conrad Pla's taste for wild sex and frequent infidelity is something that is never critiqued or even commented on – it is just something that is part of the character. All of which gives Eternal an interestingly dangerous charge.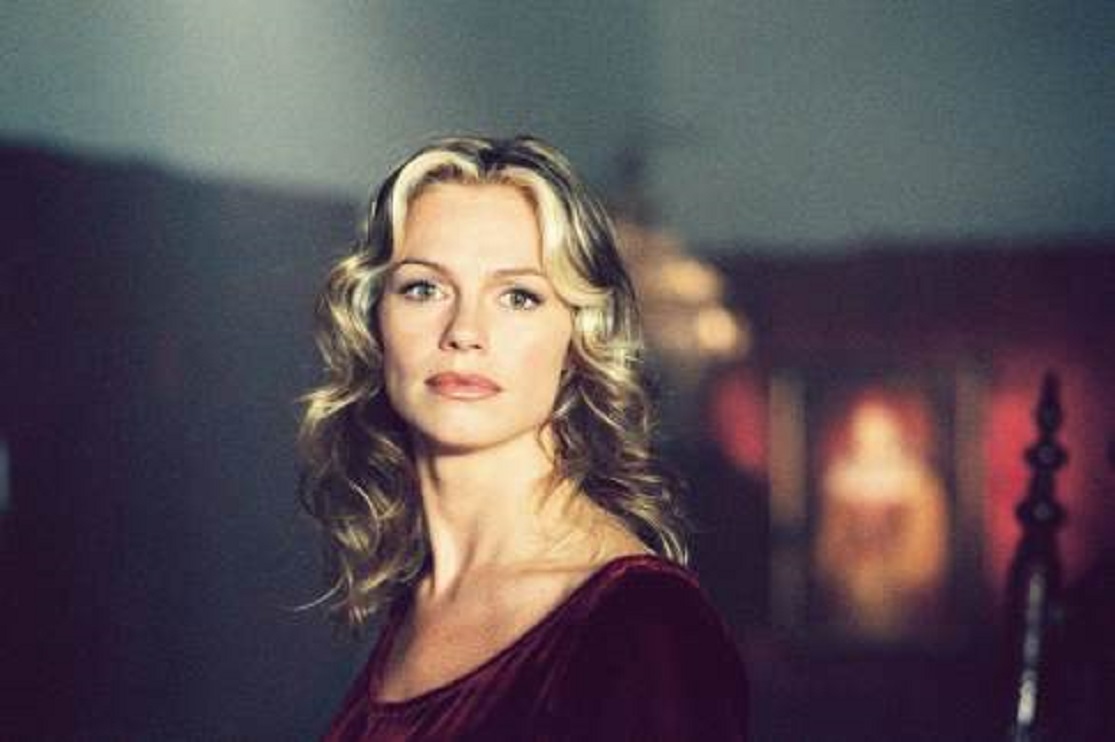 Eternal is at its most gorgeously elegant during the trip to Venice where the camera follows Conrad Pla through a ball and rooms filled with elegantly masked lesbians and in and out vignettes where we see them being tied up and bound, henna tattoos being licked and especially the climactic scenes where Caroline Néron has her sacrificial victims arrayed around an ornate bathtub with drains leading down to the centre for her to create a bath of their blood.
What should also be said is that much of this provocative sexuality is just a pose. For all its R-rating, Eternal displays almost no nudity and in very few of the scenes do the participants get undressed much. Despite the gorgeous surroundings, the moodily elegant lighting and the ladies purring with sophisticated allure, the plot is a tired and predictable horror film standard. This is even further dragged out by tedious subplots about Conrad Pla being framed for Ilona Elkin's murder – the twists and turns the film takes here are predictable and unimaginative.
Caroline Néron certainly has a sophisticated glamour as Elizabeth. However, the major point that Eternal has against it is an unlikeable hero in Conrad Pla. Conrad Pla was a former kickboxer who turned actor in the 00s, playing a number of supporting parts before becoming a regular on the Canadian science-fiction series ReGenesis (2004-8). On screen here, Pla confronts everybody with a combination of bullish sarcasm, lazy cockiness and constant hot-headed anger, which only comes out as highly unlikeable. Every second word he seems to say is "fuck" and never has such profanity seemed more pointlessly overused in a film. You keep asking yourself why should feel sympathy for this man's quest when in real life you would just dismiss him as a hot-headed loudmouth.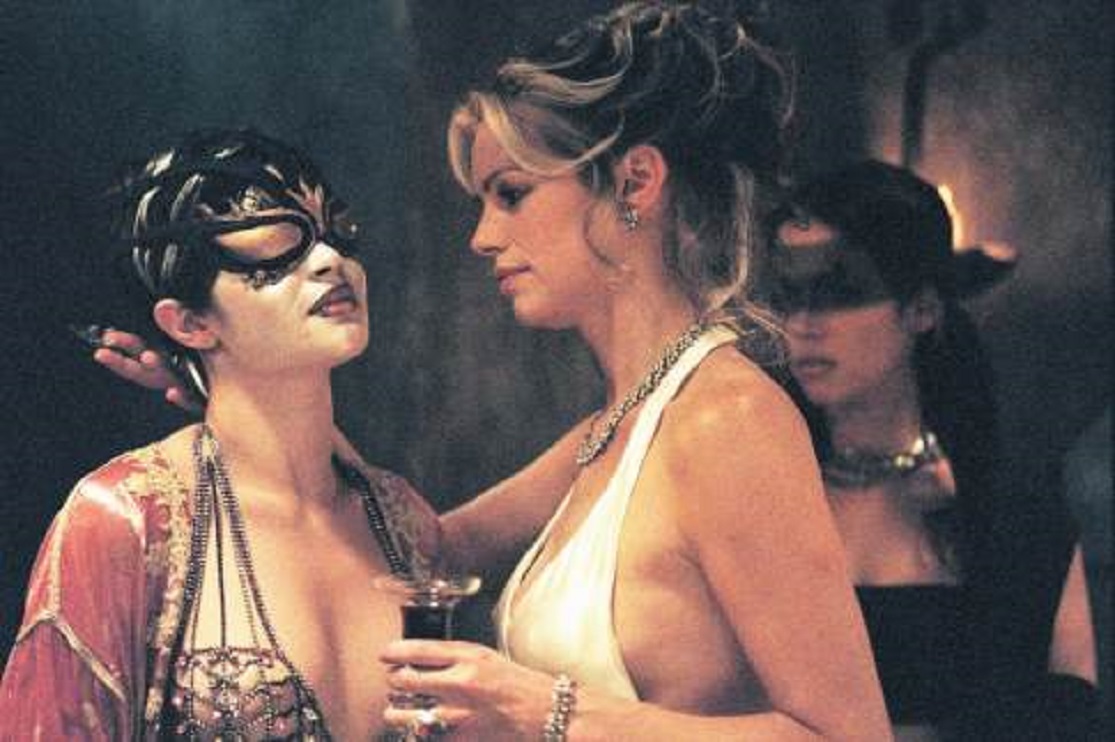 Eternal also makes the utterly spurious claim on the opening credits to be 'based on true events'. There is an exceedingly vague truth to this in that the film purports to feature the true life historical character of the 16th-17th Century Elizabeth Bathory, the so-called Blood Countess who bathed in the blood of virgins and whose exploits are often cited as part of the inspiration for modern vampirism. It probably need not be said that there is no known information source that has ever attempted to demonstrate that Countess Bathory survived into the present-day, let alone is living in Montreal (or Venice).
The life of Elizabeth Bathory has been shown on film before in films like Hammer's supposedly true historical account Countess Dracula (1971) where she was played by Ingrid Pitt; in Daughters of Darkness (1971) where she turns up in a present-day Belgian hotel played by Delphine Seyrig; in various of Paul Naschy's Waldemar Daninsky films with The Werewolf vs the Vampire Woman (1971), Return of the Werewolf (1973) and Night of the Werewolf (1981); the Spanish The Legend of Blood Castle/The Bloody Countess/The Female Butcher (1973) played by Lucia Bose; played by Paloma Picasso in an episode of the erotic anthology Immoral Tales (1974); played by Diane Witter in the obscure Bathory (2000); in the present-day played by Michelle Bauer in Fred Olen Ray's Paul Naschy homage Tomb of the Werewolf (2004); in the cheap Night Fangs (2005); with modern-day girls travelling back in time in Demon's Claw (2006); in the present-day Dracula's Curse (2006); in the present-day in the animated Hellboy: Blood and Iron (2007); in the dreadful Hungarian-shot Metamorphosis (2007); in the softcore Blood Countess (2008); mixed up with the Dracula story in Blood Scarab (2008); as a present-day abstinence campaigner (Louise Griffiths) in Chastity Bites (2013); as the female Jerry Dandridge (Jaime Murray) in Fright Night 2 (2013); in Lady of Csejte (2015) played by Svetlana Khodchenkova; even in the midst of a videogame in Stay Alive (2006) and as the host of a horror anthology in Countess Bathoria's Graveyard Picture Show (2007), while Eli Roth homages her activities in Hostel Part II (2007). There were two attempts to set the historical record straight with Bathory (2008) starring Anna Friel, and The Countess (2009), directed by and starring Julie Delpy.
---
---