---
Crew
Director – Boaz Davidson, Screenplay – Dennis Dimster-Denk, Story – Boaz Davidson & Dennis Dimster-Denk, Producers – Danny Dimbort & Avi Lerner, Photography – Avi Karpick, Music – Blake Leyh, Special Effects Supervisor – Gary Bentley, Production Design – Ladislaw Wilhelm. Production Company – Nu Image/Mondofin B.V.
Cast
David Bradley (Brad Kingsberry), Anna Thomson (Tanya Borgman), Ashley Laurence (Paige/Felicia Turner), Steven M. Gagnon (Alan Geoffreys), William Boyett (Captain Briskin), Robert La Sardo (Spike), Stephanie Swimmey (Billy Sorriano), Jamie Renee Smith (Alicia Kingsberry)
---
Plot
Brad Kingsberry, a detective with an alcohol problem, investigates the murder of fitness trainer Billy Sorriano. Billy was the female lover of wealthy Tanya Borgman. As Brad interviews Tanya, she begins toying with and seduces him. This leads him through a complex trail of murder and double identities.
---
Blood Run – a meaningless title that does not appear to refer to any simile or happening in the film – is a blatant copy of Basic Instinct (1992). It steals shamelessly from Basic Instinct – both films feature a male detective investigating murders where the chief suspect is a seductive bisexual blonde; both films are thrillers that centre around not being whodunnits but simply around whether the chief female suspect did it or not; both films feature the detective and the female suspect engaged in much heated on-screen sex; both films also feature a contorted threesome between the detective, the blonde suspect and a third woman, who is tied to the case by a hidden past; and in both films the detective is somewhat out-of-control and has a substance abuse problem – alcohol here, cocaine in Basic Instinct. Blood Run is so repetitive that it even features an interrogation scene where the female suspect taunts and plays head-games with the police. Blood Run's minor difference is the turning of the third woman into the killer, which is the sole surprise that the film has on offer.
The tangled web involving Anna Thomson's past marriage, the missing sister and the fire in the hotel is not clear at all – mindedly, Basic Instinct wove an equally contorted jumble of motivations that bore not the slightest connection to human psychology – although Blood Run's problem is that it is more murky than tangled.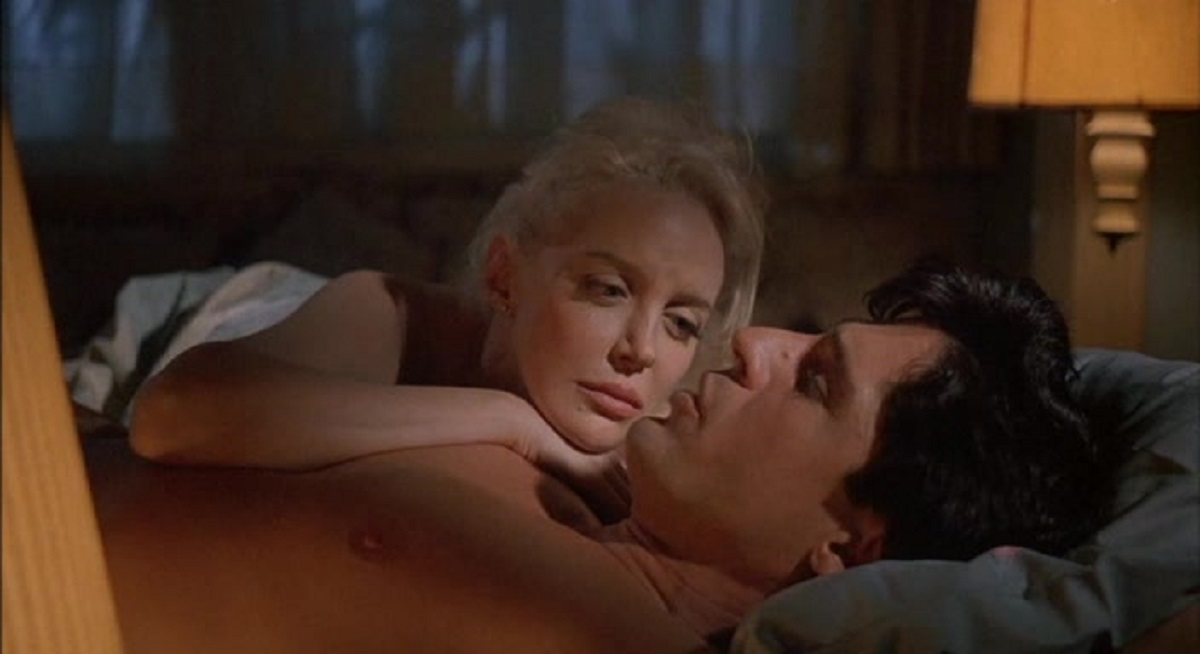 The sex scenes are suitably steamy and are about the sole appeal the film has. (Blood Run has one prurient advantage over Basic Instinct in that it does at least show the blonde suspect engaged in her noted bisexual practices). That said, Anna Thomson makes an appallingly bad stand-in for Sharon Stone. She has a babyish face, fails to display any calculating or seductive presence, and seems only to pout when it comes to expressing any emotion.
Blood Run was produced by Nu Image, a US-based company that produced a good deal in the way of low-budget video-dvd-released action and horror film. Director Boaz Davidson was a Golan-Globus associate who directed a handful of Cannon films with The Last American Virgin (1982), X-Ray/Hospital Massacre (1982), Dutch Treat (1987) and Going Bananas (1987). He has been more active in recent years as a producer with Nu Image. He has directed a handful of other low-budget films that include the genre likes of American Cyborg: Steel Warrior (1992) and LunarCop (1995).
---
---