---
Crew
Director – Richard Rush, Screenplay – Matthew Chapman & Billy Ray, Story – Billy Ray, Producers – Buzz Feitshans & David Matalon, Photography – Dietrich Lohmann, Music – Dominic Frontiere, Visual Effects – Digital Domain, Special Effects Supervisor – Terry King, Makeup – Michelle Burke, Production Design – James L. Schoppe. Production Company – Hollywood Pictures/Andrew Vajna.
Cast
Bruce Willis (Dr Bill Capa), Jane March (Rose/Bonnie/Richie Dexter), Ruben Blades (Lieutenant Hector Martinez), Lesley Ann Warren (Sondra Dorrio), Brad Dourif (Clark), Scott Bakula (Dr Bob Moore), Kevin J. O'Connor (Casey Hines), Lance Henriksen (Buck), Andrew Lowery (Dale Dexter), Kathleen Wilhoite (Michelle), Eriq La Salle (Officer Anderson), Shirley Knight (Mrs Needlemeyer)
---
Plot
Psychologist Bill Capa is shocked when a callous comment he makes causes one of his patients to jump out his office window. The shock of it leaves him psychologically colour-blind, he no longer able to see the red colour of her blood. He quits his practice and moves to California, going to stay with a psychologist friend Bob Moore. Moore tells Capa that he has been receiving death threats and is then stabbed to death in his office. The investigating detective persuades Capa to deliver notice of the murder to Moore's encounter group. The patients convince Capa to take over and lead the group. Capa then meets the beautiful young Rose and they engage in steamy sex, although she remains mysterious about her identity. Each of the patients in the group discover intense sexual relationships. At the same time however, someone is also stalking and killing each of them.
---
Color of Night came at a point when it seemed anything that Bruce Willis did – The Bonfire of the Vanities (1990), Hudson Hawk (1991), The Last Boy Scout (1991), Billy Bathgate (1991), Striking Distance (1993) – drew scathing criticism from critics and public alike. (Although in truth, several of these films – at least The Last Boy Scout and Billy Bathgate – are not at all bad. One even has a guilty liking for Hudson Hawk). Color of Night received an absolute pillorying from critics and audiences alike.
There was even the rather funny (probably apocryphal) story of two fans who met Bruce Willis in the street and demanded their money back – and moreover received it too. (In other stories, it is The Fifth Element (1997) that this is attributed to). Color of Night received that year's award for Worst Film at the Golden Raspberry Awards, along with a further eight nominations.
Color of Night is a blatant steal from Basic Instinct (1992), a psycho-thriller that similarly featured a good deal of steamy sex. The film starts out doing an okay job of creating an essential mystery. There is a good deal of heated sex (featuring copious full frontal nudity on both party's parts) between Bruce Willis and the luscious Jane March, then hot from her debut in Jean-Jacques Annaud's beautifully sensual The Lover (1992). (Although, the relationship does feature an improbable romance between 21 year-old March and Willis who was nearly twice her age).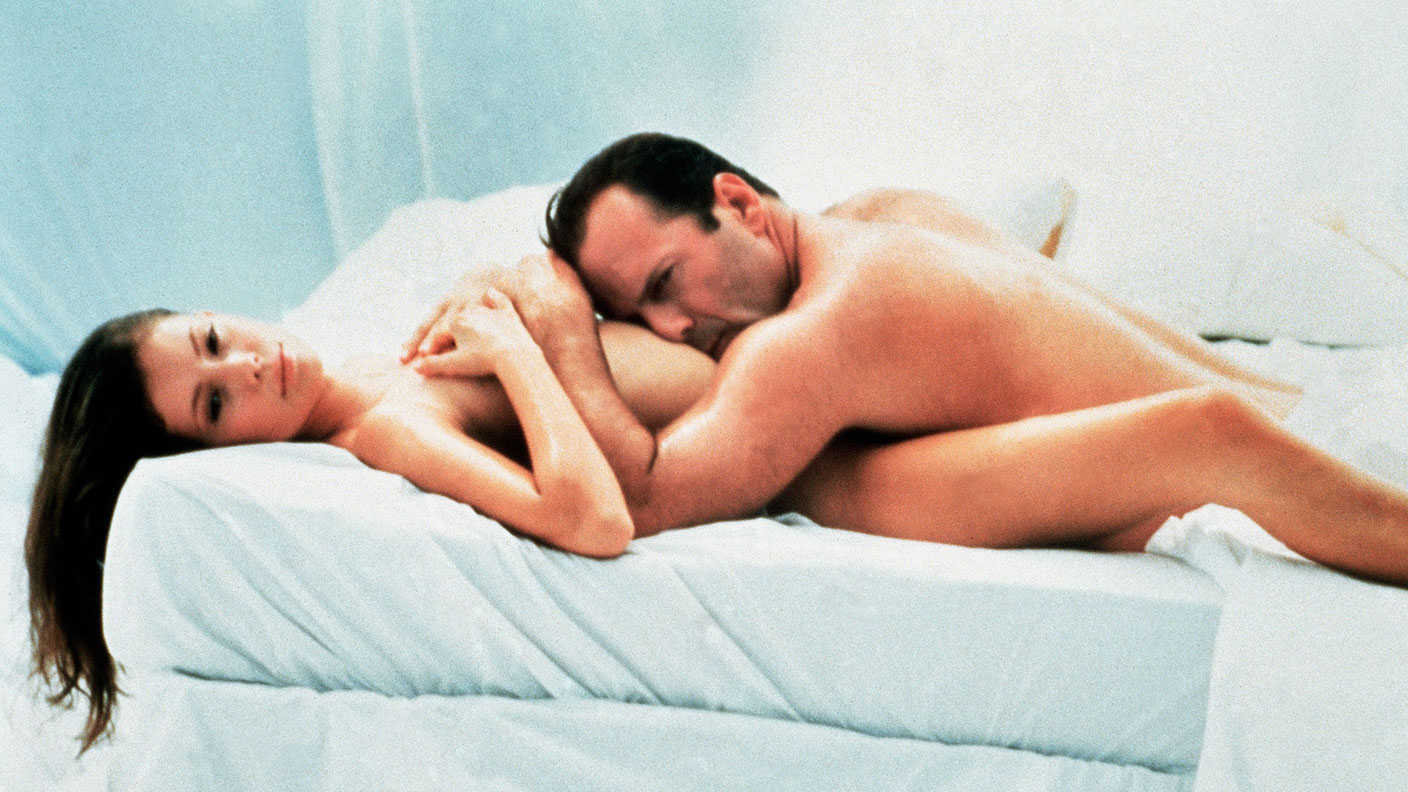 Unfortunately, Color of Night is done in by the absurd contrivation of its script. There is one moment in the film where Ruben Blades' detective addresses the therapy group and incredulously exclaims, "You were all going out with the same woman and didn't realise it?" which unfortunately for the audience puts its finger exactly on the potential absurdity that has been bubbling away beneath the film. From there on with its increasingly absurd contrivations about multiple personalities, girls impersonating their dead brother and psychotic siblings, the film has no hope of regaining its credibility.
To her credit, Jane March does an okay job fooling everybody about all the multiple identities for the greater part of the running time. However, the opening scene with Kathleen Wilhoite painting her mouth with red lipstick and then sucking on a gun barrel makes the audience laugh out loud – it is not a good omen when a film does this in the first few moments.
Color of Night was directed by Richard Rush, who had directed and written the great The Stunt Man (1980). Color of Night was the first film that Rush had directed in fourteen years (and the last he has made to date). It is hard to guess what went wrong here – the difference between the two films in terms of intelligence of script is poles apart. Rush has not directed anything since Color of Night either.
---
Trailer here
Full film available online here:-
---