aka The Crimson Executioner
(Il Boia Scarlatto)
---
Crew
Director – Max Hunter [Massimo Pupillo], Screenplay – Robin McLorin [Romano Migliorini] & Robert Nathan [Roberto Natale], Created/Conceived by Frank Merle [Francesco Merli] & Ralph Zucker, Producer – Frank Merle [Francesco Merli], Photography – John Collins [Luciano Trasatti], Music – Gino Peguri, Art Direction – Frank F. Arnold. Production Company – M.B.S. Cinematografic s.r.l./International Entertainment Corp.
Cast
Mickey Hargitay (Travis Anderson), Walter Brandt (Rick), Alfred Rice (Daniel/Max Parks), Louise Barrett (Edith), Rita Klein (Nancy), Moa Tahi (Kinojo), Ralph Zucker (Dermott), Nik Angel (Perry), Barbara Nelly (Suzy), Femi Martin (Annie)
---
Plot
Daniel Parks, the publisher of a series of lurid horror novels, goes to a castle in Italy with his writer, a photographer and a group of models, intending to shoot some pictures for his book covers. They enter one castle, seeking to use it as a location, but are turned away by its reclusive owner. After seeing the model Edith, the owner changes his mind and permits them to stay for one night. However, as they start about shooting their pictures, a figure in a red hood, tights and mask begins killing members of the group. They meet the owner who is revealed to be Edith's ex, the former bodybuilder and actor Travis Anderson. Travis's mind has snapped and he now believes that he is his ancestor The Crimson Executioner, a nobleman with a perfect body who tortured and killed people in sadistic ways. Under the Crimson Executioner's hood and mask, Travis imprisons the remaining members of the group in the castle's dungeon and prepares to inflict a series of tortures.
---
Bloody Pit of Horror makes the entirely bogus claim that it is based on the works of the Marquis de Sade. It isn't – de Sade was a writer of pornography and never wrote any works about a hooded executioner torturing people. What one suspects has happened is that when the film was released in the US in 1969, the distributors retitled an otherwise unrelated work in an effort to jump aboard the fad of Euro-made de Sade adaptations that came out around 1968 with the likes of Jess Franco's Justine (1968) and Eugenie: The Story of Her Descent Into Perversion (1969), as well as the big budget Keir Dullea-starring US production De Sade (1969).
In reality, Bloody Pit of Horror is more of an Italian giallo film. It was made one year after Mario Bava had made the classic Blood and Black Lace (1964). It taps into the same continental Gothic backdrop that Mario Bava patented and adds to this a psycho plot that became all in fashion after the success of Psycho (1960) a few years earlier and which the giallo film was happily mining. Of course, the major difference is that director Massimo Pupillo is flatly prosaic and has none of Mario Bava's style.
Bloody Pit of Horror could also be seen as a darkly satiric answer to the peplum film that was popular in Italy at the time – a series of muscleman films that began with Hercules (1958) and which Italy was churning out by the boatload – where here the muscleman is a psycho, a deification of male beefcake who rants about worshipping the perfect male body. This suggests the intriguing idea of a version of Psycho, which had psycho-sexual undertones where Norman Bates was aroused to murder at the sight of a naked female body, having been given a homoerotic spin.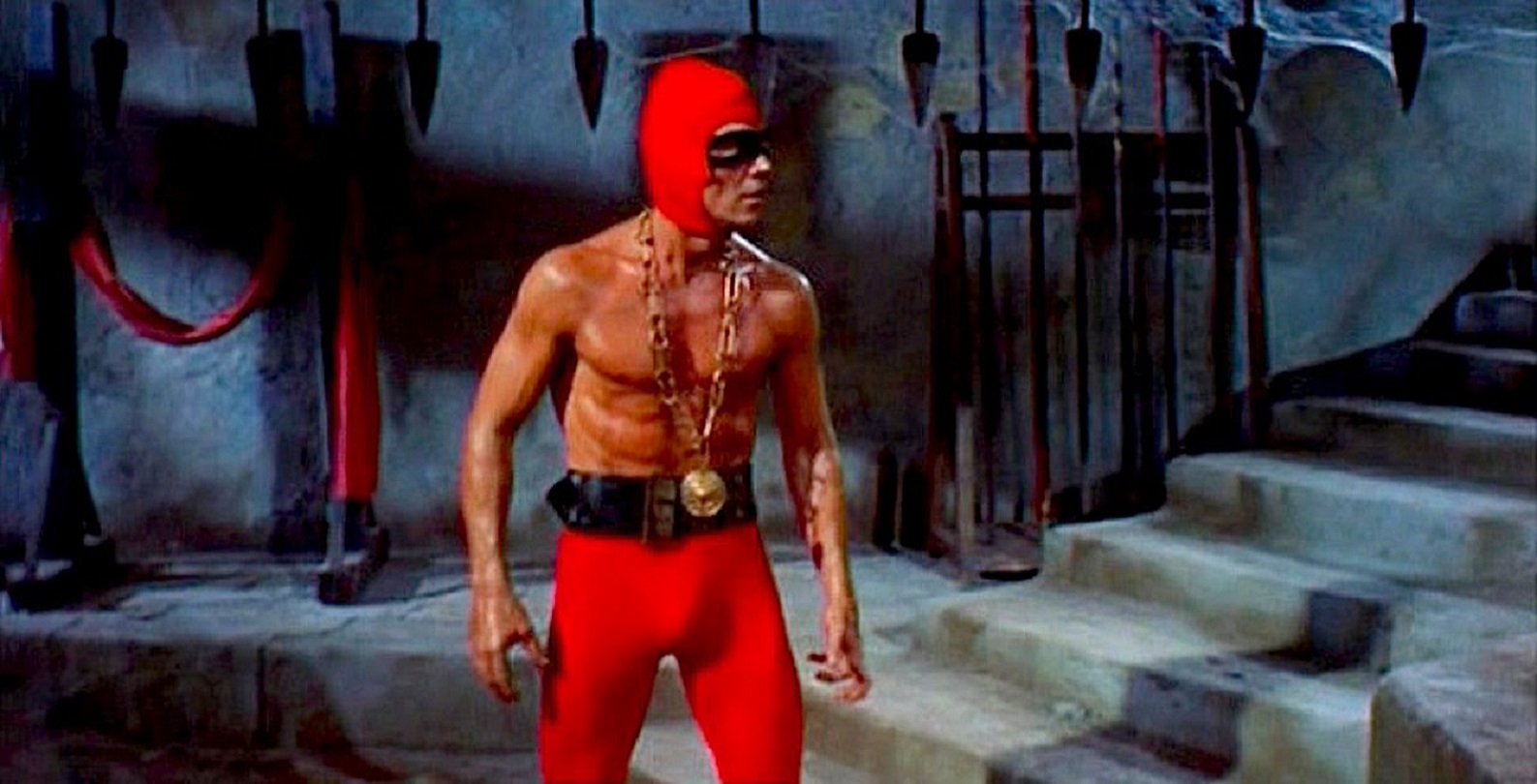 Clearly, the film was making an appeal for what was a sensationalism back in the day. That said, the scenes with the various models wandering around in their bras and with their bare backs to the camera seems absurdly tame today. Massimo Pupillo does find some imagination among the sensationalism. Especially good is a scene where Walter Brandt finds Moa Tahi imprisoned inside a room that has been turned into a giant lattice of spider webs stretched between all the walls and with a mechanical spider crawling along it towards her and where he must slide under the ropes on his back to get to her before she is killed. Or the image of Ralph Zucker shot with an arrow, collapsed over the wheel of his car, driving in an endless circle around the driveway of the castle.
The film gets particularly entertaining when it comes to the climactic scenes with Mickey Hargitay imprisoning everybody in the dungeons. The set-ups include:- one girl bound on a rotating device where Hargitay pushes knives at her that knick and tear her clothing to shreds with each revolution; another stretched on a rack; another with icy water being poured on her back; one of the guys imprisoned on a four-poster bed where the top is wound down towards him like a vice on giant corkscrew posts; hot oil poured on a girl's back; Louise Barrett tied to a stone table and a coal fire stoked underneath it. The silliest of these is when Mickey Hargitay tries to attack one of the girls using something that resembles a hanging scarecrow that has spikes in it – only to end up being impaled on it himself. It is in this lurid sensationalism that Bloody Pit of Horror finds itself.
Massimo Pupillo only made a handful of films, including two other horror works with the Gothic horror Terror-Creatures from the Grave (1965) and the less well known Lady Morgan's Vengeance (1965), as well as one of the original Django Spaghetti Westerns Django Kills Softly (1967).
Mickey Hargitay was a Hungarian national who gained international attention as a bodybuilder. He is most remembered as being the husband of Jayne Mansfield (although they had divorced by the time of her death in 1967). These days, he is also known as the father of Mariska Hargitay from tv's Law and Order (1990-2010). Hargitay made about a dozen acting appearances during the 1960s and into the early 70s, including two peplum with The Love of Hercules (1960), where he appeared as Hercules opposite Jayne Mansfield, and Revenge of the Gladiators (1964), as well as playing a detective in Lady Frankenstein (1971).
---
Trailer here
Full film available online here:-
---