aka The Faceless Monster; Lovers from Beyond the Tomb; Night of the Doomed
(Amanti d'Oltretomba)
---
Crew
Director – Mario Caiano, Screenplay – Mario Caiano & Fabio De Agostini, Producer – Carlo Caiano, Photography (b&w) – Enzo Barboni, Music – Ennio Morricone, Production Design – Massimo Tavazzi. Production Company – Cinematografica Emmeci.
Cast
Barbara Steele (Jenny Hampton/Muriel Hampton), Paul Miller [Muller] (Dr Stephen Arrowsmith), Helga Line (Solange), Laurence Clift (Dr Derek Joyce), Rik Battaglia (David)
---
Plot
1872. Heiress Muriel Hampton is married to the cruel and sadistic scientist Stephen Arrowsmith. When Stephen catches Muriel in the greenhouse with her lover David, he chains them both up and tortures them. Muriel taunts Stephen that he cannot kill her because she has made her will out to leave everything to her sister Jenny. Instead, Stephen kills her and then marries Jenny. He also uses Muriel's blood to rejuvenate his lover, the maid Solange. After they move into the house, Jenny starts seeing things and has troubling dreams about Muriel's death. Stephen dismisses these visions as part of Jenny's history of mental instability, while at the same time making plans to kill her off and obtain the inheritance.
---
British actress Barbara Steele became an instant cult figure when she appeared in Italian director Mario Bava's Black Sunday/The Mask of the Demon/The Revenge of the Vampire Woman (1960). Steele's haunted wide eyes, pale face and pre-Raphaelite beauty seems to hangs over all Italian films of the 1960s in one way or another. The success of Black Sunday inspired a series of Italian Gothic films, where Steele was immediately snapped up for similar roles in the likes of The Terror of Dr Hichcock (1962), The Spectre/The Ghost (1963), Castle of Blood (1964), The Long Hair of Death (1964), Revenge of the Blood Beast (1965), Terror-Creatures from the Grave (1965) and An Angel for Satan (1966). Nightmare Castle is one of these and draws on Black Sunday both in terms of influence and the similar casting of Barbara Steele in dual roles as a vengeful undead woman and her innocent relative.
Nightmare Castle often seems like a love poem to Barbara Steele's haunted otherworldly beauty. The early scenes of her dressing are shown in lingering detail, with director Mario Caiano's camera moving into closeup on the images of her stripping to her lingerie, putting on a gown and then lying down in the conservatory with her lover Rik Battaglia. Caiano seems in awe of Steele's beauty and these scenes have an incredible sexiness. As part of the remarkable pathological sadism that runs through Italian horror films of the 1960s, these scenes are abruptly contrasted with Paul Muller bursting in to find them, whipping Rik Battaglia so brutally he gouges out his eye, chaining the two of them up in the dungeon and the sheer sadistic nastiness of Muller then tying Steele to a bed and throwing acid over her and then pushing Battaglia on top of her and flipping a switch to electrocute the bed.
There is a remarkable sadomasochistic undertow to the film. Caiano gives a scene where Paul Muller injects Barbara Steele an undeniable sexual undercurrent, focusing on the faces and her sighing at the pain. None though is more remarkable than the ending. Here the ghost of Muriel returns and confronts murderous husband Muller. "I punished you for your crime," he tells her. "No," she replies, "you gave me extreme pleasure. You taught the pleasure of the torment of the flesh, which turns into ecstasy."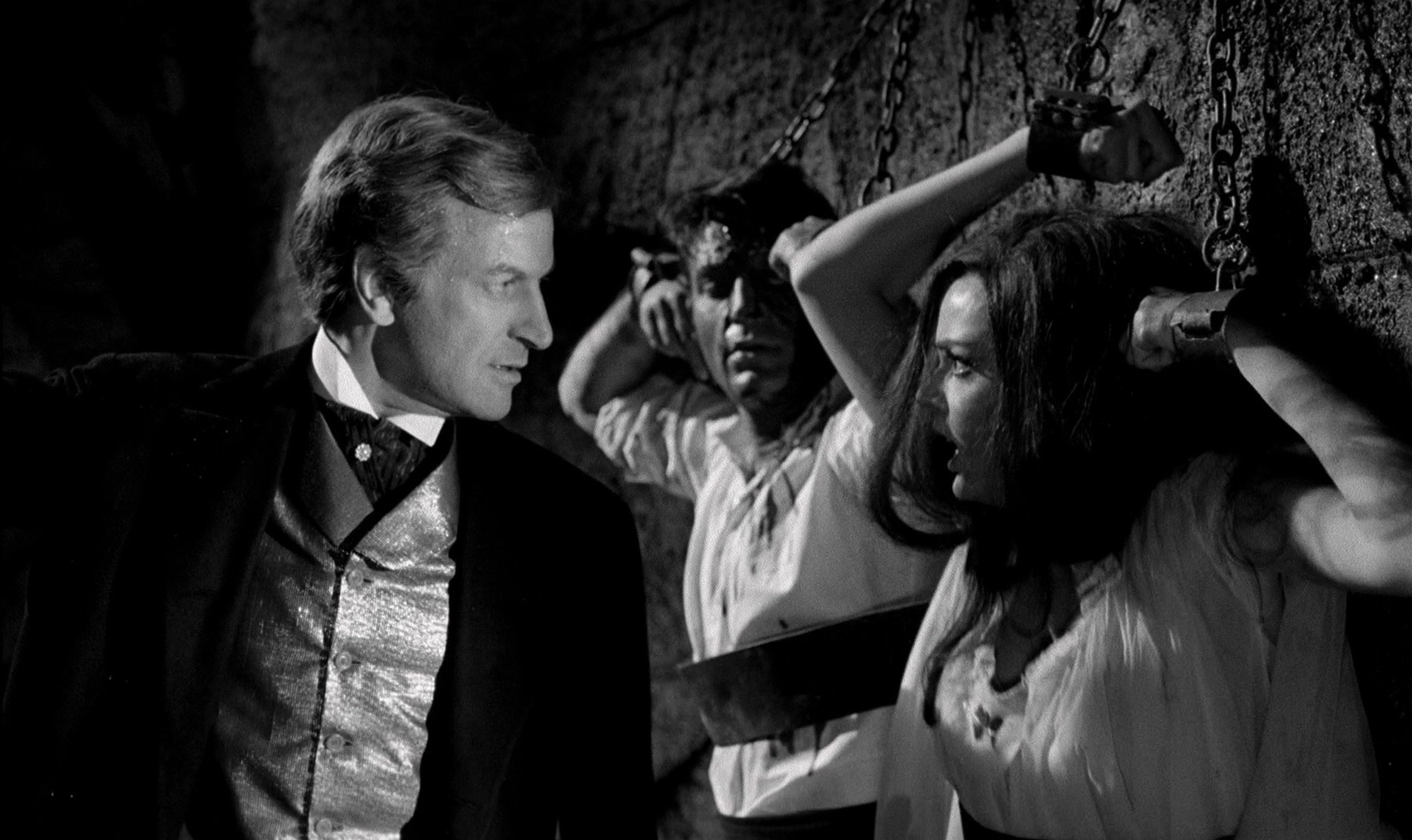 Mario Caiano demonstrates remarkable visual style throughout. Especially haunting is a dream sequence where we see Paul Muller helping Barbara Steele up out of a coffin and then lying down in the conservatory before they are attacked by a man with a completely blank face wielding a riding crop. The sequence comes shot in gauzy soft focus and accompanied by an eerily atonal choral score, where Caiano succeeds in conjuring an amazingly haunted, dream-like mood. There is a marvellous climax with the reappearance of the ghostly Barbara Steele – looking for all the world like Sadako out of Ring (1998) with her black hair draped down across her face, only one eye showing and then in a shock moment her hair being thrown back to show her half-scarred face – who has come back to haunt husband Paul Muller, tie him up in the torture chair and set him alight.
The period surroundings are lavishly dressed – the film appears to have shot on location in a real mansion. It is a beautifully photographed film. The dvd release restores this with an exquisite crispness that heightens the brooding mood until it almost overwhelms the principals' faces in shadow. The score also creates a genuinely haunted atmosphere at times. On the minus side, the film is marred considerably by some terrible dubbing.
It is a genuine shame that Mario Caiano never got to direct much in the way of genre cinema again as he has a Gothic hand that rivals some of the other celebrated names that came out of this era such as Mario Bava and Riccardo Freda. Mario Caiano's other films include peplum like Ulysses Against the Son of Hercules (1961), The Tyrant of Lydia Against the Son of Hercules (1963), The Terror of Rome Against the Son of Hercules (1964) and various Spaghetti Westerns. It was planned the Caiano return to genre material with Nosferatu in Venice/Vampires in Venice (1988) but he ended up being replaced by another director.
---
Trailer here
Full film available online here:-
---