---
Crew
Director – Phillip Noyce, Screenplay – Jeremy Iacone, Based on the Novel by Jeffery Deaver, Producers – Martin & Michael Scott Bregman & Louis A. Stroller, Photography – Dean Semler, Music – Craig Armstrong, Visual Effects – The Computer Film Co, London (Supervisor – Robert Grasmere), Special Effects – Les Productions de l'Intrigue (Supervisor – Louis Craig), Production Design – Nigel Phelps. Production Company – Universal/Columbia/Bregman.
Cast
Denzel Washington (Lincoln Rhyme), Angelina Jolie (Amelia Donaghy), Michael Rooker (Captain Howard Cheney), Queen Latifah (Thelma), Ed O'Neill (Detective Paulie Sellitto), Luis Guzman (Kenny Ortiz), Mike McGlone (Detective Kenny Solomon), Leland Orser (Richard Thompson), John Benjamin Hickey (Dr Barry Lehmann)
---
Plot
A wealthy New York couple are picked up in a taxi. Later, Amelia Donaghy, a patrol officer assigned to youth services, finds the husband's mutilated body buried near a railway line. Police consult forensics expert Lincoln Rhyme who has been left a bedridden quadriplegic, paralysed from the neck down by a falling beam in the course of an investigation. Impressed by Amelia's instinct, Lincoln requests her to head the investigation, despite her reluctance and lack of experience. With she operating as his remote eyes and hands, he tries to track the serial-killing taxi driver down as further bodies are discovered.
---
The Bone Collector was the one in a whole line of forensic psychology thrillers that emerged following the success of The Silence of the Lambs (1991). Others include When the Bough Breaks (1994), Se7en (1995), Copycat (1995), Kiss the Girls (1997) and tv's Cracker (1993-5), Millennium (1996-9), Profiler (1996-9) and CSI: Crime Scene Investigation (2000-15). As such, The Bone Collector is an average if not particularly great entry in this subgenre.
The film was greeted with a number of critical knee-jerk reactions – "grisly and unpleasant" and "gaping plot holes" being the two most recurrent. Neither of which are true. (There are times you get the impression that critics copy what one another say). TV's Millennium was frequently far more grisly and went into a far darker territory than anything here. (When someone knowingly goes into a forensic psychology thriller then comes out accusing it of being grisly, it is like criticising a Disney film of being cute or an X-rated film of being explicit – it kind of comes with the territory).
One looked carefully for plot holes but failed to find any gaping gaps apart from the slightly far-fetched climactic revelation of the killer's identity (that someone could get a job so close to the hero and would weave such an elaborate pattern of killings for revenge's sake). Most of the feats of superhuman ingenuity displayed by the criminal geniuses in the post-Silence of the Lambs thrillers have required far greater stretches of believability than this.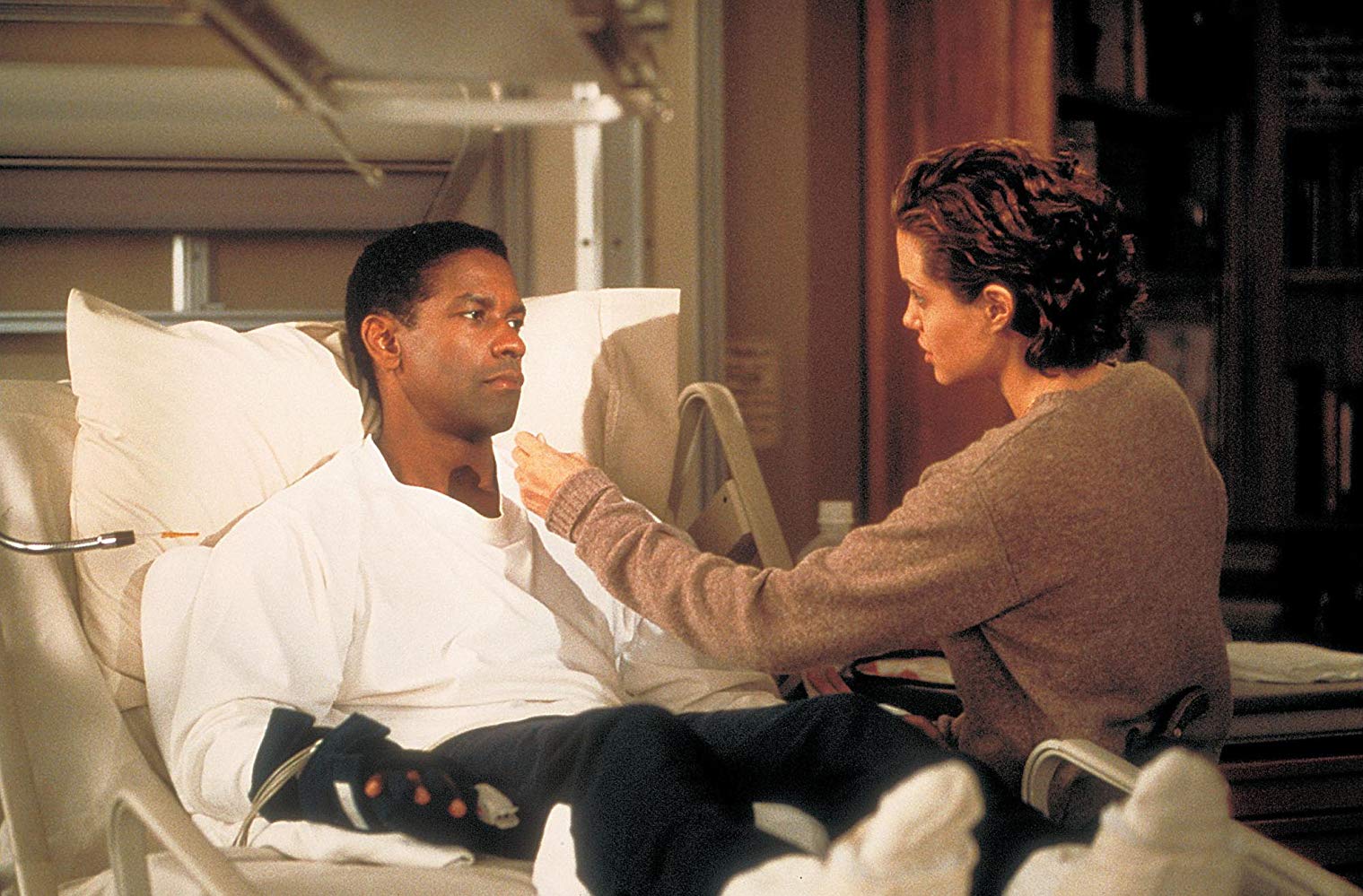 The Bone Collector's greatest problem is not plot holes but rather that its plot is not terribly interesting. The film is directed by Australian Phillip Noyce. Noyce has directed a number of high-profile A-budget thrillers after emerging onto the international stage with Dead Calm (1989). His films tend to fall between the good – Dead Calm, Clear and Present Danger (1994) – and the slickly packaged but uninspired – Patriot Games (1992), Sliver (1993), The Saint (1997), Salt (2010) and The Giver (2014). Certainly, immediately subsequent to The Bone Collector, Noyce started to prove himself with Rabbit Proof Fence (2001) and The Quiet American (2002).
The strength of the abovementioned forensic psychology thrillers is their ability to twist an audience around and dazzle with the revelations of psychological patterns and meaning. However, unlike even lesser forensic psychology thrillers such as Kiss the Girls, Philip Noyce never keeps an audience pinned to the unfolding plot revelations. The twists and unfurling clues here hold no suspense, no collective sighs as one suddenly sees the pattern coming together. Even the climax seems a perfunctory affair (although it does inventively show that being a quadriplegic doesn't make one entirely helpless against an attacker).
If The Bone Collector had relied on the thriller aspect alone, it would have been dull. On the other hand, what does make it work is the novelty of having the detective hero helpless from the neck down and the central relationship between Denzel Washington and Angelina Jolie. It is during Angelina's ventures down into the killer's lairs guided by Denzel's voice that Noyce crafts the film at its most tensely suspenseful.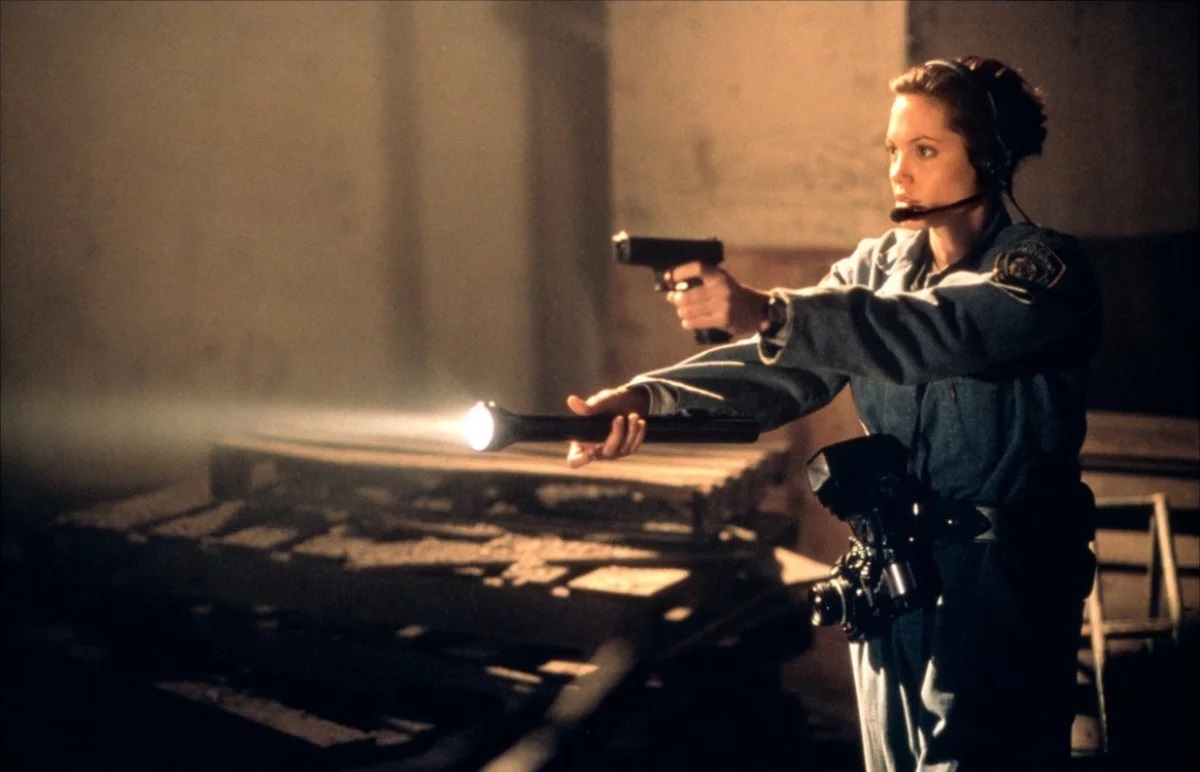 Noyce also has a good cast at hand. Denzel Washington, an actor who can command the screen without seeming to be exerting any effort, is on fine form. Noyce also has good actors such as Michael Rooker, Queen Latifah and Luis Guzman, even Ed O'Neill (doing a good job of shaking his typecasting as a live-action version of Homer Simpson from tv's Married with Children [1987-97]) in the supporting parts, which help make the scenes of police in-politicking work well.
The only weak link is Angelina Jolie. In her early films Jolie – seen here shortly before being propelled to A-list superstardom in Girl, Interrupted (1999) later that same year – seemed to have all the distinction of a mannequin whenever she appears on screen. Even her looks seem to vanish into a routine blankness – all that one remembers about her is her collagen-injected lips. She survives here thanks to a strong and well-written female part – but you never could call it a well acted part.
The one other plus about The Bone Collector is Dean Cundey's photography. Cundey transforms New York into a haunted otherworld. It is a film filled with frequently breathtaking shots – aerial shots cruising across the rooftops of skyscrapers, zooms that leap backwards from the site of a murder to cross half the city and pull back in through Denzel Washington's apartment window in an instant, shots where moody skies have had the colour damped down so that the city looks like it is filled with perpetually brooding storm clouds. Although there does seem something odd when you get a vision that plays so much on being New York City but is directed and photographed by two Australians (Noyce and Semler) and shot on location in Montreal.
---
---